Clothing is an incredibly important part of kayak safety.
If you don't take great care in choosing the right outfits to wear when going paddling, you can end up bringing great discomfort and harm to yourself.
What you wear can determine how comfortable you will be, how much flexibility of movement you will have, and the amount of time you can devote to kayaking.
The last thing you want is to risk hypothermia or cold shock or have to cut your trip short because the sun is sapping your strength or causing your skin to burn up. Or because your cloth is itchy and chafing your skin.
The right kayak clothing should be made from non-cotton materials and be able to dry quickly and keep you warm even when you get drenched.
It should offer protection from the sun and other elements and harmful objects like rain, sand, rocks, mosquitoes, sea spray, tree branches, and sand flies.
This article is going to walk you through the best kayaking shirts in the market right now that you can buy to ensure you have a safe and enjoyable time on the water.
17 Best Kayaking Shirts
Check Price on Amazon
Made with polyester and UV-resistant fabric, Baleaf's hoodie shirt is soft, stretchy, and breathable and it protects your upper body from the sun's harmful rays.
The hoodie shirt has a UPF factor of 50+ so it's able to block up to 99% of the sun's rays, making it ideal for kayakers who are allergic to sunscreen or too lazy to apply it.
Baleaf's hoodie shirt has a tagless collar and flat lock seams which help prevent chafing and friction so you can stay comfortable no matter how long you're out of the water.
The hoodie shirt is designed to wick away moisture from your skin and pull it to the surface where it evaporates, keeping you warm and dry.
The fabric is also quick-drying which means that even if you get wet while paddling, the water will evaporate quickly so you won't have to worry about catching a cold or risking hypothermia.
Baleaf hoodie shirts are available in 9 attractive colors and a range of sizes from small to 3X-Large.
Check Price on Amazon
Whether you plan to go kayaking every day or every other weekend, you can count on the Kotakat Hydrus Stoke dry top to keep you comfortable and protected from the elements.
This kayaking shirt is made using Kotakat's proprietary Hydrus 3.0 fabric so it's waterproof, breathable, and guaranteed to keep you completely dry even in extreme weather and water conditions.
The shirt features a polyester inner layer, a mid-layer made of micro-porous polyurethane, and a nylon outer layer with water-repellent coating, all of which helps to manage the evaporation of moisture and protect against abrasions.
Additionally, the Kotakat Hydrus Stoke shirt comes with sealed seams and latex neck and wrist gaskets for keeping water out, as well as a neoprene outer skirt, and a self-draining zippered chest pocket for storing small items like your phone.
Check Price on Amazon
O'Neill makes some of the best kayaking shirts for people who care just as much about being stylish as they do about embarking on paddling adventures.
This hybrid sun shirt is specifically designed for female kayakers and it boasts of a sun protection factor of 50+.
As long as you're wearing this shirt, you won't have to worry about applying or reapplying sunscreen on your arms, chest, and back before venturing out.
You can bask in the glow of the sun and float around all day without risking sun damage to your skin.
The shirt's HyperDry fabric is light, soft to the touch, and has a cotton-like feel.
However, it dries three times faster than cotton so you'll be cozy throughout no matter the duration of your float trip.
This shirt fits close to the body without being too tight and you can get it in seven different colors ranging from bright to nude.
Check Price on Amazon
If you're looking for a simple but versatile shirt to keep you protected when you go paddling, consider getting the NRS Men's Ignitor wetsuit jacket.
It's suited to all kinds of conditions be it a warm summer day or a chilly water temperature.
This jacket is made with nylon and neoprene materials so it promotes great airflow which helps the fabric to dry very fast.
It features a minimal, solid color design and is constructed in a way that allows you to move and stretch freely while paddling.
What's more the materials used to produce the shirts are made from recycled tires so you'll not only be getting optimal immersion protection, but you will also be saving the environment.
The NRS Men's Ignitor is finished with flat-lock seams so the jacket will rest comfortably against your skin.
Also, the shirt is resistant to UV fading so you'll get to use it for a very long time before discoloration sets in.
Check Price on Amazon
Made with 8% elastane and 92% polyester, this WindRider UPF50 fishing shirt will banish moisture from your body and keep you cool so you can stay on the water and fish until you catch something great.
The sides of the shirt feature ventilated mesh that help to minimize uncomfortable sweating.
The shirt comes with a stain-resistant coating so you can feel free to be as messy as you want because any stain that it comes in contact with will wash right out, leaving the shirt looking good as new.
You no longer have to deal with sun fatigue or annoying sunburns after your kayak fishing trips because this shirt is crafted using materials that protect against ultraviolet rays.
Also, the WindRider UPF50 fishing shirt is available in six size options and eight eye-catching colors and designs so you'll surely find an option that suits you and your style.
Check Price on Amazon
The Kingfen Women's UPF50 shirt is designed to protect your body from the harmful effects of the sun's rays. It is soft, wrinkle-free, and resistant to fading even after multiple washes.
This shirt wicks away sweat and helps you stay odor-free and dry on the inside by letting moisture out through the breathable 100% polyester fabric. In case you get wet, the shirt also dries fast.
The crew neck collar and slim cut give it a stylish, feminine appearance and the flat-lock seams help prevent your skin from getting chafed.
The great thing about the Kingfen UPF50 shirt is that it is versatile enough to go from kayaking to daily casual wear in an instant.
All you have to do is pair it with some jeans or leggings on days you want to laze around the house or run errands.
This shirt can be purchased in small to XXL sizes and in 9 fashionable colors and designs.
Check Price on Amazon
This kayaking shirt insulates you from cold water and weather conditions so you can paddle whenever you want and spend more time exploring your favorite kayaking destinations. To achieve this, it uses three layers of diving fabric.
The shirt's outer layer is constructed with imported nylon which also supports the durability and elasticity of the fabric, while the middle and inner layer feature neoprene.
The Lemorecn Adult 3mm wetsuit has flat and smooth seams that won't irritate your skin and spot tapes at stress points for maximum stretch and comfort.
Its front zipper closure design makes it easy to put on and take off, while the crew neck feature helps protect your neck from accidentally getting scraped or injured by the zipper.
Although the size options for the Lemorecn Adult 33m wet suit aren't as diverse as some of the other options on this list, the majority of people will be able to find their fit.
Check Price on Amazon
If you want a lightweight shirt to wear when kayaking that will shield you from getting wet or cold without compromising your movement and performance, this Dive & Sail wetsuit shirt might be perfect for you.
It's made using stretchy high-quality neoprene fabric and flat-lock seams, which give the exterior and interior surface a smooth appearance.
The shirt comes with a zipper installed in the front so it's easy to put on and take off on both land and water. There is lining on the inside of the zipper to prevent your skin or body hair from getting caught in the zipper
The long sleeves provide full UV coverage on sunny days so even if you forget or neglect to use sunblock, your exposure will be limited and your skin will be safe from injuries like sunburn.
In addition to kayaking, this shirt can be used for other outdoor activities such as snorkeling, diving, surfing, swimming, and hiking.
Check Price on Amazon
With a fabric made up of 16% spandex and 84% polyester, this Bassdash Women's Sun Protection shirt is extremely breathable. It won't wrinkle, shrink, or pill and it can easily be washed by hand or machine.
It supports the wicking of moisture and optimal flow of air between the inner and outer layers, which helps with managing perspiration and ensures you remain cool and dry for the duration of your trip. The shirt is fortified with UPF 50.
This, coupled with the long sleeve design offer ample protection from skin aging and cancer-causing ultraviolet rays, so you can have as much fun as you want out on the water safely. There are thumb holes at the end of the sleeves to keep the shirt in place at all times.
Additionally, the Bassdash Women's Sun Protection Shirt features 4-way stretch technology that enhances movement and flexibility. The shirt has six color options to choose from and the sizes go up to 3X-Large and deliver a snug fit.
Check Price on Amazon
This affordable Level Six Baffin shirt is designed to help you put on your best performance and make the most of your trip whether you're chasing whitewater rapids, day-tripping, or enjoying a recreational float down a lake.
It is durable and comfortable and offers a good fit without clinging too tightly to your body.
The shirt is made from Level Six's award-winning eXHaust 2.5 ultra-light nylon so it's highly breathable and resistant to water and will keep you dry no matter how intense things get out on the water.
Elastic neoprene materials are used for the neck, wrist, and waist closures to fend off drafts, leaks, and drips.
There's a handy chest pocket secured with an aqua guard zipper and drainage holes where you can store tasty snacks or some of your smaller kayaking gear.
Another unique and interesting feature of the Level Six Baffin shirt is its use of reflective shoulder screen-prints which provide high visibility and help to keep you safe when paddling at night.
Check Price on Amazon
The NRS Hydroskin jacket is a premium shirt option for kayaking. It uses terraprene neoprene and heat-reflecting titanium in its construction which serves to trap your body heat and keep you warm while you paddle.
The shirt is tailored in a way that supports total freedom of movement so regardless of your paddling technique or the length of your journey, you will be completely comfortable and your performance will remain optimal.
Owing to its nylon-spandex exterior, the NRS Hydroskin jacket retains very little water. What this means is that even if you get sprayed or flip over your kayak and end up in the water, the shirt would dry in the twinkling of an eye.
Another reason to love this shirt is its diverse size range which goes all the way up to 4-XL so no matter how small or huge you are, you will find an option that fits.
Check Price on Amazon
This Bassdash shirt is designed specifically for men who love to fish. You can just load up your fishing accessories into your kayak, pull the shirt over your head and venture out to the spots where you love casting your reels.
The Camo Fishing shirt is constructed using skin-friendly materials, making it suitable for all skin types even the highly sensitive ones. The fabric doesn't itch, chafe, or hamper movement so you will still be able to perform as well as you usually do.
Another thing to love about this shirt is how quickly it dries and how effective it is at driving away moisture and regulating body temperature to maximize comfort and warmth.
The shirt has a notable partition design that makes it look athletic and polished at the same time. It also has 8 color options so you can select the shade and style that best reflects your tastes.
Check Price on Amazon
The Disokizo Thermal Sleeveless Wetsuit is one of the best kayaking shirts you can get that offer great value for money.
For starters, the shirt is made with 3mm-thick high-quality neoprene and eco-friendly nylon which provides warmth, added buoyancy, and great stretch to allow you to move freely. It's designed for use in the exploration of warm water bodies and to keep your body from getting injured by sharp objects.
The incorporation of flat-lock seams leaves the shirt's interior and exterior feeling smooth and eliminates the discomfort that can be caused by chafing. Thanks to the heavy-duty zipper installed at the front, the shirt will remain in place throughout your trip.
The additional neoprene cloth lining behind the zipper works to minimize sand and water penetration.
You can get this Dizokizo Thermal Sleeve Wetsuit in sizes ranging from small to 3X-large. However, there's only one color option, and it is black.
Check Price on Amazon
The breathable and cooling fabric of the Lightbare Women's Full Zip Sun Shirt allows moisture to flow out quickly, keeping you warm and dry.
It's constructed from lightweight, skin-friendly, and flexible poly-spandex materials, which deliver a snug fit while enabling you to stretch comfortably in any direction you want. With a UPF of 50+, this shirt gives your maximum protection from ultraviolet rays.
The shirt leverages the power of high-density mesh construction to improve ventilation so you can stay cool for as long as you're out on the water even on hot summer days. The shirt's hoodie and turtle-neck design provides full body coverage for your neck, arms, and wrists.
It even has a hidden ponytail hole in the hoodie that you can use to keep your hair neatly tied up and free of tangles.
Another feature of the Lightbare Women's Full Zip Sun Shirt that you'll definitely appreciate is the two zippered side pockets and two deep inner pockets, giving you plenty of room to safely store items like your phone, cards, and keys.
Check Price on Amazon
Protect yourself from the sun while touring lakes recreationally or going on multi-day kayak camping expeditions with the Tacvasen Quick Dry shirt.
The polyester fabric used in the shirt's construction allows it to stay cool and dry all day long even in unfavorable conditions.
If you somehow get wet while paddling your kayak, you can rest assured that you won't stay wet for long thanks to this shirt's moisture-wicking properties. Thumb holes accompany the shirt's sleeves to keep it from riding up while you practice your paddling strokes.
What's more, the shirt has a sun protection factor of 50+ which together with the full-length sleeves and hoodie design gives you maximum coverage against harmful UVB and UVA rays.
The shirt is available in 21 exciting colors and it lends itself well to various outdoor and fitness activities beyond kayaking including swimming, cycling, sailing, hiking, climbing, and jogging.
Check Price on Amazon
One of the first things you notice about this unisex kayaking shirt from Layatone is how snazzy it is. Don't be surprised if you find yourself using it as casual wear on days when you have no plans to be anywhere near water.
The front and back section of the Layatone Wetsuit top are made using 3mm neoprene fabric while the sleeves, side waist, and underarms are made of nylon. The shirt is fitted with a full-length zipper that allows it to be worn or taken off with ease.
Unlike some of the low-quality options on the market, you are unlikely to suffer from skin irritation as a result of the fabric's seams coming in contact with your body.
This is because of the shirt's use of white thread eight-needle stitching in place of more traditional stitching methods. The Layatone Wetsuit top is ideal for average-sized paddlers because the size options do not go beyond XXL.
Check Price on Amazon
The O'Neill Basic Skins wetsuit is not only one of the best kayaking shirts you can buy, but it's also one of the most affordable options out there. It's a UPF 50 shirt so the parts of your body that it covers will enjoy adequate sun protection.
This sleeveless sun shirt is designed to fit close to the body, but not so much as to restrict your movement or make you feel uncomfortable.
The breathable fabric delivers a cooling effect to safeguard you against extreme heat and resulting fatigue.
It features clean and minimal graphics and looks casual enough to be worn even when you're not kayaking so you will be able to get lots of use out of it.
The O'Neill Basic Skins shirt can be gotten in 11 colors and twelve sizes ranging from small to 4X-Large. It even has special sizes for tall paddlers.
Conclusion
The most important thing to prioritize when shopping for kayaking shirts is functionality; style can come second.
Choose shirts that will keep you warm when the water or weather is cold, cool when it's hot outside, and dry when you get wet.
The lighter the material, the faster the shirt dries, and the more comfortable it is to move in, the better for you and your paddling experience.
Remember that it is infinitely better to be safe than to be sorry and full of regrets.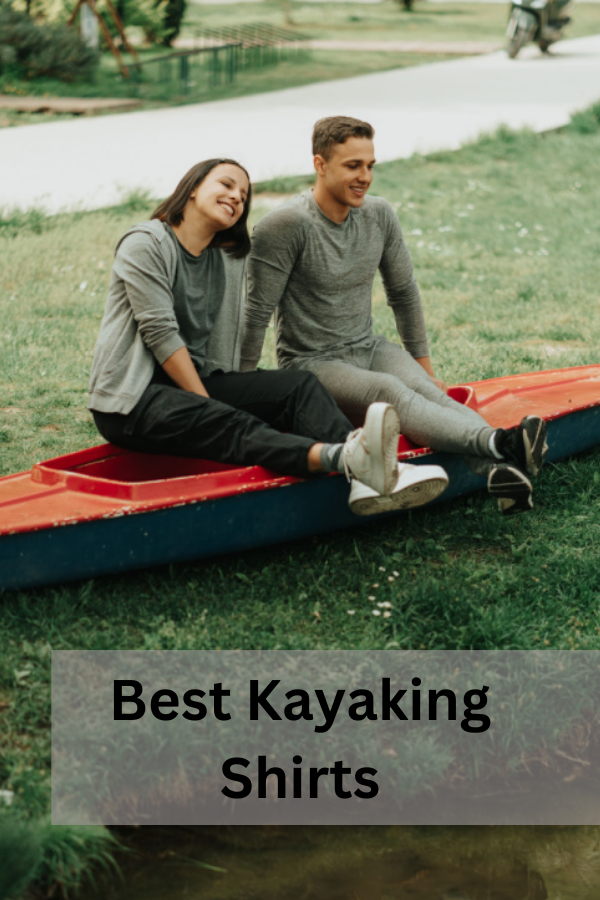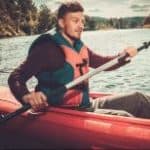 Author: Peter Salisbury
Pete is the Owner of KayakHelp.com. Born and raised in Cleveland, Ohio, he grew up kayaking, fishing, sailing, and partaking in outdoor adventures around the Great Lakes. When he's not out on the water, you can find him skiing in the mountains, reading his favorite books, and spending time with his family.