If you live close to a paddle-friendly body of water, kayaking can be a great way to exercise and stay fit. The best kayaks for exercise and workouts will help you maximize your efforts and stay in great shape during the warmer months of the year.
In fact, you may even be able to paddle in your area year-round if you are equipped with the proper cold-weather gear. The stakes get a lot higher if you are ill-prepared for winter kayaking, but you can still use this activity to stay in shape with the proper preparation.
Whether you are looking for a kayak to help you be more active during the summer or throughout the entire year, we have you covered. We are going to use our time today to highlight 15 excellent kayak models for exercise and workouts.
The right model for you will vary depending on several important factors. So we will also address some buying considerations that will help you narrow down your selections.
Photo by Parilov via Shutterstock
Best Kayaks For Exercise & Workout
BOTÉ Deus Aero
AQUAGLIDE Chinook 100
Lifetime Tamarack Angler 100
Pelican Sentinel 100X
Intex Excursion Pro
Brooklyn Kayak Company PK12
Pelican Argo 100X
Perception Kayaks Flash 9.5
Lifetime Payette Angler
Wilderness Systems Tsunami 140
Delta Kayaks Delta 14
Eddyline Kayaks Sitka ST
Current Designs Kayaks Vision 130
Old Town Canoe and Kayak Looksha T
Ocean Kayak Malibu Pedal
Kayak Buying Guide
Photo by Everything You Need via Shutterstock
Some of these kayaks will require you to purchase several additional kayaking accessories in order to use, store, and transport them safely. Others will be more of a one-stop solution to help you get out on the water and get back in shape.
So let's consider a few factors that will help you hone in on the right kayak for your lifestyle and experience level.
Storage Space at Home
To put it as simply as possible, you will need a place to store your kayak when you are not using it. The amount of space for kayak storage is going to differ greatly between a small second-story apartment and a 2,000-square foot home with a two-car garage, for example.
Apartment dwellers and those with limited storage space should trend towards a smaller and lighter kayak that will be easier to store and transport. In the best case, you can even find one of the best inflatable kayaks that pack down into a convenient carry bag between uses.
For folks with more space to store a kayak in the garage or yard, size, and weight are smaller concerns. You can choose a larger kayak as long as you feel comfortable with securing it on your roof rack and transporting it safely.
Single or Double
Next, consider whether your kayak workout endeavors will mainly be solo journeys or tandem expeditions. Some of these kayaks are convertible to be used by either one or two paddlers, but most are set in their single or tandem design.
If you think you will mostly be using your kayak by yourself, getting a convertible model will slow you down and make your workouts less efficient. However, most people use their kayaks in multiple ways.
That is why a convertible model can be a good choice for beginners that are still refining their paddle style. For more experienced paddlers, however, a single kayak is usually the best for exercise because you can push yourself according to your individual fitness level instead of being forced to slow down or speed up based on how your partner is doing.
Leg Day or Arm Day?
Most people use kayaking as a great way to work out their upper body and core muscles. With the proper technique, you should also be activating muscles in your legs to help with stabilization, but regular kayaking can't compare to other workouts liking hiking or running.
So if you are an avid hiker (or you have any other recreational passion that helps you keep your lower body in shape), you should opt for a regular kayak that can be paddled with one of the best kayak paddles on the market.
If upper body workouts are somehow built into your everyday lifestyle already, however, there are also pedal-driven kayaks that can give you a great leg workout. These kayaks are also great for people with shoulder or arm injuries that prohibit them from paddling safely.
Kayak Type
The last note we want to add is about the types of kayaks you will find below. There are inflatables, sit-on-tops, and sit-inside kayaks on our list and they each can be better for certain uses.
Most intermediate and experienced kayakers who use this activity for regular exercise wind up preferring a sit-inside kayak. This style usually sits lower in the water and achieves higher top speeds than the others.
Because of this, it allows you to cover more ground and feel like you are flying through the water while you are working out. Sit-inside kayaks also provide plenty of enclosed storage for long-distance workouts.
The downside of sit-inside kayaks is that they can feel a little less stable for beginners and are also more difficult to climb back into if you capsize. The good news is that you can still get a decent workout with a sit-on-top or inflatable kayak until you gain the skills and experience to feel comfortable in a sit-inside design.
Thumbnail
Title
BOTE Deus Aero Inflatable Kayak Convertible Stand Up Paddle, Board for Adults Kids Family Friendly, Travel Bag Blow Up for Fishing Hunt, Native Citron
AQUAGLIDE Chinook 100 Inflatable Kayak, 1-2 Person, Multicolor, Medium
Lifetime Muskie Angler Sit-On-Top Kayak with Paddle, Tan, 120""" (90508)
Pelican Sentinel 100X EXO Angler Fishing KayakSit-on-Top KayakLightweight one Person Kayak9.6 ft
Intex Excursion Pro Kayak, Professional Series Inflatable Fishing Kayak, K2: 2-Person, Red
Reviews of Kayaks For Exercise & Workout
Check Price On Amazon
Length: 11'
Width: 33"
Weight: 41 pounds
Weight Capacity: 300 pounds
The BOTÉ Deus Aero is one of the most efficient inflatable kayaks on the market these days. It also features a unique design that sits much higher in the water than most traditional kayaks.
The main advantage of that is a better vantage point for kayak anglers, but it also has benefits for your workout routine. This is the only kayak on our list that can be converted for either sit-down or stand-up paddling, which allows you to get a more full-body workout.
Compared to many other inflatables, the Deus Aero inflates to a much higher air pressure that helps to facilitate a more rigid design. That is why it remains stable if you stand up and it also makes this kayak much more durable and longer-lasting than its inflatable competitors.
Check Price On Amazon
Length: 10'
Width: 36"
Weight: 23 pounds
Weight Capacity: 400 pounds
The biggest benefit of the AQUAGLIDE Chinook 100 is its weight. It is the lightest kayak on our list and, because it is an inflatable, it is also a great choice for people that do not have a lot of extra storage space around the house.
This kayak can also be converted to be paddled solo or with a partner and it includes footrests in the cockpit to help you maintain a more ergonomic position for more effective workouts. Plus, it comes with a quick-release fin that allows it to track straighter instead of you always having to make corrective paddle strokes.
Check Price On Amazon
Length: 10'
Width: 31"
Weight: 52 pounds
Weight Capacity: 275 pounds
The Lifetime Tamarack Angler 100 is one of the least expensive kayaks on our list and is great for beginners that are looking to find out if kayak workouts are their thing. It includes multiple footrests to accommodate paddlers of varying heights.
It also includes some features that make it easy for the kayak angler when on the water. So it can be used for exercise or fishing if you are experimenting with which of these kayaking activities will be your favorite.
The Tamarack Angler also comes with its own two-piece, collapsible kayak paddle. So you won't have to worry about shopping for a paddle separately if you choose this kayak for your exercise and workout needs.
Check Price On Amazon
Length: 9'6"
Width: 30"
Weight: 42 pounds
Weight Capacity: 275 pounds
The Pelican Sentinel 100X is a great choice for smaller paddlers and it features a hybrid design that gives you some of the benefits of both sit-on-top and sit-inside kayaks. It is technically a sit-on-top, but the deeper cockpit helps to keep you drier than with certain other models.
It also features a 13-liter removable storage compartment in the stern of the kayak. You will either be able to use it to bring along essential kayaking supplies or remove it if you want to travel lighter.
The Sentinel 100X is also made with Pelican's proprietary RAM-X material. This material allows the kayak to regain its shape if dented and makes it more forgiving for beginners.
Check Price On Amazon
Length: 12'7"
Width: 37"
Weight: 39 pounds
Weight Capacity: 400 pounds
The Intex Excursion Pro K2 is the largest inflatable kayak on our list at nearly 13 feet in length. Its higher weight capacity also makes this kayak a great choice for larger paddlers and couples that don't have a lot of storage space at home.
The K2 can be converted for single or tandem use and it comes with integrated fishing rod holders if you decide down the line that you want to try your hand at kayak angling. For your workout needs, however, you will love the adjustable seats and footrests that help you maintain proper paddling posture.
The Excursion Pro also comes with two different detachable skegs for the hull. One is longer and the other is shorter, which allows you to adapt this kayak for efficient paddling in deep or shallow water.
Check Price On Amazon
Length: 12'
Width: 32.75"
Weight: 70 pounds
Weight Capacity: 460 pounds
The PK12 from Brooklyn Kayak Company is the first kayak on our list that will allow you to get an upper body or a lower body workout. This kayak is equipped with a pedal-drive system for hands-free locomotion.
You will, however, have to use one hand to operate the rudder and steer your kayak in the direction you want it to go. Aside from that, however, this kayak also features an elevated seat that makes it great for paddlers with tight hips and lower backs.
If you want to paddle your PK12 kayak with a regular paddle, you can remove the pedal drive system entirely. Plus, this kayak even gives you the freedom to install an electric trolling motor down the line if you decide "getting a workout" isn't really your favorite part of kayaking!
Check Price On Amazon
Length: 10'
Width: 28"
Weight: 41 pounds
Weight Capacity: 300 pounds
The Pelican Sprint XR is a true sit-inside kayak designed for smaller intermediate paddlers. It features a large enclosed storage compartment at the stern and additional bungee rigging for attaching gear at the bow.
The deeper V-shaped chine hull on this kayak also makes it more stable in choppy conditions and improves overall efficiency over longer distances. It also makes it more responsive to shifts in your weight and body position, which is why it isn't best for beginners.
The Sprint XR also includes a built-in keel extension that improves its ability to track straight without requiring an excessive amount of corrective paddle strokes. Plus, the stern bulkhead provides extra flotation for less-than-ideal paddling conditions.
Check Price On Amazon
Length: 9'6"
Width: 28.5"
Weight: 41 pounds
Weight Capacity: 325 pounds
The Perception Kayaks Flash 9.5 is a small and fast kayak for workouts and exercise. It features a more open cockpit design that makes it easier to climb in and out while still maintaining all the benefits of a sit-inside kayak.
This kayak is also extremely stable for beginner and intermediate paddlers and it features deep tracking channels in the hull to keep it straight. The ten-inch rear storage hatch provides plenty of room for your safety equipment and the molded-in paddle holders allow you to give kayak fishing a try.
The Flash 9.5 also features a cockpit dashboard for small gear storage and keeping your beverage secure. For comfort, you will love the high seat back and the adjustable foot pedals inside the cockpit.
Check Price On Amazon
Length: 9'8"
Width: 30"
Weight: 44 pounds
Weight Capacity: 250 pounds
The Lifetime Payette Angler is a very similar design to the Flash 9.5, but it weighs slightly more and has a lower weight capacity. So it is definitely best for smaller paddlers or even young teenagers.
This kayak features a sharp keel for better speed and easier tracking. It also boats an enclosed compartment right behind the kayak seat that seals with a hatch cover and additional shock cord webbing.
While it functions very well as a kayak for workouts, it is also a fishing kayak. You will be able to utilize the swivel-mounted rod holder in front of the cockpit and keep your paddle safe in the paddle holder when you have a fish on the line.

PC Wilderness Systems Kayaks
Length: 14'
Width: 25.5"
Weight: 53 pounds
Weight Capacity: 325 pounds
The Tsunami kayak series is iconic of the Wilderness Systems brand and the redesigned 140 is great for experienced paddlers. It allows you to cover some serious ground on your workout paddles and can also adapt for multi-day kayak expeditions.
This kayak now includes two removable mesh storage backs on the deck just in front of the cockpit. There is now an additional under-deck storage area that is perfect for smaller items or your favorite kayak beverage.
The 140 also features flared sidewalls and increased volume to provide more stability and internal storage space. The extension of the kayak's total waterline also enhances its overall speed and efficiency for your workouts.

PC Delta Kayaks
Length: 14'
Width: 23.5"
Weight: 45 pounds
Weight Capacity: 340 pounds
The Delta 14 is designed for paddlers of all skill levels with a long waterline and moderate V-shaped hull. These features provide a great balance of speed, stability, and maneuverability.
This kayak is also great for multi-day trips and features a super-comfortable cockpit for longer days on the water. The skeg system on the bottom of the kayak can also be deployed if you need a little extra assistance in tracking.
The great part about the skeg is that you can get a more even workout in windy or wavy conditions. Instead of having to paddle more on one side or the other to keep your kayak straight, the skeg does the work for you.
PC Eddyline Kayaks
Length: 13'9"
Width: 22.5"
Weight: 43 pounds
Weight Capacity: 300 pounds
The Sitka ST is the narrowest kayak on our list, which reduces overall drag as you are trying to reach top speeds on your workouts. Its smaller size makes it a good choice for paddlers with small and medium frames.
The ST features retractable handles to further reduce wind resistance and it boasts two large hatch compartments for all of your paddling gear. You will even be able to use the perimeter lines to attach an anchor trolley if you opt for a swim stop during your exercise routine.
This kayak also comes with their upgraded ergonomic seating system as a standard feature, but more old-school paddlers can always opt for the traditional back band if you prefer.

PC Current Designs
Length: 13'
Width: 24"
Weight: 40 pounds
Weight Capacity: 275 pounds
The Vision 130 is a lightweight composite kayak with two bulkheads that provide additional flotation. This gives the kayak more buoyancy, which enhances your safety if it does happen to capsize.
The Vision 130 is designed for minimal wind exposure with a keyhole-style cockpit opening. That keeps you warmer if you are working out on colder days and also increases the kayak's overall efficiency.

PC Old Town Canoe and Kayak
Length: 18'1"
Width: 30"
Weight: 96 pounds
Weight Capacity: 625 pounds
The Looksha T from Old Town Canoe and Kayak is the last tandem kayak for exercise and workouts. If you and your partner are experienced paddlers and you like to work out together, this is the kayak for you.
Despite its extra length, this kayak is still very skinny to minimize drag and maintain efficiency in the water. It also boasts a retractable rudder (controlled by the stern paddler) that allows you both to focus on keeping a consistent paddle cadence instead of the stern paddler worrying about steering strokes.

PC Ocean Kayak
Length: 12'
Width: 34.5"
Weight: 105 pounds
Weight Capacity: 450 pounds
To complete our list, we wanted to add at least one more kayak that gives you the option of choosing to do an arm day or a leg day every time you go out. The Malibu Pedal model from Ocean Kayak does just that.
You can park your paddle in the paddle holder on the gunwale and use your legs to propel your kayak forward. The retractable rudder is also easy to operate with one hand to keep your kayak heading in your preferred direction.
Final Thoughts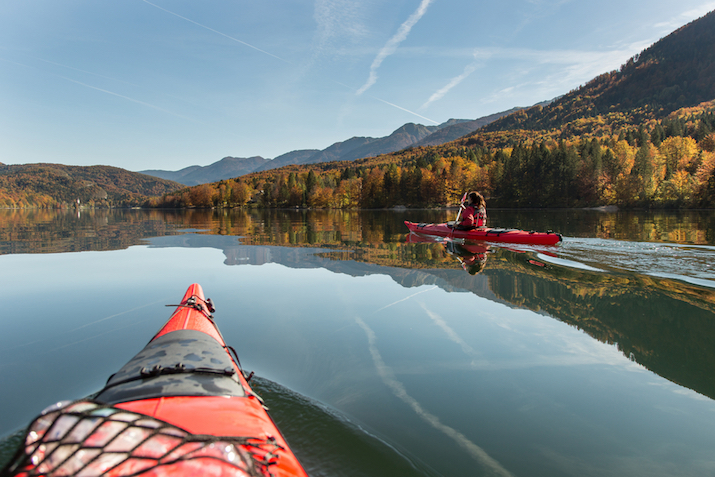 Photo by Urbans via Shutterstock
As we mentioned in our Buying Guide, the best model for you and your exercise routine will largely depend on your experience level. So, instead of recommending a single kayak model for exercise and workouts, we are going to provide a few suggestions for paddlers of different experience levels.
For beginners, we recommend the Perception Kayaks Flash 9.5 because it is lightweight and quite nimble. It is also equipped with features that can allow you to explore kayak fishing in addition to getting your workouts in.
For folks that are extremely limited in terms of storage space at home for a rigid, rotomolded kayak, we recommend the BOTÉ Deus Aero. It is one of the most efficient and easy-to-paddle inflatable models out there and packs up into a compact backpack between uses.
Finally, for experienced paddlers that are looking for efficiency and interested in covering as much ground as possible during their kayak workouts, we recommend the extremely light and fast Vision 130 from Current Designs Kayaks.
We hope you have found these tips and kayak suggestions useful as you get ready for water-based workouts. As always, we wish you the happiest and healthiest of kayak adventures in the coming months!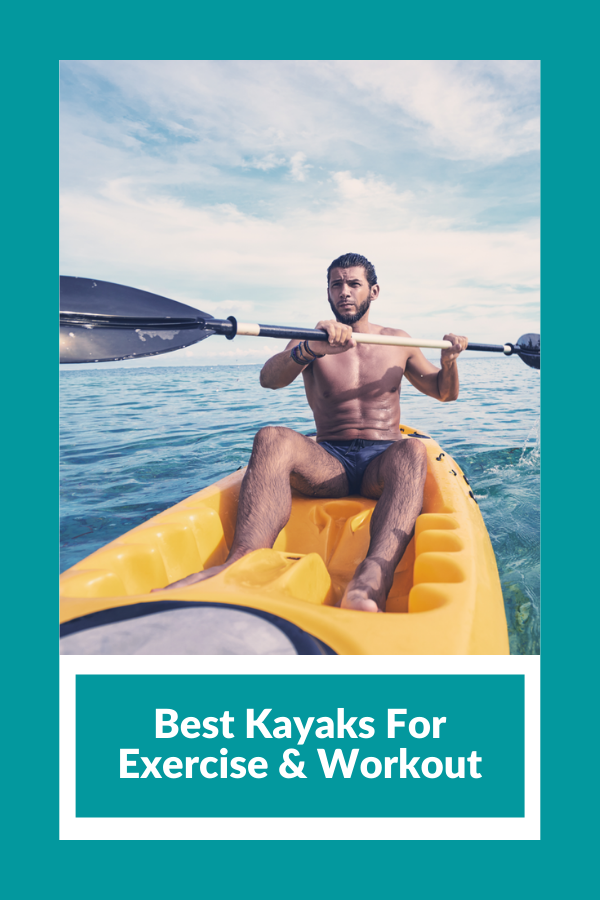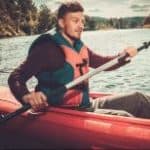 Author: Peter Salisbury
Pete is the Owner of KayakHelp.com. Born and raised in Cleveland, Ohio, he grew up kayaking, fishing, sailing, and partaking in outdoor adventures around the Great Lakes. When he's not out on the water, you can find him skiing in the mountains, reading his favorite books, and spending time with his family.