If you like to dive but sometimes have trouble finding someone with a boat to take you out, you might consider picking up one of the best kayaks for scuba diving. These kayaks are stable, easy to climb in and out of, and have plenty of room for all of your dive gear.
Sit-on-top kayaks are the design of choice for most divers because they have open cockpits. That makes them easy to hop out of when you are ready to descend and easy to climb back into when you resurface.
This style of kayak is also built with scupper holes that naturally allow water to drain out of the cockpit and storage areas. When you paddle out with the intention of getting in the water, having a kayak that drains naturally is essential.
That is why all of the models we have chosen to review below are of the sit-on-top variety (aside from one unique inclusion!). In addition to reviewing 10 of the best kayaks for scuba diving, we will also cover some essential considerations when you are choosing a new kayak.
Let's dive right in!
Photo by Jory Compendio via Shutterstock
Best Kayaks For Scuba Diving
BOTE Zeppelin Aero
Brooklyn Kayak Company FK184
Brooklyn Kayak Company TK122
Lifetime Beacon Tandem
Lifetime Tamarack Angler
Brooklyn Kayak Company RA220
Perception Kayaks Access 11.5
Perception Kayaks Pescador 12.0
Ocean Kayak Malibu Two XL
Ocean Kayak Trident 11 Angler
Buying Guide For Diving Kayaks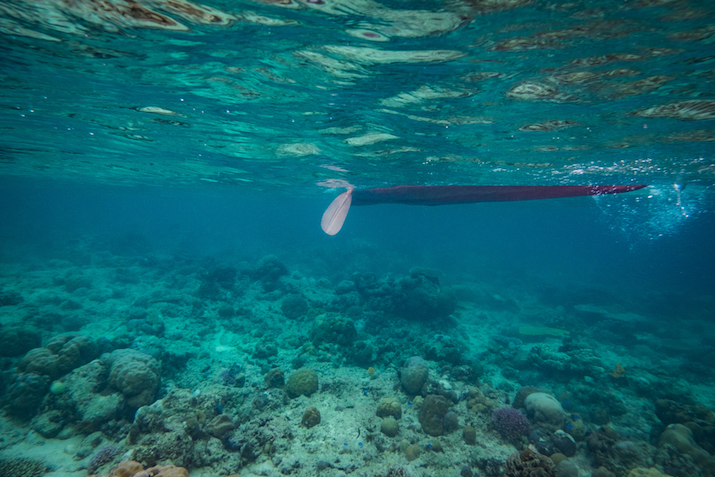 Photo by Lexter Yap via Shutterstock
Picking a diving kayak is different mainly because you probably won't be doing as much actual paddling as most other types of kayakers. So let's address the most important characteristics of a kayak that is going to be used primarily for scuba diving.
Storage Space and Layout
You need plenty of storage space on your kayak for all of your scuba gear. Plus, you will need a storage layout that allows you to keep your gear reasonably organized so that you can easily set up for your dive once you paddle out to your intended location.
For instance, you need a storage compartment with enough length to fit your air tank (or tanks). The rear tankwell is usually going to offer the most storage space on these kayaks, but you just need to make sure the standard tank size that you typically use will fit on your kayak.
Fortunately, most of these kayaks also come with a section of bungee cord to keep gear secure in the stern and bow storage areas. If you have items that you need to keep secure in a hatch-sealed compartment while you are diving, also consider narrowing down your choices to find a design with at least one watertight hatch cover.
Visibility
Many places require that divers attach some sort of buoy to their person while submerged. This buoy floats on the surface and follows your position so that boaters and other kayakers know where you are.
This protects you from boats potentially running into you as you are resurfacing because they are otherwise unaware of your location. Your kayak can also be a good method for improving your visibility while you are diving.
In other words, picking a brighter kayak will make you more visible when setting up for your dive, actually diving, and when you resurface. This is especially important if you like to dive in areas that are popular for other divers, kayakers, and motorized vessels.
Ease of Anchoring
It can be a good idea to attach a line from yourself to your kayak to make it easier to find your way back to it when you are finished diving. Ideally, however, that line has enough slack so that your kayak doesn't pull you around while you are exploring the reef.
Additionally, many divers will drop an anchor off of their kayak so that it doesn't drift with the ocean currents while they are down. So the right kayak for scuba diving will always boast multiple attachment points for an anchor trolley.
The good news is that you can find an anchor trolley kit online that will allow you to create an attachment if your kayak doesn't have a good spot for one. It is easier, of course, to purchase a kayak that is more dive-ready.
Weight
Start by evaluating the weight of the kayaks you are interested in before you load in any of your gear and climb in. This weight will impact how easy (or difficult) it is to transport your kayak and prepare it for your dive trips.
Sometimes, you will need to choose a kayak with a heavier base weight if you need enough room for two people and your dive gear. These larger kayaks also tend to have higher weight capacities.
The problem with this is that it gets more dangerous and exhausting to simply transport a kayak the heavier it gets. So we would highly recommend looking into one of the best kayak carts, wheels, or trolleys to help you roll your kayak down to the water instead of having to carry it.
Weight Capacity
You will also need to think about the weight of the kayak after you load in all of your dive gear. You will have a lot more gear weight than the average recreational paddler, so you will need a kayak that can support that weight.
As a rule of thumb, most manufacturers recommend a maximum weight limit for their kayaks. If you really want your kayak to perform as expected, however, most kayakers actually follow what is known as the 80 percent rule.
This rule simply states that the maximum usable weight capacity of a kayak is actually about 80 percent of the advertised weight limit. For a kayak with a 500-pound advertised capacity, then, you really would want to load it with a maximum of about 400 pounds.
Keep this in mind as you add up the total weight of your body, your partner's body (if you dive with a partner), and all of your gear. Avoid breaking the 80 percent rule if you want your kayak to perform well when you are paddling to and from your dive spots.
Thumbnail
Title
BOTE Zeppelin Aero Inflatable Kayak | Tandem Kayak | Kayak for Fishing & Recreation
BKC FK184 9' Solo Sit-On-Top Kayak w/Premium Memory Foam Seat -Paddle and Fishing Rod Holders Included
BKC TK122 Angler 12-Foot, 8 inch Tandem 2 or 3 Person Sit On Top Fishing Kayak w/Upright Aluminum Frame Seats and Paddles (Army Green)
Lifetime Beacon Tandem Kayak, Red, 12'
Lifetime Muskie Angler Sit-On-Top Kayak with Paddle, Tan, 120""" (90508)
Thumbnail
Title
BOTE Zeppelin Aero Inflatable Kayak | Tandem Kayak | Kayak for Fishing & Recreation
Thumbnail
Title
BKC FK184 9' Solo Sit-On-Top Kayak w/Premium Memory Foam Seat -Paddle and Fishing Rod Holders Included
Thumbnail
Title
BKC TK122 Angler 12-Foot, 8 inch Tandem 2 or 3 Person Sit On Top Fishing Kayak w/Upright Aluminum Frame Seats and Paddles (Army Green)
Thumbnail
Title
Lifetime Beacon Tandem Kayak, Red, 12'
Reviews of Kayaks For Scuba Diving
Check Price On Amazon
Length: 12'6"
Width: 38 inches
Weight: 41 pounds
Weight Capacity: 600 pounds
The BOTE Zeppelin Aero is the only inflatable kayak on our list because most other inflatable kayak manufacturers don't produce models that are durable and versatile enough to handle an activity like scuba diving.
The Aero, however, is super stable and extra wide so that you have plenty of room for your gear in the cockpit. Speaking of the cockpit, it also self-drains so that you don't build up a bunch of standing water like you would with most other inflatable kayaks.
This model is also head-and-shoulders above all the competition when it comes to portability. If you like to travel and dive internationally, the Aero packs up into a backpack-style carry bag that measures 38.6 inches tall by 28 inches wide by 14.2 inches deep.
That size is compact enough to be checked on most airlines so that you can truly bring it wherever you go. It also comes with a center fin, hand pump, Rac receivers, repair kit, and the inflatable kayak seat.
That seat gives you the kind of elevated vantage point that you won't really enjoy with most other kayaks. That can help you site out your dive spot with greater accuracy when you are preparing for a dive.
Check Price On Amazon
Length: 9 feet
Width: 32 inches
Weight: 44 pounds
Weight Capacity: 330 pounds
The Brooklyn Kayak Company FK184 is a great solo kayak for smaller divers or even teenagers accompanying their parents or supervising adults on dive trips. The shorter length makes this kayak easier to transport.
It also translates to a lighter kayak overall, but it still boasts a very reasonable weight capacity for you and your dive gear. Speaking of gear, this model boasts two watertight storage hatches in the cockpit and towards the bow.
There is also a larger stern tankwell that is great for storing air tanks or bulkier accessories. That rear storage area also includes bungee rigging for you to secure your gear and there are a total of five fishing rod holders on this kayak.
So even if you are not using it for fishing applications, those rod holders will make it easy to attach a flag or kayak light to help improve your visibility while you are out in busier waters.
Check Price On Amazon
Length: 12'6"
Width: 34 inches
Weight: 74 pounds
Weight Capacity: 770 pounds
The Brooklyn Kayak Company TK122 is a tandem kayak that is meant for diving couples. That being said, it can also be used by single divers with a lot more gear that could include things for activities like baitcasting or spearfishing.
While you probably won't want to paddle it from the stern seat as a solo paddler, it is possible for short distances. If you need it, there is also a small third seat at the center of the kayak for a child or furry paddle companion.
This model boasts elevated kayak seats that will make it easier for you to prepare for your dives. It makes it easier to swing your legs over the side to prepare to enter the water and will also help you more comfortably remove booties or other dive clothing once you are finished with your dive and preparing to start paddling home.
The TK122 also comes with a bunch of the accessories you will need to get right out on the water (provided you have your dive gear ready). That includes two adjustable aluminum paddles, both seats, a rear cargo hold with bungee rigging, and two watertight hatches for securing sensitive gear or emergency equipment.
Check Price On Amazon
Length: 12 feet
Width: 32 inches
Weight: 90 pounds
Weight Capacity: 500 pounds
The Lifetime Beacon Tandem kayak is a slightly more affordable model for dive couples. It doesn't have quite the comfort features as the TK122, however, and its heavier weight means you will definitely want a kayak cart to transport this one.
That said, it boasts two rubberized handles at the bow and stern for easier carrying or pulling through the water if you need to. It also has additional handles on the gunwales to help you climb in and out.
Also on those gunwales, you will find paddle keepers for both seats. This allows you to keep your paddle secure while you are diving or just setting up for your dive.
The Beacon Tandem also boasts a full cargo net over the rear storage tankwell. This provides more complete security for the dive gear or kayaking supplies that you store back there while you are out on the water.
Check Price On Amazon
Length: 10 feet
Width: 31 inches
Weight: 52 pounds
Weight Capacity: 275 pounds
The Lifetime Tamarack Angler is another solid option for solo divers. Note that it does have a lower weight capacity than some of the other kayaks on this list, which makes it a better choice for smaller folks (or if your dive setup doesn't weigh that much).
It is longer than the nine-foot BKC kayak that we mentioned above, which gives you a little extra storage space. It also comes with its own paddle and boasts two small, circular storage hatches for watertight storage.
Additionally, it boasts bungee rigging at the bow and over the stern storage area. It also has a total of three fishing rod holders that divers can use for flags, lights, or other diving accessories.
The hull of the Tamarack kayak is specifically designed for stability so you can more easily prep for your dives without worrying about capsizing. Plus, it is molded with UV-protected polyethylene, which improves its ability to handle long hours in the sun without degrading.
Check Price On Amazon
Length: 11'6"
Width: 34 inches
Weight: 68 pounds
Weight Capacity: 550 pounds
The Brooklyn Kayak Company RA220 is a single kayak that is great for getting to more remote dive locations. It is the only kayak on our list with a foot-controlled rudder that you control using the pedals in the cockpit.
Rudders and skegs are typically only found on long-distance touring kayaks that require the ability to track straight when they encounter heavy winds and strong ocean currents. For this application, it will help you expend less energy to get to ocean dive spots so that you can save that energy for the dive itself.
This kayak design also features an upright aluminum seat with mesh netting that breathes very well on hot days. That mesh also allows it to dry rather quickly after you have climbed back in and soaked it at the end of one of your dives.
There are a total of three watertight hatches on this kayak and an additional open storage tankwell in the stern with bungee rigging. You will also be able to utilize two flush-mounted rod holders for various applications.

PC Perception Kayaks
Length: 11'6"
Width: 31 inches
Weight: 55 pounds
Weight Capacity: 300 pounds
The Access 11.5 from Perception Kayak is a no-frills, affordable design that is made for a single paddler. Molded-in handles on the bow, stern, and gunwales are great for minimizing the number of things you can get caught on while climbing in and out of this kayak.
It features just a single watertight storage hatch in the cockpit but does have bungee-covered storage areas at the bow and stern. The seat of this kayak is also ergonomically molded right into the body of the kayak itself.
The effect of that is less set-up time spent snapping or buckling a seat into your kayak while you are preparing to hit the water. This is nice when you probably have to spend a lot of time checking (and double-checking) all of your dive gear.
PC Perception Kayaks
Length: 12 feet
Width: 32.5 inches
Weight: 64 pounds
Weight Capacity: 375 pounds
Perception's Pescador 12 is a slight step up from the Access 11.5 (both in terms of price and features). It has a larger sealed storage compartment just in front of the cockpit for keeping extra gear dry.
It also features a flip-up seat back that will take a few more seconds to set up than the seat in the Access model. The advantage of this style of seat, however, is that it includes attachment points on the gunwales that can also be used for attaching an anchor trolley or signal buoy.
This design also includes a paddle keeper on the left gunwale and accessory tracks on both gunwales. If, for instance, you like to use a GPS unit to map ocean topography to identify dive sites, these tracks are the perfect place to attach a kayak GPS.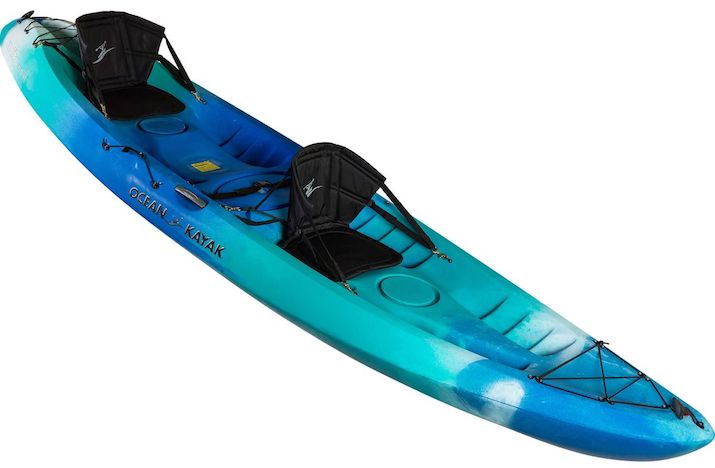 PC Ocean Kayak
Length: 13'3.96"
Width: 34 inches
Weight: 70 pounds
Weight Capacity: 500 pounds
Ocean Kayak has a long history of creating ocean-ready kayak models and the Malibu Two XL is a great choice for tandem divers or larger paddlers. It features removable seats that allow you to set it up in a variety of configurations.
Set up both seats for you and your dive partner to head out. Or remove one seat and set yourself up in the central third seat so that you can attach all of your dive gear in front of and behind you.
This is a highly stable kayak model with bungee rigging at the bow and stern. It also boasts a single storage strap at the center of the kayak, but it is one of the more minimal designs when it comes to overall storage space.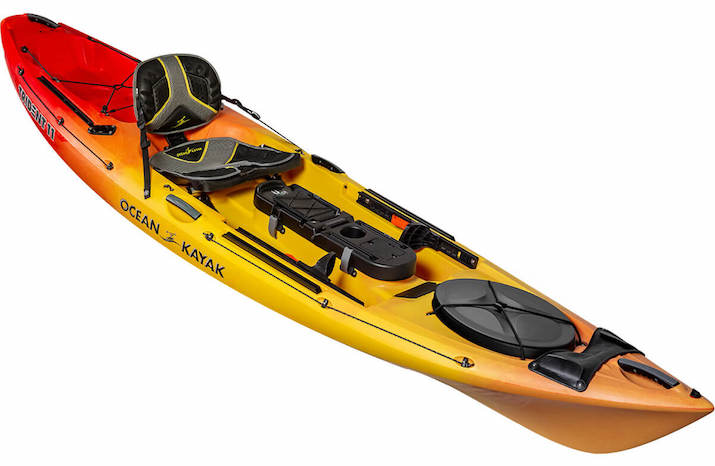 PC Ocean Kayak
Length: 11'6"
Width: 30.5 inches
Weight: 71 pounds
Weight Capacity: 305 pounds
The Ocean Kayak Trident 11 Angler is one of their better models for a single diver. It is also one of their more compact kayak models, which makes it highly maneuverable and also a bit easier to transport.
Perhaps the best feature of this kayak is the pod storage system in the center of the cockpit. It makes it easy to keep your smaller gear items and dive accessories well organized instead of having them stashed loosely in an oversized dry bag.
The Trident 11 also includes accessory tracks on the gunwales for attaching gear, a large watertight storage hatch at the bow, and an oversized rear tankwell that is perfect for storing your air tank.
Finally, it includes reflective deck rigging that makes it easy to attach an anchor trolley and also serves to increase your visibility in poor lighting conditions. You will also have the option of adding a rudder system to the stern of this kayak for better tracking ability.
Check Price On Amazon
The BOTE Zeppelin Aero is our pick for the best kayak for scuba diving because it is one of the only inflatable designs out there that suits this application. It is durable enough and has plenty of space to hold all of your diving gear.
It also makes it much easier to set up for your dive trips because you will not need to worry about transporting it using a kayak trailer or learning how to strap a kayak to your vehicle if you don't have a roof rack.
We also like this particular model because has lower sides than BOTE's other inflatable kayak designs, which are more aptly suited to fishing applications. That makes it much easier to climb back into the Zeppelin Aero once you come back to the surface.
We think you will also enjoy the fact that the Aero has a self-draining hull. These function much the same as the scupper holes on a rigid, rotomolded kayak so that you don't wind up filling your kayak when you climb back in after a dive.
Finally, the Zeppelin is BOTE's most versatile inflatable kayak model. So if you don't always intend to dive every time you take it out, it can also handle recreational paddling, light river running, and even international travel!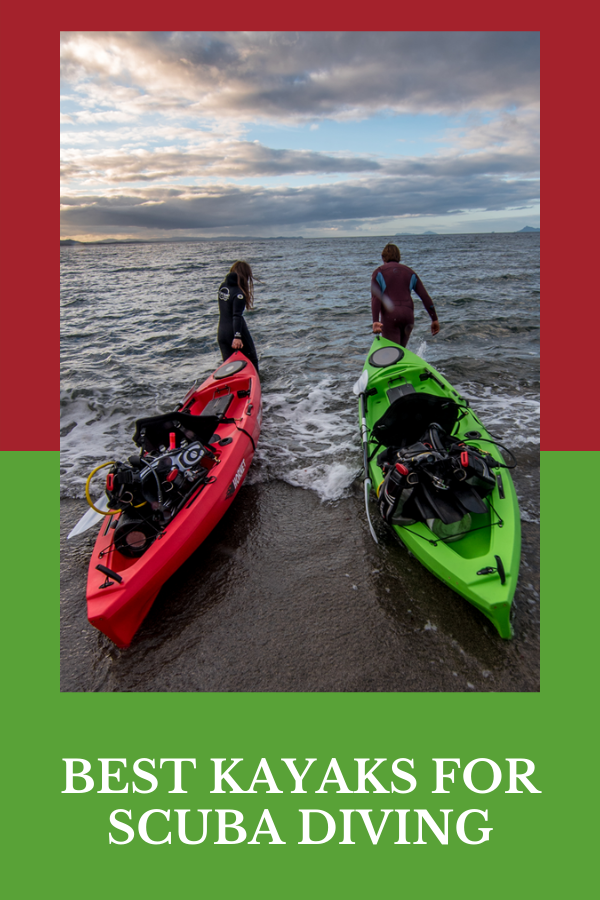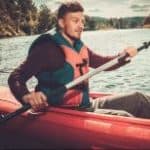 Author: Peter Salisbury
Pete is the Owner of KayakHelp.com. Born and raised in Cleveland, Ohio, he grew up kayaking, fishing, sailing, and partaking in outdoor adventures around the Great Lakes. When he's not out on the water, you can find him skiing in the mountains, reading his favorite books, and spending time with his family.