Ski resorts are melting pots of personalities. The people who live in them and visit them have colorful personalities, varying life experiences, and exciting perspectives.
Many of these people like to share their words of wisdom with the world. Therefore you can expect some funny and inspirational quotes to come out of the snowboard industry.
In this article, we will take a look at some of the best snowboarding quotes.
Best Snowboarding Quotes
1. "In snowboarding, there's a huge focus on style. It's the aesthetic that draws us in." – Seth Wescott
Seth Wescott is a two-time Olympic boardercross champion. In this quote, he reflects on how snowboarding looks from the outside. Some snowboarders have fantastic riding styles with their own characteristics that make the sport so cool to watch.
2. "Some people attach snowboards to their feet, very few attach them to their souls." – Shaun White
A great quote from the most successful snowboarder ever. Here, Shaun White describes that some snowboarders take the sport too seriously and ride for money rather than fun. However, he is sponsored by Prada…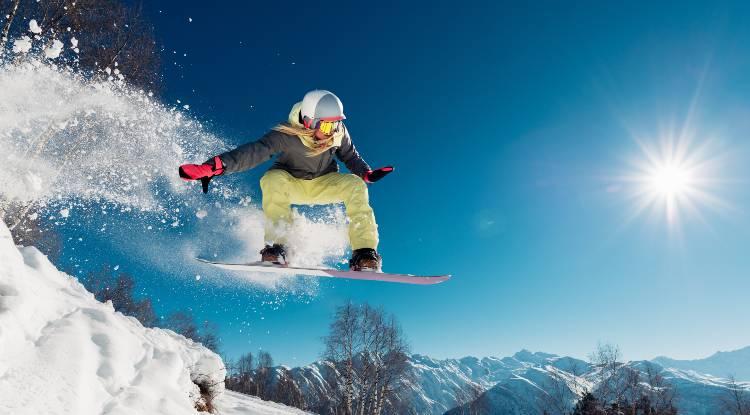 Image by Dmytro Vietrov from Shutterstock
3. "Snowboarding is an activity that is very popular with people who do not feel that skiing is lethal enough." – Dave Barry
Journalist Dave Barry gave us this funny quote when writing about learning how to snowboard with his son. At age 47, he decided to try snowboarding so he and his son could be at a similar skill level. This quote describes how different he found snowboarding from skiing.
4. "I know a lot of people who used to ski, but I don't know anyone who used to snowboard." – Unknown
Many people start skiing but move to snowboarding later on. This quote is obviously a generalization written by a dedicated snowboarder, but it is rare for a snowboarder to swap their board for a pair of skis permanently.
5. "When hell freezes over, I'll snowboard there too." – Unknown
This quote can often be found on t-shirts and keyrings in the resort gift shop. It is a quirky quote that demonstrates a person's dedication to the sport.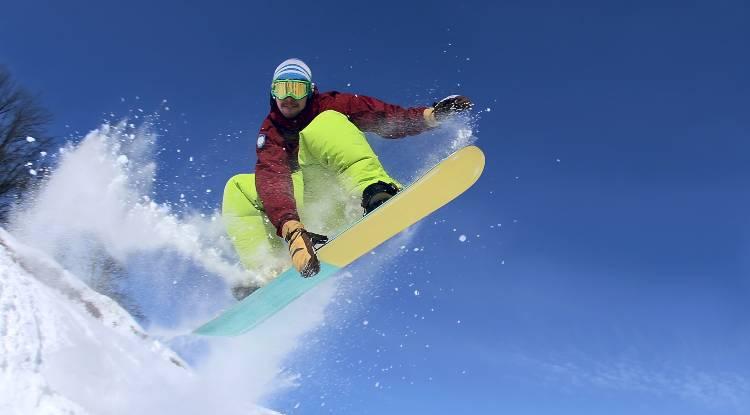 Image by Maxim Blinkov from Shutterstock
6. "There are no rules in snowboarding." – Amy Purdy
Amy Purdy is an inspirational person at the top of her game in many aspects o her life. She is a motivational speaker, best-selling author, and a three-time Paralympic medalist. In this quote, she describes how snowboarding is pretty much limitless, and you can ride however you want.
7. "There's no blueprint to snowboarding, you know? You can really make your own mark." – Sage Kotsenburg
Slopestyle Olympic gold medalist Sage Kotsenburg talks about the way you can develop your own style, almost using it as a signature. If you have ever seen Sage ride, you will know he has a distinctive style that has helped him win competitions all over the world.
8. "To me, snowboarding is really an art form, and I think every athlete, every snowboarder has her own style, and that makes them stand out." – Chloe Kim
Chloe is another Olympic gold medalist, this time in the half-pipe event. But she echoes Sage Kotsenburg's quote above, talking about how every rider has their own style that impresses crowds and judges every time they strap in.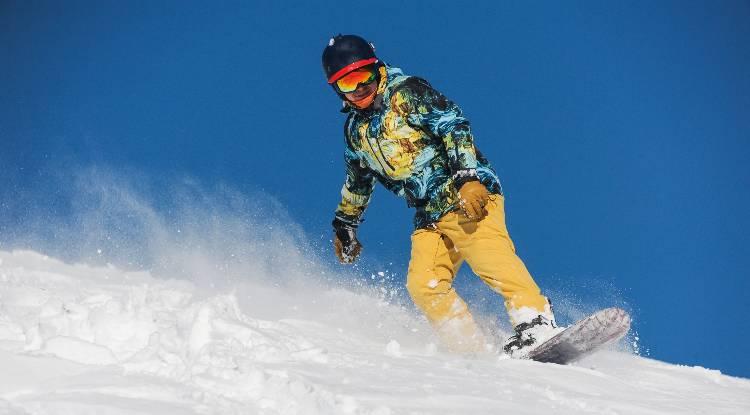 Image by Maksym Fesenko from Shutterstock
9. "Snowboarding is about having fun, pushing one another creatively, and not putting anyone down along the way." – Hannah Teter
Hannah Teter won gold in the Olympic half-pipe event in Turin, Italy. In this quote, she talks about how snowboarders push each other, but in a friendly way.
When you watch one of these competitions, you will notice the camaraderie between riders. They are genuinely happy for each other, as they are all friends who ride and train together. However, it gets a bit more serious during the Olympics.
10. "I love snowboarding, but I would never want to do it competitively or at a professional level. Snowboarding is a spawn of skating, and skating is my passion." – Tony Hawk
In this quote, the legendary skateboarder Tony Hawk describes how much fun snowboarding is, but for him, skateboarding still trumps it for competitions. He also mentions that snowboarding came from skateboarding, and it will never come close for him.
Image by Yevhen Rehulian from Shutterstock
11. "If I died snowboarding, you could honestly tell everybody in the world that Jeremy London died happy." – Jeremy London
Actor Jeremy London is obviously a passionate snowboarder judging by this quote. However, he probably wouldn't be too happy if he rode off a cliff or got buried in an avalanche.
12. "I've flown from Aspen and then to Switzerland the next day and then off again the day after. That's the thing I love most about snowboarding, honestly – getting to travel and explore different places and meet people." – Chloe Kim
Back to Chloe Kim with this quote about how snowboarding can take you all over the world. Snowboarding is what many people use to see and experience new places. You may want to visit Europe, ride the steepest runs in the U.S, or visit the longest ski runs in the world; anything is possible.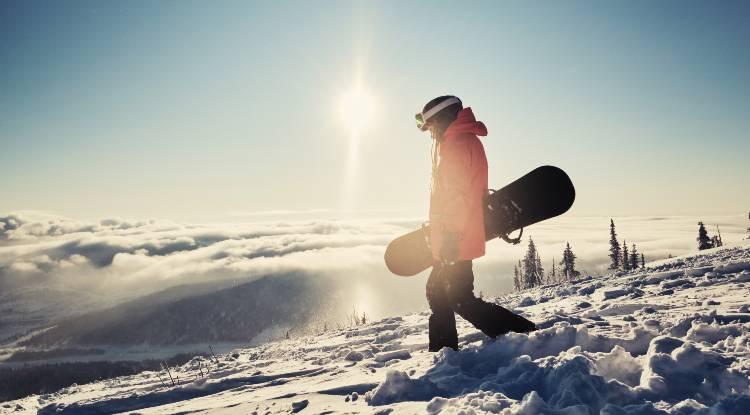 Image by AnnaTamila from Shutterstock
13. "If you eat the same cereal every day, it's gonna get old. And if I had thought about snowboarding every day, I would have quit a long time ago." – Shaun White.
In this quote, Shaun White describes that he often needs a break from snowboarding, or he will get bored of it. When you are at Shaun's level, you will experience lots of pressure from sponsors and coaches, making it more of a job than a passion. There are worse ways to make millions of dollars, though.
14. "I tried snowboarding, and that scared the hell out of me." – Wanda Sykes
American stand-up comedian Wanda Sykes talks about how intimidating snowboarding can be as a beginner. Every new snowboarder needs to overcome this barrier, which only happens when you persevere and get out on the slopes as often as possible.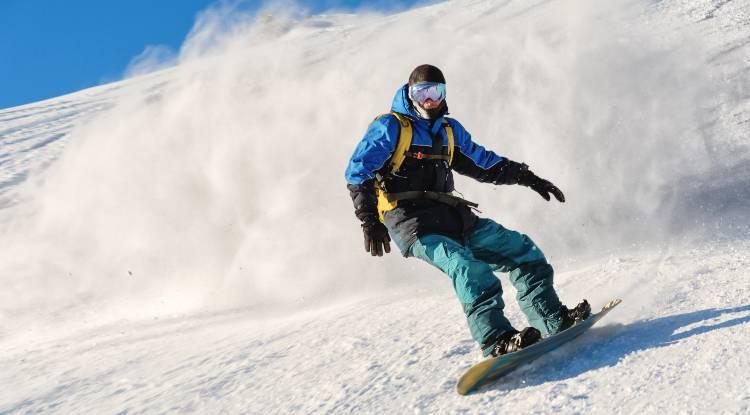 Image by yanik88 from Shutterstock
15. "Snowboarding really is a luxury sport." – Jamie Anderson
Jamie Anderson is another American Olympic medalist who dominated the slopestyle event in Sochi in 2014 and Pyeongchang in 2018. This quote expresses the fact that snowboarding isn't a cheap sport that anyone can afford to do. You can make your snowboard trips less expensive, but there are many costs associated with them.
16. "The foundational skills of snowboarding are what pay off in the long run. That's something I've been able to build over time, and that's benefited me a lot." – Kelly Clark
Five-time Olympian Kelly Clark reflects on the fact that building the foundations of snowboarding is essential for being a great rider. These basic skills allow you to progress on to more advanced riding.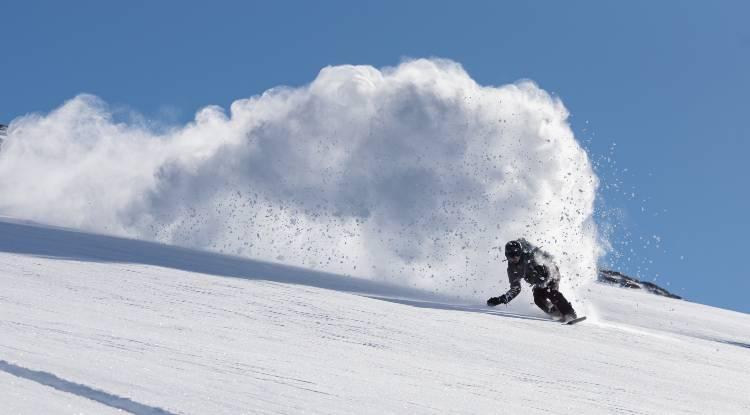 Image by Jacob J Photography from Shutterstock
17. "I wouldn't even call snowboarding a sport. For me, it's just a way of life. It's a chance to finally shut your brain off and live within the moment. And, for as long as I am able, I will ride until the day I die." – Travis Rice
This quote from the iconic Travis Rice outlines his mindset toward snowboarding. But when you see his superhuman-like riding in films such as The Art Of Flight and Depth Perception, you wonder how he can switch his brain off to perform like that.
18. "I now realize that the small hills you see on ski slopes are formed around the bodies of forty-seven-year-olds who tried to learn snowboarding." – Dave Barry
This quote is a continuation of Dave Barry's account of him learning to snowboard. This tongue-in-cheek comment emphasizes how hard he found going from skis to a snowboard.
Image by Yaroslav Antonov from Shutterstock
19. "There's two positions in snowboarding. One is looking cool, and the other is dead!" – Eddie Izzard
The brilliant British comedian Eddie Izzard describes his own battle with learning how to snowboard. This comment likely comes from the pain and frustration that comes with your first few days on a snowboard.
20. "We all started snowboarding in the beginning as a family just to be closer together, and go on trips. It was our soccer, but instead of Dad yelling at me from the sideline, he is there riding with me and hitting the humps even before I am hitting them." – Shaun White
Shaun White started snowboarding at an early age when the sport was just becoming popular. Here, he talks about his childhood memories and how his family used snowboarding as a way to spend time together. Shaun also mentions how his dad encouraged him to progress as a snowboarder by hitting jumps.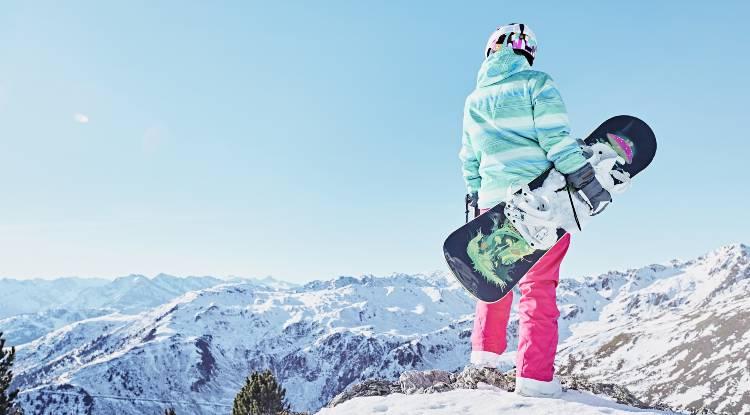 Image by Sergey Furtaev from Shutterstock
21. "Women's snowboarding has progressed a lot. The younger riders are really pushing the limits of technical tricks." – Kelly Clark
Here, Kelly Clark describes the progression of women's snowboarding. The innovations in coaching and fitness allow women riders to push themselves further to do more impressive tricks.
Women's snowboard tricks may not be as technical as the men's just yet, but they are far more stylish rather than gymnastic. In fact, many commentators describe women's competitions as more faithful to the core of snowboarding.
22. "I'm not trying to snowboard for other people anymore. That just kind of comes with age and growing up. That's helped me a lot." – Kelly Clark
Another great quote from Kelly Clark describes how getting older affects your attitude toward snowboarding. As a young snowboarder, you want to impress people, or you have to in order to win competitions. But as you get older, you don't need or want to do that; you can just ride for fun.
23. "Once you take your first ride up a lift, your life will be changed forever." – Warren Miller
This quote from iconic filmmaker Warren Miller is relevant to both skiers and snowboarders. Heading up a mountain for the first time will definitely change your life. It is addictive, and as you progress as a skier or snowboarder, you will want more experiences.
24. "The attraction of snowboarding is the freedom it gives you. With a snowboard on your feet, the sky's the limit. You can do anything and go anywhere. This is not just for pro riders. It is for everyone." – Jeremy Jones
Jeremy Jones is one of snowboarding's old-school riders and pioneers. He has pushed the limits of what's possible and even started his own snowboard brand.
This quote conveys that snowboarding is for everyone and without limits. This is true; however, you may think twice about attempting some of the stuff Jeremy Jones has done.
25. "In snowboarding, you're constantly aware that people are so technically brilliant at what they do, and you feel like, ugh, I'll never be able to do that." – Cary Fukunaga
Film director Cary Fukunaga highlights the frustration of watching people who are better snowboarders than you. When you see someone pull off a perfect trick, go bigger than you, or drop an impossibly large cliff, you can feel demotivated. But you don't know their story; they may be successful gymnasts, have lots more experience, or are just crazy.
26. "Love can be the only answer. But snowboarding also works for me. Because I love snowboarding!" – Frederick Lenz
In this quote, the spiritual leader Frederick Lenz conveys his love for snowboarding on a deeper level. He attempts to describe how good snowboarding feels, but can you ever find the words to put that message across?
27. "The only sport I really get into is snowboarding. Cause that's the only sport where they perform a half-pipe just after smoking a full pipe." – Bill Maher
This quote from the American comedian and actor Bill Maher goes back to the old snowboarder stereotype. However, some snowboarders don't help us get away from this outdated view. You can often smell the smoke drifting over the terrain park.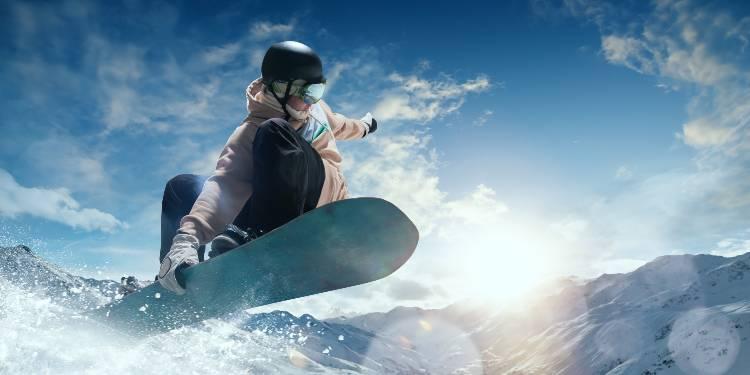 Image by Artur Didyk from Shutterstock
28. "When you think about it, we're strapping strange planks of wood to our feet and launching off of giant snow walls. It's pretty intense." – Shaun White
Here, Shaun White breaks down the reality of what we actually do when we are snowboarding. But what he doesn't mention is that we keep going back up the mountain to do it again, several times a day!
29. "My experience and what I do in snowboarding is really quite independent of the industry, and the more independent it is, the purer and better I feel about snowboarding." – Craig Kelly
Craig Kelly was regarded as the godfather of snowboarding. He was one of the pioneers who pushed the sport beyond what was thought capable at the time. In the 1990s, he was spotted by several sponsors and competed all over the world.
But, he gave up a multi-million dollar contract to become a mountain guide and ride for himself. This quote describes the feeling he got from this, diverting his attention from the industry to just riding. Unfortunately, Craig Kelly was killed in an avalanche triggered by another group in 2003, shocking the snowboard world.
30. "I hate to say it to the kids out there, but I just kind of blew off everything and made snowboarding the number one priority in my life." – Jeremy Jones
Jeremey Jones risked everything to become a pro snowboarder and became very successful. But one day, all his sponsors dropped him, as they deemed him too old and didn't see how he could progress their brands.
So he made a series of iconic snowboard films on a shoestring budget. These films relaunched his career and threw him back into the spotlight.
He then went on to create more films and Jones Snowboards, which he then sold to European snowboarding giant, Nidecker. This shows that if you have enough passion and dedication, you can do what you want.
31. "I love snowboarding. It's probably my favorite sport. I love sitting on top of the mountain and the snow falling and that silence, that snow silence. That's, like, a very peaceful, happy place for me." – Philippe Cousteau, Jr.
Oceanographer Philippe Cousteau, Jr. describes that there is more to snowboarding than throwing yourself off impossibly high jumps. Sometimes you just have to enjoy the moment of being in nature and on the mountain. It doesn't have to be extreme shredding all the time.
32. "What is snowboarding to me? I'd say it's when I feel passion. That is if passion is a combination of utter joy, frustration, and rage. It's my life." – Travis Rice
Another great insight into the mind of Travis Rice. The thought behind this quote becomes apparent when you see Travis's films, but you also need to see the behind-the-scenes stuff. He is jovial and clearly having fun in most of his scenes.
But occasionally, you can see the frustration of repeatedly not landing a trick. In one interview, he says that he and the other riders in his films land less than 5% of the jumps; it must be painful.
33. "What led me to build the first snowboard was not being able to skateboard on an icy street. So after that, it was just twelve months a year of boarding, whether it be skateboarding, snowboarding, or surfing." – Tom Sims
The late Tom Sims is talking here about his quest to ride some kind of board all year round. He developed the first modern snowboard and was a direct competitor and friend of Jake Carpenter Burton of Burton Snowboards.
By his own admission, Tom was less of a businessman than Jake and spent more time riding than building his company. But he was one of the sport's characters and still did pretty well with Sims Snowboards.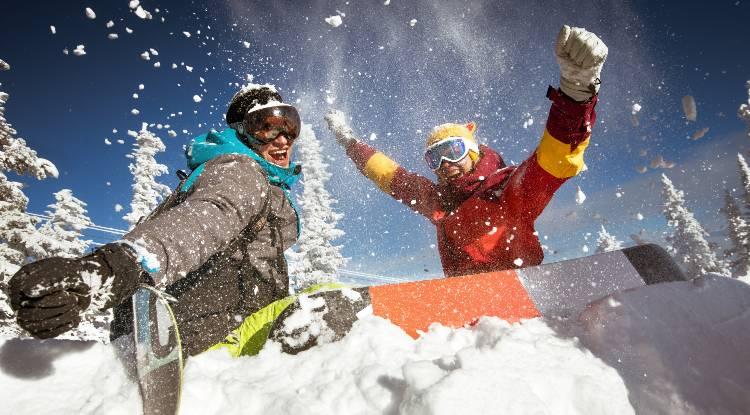 Image by Dmitry Molchanov from Shutterstock
34. "In the last decade, Jake Burton has done for snowboards what Henry Ford did for automobiles: He has mass-produced them until today that $10 piece of plywood that was called a Snurfer has evolved into a $562 snowboard." – Warren Miller
This quote from Warren Miller adds to the story of the early snowboards and Jake Burton's influence.
35. "Snowboarding will make you look at the mountain differently." – Liam Gallagher
A snowboarding quote from an unlikely source! Who knew the former Oasis frontman liked to snowboard? But he is right; there are many aspects to a mountain that you will never realize until you slide down it on a plank.
Final Thoughts
We hope these quotes have been thought-provoking, struck a chord with you, or inspired you to get back on the mountain.
You may want to use some of them during a drink in the bar after a day of shredding the mountain.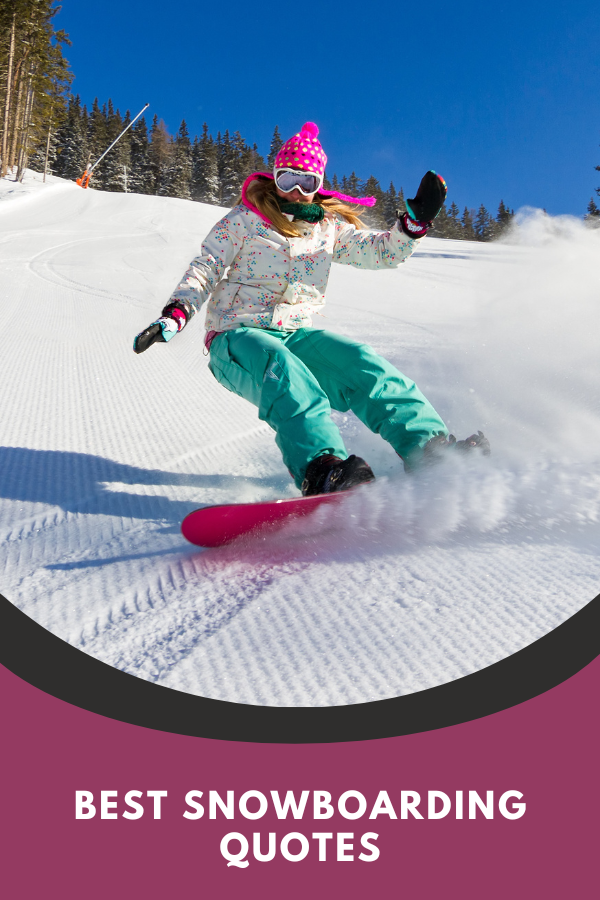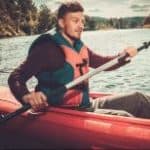 Author: Peter Salisbury
Pete is the Owner of KayakHelp.com. Born and raised in Cleveland, Ohio, he grew up kayaking, fishing, sailing, and partaking in outdoor adventures around the Great Lakes. When he's not out on the water, you can find him skiing in the mountains, reading his favorite books, and spending time with his family.