Believe it or not, all kayaks are not made for men and women. If you are a lady trying to break into one of our personal favorite watersports, you might want to know about the best kayaks for women.
Most of these kayak models are a little smaller to make them more easily maneuverable while still offering plenty of storage capacity for all your kayak rescue and safety equipment. If you really are new to this sport, you might also benefit from reading up on the kayaking strokes that can improve your kayaking.
In today's article, however, we are going to focus on 15 kayak models that are great choices for female paddlers. Our list includes selections from some of the top kayak brands, including Perception, Pelican, and Aquaglide.
It also includes both rotomolded (aka rigid) plastic kayaks and inflatable kayaks so that there's a little bit of something for everyone. Inflatable kayaks can be great if you live in a small apartment with minimal storage space or you have a smaller vehicle that can't safely transport a rigid kayak on top.
That being said, let's waste no more time and start with a few quick kayak selection criteria.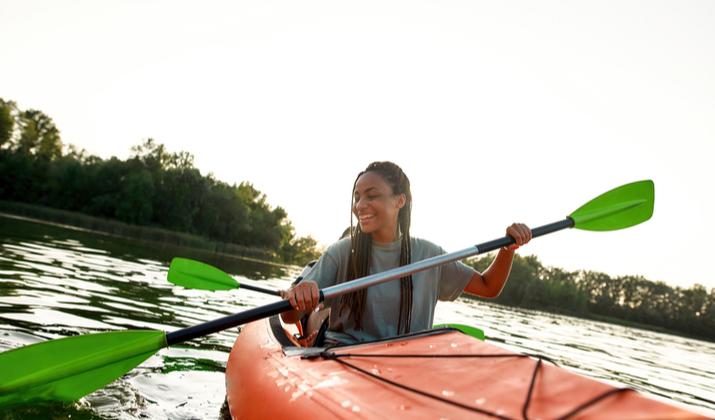 Photo by BAZA Production via Shutterstock
Best Kayaks For Women
Pelican Maxim 100X
Perception Tribe 9.5
Perception Hi Life 11
Perception Zip 9.5
Perception Flash 9.5
Perception Crank 10
Pelican Sentinel 100X
Brooklyn Kayak Company FK184
Aquaglide Navarro 130
Advanced Elements Lagoon 1
Sea Eagle 393RL RazorLite
Pelican Sprint XR
Driftsun Almanor
Emotion Spitfire
Aquaglide Noyo 90
Buying Guide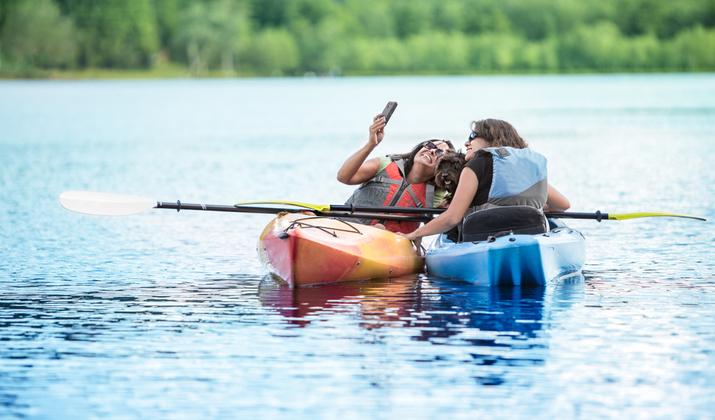 Photo by Christine Glade via Shutterstock
Selecting the right kayak for you is different than just selecting a kayak in general. So let's talk about some ways that you can narrow down the kayaks we included below to find one that's really good for you.
Weight
Weight is the logical first place to start because it is going to play a major role in how easy a kayak is to handle–on and off the water. Most new kayakers don't consider the fact that they'll need to handle their kayak almost as much off the water as they do when they're paddling.
That includes loading it on and off the top of your vehicle using a kayak roof rack and getting it from wherever you park to the water's edge. In our opinion, your best bet is to look for a kayak that is 45 pounds or less.
Of course, you can always use a regular kayak cart or a kayak cart that's built for rough terrain to support the weight. That way, you'll be able to just roll your kayak to and from your launching locations with ease.
Kayak Type
Your next consideration should be whether you want to go with a sit-on-top kayak or a sit-in kayak. There are a few pros and cons of each, so let's cover them quickly.
Sit-on-Top Kayaks
Sit-on-top kayaks are great for beginners because they are really easy to get into. They are also typically better to accommodate kayakers of various heights because they offer multiple molded-in footrests.
Another benefit of most sit-on-tops is that they offer open storage areas, with the larger of the two usually being in the rear. This happens to be a perfect area for securing numerous kayak accessories, such as cooler, tackle crates, or a DIY kayak milk crate.
Sit Inside Kayaks
In comparison, sit-inside kayaks, like many touring kayaks and sea kayaks, offer a more enclosed cockpit that can be a little more difficult for some paddlers to get in and out of. The main benefit of this cockpit style, however, is that it can accommodate a kayak spray skirt.
One of the best kayak spray skirts is a great accessory to add to your kayaking arsenal if you ever paddle in rainy conditions, or even when the temperature isn't ideal. It encloses the cockpit to keep water out and also helps to retain body heat to keep the lower half of your body warmer.
When it comes to storage, sit inside kayaks also tend to offer more enclosed storage than sit-on-top kayaks. Most will be equipped with one or two compartments that are sealed with a kayak hatch cover to keep the gear inside as dry as possible.
Just keep in mind that not all hatches on sit inside kayaks are 100% effective at keeping out water. To be extra careful, your best bet is to put your gear inside the right size dry bag before storing it in your kayak's compartment.
Hybrid Designs
While they are still rare, there is at least one kayak on our list that could be considered a hybrid design. It is essentially a cross between a sit-on-top kayak and a standup paddleboard, which offers more flexibility than the others on our list.
Most beginners aren't worried about whether or not they are going to stand up on their kayak, as they are more focused on mastering the basic principles of how to paddle a kayak from a seated position.
That being said, if you have been on the fence as to whether you want to get a kayak or one of the best paddleboards for beginners, a hybrid design might be the perfect compromise so you don't feel like you have to make an either-or decision.
Weight Capacity
The final quick point that we'd like to make here is to look at a kayak's weight capacity to make sure it can accommodate all the extra gear you plan to bring along. Of course, if you're just planning on casual paddling with a water bottle and a few snacks, this should be less of a concern.
As you gain experience and want to stay out longer, however, you're going to need to pack extra layers, bring along more rescue equipment, and maybe even learn how to pack your kayak for a camping trip.
If this becomes the case, your kayak needs to be able to support the weight you load into it. As a general rule, you should never exceed roughly 80% of a kayak's advertised maximum weight capacity.
Your kayak won't sink if you do, but it will become a lot more sluggish and difficult to maneuver. That means you'll go slower, exert more effort with each paddle stroke, and enjoy less responsiveness if you need to negotiate around obstacles.
Thumbnail
Title
Pelican - Maxim 100X Recreational Kayak - Sit-in - Lightweight one Person Kayak - 10ft
perception Kayaks Tribe 9.5 | Sit on Top Kayak for All-Around Fun | Large Rear Storage with Tie Downs | 9' 5"
Perception Kayak Hi Life for Recreation
Perception Kayaks Zip 9.5 | Sit on Top Kayak | Stable and Fast | Multiple footrests | 9' 6" | Blaze
Perception Flash 9.5 | Sit Inside Kayak for Fishing and Fun | Two Rod Holders | Multi-Function Dash | 9' 6" | Earth (9331900190)
Best Kayaks For Women
Check Price on Amazon
Available Specifications
Length: 10'
Width: 28 inches
Depth: 14 inches
Weight: 36 pounds
Weight Capacity: 275 pounds
The Pelican Maxim 100X is a great compact and lightweight sit inside kayak that boasts the main advantage of all Pelican kayaks: durability. With their patented manufacturing process, Pelican is able to deliver kayaks that can regain their shape if dented better than the leading competitors.
The Maxim kayak also happens to be extremely affordable for a kayak of its size. It boasts a sealed storage hatch at the bow with bungee rigging over it for securing smaller items and an open storage compartment at the stern with mesh netting stretched over the top to keep larger items from falling out.
The kayak's V-chine hull makes it exceptionally stable and they've added floating blocks inside the hull to increase buoyancy. It is also equipped with an adjustable backrest, footrests in the cockpit, and a bottle holder to secure your hydration solution.
Check Price on Amazon
Available Specifications
Length: 9'5"
Width: 31.25 inches
Deck Height: 16.25 inches
Weight: 46 pounds
Weight Capacity: 300 pounds
The Tribe 9.5 from Perception Kayaks is narrower and wider than the Maxim 100X, which generally tends to make a kayak more stable, which is why this is one of our favorite choices for beginners.
This sit-on-top kayak boats multiple footrest positions so that you can find a comfortable position, regardless of your height. It also features the essential component of all sit-on-tops: scupper holes.
These holes effectively drain any water out of the cockpit, whether it arrives from the sky or as a result of a capsize. This feature is a very important benefit if you're just getting used to kayaking, as the odds of you ending up in the water at some point are going to be higher than for intermediate or experienced paddlers.
Check Price on Amazon
Available Specifications
Length: 101'
Width: 34 inches
Weight: 55 pounds
Weight Capacity: 280 pounds
The Hi Life 11 from Perception is a hybrid design that is really best suited to intermediate and advanced paddlers. It also happens to be an excellent choice if you can't decide whether to invest in a new kayak or dive into the world of standup paddleboarding.
This winner of the 2018 International Design Excellence Award (IDEA) comes with a removable fin for better tracking control, an elevated seat with a built-in cooler underneath, built-in mounting tracks for kayak GPS units or portable fish finders, deck cushioning for a grippy surface if you stand up, and much more.
Check Price on Amazon
Available Specifications
Length: 9'6"
Width: 32 inches
Deck Height: 12.5 inches
Weight: 45 pounds
Weight Capacity: 250 pounds
Simplicity and stability are the two main calling cards of the Perception Zip 9.5 sit-on-top kayak. It boasts an anatomically molded seating area for superior comfort and multiple molded-in footrest positions to accommodate paddlers of different heights.
While it doesn't come with its own padded kayak seat, it does feature deck loop attachment points to easily secure one of the best kayak seats in place. Plus, it offers plenty of open storage space between the bow deck and the rear tankwell with bungee rigging, which is perfect for securing a small kayak cooler bag.
Check Price on Amazon
Available Specifications
Length: 9'6"
Width: 28.5 inches
Deck Height: 12.5 inches
Weight: 41 pounds
Weight Capacity: 325 pounds
The Flash 9.5 is somewhat of a sit-inside adaptation of the Perception Zip kayak, which makes this kayak a better choice for intermediate paddlers who frequent locations where wind or rain is more likely to bring water into the cockpit of a sit-on-top kayak.
The slightly elevated seat in the cockpit does keep you up and out of any water that does get in the cockpit and both the seat bottom and backrest are nicely padded. As far as the hull is concerned, the bottom of this kayak is built with dual tracking channels to keep you stable while also providing excellent efficiency.
Check Price on Amazon
Available Specifications
Length: 10'
Width: 35 inches
Deck Height: 12.5 inches
Weight: 87 pounds
Weight Capacity: 350 pounds
If you are looking for a ladies kayak that can handle your needs to get out and enjoy kayak fishing, the Crank 10 is an excellent choice. Like most fishing kayaks, however, it is a little bit on the heavier end of the spectrum, which makes it an excellent candidate for transporting with your own DIY PVC kayak cart.
With an elevated, mesh seat, a pedal drive system that allows you to enjoy hands-free locomotion, a large rear tankwell for fishing tackle storage, and easy one-handed rudder control, this compact fishing kayak is certainly worth its slightly higher price tag.
Check Price on Amazon
Available Specifications
Length: 9'6"
Width: 30 inches
Depth: 13.25 inches
Weight: 44 pounds
Weight Capacity: 275 pounds
If you are looking for a women's fishing kayak but you're not quite willing to spend what it would take to get the Crank 10, the Sentinel 100X Angler might be your perfect alternative. It may not boast all of the fishing features that the Crank 10 offers, but it is quite a bit more affordable.
What it does offer is a multi-chine, flat-bottom hull that ensures great stability while paddling, casting, and reeling. It is also equipped with two molded-in fishing rod holders, a center console for small tackle storage, and a removable ExoPack storage compartment that fits seamlessly into the kayak's rear tankwell.
Check Price on Amazon
Available Specifications
Length: 9'
Width: 32 inches
Weight: 44 pounds
Weight Capacity: 330 pounds
In terms of price, the FK184 from Brooklyn Kayak Company falls right in the middle of the spectrum and is well suited to lakes, rivers, and even protected coastal bays. It's a sit-on-top kayak that boasts what many kayaks of this type lack: sealed storage areas.
There are two hatches on this kayak at the bow and in the center of the cockpit, respectively. Combined with the ability to secure the right size dry bag in the rear storage compartment, these two hatches provide more waterproof storage capacity than most kayaks of a similar size.
Check Price on Amazon
Available Specifications
Length: 13'
Width: 39 inches
Packed Size: 26.5" x 24.5" x 11.5"
Weight: 35 pounds
Weight Capacity: 300 pounds
If you don't have a lot of storage space at home or in your apartment for a rigid kayak, the next few models on our list are going to be of the inflatable variety. Inflatable kayaks are also an excellent choice for owners of smaller vehicles or those that simply don't want to transport a kayak on a roof rack.
The Navarro 130 is actually a unique design in the inflatable world because it offers the feel of a sit-inside kayak. The removable zip-on deck provides more dry storage space and also makes this 13-foot kayak more comfortable for intermediate paddlers to enjoy.
Check Price on Amazon
Available Specifications
Length: 8'4"
Width: 34 inches
Weight: 23 pounds
Weight Capacity: 250 pounds
This is the most compact kayak model on our list, which makes it easier for smaller paddlers to handle and still have the freedom to turn on a dime. Unlike most inflatables, the Lagoon features built-in rigid panels that provide added definition for the bow and stern while also improving the kayak's tracking ability.
This kayak also boasts a removable fin for even more tracking improvement and the hull is built with a landing plate that reduces the likelihood of tears when you pull up onto the beach. It's also built with TwistLok valves that make it easy to inflate and deflate with each use.
Check Price on Amazon
Available Specifications
Length: 12'10"
Width: 28 inches
Deflated Dimensions: 22" x 22" x 12"
Weight: 35 pounds
Weight Capacity: 500 pounds
If you are an intermediate to advanced paddler that is looking for an inflatable kayak that can handle longer touring expeditions, give the Sea Eagle RazorLite a closer look. This kayak can handle a huge weight capacity so you'll have the ability to load in multiple days of supplies without weighing it down too much.
For a kayak that is nearly 13 feet long when inflated, it also packs down to incredibly compact dimensions when you need to store it in a closet or the back of your sedan. It also boasts a unique hull design with tapered sidewalls that makes it much more efficient over long distances than your typical inflatable kayak.
Check Price on Amazon
Available Specifications
Length: 10'
Width: 28 inches
Depth: 14 inches
Weight: 41 pounds
Weight Capacity: 300 pounds
The Sprint XR from Pelican Sports is actually very similar to the Maxim 100X that led off our list of the best kayaks for women. Where this kayak differs, however, is in its deep V-chine hull that makes it better for speed and efficiency for intermediate paddlers.
This sit inside kayak also boasts a keel extension that improves its tracking ability in windy or wavy conditions. For your comfort in the cockpit, it offers a padded seat, premium knee and thigh pads, and adjustable footrests to help you maintain an ergonomic paddling position.
Check Price on Amazon
Available Specifications
Length: 11'
Width: 34 inches
Depth: 12.5 inches
Weight: 23 pounds
Weight Capacity: 300 pounds
The Driftsun Almanor is another excellent inflatable kayak that performs much better than cheaper alternatives. Built for touring and recreational paddling, it is best suited to flat water and calm days, but it is capable of handling mild chop in an ocean setting.
This kayak also comes with many of the accessories you'll need to get started, including a collapsible kayak paddle, a padded and adjustable seat, and a dual-action pump that allows you to inflate it fully in less than 10 minutes.
Check Price on Amazon
Available Specifications
Length: 9'
Width: 31 inches
Depth: 14 inches
Weight: 45 pounds
Weight Capacity: 240 pounds
We've included one last sit-on-top rigid kayak here because the Emotion Spitfire is one of the most affordable kayaks on our list. It's a simple design with molded-in footrests, and adjustable backrest, and self-bailing scupper holes that drain water naturally from the cockpit and storage compartments.
Check Price on Amazon
Available Specifications
Length: 9'
Width: 35 inches
Weight: 21 pounds
Weight Capacity: 250 pounds
If you liked the idea of the Navarro 130 but were concerned about handling that long of a kayak, the Noyo 90 is its smaller sister kayak. It still boasts a sit-inside style with a zip-on deck cover and a quick release fin on the hull for better tracking.
It also happens to be one of the lightest models on our list and packs up to an extremely compact size once it's deflated. So storing and transporting it long distances will be a breeze.
Check Price on Amazon
The Perception Tribe 9.5 is our pick because it's a great all-around kayak for all types of paddling. It's also a great kayak for beginners because it's easy to maneuver once you do.
It's an affordable kayak that many rental companies use to bulk up their arsenals. Rental kayaks tend to get heavy use, which means you can count on this kayak to be reliable, durable, and long-lasting.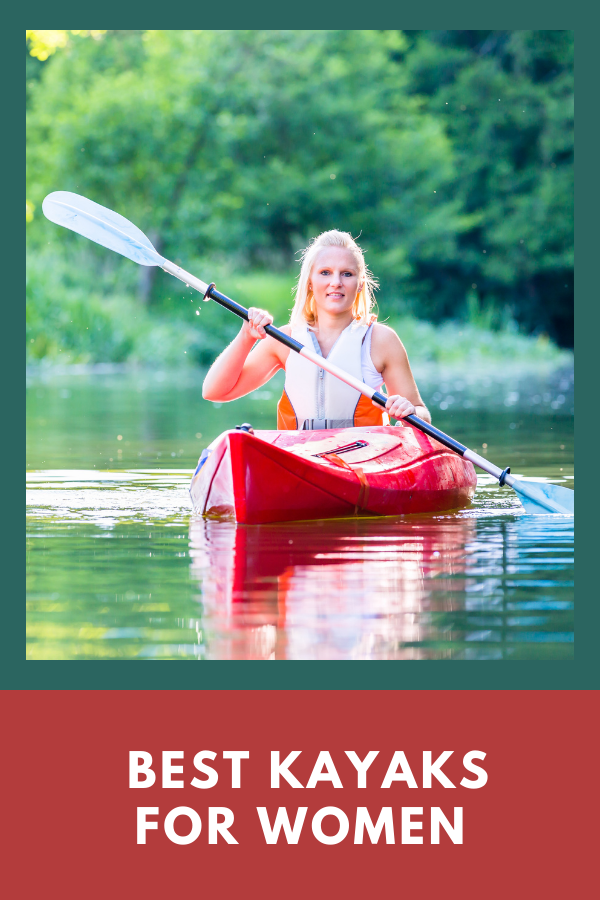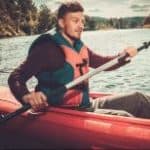 Author: Peter Salisbury
Pete is the Owner of KayakHelp.com. Born and raised in Cleveland, Ohio, he grew up kayaking, fishing, sailing, and partaking in outdoor adventures around the Great Lakes. When he's not out on the water, you can find him skiing in the mountains, reading his favorite books, and spending time with his family.