The United States has about 470 ski resorts in six different mountain ranges. Some of these ski resorts are vast, and their lift systems take skiers and snowboarders to some of the world's best slopes.
These ski resorts are the homes of well-serviced ski lodges, super-fast lifts, and endless terrain.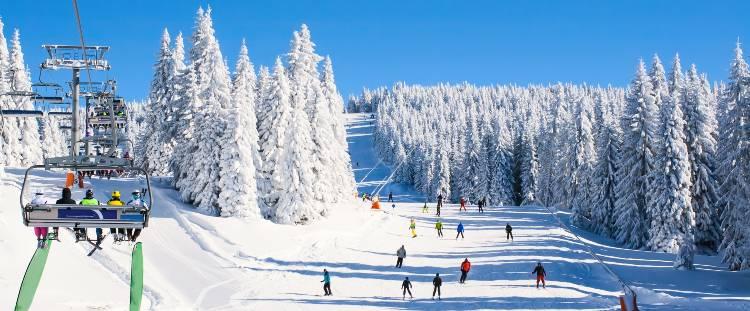 Image by Nataliya Nazarova from Shutterstock
How Ski Resorts Are Ranked By Size
Ranking these ski resorts by how big they are isn't as straightforward as you think.
The U.S. ranks its ski resorts by skiable acreage, while the European standard measures the resort based on the length of the ski runs.
The tricky part of sizing a U.S. ski resort is determining what slopes are included in the skiable acreage.
The next challenge is to determine if an area is a ski resort at all. Is a toilet block at the bottom of a ski lift that is only open for a few weeks a ski resort?
Also, there is a grey area regarding the size of a ski area, because of how they are linked. For example, does getting between two ski areas by bus that uses the same lift pass count?
There are private ski areas in the U.S. that sit between public ski resorts. If you count the slopes that link them, the skiable acreage is significantly increased. So, can you count the terrain in private ski areas that run alongside public resorts?
The exact system of measuring a ski resort may never be totally agreed on. There will always be arguments and exceptions to the rules.
So in this post, we will list the largest ski resorts in the U.S. based on the stats reported by those resorts.
1. Park City, Utah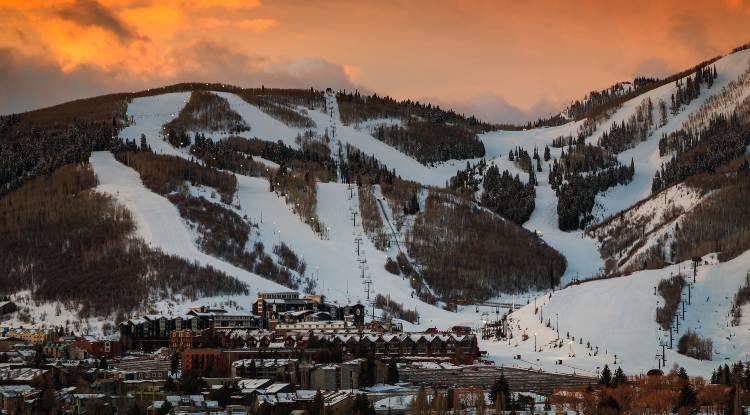 Image by Johnny Adolphson from Shutterstock
Park City in Utah is a world-renowned winter sports destination. It consists of two ski resorts and a modern action sports facility, all within close proximity to each other.
Deer Valley Resort was voted as America's best ski resort in 2021 by Condé Nast Traveler. Neighbouring Park City is the largest ski resort in the U.S.
One of the notable and more recent features of Park City is Woodward Park City. This world-class terrain park and training facility are suitable for all levels, but you can often see the world's best skiers and snowboarders training there.
You can expect excellent snow every winter in Park City. Its groomed slopes, backcountry lines, snow parks, and lifts are high quality making a visit pretty special.
Park City opened in 1963 and has been a significant destination for snow sports enthusiasts from all over the world ever since. Its popularity was reinforced when it hosted the 2002 Winter Olympics.
Park City's total skiable area is 7,300 acres (29.5 km2); this came from it being bought by Vail Resorts in 2014. The purchase also combined with Canyons Resort via a new gondola, which created the largest lift-served ski resort in the United States.
2. Big Sky, Montana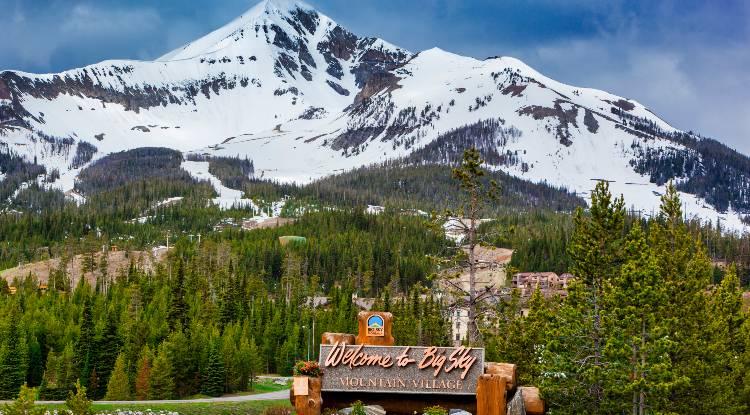 Image by Zorro Stock images from Shutterstock
Big Sky is located in Gallatin and Madison counties in southwestern Montana.
Every winter, Big Sky gets an average of 400″ of snow. Combine this with over 5,850 skiable acres and 4,350 vertical feet; it is easy to see why it is so popular.
The vast expanse of Big Sky makes it well known for short lift lines. But those lifts also take you to some big mountain terrain.
However, you don't have to be a big mountain skier to enjoy Big Sky. There is plenty of terrain suitable for skiers and snowboarders of all levels.
The resort is steeped in history, which is displayed in the Crail Ranch Homestead Museum. The museum showcases the pioneers who first settled in the area.
Another nod towards Big Sky's heritage is The Warren Miller Performing Arts Center. The building is named after the legendary filmmaker and features artists from every genre.
3. Vail, Colorado
Image by Kevin Ruck from Shutterstock
Vail Ski Resort is located in Colorado, not far from the town of Vail in Eagle County. Its vast 5,289 acres of skiable terrain makes it the third-largest ski resort in the U.S.
The ski area opened in 1962 and features seven bowls and amazing gladed terrain in Blue Sky Basin, perfect for intermediate skiers and snowboarders.
Vail Mountain itself has three skiable sections, The Front-Side, Blue Sky Basin, and the Back Bowls. These areas mainly consist of wide-open spaces with ski slopes for all abilities and styles.
You can expect lovely runs for cruising from the Front Side and Blue Sky Basin lifts. The wide-open Back Bowls are great for finding glades and fun chutes.
When you walk around the pedestrianized Vail Village, you will notice that it has a Bavarian village style, unlike most U.S. ski resorts that usually stick with a style based on their mining town heritage.
4. Heavenly Mountain Resort, California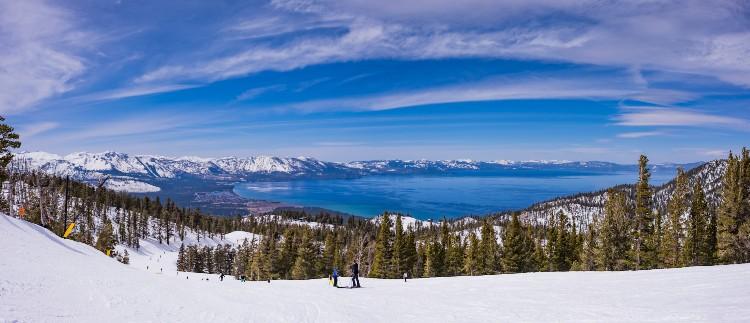 Image by Larry Zhou from Shutterstock
Heavenly Mountain Resort sits on the banks of Lake Tahoe. It straddles the California and Nevada state line, making it a unique destination for skiers and snowboarders.
The 4,800 acres of skiable terrain give you endless choices for exploration. You can ski on both sides of the state line on perfectly groomed slopes suitable for all levels.
If you are a more advanced skier or snowboarder, you can enjoy 1,600-foot blasts in the double-black-diamond canyons. Alternatively, you can experience some of the best tree skiing in the U.S.
Heavenly's expert areas are littered with slopes favored by locals and visitors alike. These include Mott Canyon and Killebrew Canyon, while you can access the fabulous backcountry via three access gates.
5. Mount Bachelor, Oregon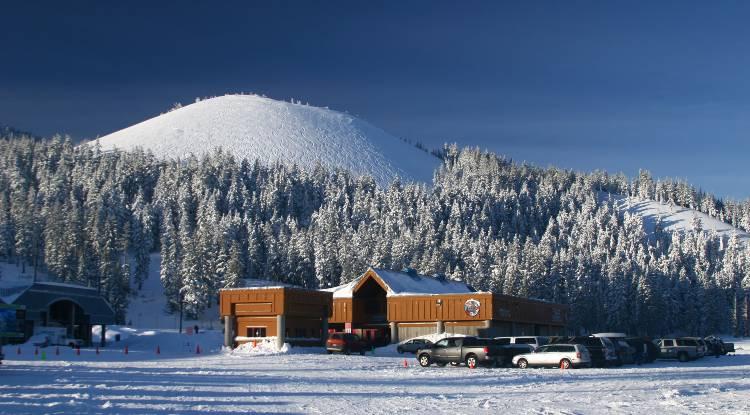 Image by Micheal Woodruff from Shutterstock
Mount Bachelor is a volcano, previously known as Bachelor Butte, and is in the Cascade Range of central Oregon. It gets its name from the fact that it stands apart from the Three Sisters mountains nearby.
The Mount Bachelor ski area opened in 1958, and its summit is home to the Mount Bachelor Observatory.
Mount Bachelor's popular winter activities include skiing, snowboarding, snowshoeing, snow tubing, and dog sledding.
With more than 4,300 acres of lift-accessible skiable terrain, Mt. Bachelor is one of the largest ski resorts in the U.S. Its location and geography give the mountain light, dry snow.
This exceptional snow quality and diverse terrain make a powder day on Mount Bachelor a very special experience. You can also expect a family-friendly resort and long winters.
One of the notable attractions of Mount Bachelor is that it is home to Woodward Park. The park is designed to inspire the next generation of skiers and snowboarders.
But Woodward is not just for young rippers. The park is designed to allow you to progress intuitively no matter what your level is.
There is nowhere to stay at Mount Bachelor, so visitors stay in the wide range of hotels in the nearby town of Bend. Bend sits on the banks of the Deschutes River and has stunning surroundings.
Bend is the best place to stay on a ski trip to Mount Bachelor, as it has a thriving nightlife scene with many bars and restaurants. There is also lots to do when you are not skiing.
6. Palisades, California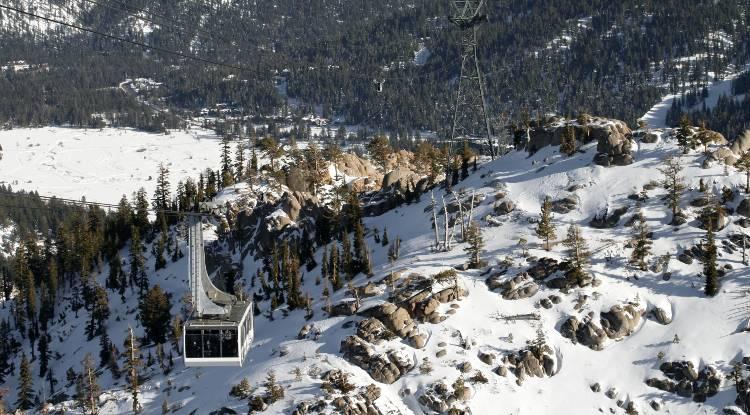 Image by rnl from Shutterstock
Palisades was previously called Squaw Valley. In 2021, the name was changed as it was deemed derogatory to Native American women.
The ski area is regarded as one of the best places to ski in the U.S. It regularly wins awards for its world-class skiing, mountain culture, and Olympic heritage.
Palisades is one of the ski resorts that overlooks Lake Tahoe. Therefore, you can ski deep powder with stunning views over the lake.
The local ski school is renowned for its highly qualified instructors. So whether you are brand new to skiing or snowboarding or more experienced, you will be able to get the coaching you need.
Palisades has a thriving mountain culture which is helped by consistent snowfall that stays around late in the season. This makes spring in Palisades a fun time, thanks to excellent spring skiing, music festivals, and sunshine.
The 3,600 acres of skiable area covers six peaks and is serviced by 30 chairlifts, a tramway, and a funicular. Its highest point, Granite Chief, sits at 0,010 feet, and the area gets an average of 450″ of snow every winter.
7. Mammoth Mountain, California
Image by Janoon028 from Shutterstock
Another fantastic Californian ski resort you may want to visit is Mammoth Mountain. It has the highest lift accessible summit in the state at 11,053 feet.
Every winter, Mammoth has an average snowfall of over 400″. This excellent snow cover makes the 3,500 plus acres of skiable terrain a great place to ski late into the season.
The area has a multitude of slopes to suit everyone's tastes and abilities. For example, you can get your adrenaline flowing by charging down steep chutes, wide-open powder fields, and through stunning tree runs.
In addition to this, the well-groomed slopes are perfect for learning your first turns. There is also a selection of snow parks that are updated with new features every winter.
But when the snow melts, Mammoth Mountain is still a great place to visit. It becomes a summer mountain playground with many different activities to enjoy.
8. Aspen Snowmass, Colorado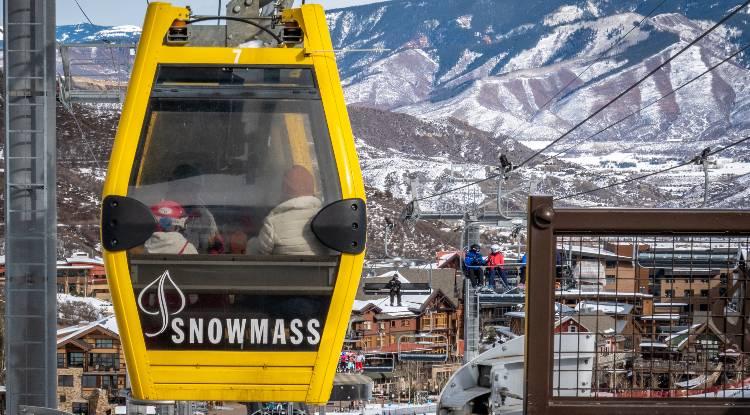 Image by David A Litman From Shutterstock
Aspen Snowmass has a ski area that measures over 3,300 acres. This extensive area offers every type of terrain, from easy beginner slopes to extreme big mountain descents.
The area has 98 marked slopes, giving you 150 miles of varied slopes. These include snow parks, halfpipes, and groomers of every description, with the longest run being five miles long.
One of the great things about Aspen Snowmass is that 95% of the accommodations are ski-in-ski-out. This makes it super easy to get on the slopes in the morning, especially if you need to get your kids to ski school.
Aspen Snowmass has several award-winning ski school programs that will get you up to scratch during your stay. But, there are many other activities to enjoy too.
Throughout the winter, you can expect to see concerts on the mountain, races, and competitions. There are also lots of family-friendly activities and dining experiences.
Aspen Snowmass has a charming atmosphere, thanks to its historic downtown. But you can also experience a vibrant après and nightlife scene.
9. Snowbird, Utah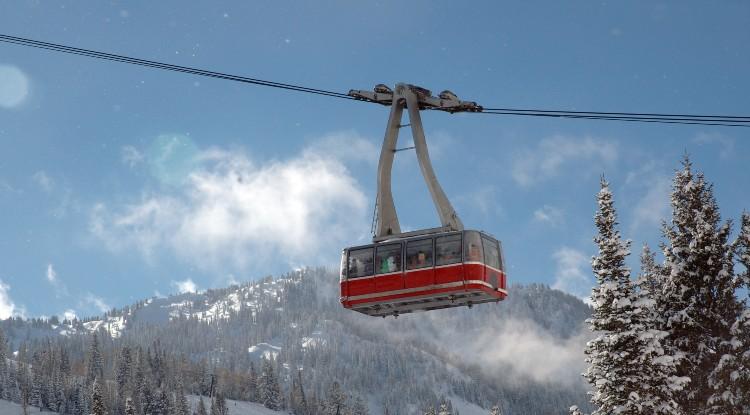 Image by Biografix from Shutterstock
Snowbird in Utah is world-famous for its light and dry powder snow. Each winter, Snowbird's peaks get covered by an average of 500″ of snow.
If you are an experienced skier or snowboarder, you will love the terrain available. There are some very interesting and challenging slopes that have produced some of the best extreme skiers in the world.
Utah claims to have the greatest snow on earth, and this is probably true. The quality of snow is outstanding, and it is preserved by Snowbird's high altitude.
This, in turn, gives Snowbird a long winter season that usually starts mid-November and runs into May. It also has 2,500 acres of skiable terrain, so there is plenty for everyone to enjoy.
However, Snowbird is now connected to neighboring Alta. This linkup gives you 5,100 acres of skiable terrain to play in, and it makes it one of the largest ski areas in the U.S.
The two ski resorts are connected at Sugarloaf Pass by high-speed quad chairlifts in both directions. However, you won't be welcome at Alta if you are a snowboarder, as only skiers are permitted to use the slopes.
Snowbird has a great selection of steep runs within the boundaries of the resort. These are only for experts, as some of them are terrifyingly steep.
There is a lot of backcountry skiing in the area, suitable for intermediate and more experienced skiers and snowboarders. However, Snowbird is not the best place to learn how to ski or snowboard, but beginner packages are pretty cheap.
10. Winter Park, Colorado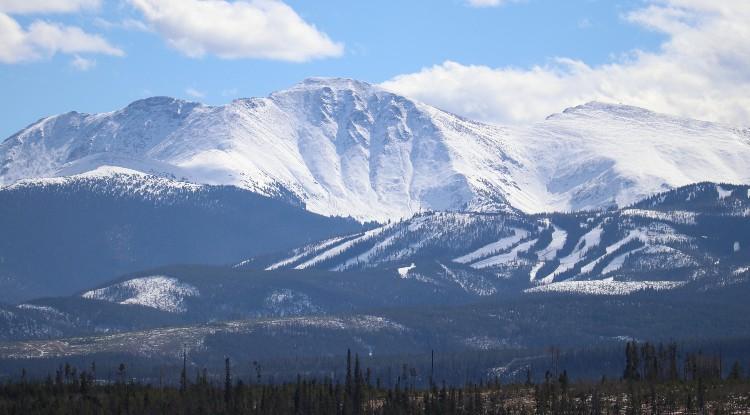 Image by Jamie Farmer from Shutterstock
Winter Park is Colorado's oldest ski resort, and it features different ski areas within 3,081 acres of skiable terrain. Here, you can expect perfectly groomed slopes, challenging black diamonds, powder bowls, and terrain parks.
Even with its world-class skiable terrain, family-friendly atmosphere, and excellent snowfall, Winter Park has escaped over-commercialization. It has fended off the glitz and glamour in favor of being down to earth.
Winter Park's seven different ski areas are what make it a great place to visit. The extensive terrain will keep you occupied during a trip, but there is lots to do in the towns for variety.
The different interconnected ski areas all have their own personality and atmosphere. Therefore, you can experience different styles such as moguls, groomed slopes, steep chutes, and tree runs.
Winter Park has an excellent ski school that caters to any level of skier. It is a perfect place for beginner skiers to master their first turns and progress.
However, if you have a lot of experience, you may want to head to Parsenn Bowl. This is the highest point in the area and offers various slopes, from open glades to steep descents.
The area is heaven for freestylers, thanks to six fantastic snow parks and a Superpipe. The largest snow park is called Dark Territory. It is pretty gnarly. You can't even go in before you watch a safety video and sign a waiver.
11. Steamboat, Colorado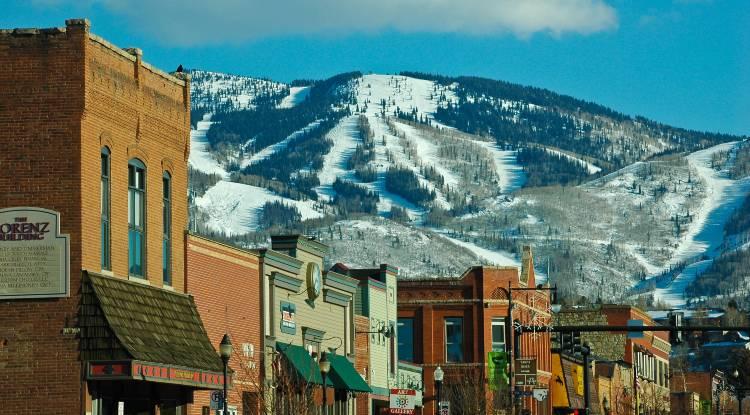 Image by Rachele A Morlen from Shutterstock
Steamboat in Colorado is a unique ski resort, as it has unique selling points that would impress anyone.
This ski resort is located in the Park Range, which sits in the Routt National Forest. Steamboat opened in 1963 on Mount Werner and is now home to several Olympians.
The ski area spans over 2,965 acres and consists of 169 marked slopes. Most of the slopes are suited to intermediate and advanced skiers, but there is plenty for beginners too.
One of the attractions for advanced freestylers is the Mavericks Superpipe. This is regarded as one of the best half pipes in the country.
But most people visit Steamboat for its champagne powder. This light and dry snow is among the highest quality snow in the world, creating a magical feeling when skiing it.
The ski resort is just 3 miles from Steamboat Springs, which has earned its nickname of Ski Town USA. It is a legendary cowboy town with a wild west vibe with pubs and restaurants full of friendly locals.
12. Jackson Hole, Wyoming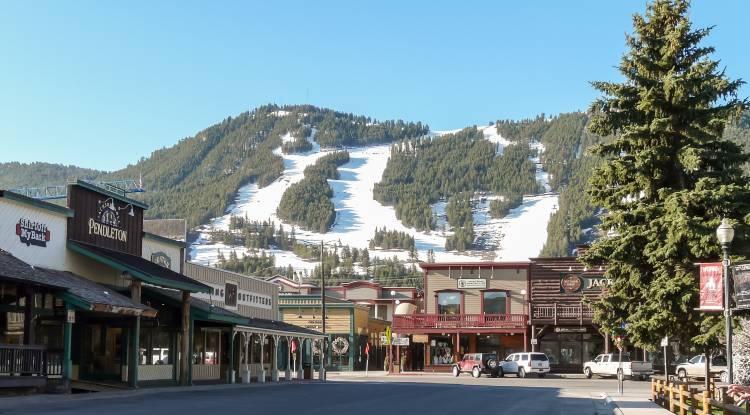 Image by WitGorski from Shutterstock
Jackson Hole is another ski resort that has managed to hold on to its old cowboy style. It is a bucket list destination for most skiers and snowboarders, thanks to its epic terrain.
The ski area measures 2,500 acres, but there is more backcountry terrain than you can ski in a lifetime. Jackson Hole was voted as the best overall ski resort in North America by SKI Magazine.
Jackson Hole is located in the Teton Range of the Rocky Mountains in Teton County. It is named after the valley it sits in, famous for its steep mountains and 4,139 feet of vertical drop.
The bustling town has a strong cowboy theme, with lots of things to do and a wide range of places to stay. There are many great places to eat and drink when you come down from the mountain too.
The ski slopes are about half an hour away from the main town via a shuttle service. However, you can stay in Teton Village right on the slopes.
When it comes to the slopes, the area really lends itself to more advanced skiers and snowboarders. It has the longest skiable vertical drop in the country, and it is home to the iconic Corbett's Couloir.
Jackson Hole's reputation for its challenging terrain is well earned, but its slopes are not particularly well known for being family-friendly. However, there are more beginner slopes than the average European ski resort, and the childcare facilities are excellent.
The transition from green runs to blue runs is quite a significant jump up in difficulty. This often catches people off guard, but Jackson Hole ranks its slopes in a slightly different way.
On the trail map, blue runs suitable for beginners and intermediates are labeled with a single blue square, while slopes for advanced skiers are labeled double blue squares.
Jackson Hole is packed with challenging terrain with intensely steep slopes, chutes, and anything else a mountain can throw at you. If you like going into the backcountry, you are in luck, as there are 3,000 acres of it.
13. Breckenridge, Colorado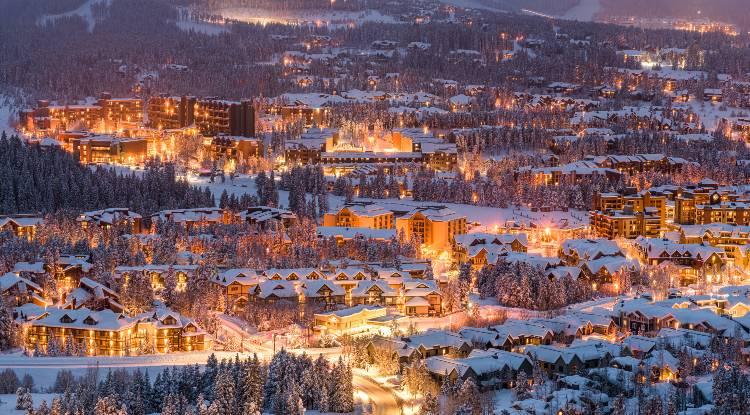 Image by Sean Pavone from Shutterstock
Breckenridge is an exceptionally good ski resort, thanks to its range of varied terrain and friendly atmosphere. There is a lot to offer in Breckenridge, both on and off the mountain, making it an ideal winter sports destination.
Breckenridge is the birthplace of modern freestyle skiing and snowboarding, and has one of the best infrastructures for winter sports in the world. It is consistently one of the most visited ski resorts in the U.S.
The ski resort is an ex-mining town established in 1860 during the gold rush. Breckenridge is proud of its history, which is highlighted with its activities, such as goldmine tours, horse and carriage rides, and museum visits.
Breckenridge's ski area is massive, with 2,908 acres and 155 marked slopes; you will have plenty to entertain you for a whole season, let alone a short trip. The endless backcountry, four snow parks, and abundance of tree runs make it superb for experienced skiers and snowboarders.
If this isn't enough for you, Breckenridge is located close to several other ski resorts. These resorts include Vail, Keystone and Beaver Creek, Northstar, Mt. Brighton, Heavenly, Kirkwood, Afton Alps, Canyons, and Arapahoe Basin. You can access them all with the Epic Pass.
Final Thoughts
As you can see, the U.S has some tremendously large ski resorts and areas.
It would be great to visit all of them, but a week or two in just one would only scratch the surface of what is possible.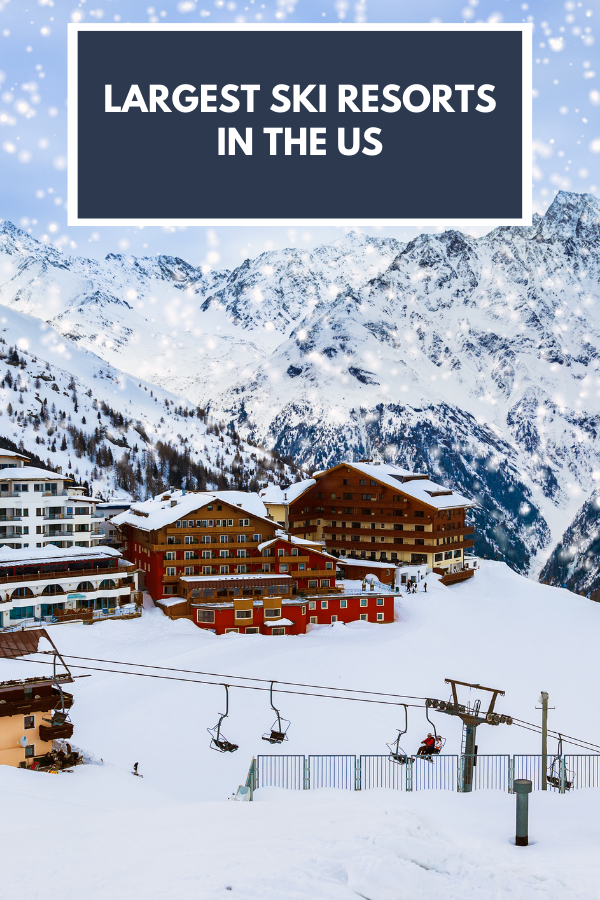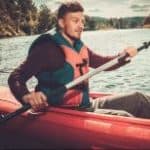 Author: Peter Salisbury
Pete is the Owner of KayakHelp.com. Born and raised in Cleveland, Ohio, he grew up kayaking, fishing, sailing, and partaking in outdoor adventures around the Great Lakes. When he's not out on the water, you can find him skiing in the mountains, reading his favorite books, and spending time with his family.