Escaping to the Texas Gulf Coast is on the minds of many central Texans when the heat really turns up in the northern part of the state. If you're planning on heading down to the coast soon, we hope you'll appreciate our ultimate guide to kayaking in Galveston.
With cooler weather and lots of marine wildlife to see, kayaking in Galveston offers a unique experience you won't find elsewhere in Texas. You can bring your ocean fishing kayak down here or just take a short paddle in a recreational kayak.
You can paddle on the protected waters of the bay or fight through the surf to get into some open ocean paddling. There are lots of options down here, so let's get into the finer details of kayaking in Galveston.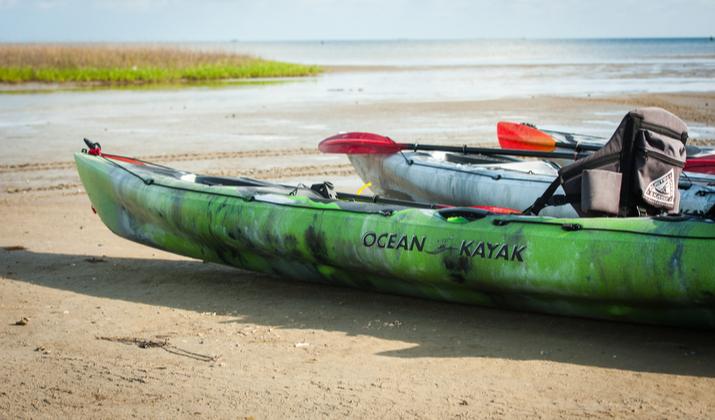 Photo by 2frAAmes via Shutterstock
Where to Launch When Kayaking in Galveston
Photo by Photobyt via Shutterstock
First of all, Galveston is a fairly large city and the bay itself covers a total area of roughly 618 square miles. So there is no shortage of places to explore, but getting on the water safely is always a kayaker's first step.
Galveston's East Beach is one of its most popular stretches of sandy beach for all sorts of activities. The free parking area at the end of Apffel Park Road makes getting your kayaks down to the water pretty easy, but you may want a kayak cart for rough terrain if you don't want to drag your kayak through the sand.
If you drive a little bit to the west, you'll find Galveston Island State Park and its collection of paddling trails. The park has three paddling trails to choose from — Dana Cove, Oak Bayou, or Jenkins Bayou — and your starting location will differ depending on which trail you choose.
In the other direction, the beach across from the East End Lagoon Trailhead is another great place to launch your kayak. This location is ideal for folks that want to paddle into Galveston Bay or West Bay.
For those that want to start at a slightly more inland location, check out Seawolf Park. It's also a great park for some of the family to hang at while you get your kayak out for an hour or two.
Finally, there is also a small sandy beach at the end of Airway Lane for those that want quick access to West Bay and Offatts Bayou. Be aware that local parking regulations may restrict how long you can leave your vehicle at this location.
Things to See When Kayaking in Galveston
Now that you know some of your possibilities of where to launch your kayak in Galveston, it's time to consider some of the sights and landmarks you can paddle to. Your preferred destinations will largely dictate where you end up launching your kayak!
Salt Marsh Mazes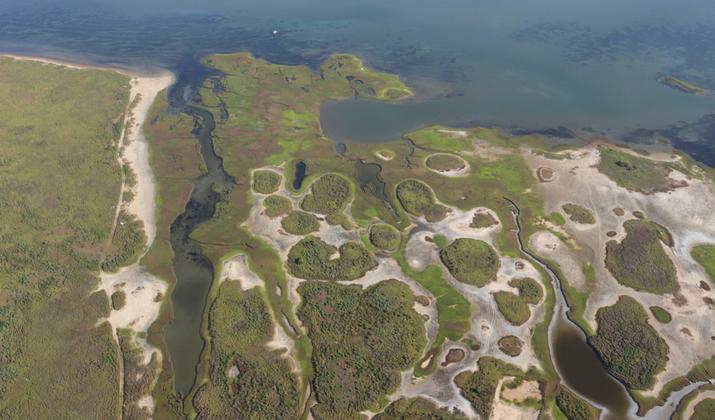 Photo by K I Photography via Shutterstock
If nature is your jam, the salt marsh mazes around Galveston Island should be your top priority. Some of the best mazes are within Galveston Island State Park and they are particularly fun at high tide.
You'll find lots of wading birds and coastal fish throughout the mazes. If you're looking for another location, East Beach isn't bad for salt marsh mazes, but you might have to ignore the shipping containers just over the berm.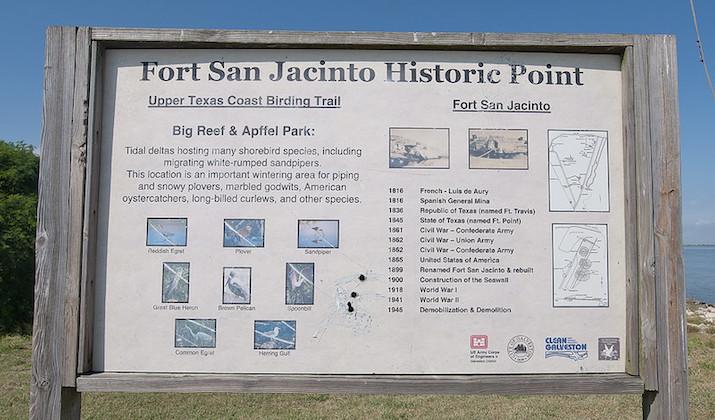 Photo by Alex Luyckx via Flickr
For those launching from East End Lagoon, the historic Fort San Jacinto is a short paddle away. This fort was first built in 1901 by the United States government as a coastal defense fortification.
It was named for Texas' victory over the Mexican army and later became the original headquarters for Galveston's harbor defenses. Between 1918 and 1926, a 17-foot high seawall was constructed on the gulf side of the fort.
Oddly enough, the fort was converted to an electrical repair shop for the United States Coast Guard after World War II. It was also later used by the U.S. Army Corps of Engineers during efforts to dredge silt from the Galveston shipping channel in 1986.
Photo by Ramiro Reyna Jr via Shutterstock
Pleasure Pier is one of the top attractions in Galveston for family fun and adventure. If you launch from the gulf, however, you can paddle under the pier during the day and build up enthusiasm for an afternoon or evening visit.
The pier is home to many fun rides and amusement attractions, including Pirate's Plunge, the Gulf Glider, and the Sky Shooter. If you're feeling a bit hungry after your paddle around the pier, you can also stop at Bubba Gump Shrimp Company on the pier or Rainforest Cafe nearby.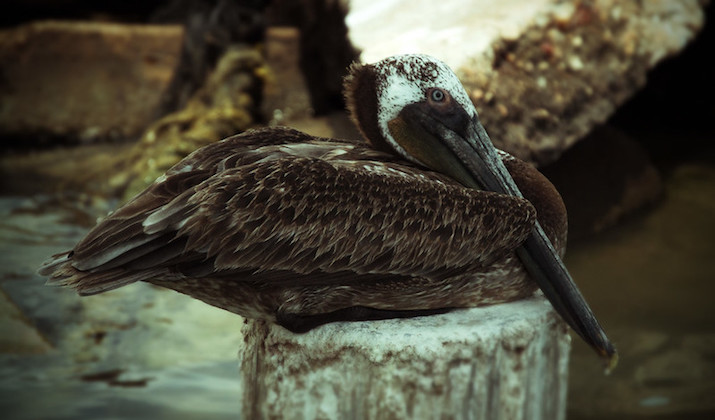 Photo by Johnny Brown via Flickr
For those that are successful launching from Seawolf Park, Pelican Cut is about a three-mile paddle up to the north. This location is a great little park for fishing and birdwatching, but be aware of plenty of boat traffic in this region.
For the experienced and fit kayaker, you can also circumnavigate the entire Pelican Island, which will be about a nine-mile paddle. This will take you through the cut as well as through Galveston Channel and you'll pass by the Texas A&M University at Galveston campus, the Rolls Royce Commercial Marine Supply Store, and other sights along the way.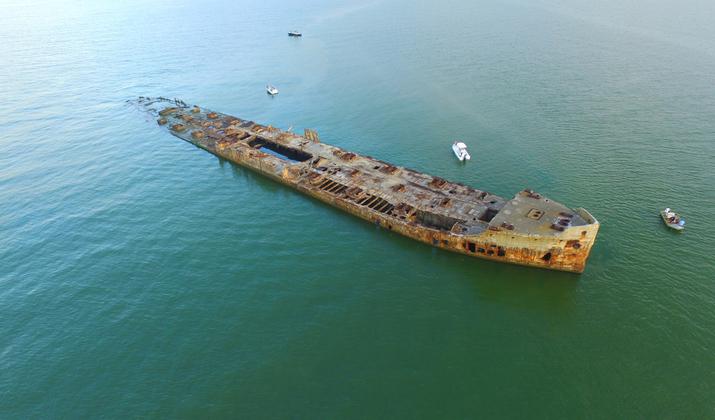 Photo by Dario Failla via Shutterstock
Originally built in 1919, the S.S. Selma was an oil tanker that now rests about a mile north of Galveston Island. It was one of 24 concrete vessels approved by President Wood to be built by F.F. Ley and Company, but only 12 were eventually completed.
The ship launched on June 28, 1919, which just so happened to be the same day that Germany officially surrendered by signing the Treaty of Versailles. So the ship never saw any war service and was converted to serve as an oil tanker in the Gulf of Mexico.
Less than a year after it was launched, the ship struck a jetty off the coast of Tampico, Mexico, and ripped a 60-foot hole in the hull. Attempts were then made to repair the ship's hull but they ultimately proved unsuccessful.
The government then tried to sell the ship to a private investor but that also failed, which led them to intentionally scuttle the ship in its present location. To this day, it is the only permanent and prominent wreck along the Houston shipping channel.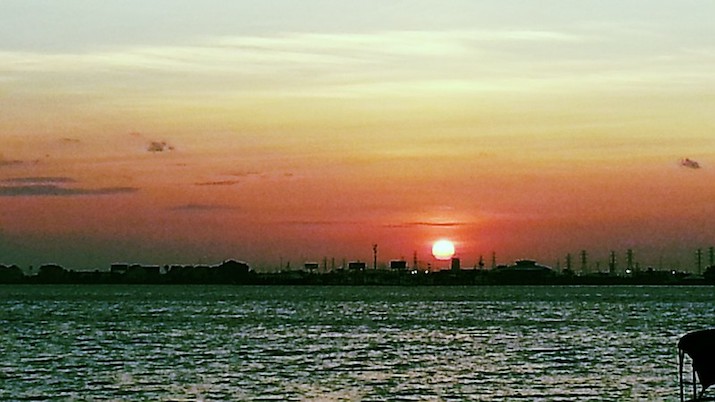 Photo by Craig Kelso via Flickr
Offatts Bayou is a strait to the northwest of Galveston Island and it is a popular location for local guide companies that run sunset tours in the area. Its location makes it an ideal place to catch the sunset over West Bay from the water.
The Lee and Joe Jamail Bay Park is a decent place to launch your personal kayak to explore the bay. If you don't have a personal kayak and need to rent one, this park is also close to Finney Boat and Watersport Rentals.
Best Kayak Outfitters in Galveston
If it's your first time visiting Galveston, you should consider the benefits of a guided adventure. There are several great kayak guide companies in, or close to, Galveston. Here are a few of our favorites.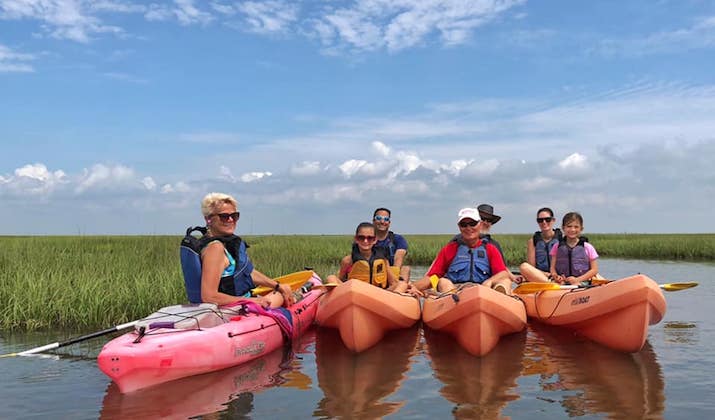 PC Artist Boat
Artist Boat is a non-profit, eco-tour company that is way more than a guide company. They are dedicated to preserving and restoring a 1,400-acre stretch called the Coastal Heritage Preserve on West Galveston Island.
They are also involved in the community with efforts to educate locals and visitors about the fragile coastal and marine habitats on the Texas Gulf Coast. Their eco-art kayak tours last about four hours and they are open to the public.
Their two tour options focus on either the East End Lagoon or the Coastal Heritage Preserve. Both locations are great for exploring Galveston's natural wetlands or marshes and the routes cover approximately three miles.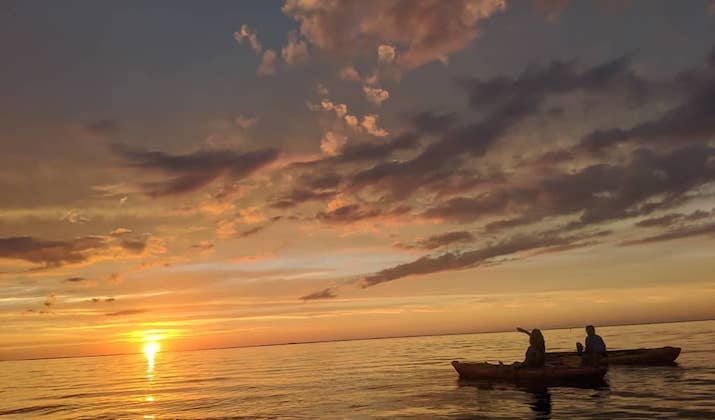 PC Galveston Kayak Outfitters
Galveston Kayak Outfitters offers both kayak rentals and guided tours. Their guided tours focus on sunrise and sunset times and offer a three-hour paddle along the bay and shorelines of the Galveston wetlands.
Group sizes are currently limited to four, which means you'll get a very personalized experience led by one of their senior staff members. The tour cost is $45 per person, which is actually the same as their daily flat rate for a single kayak rental.
They do rent tandem kayaks as well if you are your partner are looking to get out on the bay on your own. Tandem rentals start at $60 per day and include paddles, PFDs, and free delivery to any location on the island.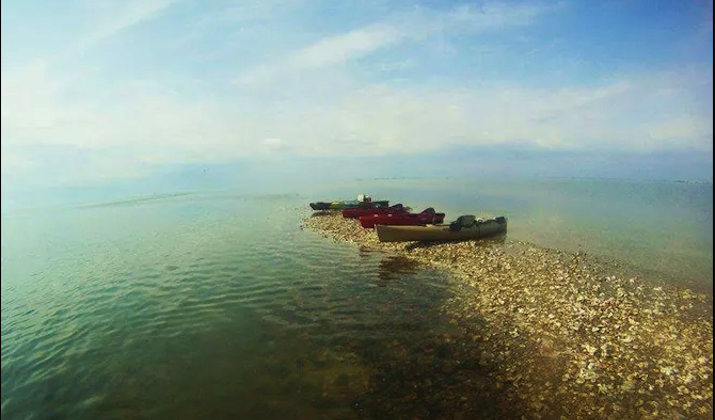 PC Beach Town Tours
Beach Town Tours offers daytime tours at 10 am and 12 pm every day throughout the year. They also offer various evening tour times associated with sunset times or special events like the Galveston Festival of Lights.
In addition, they offer specialty kayak tours at sunset or under the full moon for Valentine's Day if you and your lover want to paddle a tandem kayak to celebrate your special day. All of their guided tours start at $50 per person and last 1.5 to 2 hours.
They also offer kayak rentals if you have experience and want to take yourself on a self-guided adventure. Rentals start at $50 per person for two hours and reservations are required to hold your preferred kayak.
Before showing up for your tour or picking up your kayak rental, make sure to look at their page detailing what to bring on your kayaking tour. Also, see what others are saying about this tour company before booking.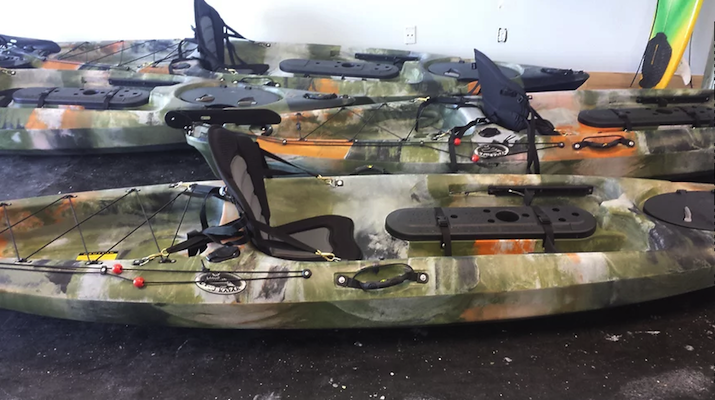 PC K6 Island Sports
K6 Island Sports is exclusively a rental outfitter, but they offer some of the best lightweight fishing kayaks on the island. They offer daily and weekly rental rates and will also deliver anywhere on the island at no additional charge.
Plus, kayaks aren't the only thing you can rent here. You can also get a golf cart to help you get around more easily or rent boards for surfing, skimboarding, boogie boarding, and standup paddling.
Kayak Fishing In Galveston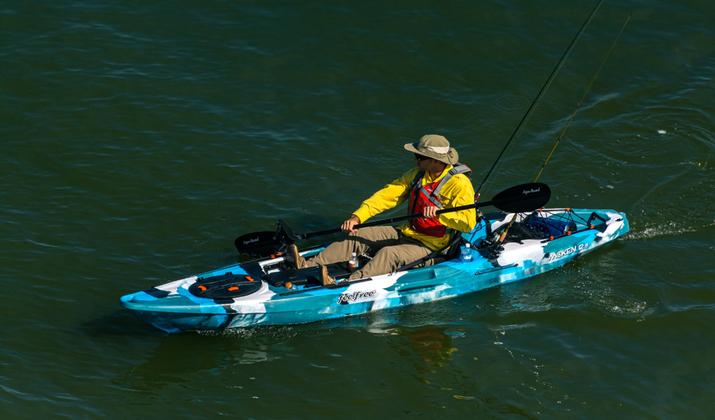 Photo by Mark Taylor Cunningham via Shutterstock
Kayak fishing is one of the most popular activities around Galveston Island. Although the "freeze" that hit Texas in 2020 had a pretty sizeable impact on the coastal fish population, things are slowly rebounding and there are still plenty of massive redfish out there.
Some of the other species you'll find in the Galveston area include speckled trout, flounder, black drum, sheepshead, and more. Seawolf Park and Galveston Island State Park are two of the best locations in the city to start your kayak fishing adventure.
Experienced anglers suggest some sort of artificial bait when fishing in the shallower waters of the bays and salt mazes around Galveston. Some examples of artificial lures for these locations include gold spoons, gulp shrimp, and corkys.
If you're fishing in the deeper parts of Galveston Bay or West Bay, however, most anglers recommend some sort of popping cork with live bait. These tend to work better because they make a louder and, therefore, more attractive noise in deeper water.
If you're looking for a more protected fishing area, be sure to check out Offatts Bayou. As long as you have your essential kayak fishing and safety equipment, you should enjoy kayak fishing in Galveston.
Environmental Factors When Kayaking in Galveston
Some of the environmental factors you'll need to consider when kayaking in Galveston will be similar to other destinations. A few, however, will be unique to Galveston and these pointers will help you be as prepared as possible for your kayak excursion.
Tides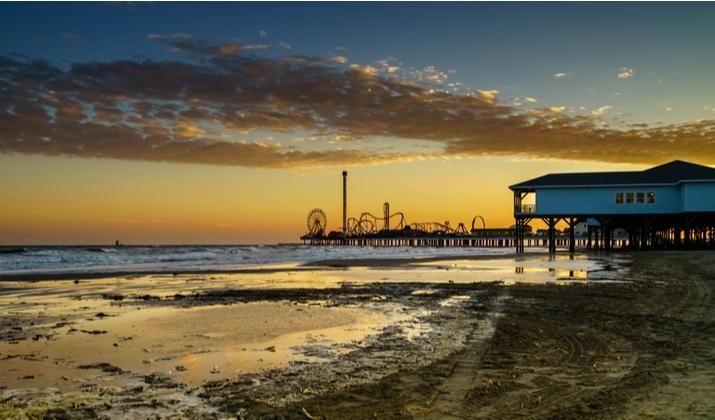 Photo by Timothy L Barnes via Shutterstock
The tides in and around Galveston will play a large role in when and where you are able to launch your kayak. Some places will only be accessible at high or low tide and there's nothing worse than showing up ready to paddle only to find that the water is too high or low for safe launching.
In general, there are four main types of tides: diurnal, semi-diurnal, mixed, and meteorological. For the most part, you'll find diurnal tides in the Gulf of Mexico, which means you'll experience one instance of high water and one episode of low water per day.
That being said, the Gulf Coast is also occasionally susceptible to meteorological tides. A prime example of this would be the storm surges that are often associated with hurricanes and tropical storms.
The U.S. Harbors website is a great resource for checking tides near Galveston. Keep in mind that the height of tides will differ depending on your exact location, so it helps to be as precise as possible when you are looking them up.
Wind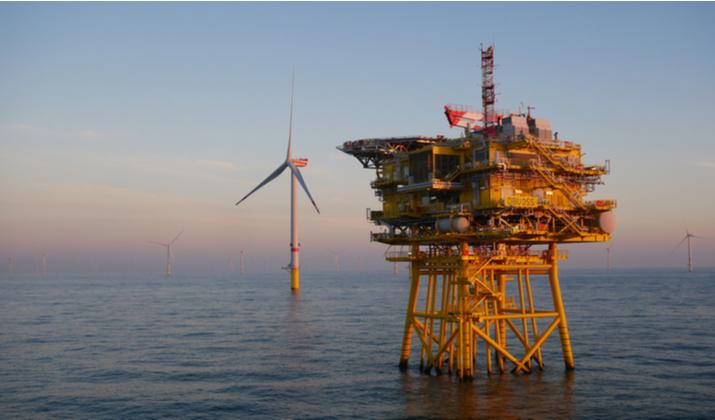 Photo by Kaisn via Shutterstock
Estimating wind speed and direction is a constant battle as a kayaker. The wind is arguably the biggest environmental factor that can negatively impact your paddling adventures in Galveston (and anywhere else for that matter!).
We recommend using an app like Ventusky or WindFinder to check the weather for your specific paddling location before your trip. Keep in mind that weather forecasts are usually only accurate about 24 hours in advance, so you'll need to check and re-check the night before, and the morning of, your paddle.
Most kayakers can handle winds up to about 8-10 miles per hour, but above that things can get a little dicey. Even paddling into a headwind of eight miles per hour will tire you out so much more quickly than paddling on a calm day.
If you do have a little wind on your paddle day, make sure you plan appropriately and paddle into the wind when starting out. Of course, there's no guarantee that the wind won't shift, but you'll put yourself in a better position if you can plan to have the wind at your back towards the end of your paddle.
Waves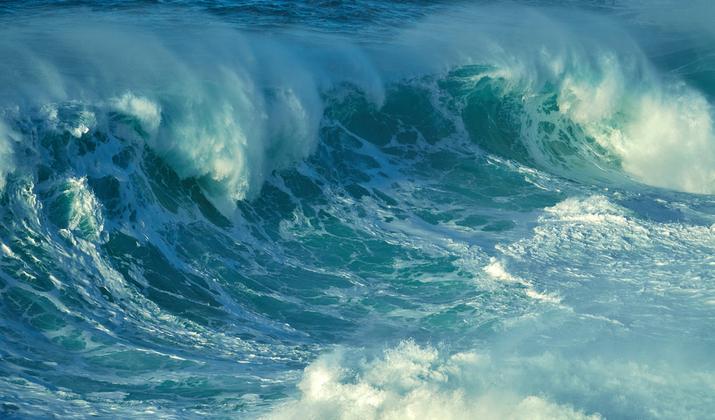 Photo by JoshuaBrown via Shutterstock
The largest swells tend to hit Galveston in the winter months, but the average wave height rarely tops five feet in the Gulf of Mexico. Still, you may have to paddle out through some waves depending on where you launch your kayak from.
If you do have to paddle through some waves, make sure to time things up so you're between sets. This will give you more time to get into your kayak and get moving before a big wave threatens to capsize your kayak.
When you return to shore, you'll need to keep paddling to match wave speed and then use the blade of your paddle as a rudder to prevent your kayak from turning sideways. Also, never exit your kayak on the beachside if you are turned sideways as this increases the odds of a wave knocking your kayak dangerously into your legs.
The good news about the smaller waves in Galveston is that it makes things a little easier and also allows folks with surf kayaks to have a little fun. If you're looking for a truly Texas experience, you can also paddle out into the channel to try your hand at oil tanker surfing.
Weather
Photo by Mallory Klippel via Shutterstock
One of the good things about Texas, in general, is that the flat terrain helps you see squalls of rain coming from a long way off. That being said, there are also those overcast days that don't rain at all until you try to launch your kayak.
Spring and winter tend to be the least predictable when it comes to weather in Galveston. Remnants of nor'easters can roll through this port city and drop buckets of rain in a hurry.
Plus, when we think about the weather on the Texas Gulf Coast, we'd be negligent if we didn't mention hurricanes. Hurricane season begins in late June but the height of the season is mid-August through September and officially ends on November 30th.
Boat Traffic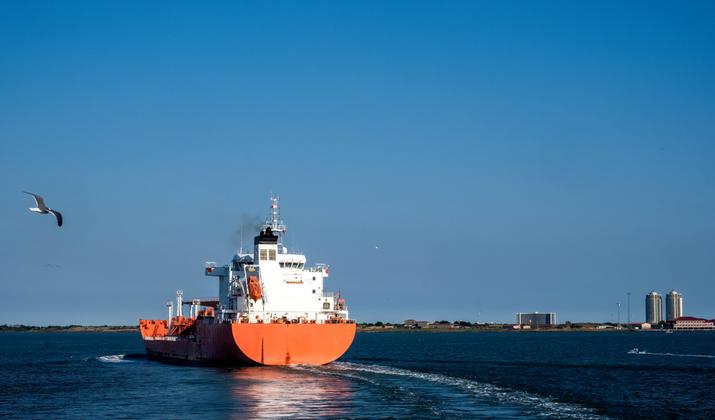 Photo by Kanokwalee via Shutterstock
Galveston is one of the busiest shipping ports in the entire nation. In fact, the 840-acre port receives more than 800 ship arrivals per year and it's also the fourth-busiest cruise ship homeport in North America.
That means you could have a lot of boat traffic to look out for while you're paddling in Galveston. Don't just expect it to be small bass fishing boats or jet-skis either. Look out for those massive tankers because they take a long time to come to a stop once they shut down their engines and they don't particularly maneuver quickly.
Final Thoughts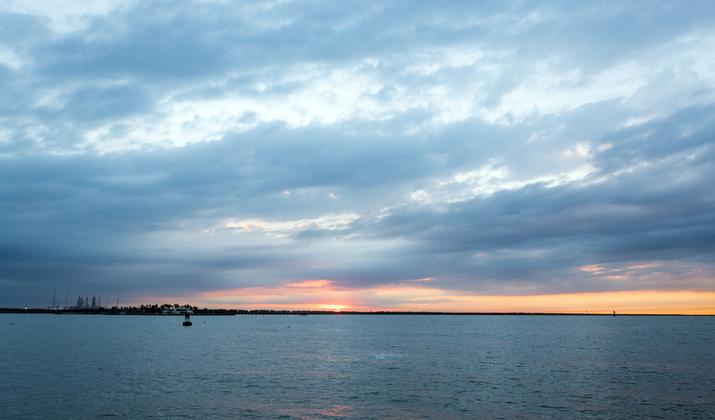 Photo by Olga Lyubochkina via Shutterstock
Getting down to the Texas Gulf Coast is a great idea almost any time of the year. Take your fishing kayak down there to go for redfish or roll down your kid's kayaks so they can splash around while you relax on the beach.
Either way, kayaking in Galveston offers something for everyone and it can be a great way to escape the Texas heat in the heart of the summer. We hope you've enjoyed our ultimate guide to kayaking in Galveston and we wish you the best of kayak adventures in the Gulf!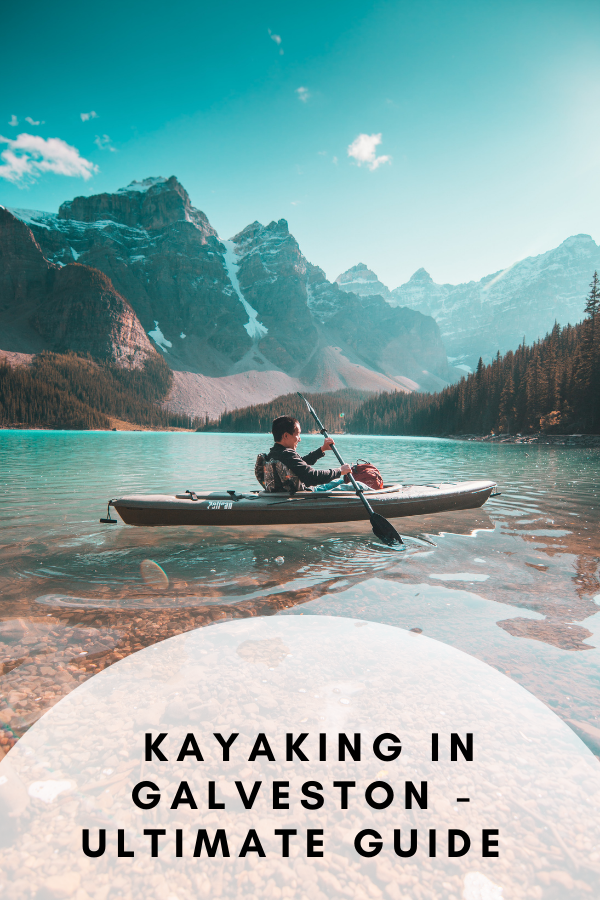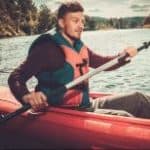 Author: Peter Salisbury
Pete is the Owner of KayakHelp.com. Born and raised in Cleveland, Ohio, he grew up kayaking, fishing, sailing, and partaking in outdoor adventures around the Great Lakes. When he's not out on the water, you can find him skiing in the mountains, reading his favorite books, and spending time with his family.