Stability is really important for beginners and anglers because it allows you to focus on other things. For beginners, that is technique and, for anglers, that is reeling in what could be a record-breaking largemouth bass.
If you are an angler looking to upgrade your personal watercraft, you need to consider the most stable fishing kayaks. These kayaks are great for being loaded down with all sorts of kayak fishing gear and provide plenty of ability to accommodate larger paddlers.
While they all offer exceptional stability, they differ somewhat in the way of features and other design elements. So we will spend some time in this article breaking down the 12 most stable fishing kayaks on the market today.
We will also provide some other kayak fishing buying tips to help you narrow down your options. This should make it a little easier to compare and contrast the kayak models that we have chosen for this guide.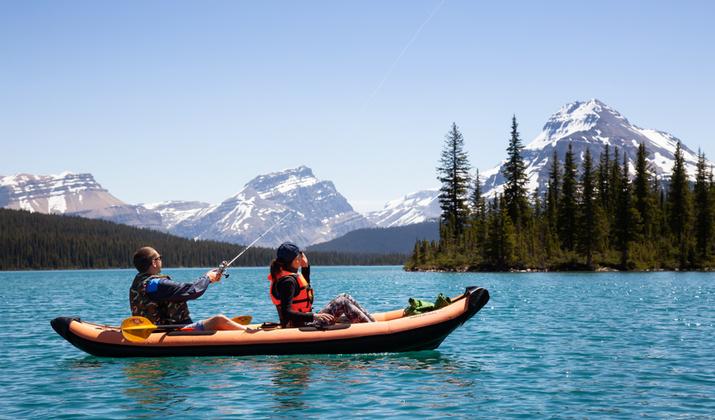 Photo by EB Adventure Photography via Shutterstock
Most Stable Fishing Kayaks
Brooklyn Kayak Company RA220
Perception Kayaks Pescador Pro 10
Brooklyn Kayak Company PK13
Perception Kayaks Pescador Pilot 12
Lifetime Pro Angler 118
Brooklyn Kayak Company PK12 Angler
Brooklyn Kayak Company PK14 Tandem
Wilderness Systems Kayaks Recon 120
Hobie Mirage Pro Angler 12
Advanced Elements StraitEdge™ Angler PRO
Pelican Sport Catch PWR 100
NuCanoe Frontier 12
Why Choose a Stable Fishing Kayak?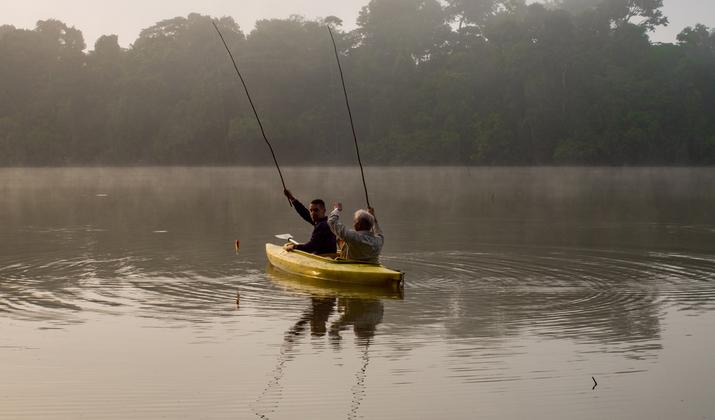 Photo by Nowaczyk via Shutterstock
Kayak fishing is a unique paddling activity that doesn't really compare well with any other style of kayaking. Here are a few important reasons why kayak anglers should choose the most stable kayak possible:
It Will Inspire Confidence
A more stable fishing kayak will inspire you to stay out longer and explore more remote fishing holes. As a result, you will often be able to catch fish that less-comfortable anglers won't spend enough time or energy to reel in.
This is also important when it comes to the type of environment you fish in. Bigger fish tend to live in bigger bodies of water that also experience rougher conditions and more variable weather.
Having confidence in your kayak is a prerequisite for competitive kayak fishing and it is definitely essential if you want to be successful with one of the best ocean fishing kayaks.
It Allows You To Focus on Fishing
Your kayak's stability and your ability to focus on your fishing technique have a proportional relationship. As kayak stability decreases, your ability to feel comfortable enough to focus solely on fishing will also decrease.
This is why any angler that actually wants to catch anything needs a stable kayak. More specifically, you will need to choose a kayak with great primary stability versus secondary stability.
You Will Stay Drier on Less-Than-Ideal Weather Days
If you are a fair-weather kayaker, you probably aren't worried about rain or cold temperatures. If you like to fish year-round, however, you will need to prepare a lot differently than someone who only goes kayak fishing in the warmest months of the year.
On a cold and windy day, the consequences of capsizing increase dramatically. If you choose one of the most stable fishing kayaks, you will be able to enjoy drier paddles when the weather isn't at its finest.
You'll Be Able To Load In More Gear
The last reason you need to choose a stable kayak for fishing is that anglers tend to bring the most gear on their paddles compared to other kayakers. A stable kayak design will allow you to load in a kayak fishing tackle box, multiple fishing rods, and everything else you need without compromising the performance of your kayak.
Fishing Kayak Buying Guide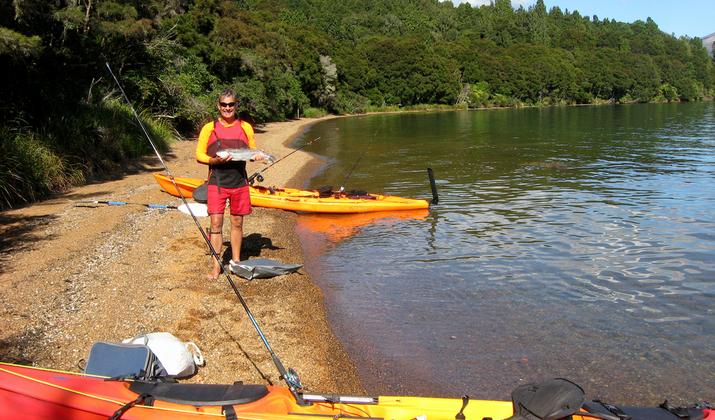 Photo by Dubois1 via Shutterstock
If you are the kind of person who makes very analytical decisions, you can use these kayak buying factors to create a thorough compare-and-contrast table to evaluate the stable fishing kayaks on our list.
Kayak Dimensions
The first thing to look at is the length and width of various stable fishing kayaks. Taller paddlers should opt for longer kayaks because they will generally provide more legroom, which translates to a more comfortable ride.
That said, smaller or average-sized paddlers may also opt for a longer kayak because it can provide more overall storage space for their fishing gear. Just be aware that a longer kayak will also be less nimble in narrower creeks and streams.
If you fish lakes, bays, and wide rivers, maneuverability is generally less important than storage space. If you fish in narrower waterways or have less kayaking experience, it will be easier for you to handle a shorter kayak.
In addition, check the width measurement of the kayaks you are interested in. A wider kayak will usually offer more stability and a more spacious cockpit, but it will also result in decreased speed and tracking ability.
Cockpit and Seat Design
The design of the cockpit and the seat in a fishing kayak will play a large role in how long you can sit inside comfortably. Even long-distance paddlers like to stop every hour or two to stretch their legs, but a cramped cockpit has no place in the world of the dedicated kayak angler.
If you are going to invest in a fishing kayak at all, we recommend a model with an elevated seat design. This will lift your hips and provide a much more comfortable seat for longer fishing trips.
There is a slight disadvantage to this design feature when it comes to stability, however. Because it elevates your center of gravity, it can make you feel slightly less stable than a fishing kayak with a sunken seat design.
In addition to the seat design, also look at the overall size and shape of the cockpit. You will want plenty of space to fish comfortably and you definitely need a kayak with molded footrests or adjustable foot pedals to help you maintain good posture while paddling.
Method of Propulsion
You should also consider whether you are content with using a regular kayak paddle to get around or you want to spend a little more to get a pedal-driven fishing kayak. The latter will allow you to use your legs for power while your hands stay free for fishing and steering your kayak.
If you have never used a pedal-driven kayak before, there are a lot of benefits to paying a little extra for one. They can often go faster, you can get a better lower body workout, and, most importantly, you can keep fishing for nearly the entire duration of your time on the water.
For those of you that are on the fence about this issue, there's good news. Some models allow you to remove the pedal drive if you want to use it like a traditional kayak, which can provide the versatility you need if you are undecided.
Storage Layout
When you are kayak fishing, you may need certain gear (such as line snips or your fishing net) at a moment's notice. You don't want to be awkwardly reaching behind you to retrieve these items when you need them quickly.
That is why the best and most stable fishing kayaks offer plenty of D-rings and mounting tracks for you to attach gear where you can easily reach it. Ultimately, each kayak angler will organize their fishing gear differently, but you need to be comfortable with the layout of the storage areas in the kayak you choose.
Weight and Weight Capacity
Finally, you should also consider the maximum weight capacity and the unloaded weight of the kayak itself. Weight capacity is important because it tells you whether the kayak will provide enough flotation once you and the weight of all your fishing gear are loaded in.
As a general rule, many kayak anglers recommend trying to keep the total weight of people and gear in a kayak below about 80% of the manufacturer's recommended weight capacity. When you exceed this 80% threshold, your kayak won't sink immediately but it will be sluggish and harder to maneuver.
When it comes to the unloaded weight of the kayak, you need to consider how you will transport it safely. For many anglers, the best method for transporting a heavier fishing kayak is to load it onto a towable kayak trailer.
This eliminates having to lift an 80-120 pound kayak on and off a kayak roof rack every time you paddle. If you do insist on transporting a heavy fishing kayak on the roof of your truck or SUV, however, we definitely recommend looking into one of the best easy-load kayak roof racks.
Thumbnail
Title
perception Kayaks Pescador Pro 10 | Sit on Top Fishing Kayak with Adjustable Lawn Chair Seat | Large Front and Rear Storage | 10' 6" | Salsa
BKC PK13 13' Pedal Drive Fishing Kayak W/Rudder System and Instant Reverse, Paddle, Upright Back Support Aluminum Frame Seat, 1 Person Foot Operated Kayak (Blue Camo)
Perception Kayaks Pescador Pilot 12 | Sit on Top Fishing Kayak with Pedal Drive | Adjustable Lawn Chair Seat and Tackle Storage Areas | 12' | Dapper (9351587178)
Lifetime Pro Angler 118 Fishing Kayak, Gator Camo
Thumbnail
Title
perception Kayaks Pescador Pro 10 | Sit on Top Fishing Kayak with Adjustable Lawn Chair Seat | Large Front and Rear Storage | 10' 6" | Salsa
Thumbnail
Title
BKC PK13 13' Pedal Drive Fishing Kayak W/Rudder System and Instant Reverse, Paddle, Upright Back Support Aluminum Frame Seat, 1 Person Foot Operated Kayak (Blue Camo)
Thumbnail
Title
Perception Kayaks Pescador Pilot 12 | Sit on Top Fishing Kayak with Pedal Drive | Adjustable Lawn Chair Seat and Tackle Storage Areas | 12' | Dapper (9351587178)
Stable Fishing Kayak Reviews
Check Price On Amazon
Length: 11'6"
Width: 34"
Weight: 68 pounds
Weight Capacity: 550 pounds
The RA220 kayak from Brooklyn Kayak Company (BKC) is a great starter kayak for the fishing novice. It boasts a wide design and plenty of weight capacity to handle you and all of your fishing gear.
It also features a pedal-operated rudder to help you navigate wind and waves, two flush-mounted fishing rod holders, accessory and gear tracks, and a total of three waterproof storage hatches.
You will have plenty of freedom to customize your fishing set up with the RA220 and the large storage compartment in the center of the cockpit keeps your most important fishing supplies accessible at all times once you are on the water.
Check Price On Amazon
Length: 10'6"
Width: 32"
Weight: 57 pounds
Weight Capacity: 325 pounds
The Pescador Pro 10 from Perception Kayaks is a great option for smaller anglers. It is one of the lightest fishing kayaks out there, which makes it easier than most to transport while still providing exceptional stability on the water.
The large open storage area at the stern gives you more than enough room to secure a kayak cooler bag behind your seat. Gear tracks on both gunwales allow you to attach your preferred fish finder or a kayak GPS unit.
This Perception kayak also offers multiple seating positions for comfort, optimal casting position, and ergonomic paddling. It also happens to be one of the most affordable stable fishing kayaks on our list!
Check Price On Amazon
Length: 13'
Width: 33.25"
Weight: 80 pounds
Weight Capacity: 550 pounds
Another Brooklyn Kayak Company model to consider is the PK13, which is one of their longest kayaks made for a single paddler. This model is also equipped with a pedal-drive system and it offers an open and flat cockpit that makes it possible to fish from a standing position.
Gear tracks on the gunwales, a center console, an open stern storage area, and a large waterproof hatch at the bow provide plenty of storage and gear customization.
You will also enjoy the comfortable raised mesh seat and retain the ability to upgrade the pedal-drive system to a trolling motor if you choose to do so down the line.
Check Price On Amazon
Length: 12'5"
Width: 33.5"
Weight: 95 pounds
Weight Capacity: 475 pounds
The Pescador Pilot 12 is a minor upgrade from the Pescador Pro 10. In this kayak, Perception designed a larger cockpit for taller paddlers and also included a pedal-drive system that can be fully recessed into the hull of the kayak to reduce draft and wind resistance.
The added length of this kayak also allowed them to add two sealed storage hatches at the front of the cockpit. That is in addition to the bungee-secured and mesh-covered storage areas at the stern and bow, respectively.
Check Price On Amazon
Length: 11'8"
Width: 32"
Weight: 85 pounds
Weight Capacity: 375 pounds
The Lifetime Pro Angler is one of the rare stable fishing kayaks that come in with a price tag under $1,000. That makes it more affordable than others, but it still boasts a lot of great fishing features and excellent overall stability.
One of its best design features is the flat, open cockpit for stand-up kayak fishing. The deck of the cockpit also boasts an integrated fish ruler and there are a total of four accessory tracks mounted on the gunwales on the sides of the cockpit.
Check Price On Amazon
Length: 12'
Width: 32.75"
Weight: 70 pounds
Weight Capacity: 460 pounds
The BKC PK12 Angler is sort of the Goldilocks kayak between the RA220 and the PK13. It offers a sleek design that is more efficient for covering distance while still retaining the kind of maneuverability you will need on narrower creeks and streams.
This kayak also boasts a pedal-drive system and is equipped with an anchor trolley secured on the exterior of the gunwale.
This trolley makes it easy to drop an anchor so that you can stay in place to fish for longer periods of time, which is especially useful when dealing with river or ocean currents as well as wind.
Check Price On Amazon
Length: 14'
Width: 34"
Weight: 95 pounds
Weight Capacity: 670 pounds
For those of you looking for a stable kayak for tandem fishing, the BKC PK14 is one of the best options out there right now. It also includes a pedal drive system and offers a high weight capacity to handle two paddlers and all of your must-have kayak fishing accessories.
Both paddlers will also enjoy the comfort of the elevated mesh seats in the bow and stern of this kayak. Plus, you will both be able to store your personal fishing gear and kayaking snacks in the sealed storage hatches below each kayak seat.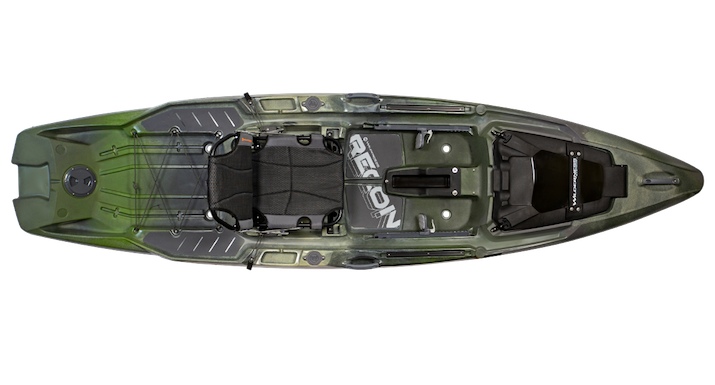 PC Wilderness Systems Kayaks
Length: 12'2"
Width: 38"
Weight: 95 pounds
Weight Capacity: 450 pounds
The Wilderness Systems Recon 120 provides a great balance between simplicity for novice anglers and versatility for seasoned experts. You will be able to rig up your accessories as you see fit with long gear tracks, multiple fishing rod holders, and rod storage troughs on either side of the kayak seat.
The Recon 120 is also built with a super wide and open deck that makes it comfortable for larger paddlers. Plus, it is also exceptionally stable for stand-up fishing and is compatible with both pedal-driven and electric propulsion systems.

PC Hobie
Length: 12'
Width: 36"
Weight: 105 pounds
Weight Capacity: 500 pounds
The Hobie kayak brand is most well-known for delivering exceptional pedal-driven performance and the Mirage Pro Angler 12 definitely lives up to its near-spotless reputation. In addition to having one of the most efficient pedal drives on the market, it also boasts a retractable skeg that provides better tracking.
This kayak also gives you storage space for up to six different rod and reel combinations while also offering a large bow hatch with a removable liner and an eight-inch round storage hatch in the rear tankwell.
The Mirage Pro Angler is also built for stand-up kayak fishing and the open deck includes grip pads for better comfort and stability under your feet.
Finally, you will also have the freedom to customize your setup with H-rail accessory tracks, small mesh pockets on either side of the seat, and additional mounting points at the front of the cockpit.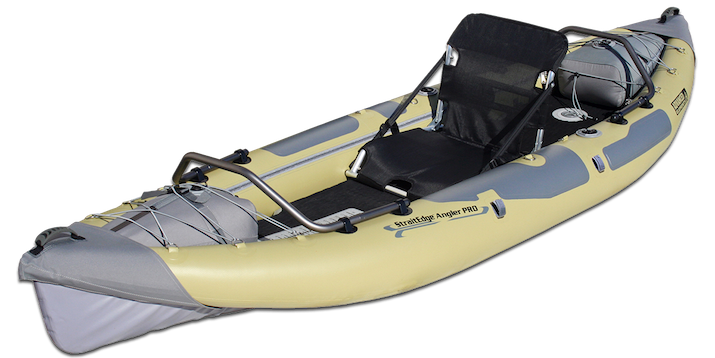 PC Advanced Elements
Length: 10'6"
Width: 38.5"
Weight: 45 pounds
Weight Capacity: 400 pounds
The StraitEdge™ Angler PRO from Advanced Elements is the most stable inflatable fishing kayak out there. It is a great choice for travelers, anglers with a smaller vehicle, and anyone that doesn't have enough space to store a larger kayak at home.
It is incredibly lightweight and provides great stability through the use of drop stitch technology. This technology is the same that is used in many whitewater rafts and the best paddleboards for beginners and allows the hull and gunwales of this kayak to be inflated to a higher pressure.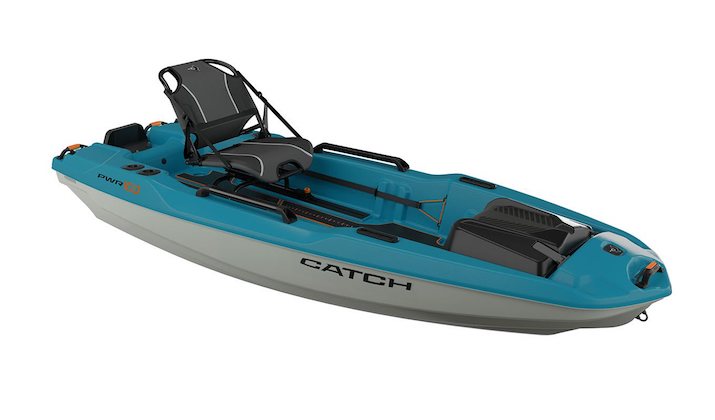 PC Pelican Sport
Length: 9'9"
Width: 39.625"
Weight: 75 pounds
Weight Capacity: 450 pounds
The Catch PWR 100 fishing kayak from Pelican Sport is one of the most stable models out there for smaller paddlers. Its shorter length also makes it a great choice for creek and stream fishing.
It still boasts a surprisingly high weight capacity for a smaller kayak and also features an elevated mesh seat and a wide-open deck. The seat even rotates 360 degrees to make it much easier to operate a stern-mounted trolling motor or just fish from multiple positions.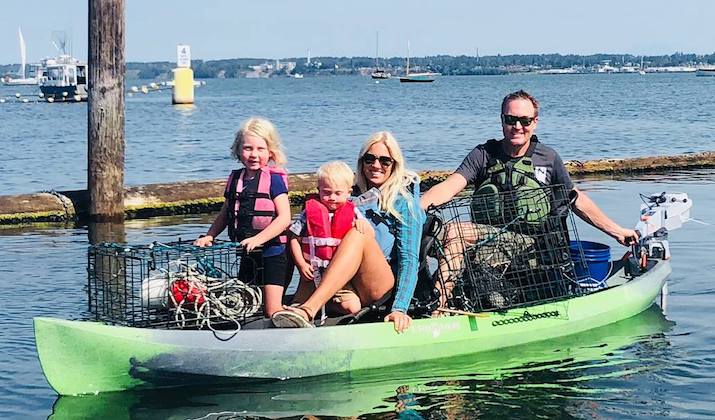 PC NuCanoe
Length: 12'
Width: 41"
Weight: 80 pounds
Weight Capacity: 650 pounds
The NuCanoe Frontier 12 is perhaps the most customizable fishing kayak out there. It is designed for experienced anglers who know exactly what they want and don't want a kayak that is going to get in the way.
It is the widest kayak design on our list and can accommodate single or tandem paddling. It can also be equipped with any of NuCanoe's propulsion systems to improve your ability to cover more ground.
Check Price On Amazon
Our pick for the best and most stable fishing kayak is the BKC PK12 Angler because it is one of the most affordable pedal-driven fishing kayaks out there and it is laden with great angling features. 
It also boasts the ability to add a kayak trolling motor and already has a dedicated compartment to help you secure a trolling motor battery. So if your legs start to get tired of propelling you around, you can upgrade to an electric solution. 
Finally, the PK12 Angler boasts exceptional waterproof storage capacity and it is equipped with an anchor trolley that will help keep your kayak stable and in a set location while you swap between the multiple rod and reel combinations you can easily store on this kayak.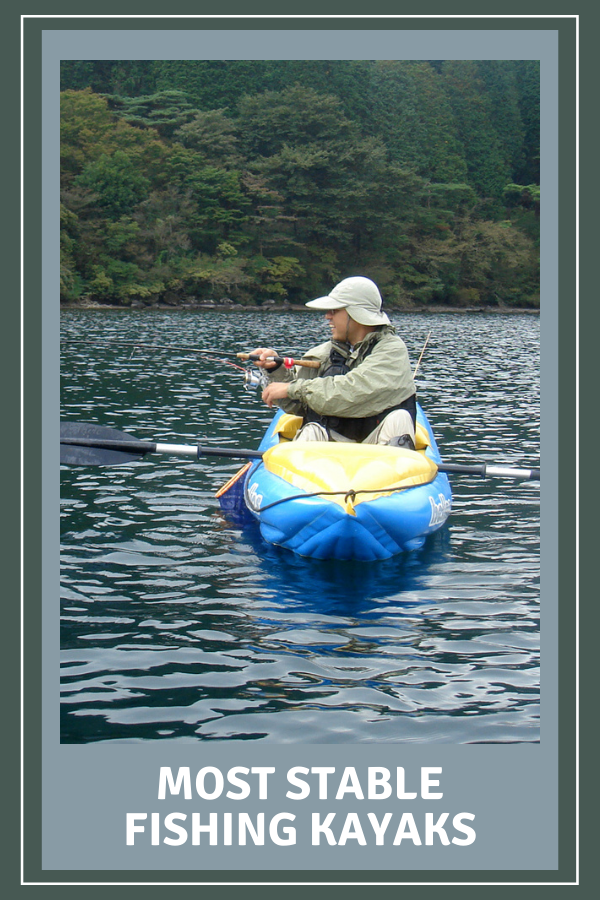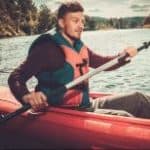 Author: Peter Salisbury
Pete is the Owner of KayakHelp.com. Born and raised in Cleveland, Ohio, he grew up kayaking, fishing, sailing, and partaking in outdoor adventures around the Great Lakes. When he's not out on the water, you can find him skiing in the mountains, reading his favorite books, and spending time with his family.