Building your own kayak can be a fun and challenging project. Historically, watercraft like kayaks and umiaks were a major part of coastal fishing cultures all over the world and their early designs still inspire kayak builders to this day.
Learning how to build a kayak can be a time-intensive undertaking. If you truly dedicate yourself, however, you should be able to utilize these free kayak plans you can build this week to create a magnificent vessel that is going to last.
While there are certainly plans out there for PVC or cardboard kayaks that you can build in a day, our focus in this article will be on kayak plans that are actually going to last for more than one outing.
Those cardboard kayaks might be useful to know how to build for your next corporate boat building challenge, but they aren't a wise investment of time and energy if you actually want a durable kayak that you can use for years to come.
That is why we are focusing mainly on wooden kayak plans in this kayak building guide. We have included as many links to general overviews of these kayak plans as possible and we have also furnished you with PDF plans for the dimensions and schematics of each kayak.
Our hope is that you can use these free kayak plans to get started on your own DIY kayak journey!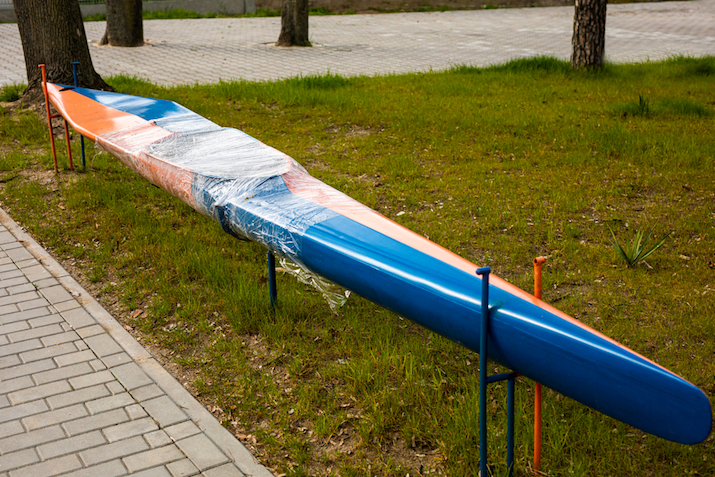 Photo by studiojaskrawo via Shutterstock
Free Kayak Plans You Can Build This Week
A4 Building Guide from Duckworks
The Iggy
Siskiwit Bay SOF
West Greenland Kayak
Laker 13
Chukchi
Koryak
Aleut Single
Aleut Double
Kodiak
King Island
Bering Sea Hooper Bay
Norton Sound
North Alaska Retrieval
Copper Inuit
Reviews of Free Kayak Plans (With PDFs)

PC Kaamos Boats
Length: 15'10.5"
Width: 20.75"
Displacement: 245 pounds
This kayak plan is designed to help you create a boat that is built for speed and efficiency. It can be used for casual day trips or longer weekend paddles because of the large compartments ahead of the two kayak bulkheads inside.
This kayak will also allow you to install a spray skirt if you design the rim of the cockpit to fit an appropriate model. The plan includes drawing for recessed hatches above the compartments, but this kayak can also be built with a flat deck.
This design is really best for experienced paddlers because it may feel a little bit unstable for beginner and even intermediate paddlers. The end of the plans even includes options to add a rudder to the stern if you are concerned about how this kayak will perform in windy or wavy conditions.
Because this will be a custom-built kayak, it may not work with just any old kayak rudder replacement kit. Installing a rudder that is not compatible will cause it to jam up and could potentially put you in danger on the water.
Overall, this is one of the most complete free kayak plans we could find out there. While the link below will give you a great initial overview of the kayak plan, you can use the link above to find additional cardboard templates and drawings that will help you complete your DIY kayak build.
A4 Building Guide From Duckworks

PC Paddling Light
Length: 16'6.75"
Width: 20.9375"
The Igdlorssuit ('Iggy' for short) kayak's lines own their origins to a kayak builder named Emanuele Korneilliussen. In 1959, he built this kayak in Western Greenland for a man named Kenneth Taylor.
It was designed for smaller paddlers in the 100-150 pound weight range and was the original inspiration for many British-style kayaks. The drawings for this kayak were completed by Duncan Winning in 1964 by using Korneilliussen's original kayak as a model.
The free study plan for this kayak can be downloaded using the link below, but that will just give you a PDF drawing of the kayak design. For complete building instructions, you will need to use the link above and locate additional resources.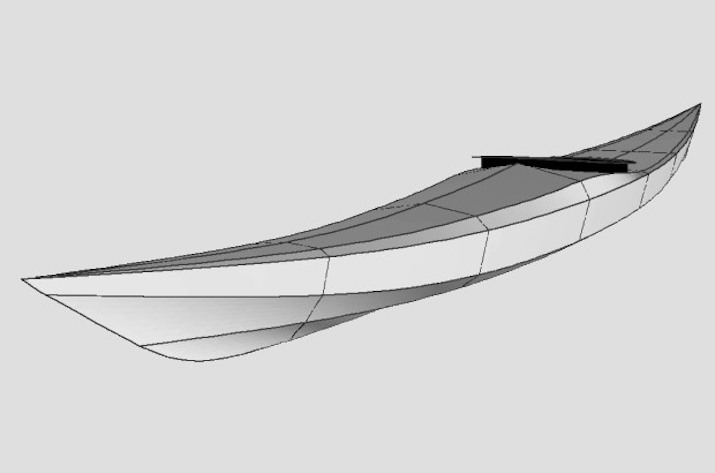 PC Paddling Light
This kayak study plan is best for kayak builders that want to try their hand at creating a skin-on-frame kayak. The Siskiwit Bay SOF kayak is a modern version of the original Siskiwit Bay cedar-strip kayak.
This design will help you construct a kayak with a multi-chine hull. It is a British-style kayak that can be scaled up or down to suit the height and weight of the paddler that is going to be using it.
For builders that are interested in building a stitch-and-glue plywood kayak, you can check out the free study plans for the Siskiwit Bay MC kayak.
Once again, the link below will download a PDF drawing of this kayak plan, but it does not include building instructions. Fortunately, Paddling Light is a great place to find additional resources that will help you build this kayak.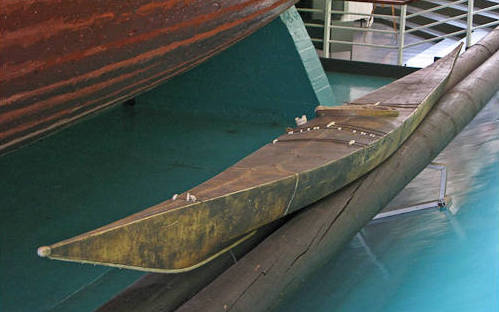 PC Paddling Light
Length: 17'10"
Width: 20.4375"
Weight Capacity: 140 to 290 pounds
Displacement: 172 pounds
This free kayak study plan is for one of the more famous kayak models ever held in a maritime museum. The kayak was originally built by natives of Western Greenland in 1888 and has been preserved and documented by the Fram Museum in Oslo, Norway.
Technically, this study plan is for a kayak known as 'Fram Number 176'. It was originally built for the colleagues of the legendary arctic explorer Fridtjof Nansen after his successful expedition across the icecap of Greenland.
The historic nature of this kayak is a testament to the superior construction skills of the original builders. For you to take the drawings you will find using the link below and make them a reality, however, you will need to seek additional building instructions and resources online.

PC Jem Watercraft
Length: 13'
Width: 26.5"
Weight: 30-45 pounds
Weight Capacity: 110-250 pounds
The Laker 13 is a great build for small and medium-sized paddlers and, as you can see, the final product should remain light enough for you to carry and transport it easily without needing a kayak cart.
The reason why the weight of the kayak can fluctuate is based on the materials you choose to complete your build. Options for lightweight building materials are included in the Bill of Materials within this kayak plan.
The plans that you can download below will help you build a basic version of this kayak. Using the link above, you can also find options for paid plans that include an upgraded bow and stern design that will be more durable and an improved cockpit coaming that will accept a kayak spray skirt.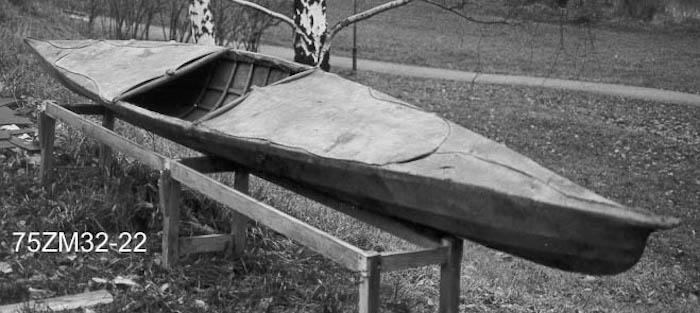 PC Arctic Kayaks
Length: 15'2.2"
Width: 24.8"
Depth: 10.4"
Weight: 33.1 pounds
Theoretical Top Speed: 4.6 knots
Displacement: 696.1 pounds
The Chukchi kayak was originally built as an inland hunting kayak but it was later adapted for maritime use. The inland and maritime versions of this kayak are the only two known versions of the Chukchi kayak in the world.
Two of this kayak's unique features are extra-durable gunwales and a reverse bottom (see the side profile using the link below). Early paddlers of this kayak even built double-sided paddles with a spear on one end for their hunting needs.
This kayak is designed for speed due to its relatively narrow beam. It is a great experimental kayak build for an experienced paddler, but beginners and even intermediate paddlers will probably find it a little too unstable for their liking.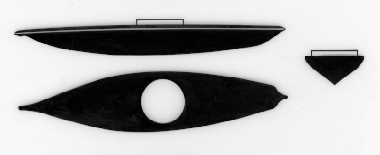 PC Arctic Kayaks
Length: 8'5.8"
Width: 28.3"
Depth: 7.5"
Weight: 33.1 pounds
Hull Speed: 3.5 knots
Displacement: 251.9 pounds
The Koryak is one of the shortest original hunting kayaks ever built. It was predominantly used by the native cultures that inhabited the area that is now known as Kamchatka in northeastern Russia.
They used the Koryak to hunt seals near the shoreline and then towed the seals to shore once they were captured. This kayak design combines a wide beam with a deep, V-shaped hull, and the original paddles were actually attached separately to the gunwales and weren't much larger than modern ping-pong paddles.
Those design features allowed early hunters to chase seals at higher speeds while still maintaining the stability they needed once they caught one. One of the first models of the Koryak was collected during a 1900-1901 North Pacific Expedition led by a man named Waldemar Jochelson.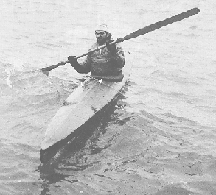 PC Arctic Kayaks
Length: 19'0.9"
Width: 17.1"
Depth: 8.3"
Weight: 44.1 pounds
Hull Speed: 5.3 knots
Displacement: 587 pounds
The Aleut Single kayak was one of the fastest hunting kayaks constructed by the native peoples of the Aleutian Islands. Captain Cook and his team of explorers reportedly marveled over the hunting prowess of the Aleutian paddlers during some of the first encounters.
This design will help you build a boat that is great for the average-sized paddler and able to handle rough seas. It handles easily, tracks very well over longer distances, and even rolls with minimal effort if needed.
These plans are still utilized by the Aleut people to build their modern kayaks. Historically, these were some of the original kayaks with carved bows that were customized with animal and figured carvings to reflect the skills and personality of the paddler.
9. Aleut Tandem

PC Arctic Kayaks
Length: 20'7"
Width: 22"
Depth: 12"
Weight: 48.5 pounds
Hull Speed: 5.5 knots
Displacement: 979.9 pounds
The Aleut Tandem is the slightly longer version of the previous kayak plan. This kayak was built with two cockpits to accommodate hunting teams of two on longer sea otter hunting expeditions.
Historically, the paddler seated in the stern of the two-hole Aleut was responsible for navigating the kayak while the hunter sat in the bow cockpit. Darts were hurled at sea otters using an early hunting tool known as the throwing board.
Nowadays, the Aleut tandem would be a fun build for a paddling couple that wants an extremely seaworthy tandem kayak. Despite being more than 20 feet in length, this kayak still maintains an incredibly lightweight design compared to many modern tandem kayaks.
PC Arctic Kayaks
Length: 14'2.9"
Width: 25.9"
Depth: 10.04"
Weight: 40.1 pounds
Hull Speed: 4.6 knots
Displacement: 615.9 pounds
At first glance, the Kodiak kayak looks very similar to the Aleut kayak. Many kayak and canoe historians actually consider these designs to be 'close cousins', but the Kodiak has a few distinct differences.
For one, it is shorter and wider, which makes it more stable because it was originally used for hunting small sea mammals. The Kodiak also includes a more pointed stern area than the Aleut kayak.
Like the Aleut, the Kodiak kayak plan includes a bifurcated bow and it also features a ridged deck (which is actually common on most kayaks from this region). Originally, paddlers propelled this kayak from a kneeling position using a single-bladed paddle but, today, it can be used as a nice option for recreational kayaking in the ocean.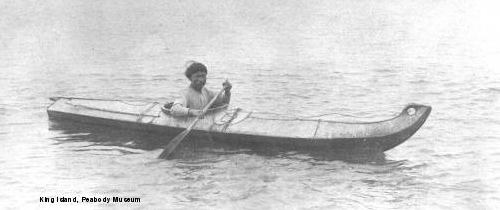 PC Arctic Kayaks
Length: 14'10.1"
Width: 25.3"
Depth: 9.6"
Weight: 37 pounds
Hull Speed: 4.5 knots
Displacement: 669.1 pounds
The King Island kayak was originally designed by native peoples that frequently navigated the cold, turbulent waters of the Bering Strait. It has a reputation for being one of the strongest and most durable kayak designs created by the native inhabitants of this region.
Reports even suggest that these kayaks were sometimes launched off small, rocky cliffs by two able-bodied individuals with the kayaker and paddle already sitting inside! The launch timing was prompted by the paddler and the technique was adapted to help paddlers get out past the surf line without capsizing.
Unlike many of the other kayaks on our list, the King Island kayak was not designed primarily for hunting. This kayak was designed for long-distance kayak expeditions and it was built to handle the extremely rough waters that are so common to the Bering Strait.

PC Arctic Kayaks
Length: 15'1.4"
Width: 30.1"
Depth: 9.4"
Hull Speed: 4.6 knots
Displacement: 815.9 pounds
The Bering Sea Hooper Bay kayak is another design that was built to handle rough ocean waters. Unlike the King Island design, however, this kayak is much wider and designed with a higher volume.
Instead of being built for long-distance travel, it was made for shorter trips and built to carry heavier loads. In some cases, it was even used on the more protected coastal bays for hunting larger mammals amongst the ice floes in the region.
With two people in the cockpit sitting back to back, the forward person navigated the kayak while the rear passenger became the "gunner". Equipped with a bow and arrow, the rear passenger would target animals whose movements were restricted by the ice sheets.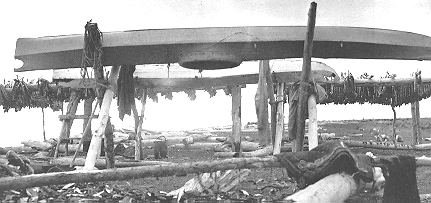 PC Arctic Kayaks
Length: 17'1.8"
Width: 28.3"
Depth: 15.7"
Weight: 89.1 pounds
Hull Speed: 4.8 knots
Displacement: 756 pounds
The Norton Sound kayak design features a very similar construction to the Hooper Bay kayak, but it is distinguished by the straighter line along the top of the rigid deck of the kayak. The small cockpit at the center boasted higher walls that prompted early paddlers to use a single-bladed paddle.
This also is a very stable kayak design that can be used by a single paddler. Originally, it was used by back-to-back paddlers and employed for hunting and hauling freight over short distances.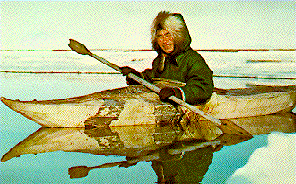 PC Arctic Kayaks
Length: 9'6.8"
Width: 23.2"
Depth: 7.6"
Weight: 25 pounds
Hull Speed: 3.6 knots
Displacement: 392.9 pounds
The original name for the North Alaska Retrieval kayak (qayapauraq or qayapaq) roughly translates to 'little fat kayak'. That is exactly what you will get with this kayak design, which makes it great for short paddlers or as a kid's kayak.
It was actually a later innovation amongst coastal tribes once the rifle replaced the harpoon for hunting seals and other mammals along the ice floes. Mammals could now be shot from a further distance and they simply needed more stable and nimble kayaks to retrieve their kills.
It was also designed to be very lightweight so that it could be carried over longer distances and launched easily. This makes it a great kayak plan for anyone that spends most of their time exploring smaller waterways.

PC Arctic Kayaks
Length: 23'3.2"
Width: 15.6"
Depth: 8.1"
Weight: 44 pounds
Hull Speed: 5.8 knots
Displacement: 741.1 pounds
Our list of free kayak plans concludes with the Copper Inuit, which is the longest, narrowest, and fastest design we could find. This is a great build for the experienced kayaker and early versions were utilized for hunting caribou on lakes and wide rivers during the fall season.
Early paddlers also used a unique method of trolling to catch fish in this kayak, but they never pulled the line in until they reached shore because this design can be very susceptible to capsizing. This kayak will also be a good build for long-distance paddlers.
Final Thoughts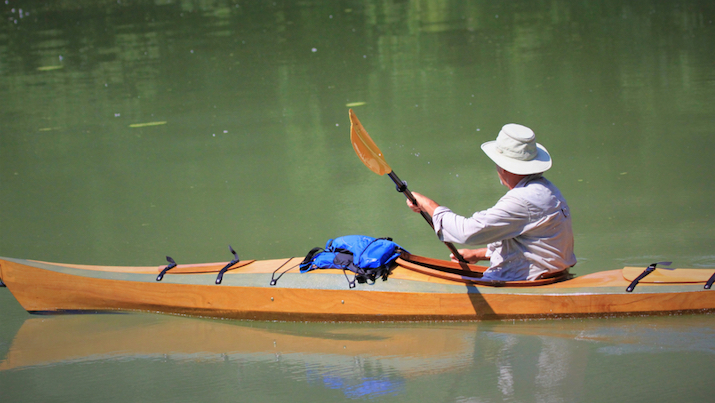 Photo by Sketchart via Shutterstock
Building your own kayak can be one of those "if you give a moose a muffin" kinds of undertakings. You will probably find yourself wanting to build your own kayak paddle, PVC kayak cart, or outdoor kayak storage shed once you finish your kayak itself.
Or, you might just be content to buy one of the best kayak paddles under $150 so you can get out on the water as quickly as possible. If you build your own kayak, be prepared to turn a few heads when you get down to your local boat launch ramp.
Most people are understandably taken aback by a beautiful wooden kayak that looks much different from the plastic kayaks and fiberglass designs that you see in most stores.
We are going to wager that you will actually love sharing a little bit about your building process, but it might delay your paddles by a few minutes each time you go out.
Please keep in mind that these free kayak plans are simply meant to give you an outline of several different types of kayaks that you can build on your own.
You will most likely need to do additional research to make sure you have all of the building materials, kayak glue, hardware, and tools to turn these plans into realities.
That being said, we hope that you have enjoyed getting an overview of what is possible if you are interested in building your own kayak.
As always, we wish you happy kayak building and the best of paddling adventures once your creation is complete!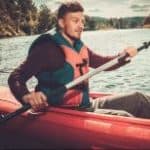 Author: Peter Salisbury
Pete is the Owner of KayakHelp.com. Born and raised in Cleveland, Ohio, he grew up kayaking, fishing, sailing, and partaking in outdoor adventures around the Great Lakes. When he's not out on the water, you can find him skiing in the mountains, reading his favorite books, and spending time with his family.