Are you looking for the perfect camping canoe? While there is an abundance of camping kayaks, camping canoes can be a bit harder to find.
Fortunately for you, we've put together the complete list of the best camping canoes on the market.
Let's get into it.
What to Look for in a Camping Canoe?
Image Source: Shutterstock
Theoretically, any canoe is good for camping, as long as it meets several criteria. There are a few features a canoe must have for it to be suitable for camping trips.
Lightweight
If your canoe isn't lightweight, forget it. A heavy canoe will add too much weight to your camping gear.
You might think you can handle all that extra weight, but you'll quickly regret it once you realize how tiring lugging a heavy canoe around is. Go with something below 75 pounds, though the lighter it is, the better.
Also Read: Tandem Kayak vs Canoe
Easy to Pack and Store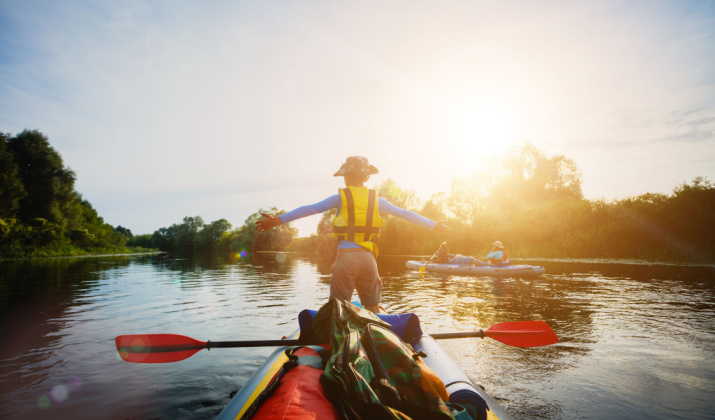 Image Source: Shutterstock
Your canoe shouldn't take up too much space. It must be easy to pack in small spaces and transport.
There's a reason many of the canoes on this list are foldable or inflatable. These types of canoes allow you to enjoy the full benefits of a canoe without requiring all the storage space a traditional canoe requires.
However, you can also take a non-foldable and non-inflatable canoe, as long as you make sure the canoe isn't heavy. Also, you will need to ensure that you have space and the capabilities to transport the boat.
Foldable vs Inflatable vs Traditional: Which Canoe Style Is Best?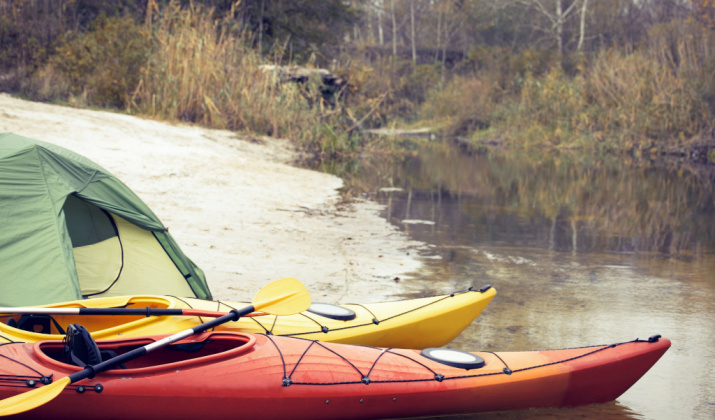 Image Source: Shutterstock
In this article, we'll be looking at three canoe styles: inflatable, foldable, and regular canoes.
Many people will immediately opt for an inflatable canoe. However, take a step back and read the following before making your choice, as each canoe type has pros and cons for campers.
Inflatable Canoes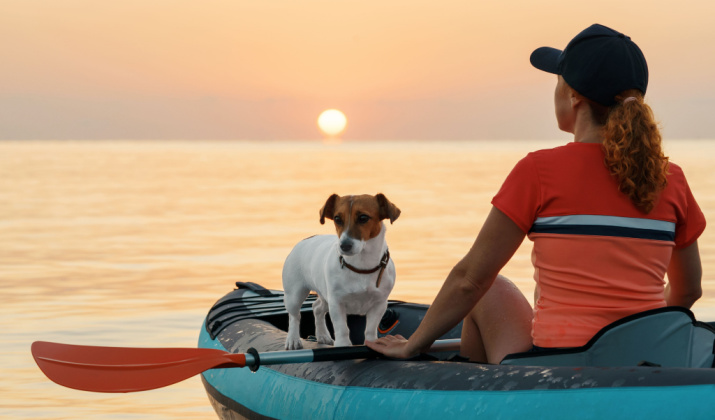 Image Source: Shutterstock
There are a lot of myths about inflatable canoes and kayaks, but inflatable canoes are usually pretty strong and durable. They have thick PVC material to prevent punctures and damage, and they can last for years when cared for properly.
Of course, the main advantage of inflatable canoes is that you can deflate them and fit them into small spaces when not in use. You can fold the deflated canoe and put it together with your other gear.
Inflatable canoes are actually great on rough waters. That's because their strong materials are shock absorbing and can handle crashes.
On the other hand, they're typically still not as strong as regular canoes made of metal and other non-foldable and non-inflatable materials. I recommend sticking to Class II rapids if you have an inflatable canoe, though some canoes are more durable and can handle even rougher waters.
Inflatable canoes are not always as lightweight as you may think, though. They make up for that in storage space, but the heavy fabric – especially after it absorbs some water – can weigh a lot more than foldable canoes and even non-foldable, traditional canoes.
Not only that, but you'll need to take a pump with you as well, so you can inflate your canoe. That pump is yet more additional weight.
Due to the heavy weight of the materials, inflatable canoes are usually a bit slower.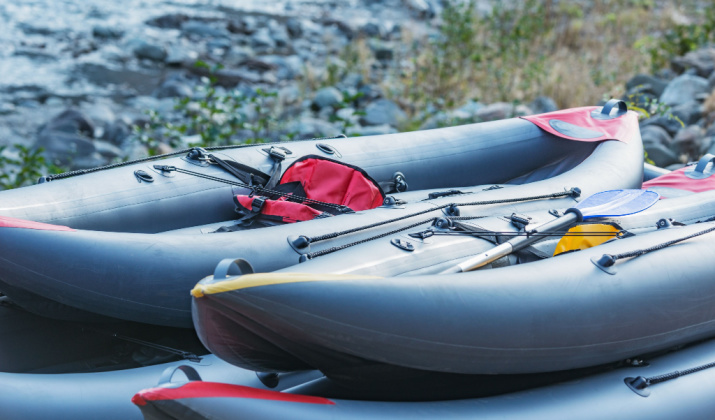 Image Source: Shutterstock
What about setup? Most inflatable canoes don't take more than 10-15 minutes to inflate.
However, you will need to use the pump, and that often requires hard, manual work (in the case of manual pumps). It can be a bit annoying.
Inflatable canoes are frequently very affordable, though, which is one major factor going for them.
Foldable Canoes
Foldable canoes are canoes that you can fold up after use. They're often lighter than inflatable canoes, and you don't need to bring a pump with you.
Setting up a foldable canoe is usually quicker than setting up an inflatable one, as you don't need to pump any air into it. While the first time might be confusing, once you get the hang of it, you'll be unfolding the canoe and locking all the components into place within minutes.
Foldable canoes take up more space during transport. Another downside is that they often can't handle rough waters like inflatable canoes – they can't absorb shocks as much.
One benefit of foldable canoes is that they feel more like regular canoes. That's more of a personal thing, though.
Finally, because foldable canoes are lighter, they are often nimbler and faster than inflatable canoes.
Traditional Canoes
Most traditional canoes are not made for camping. However, if you are camping in an RV or van, you could easily fit a non-foldable and non-inflatable canoe on the roof of your car.
As long as you stick to a lightweight canoe, you'll be fine.
One of the advantages of using a traditional canoe is that you can use them in rougher waters. In addition, there's literally no setup time – just take it off the roof of your car and put it in the water.
Traditional canoes can sometimes be even lighter than inflatable canoes.
Using our canoe plans, you can even build a custom canoe that fits your size and weight requirements for camping.
That said, let's explore the 10 best canoes for camping.
Best Canoes For Camping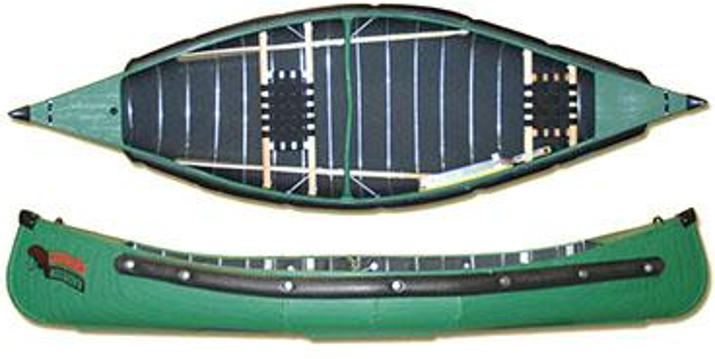 This particular canoe isn't foldable or inflatable, but it's made of lightweight aluminum, making it easy to transport on the top of your camping van. Its single sheet of marine aluminum is strong and durable, despite its low weight.
Even if you crash the canoe or hit an object under the water, it will only dent – not puncture. That's due to the 2.5% magnesium content in the aluminum.
It is also resistant to rotting, peeling, delamination, swelling, and other damage.
The canoe comes with two oars, also laminated, and oar locks to assist you in paddling. With a foam inner liner and foam side sponsons, the canoe is quiet and stable.
With a high load capacity and stern handles for carrying, this canoe is perfect for campers who prefer a traditional canoe to an inflatable or foldable one.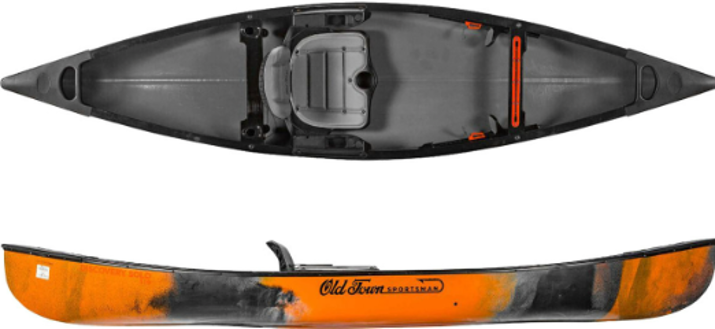 This hybrid canoe has a unique design and comes in three colors: ember, marsh, and photic. While it's not foldable or inflatable, it is fast and very light, weighing only 56 pounds – that's less than many of the inflatable canoes on this list.
It's designed for one person only, making it ideal for solo campers. Due to its design, it's best for people who like to go on fishing expeditions while camping.
However, its hybrid design makes it excellent for recreational canoeing as well.
With a total weight capacity of 354 pounds and a working weight capacity of 298 pounds, it's ideal for people who aren't too heavy and travel light, without heavy camping gear. It's around 12 feet long and 32.5 inches wide, with a bow weight of 18 inches and a depth of 12.5 inches.
Its contoured seat has an adjustable backrest, ensuring maximum comfort. There are also padded armrests with trays for tackle and shotgun shells, making this a good hunting canoe as well.
The hull has a lot of space, so you can put your camping gear there. Alternatively, you can use it to store fishing gear, duck decoys, or even your dog.
Its strength and light weight are due to its design. Its three-layer hull has cell foam surrounded on both sides with high-density polyethylene – since the inner layer is foam, this canoe won't weigh you down.
While it's not the cheapest canoe, Caney Fork Outdoors has partnered with Klarna to offer a monthly payment option, subject to approval.

The Wenonah Wee Lassie is a vintage-style and extremely light canoe. It's designed for extra speed and has a foam core to ensure it remains a lightweight vessel.
Aluminum plates and extra fabric layers are strategically added to the canoe in specific spots to add strength and durability, and the seats and foot braces are drilled into aluminum plates.
One of the things that makes this canoe different is that it uses aramid material, which is also used for body armor and bulletproof vests.
Its weight might surprise you – it's just 25 pounds! That's extremely light, especially when compared to most of the other camping canoes on this list.
That's what makes it so ideal for campers and light travelers.

While most of the canoes on this list are inflatable, there are also some fantastic foldable canoes suitable for camping, and MyCanoe Duo is an excellent choice. Although it's a bit high-end, it's well worth the price.
It comes in two sizes. You can get a two-seater or one-seater.
If you have very little camping gear, the one-seater might be enough for you as a solo camper. It's smaller and a bit easier to carry.
The standard two-seater version also allows room for a dog plus a cooler and camping equipment.
It has a weight capacity of 480 pounds, which is pretty good for a canoe that only weighs 43 pounds.
With over 2,000 five-star reviews (on Amazon), customers have expressed extreme satisfaction with this canoe. It's 14.5 feet in length, and assembling it takes just 5-10 minutes or less.
Folding it back for storage also takes under five minutes.
When it's folded, the canoe is just 36 inches long and 27 inches wide, making it easy to fit into small storage spaces, such as under the bed or your RV.
This canoe is made of durable polypropylene material which has UV treatment designed to protect your canoe from the sun for 15 years. The canoe itself lasts for up to 20,000 fold cycles, meaning it's a long-term investment that will provide you with years of fun.
You can easily carry this foldable canoe over your shoulder using the shoulder strap.
The unique design of this canoe makes it easy to maneuver while on the water. It also comes with two seats with pads, allowing for a comfortable canoeing experience.
One thing to note is that paddles are not included with the canoe. You can get the MyCanoe stabilizer or rowing kits separately, or use your existing canoe or kayak paddle.
Overall, while more expensive than many of the following options, the MyCanoe Duo is a solid choice, especially if you prefer the versatility of foldable canoes to inflatable ones.
With a 30-day return policy and a one-year warranty, you can purchase this canoe with confidence.
Check Price on Amazon
This high-end travel canoe is a bit expensive, but it's easy to transport and perfect for campers. It's inflatable, and once deflated, you can easily pack it in the trunk of your car or in your bag with the rest of your camping gear and
safety kit
.
The canoe is incredibly stable, allowing you to stand in it, and it is up to 33% lighter than other canoes of the same class.
With a water entry and exit system that reduces friction and creates lift and other cutting-edge features, the canoe allows you to paddle at up to speeds of 5mph. It comes with two traditional-style web/wood seats for your comfort.
Included in the package is a high-volume and high-pressure piston pump with an inline pressure gauge, removable skeg, repair kit, and instructions. You will also get a travel bag in which you can store the canoe.
When fully inflated, the canoe has a length of 16 feet. It weighs only 60 pounds, and it takes as little as seven minutes to fully inflate the canoe using the piston pump.
You can use this canoe for whitewater rafting on up to Class IV waters. The material is thick, and the canoe will last a long time.
Check Price on Amazon
This Intex Excursion boat comes in two models, fitting either four or five people. It's incredibly affordable and is designed for light rivers and mild lakes.
It's certified by the US Coast Guard and NNMA, so it's safe to use.
Despite being an inflatable boat, it has a weight capacity of 1,320 pounds, giving you enough weight capacity for a few people along with your camping gear. Due to its built-in fishing rod holders and gear pouch, it's perfect for fishing camping trips.
The boat is incredibly stable. It even has three air chambers, including an inner chamber inside the hull, to increase stability.
When inflated, it is 10.4 feet long. The boat comes with two single-bladed aluminum oars of 54 inches in length, and there are oar holders with welded oarlocks to make paddling easier.
The thick material is puncture resistant, and there are even motor mount fittings if you want to add a motor.
Each side of the bow has a grab handle, and there is also an all-around grab handle that makes it easy to stabilize yourself anywhere on the vessel.
In the package, you will get a repair kit, a pump for inflating the boat, and two inflatable seats with backrests. You will also get a carry bag for transporting the boat when deflated.
Check Price on Amazon
This inflatable canoe comes with two aluminum oars. It's best for lakes, rivers, and other mild waters, and it has an age rating of six and above, making it perfect if you want to go canoeing with your child.
The durable PVC material is environmentally friendly, and the boat comes with cushions that increase comfort. It's designed to be stable on the water, allowing you to canoe without any shaking or instability.
To increase stability, the canoe has a main air chamber, a secondary safety air chamber, and a bottom air chamber. The boat has a handle for easier carrying and handles to lock your oars in place.
When fully inflated, the boat is around 110 inches long and around 55 inches wide. The oars are around 51 inches long.
Together with the canoe, you'll get a transport bag, which you can fold your canoe into when deflated. You'll also get a repair kit.
Note that the canoe also comes with a hand pump.
Altogether, the canoe can fit between one to four people.
Check Price on Amazon
This four-person inflatable canoe has four air chambers. The four chambers ensure stability and safety, as even if one fails, the others will still keep your boat afloat.
It's nine feet long when inflated, and it's made of heavy-duty PVC material.
Its weight capacity is 650 pounds, allowing you to take your camping equipment with you. It can fit a maximum of two adults or one adult and one child, but for camping, it's best when going alone, so you have space for your camping equipment.
Not only is the canoe inflatable, but it's foldable as well, allowing you to save space. The product comes with a rope, a hand pump, a maintenance kit, two seat cushions, and two paddles.
It comes with a flexible return and exchange policy, allowing you to return or exchange the boat for up to two months after your purchase.
The camouflage green color is a nice touch. All in all, this is a decent, albeit somewhat small, canoe for camping trips.
Check Price on Amazon
This inflatable canoe can fit between two to four people, making it perfect for couples, friends, and small groups going canoeing. It's most optimal for families of two adults and two children.
If you're going camping, you might want to limit the group size to two or three people, so you can leave some space for your camping gear.
It weighs just 32 pounds, making it easy to transport, and it has a symmetrical design that helps increase stability. Its built-in gear pouch and rod holders make it easy to paddle and store your equipment.
Despite weighing just 32 pounds, it has a weight capacity of 705 pounds, enough for a few people and some light camping gear. It takes just 15 minutes to inflate, and when deflated, you can easily store it in your trunk together with your camping tent and safety equipment.
The canoe has four air chambers, so even if one fails, you won't be in danger. Another safety feature is the safety rope, which passes through the cable hole.
If someone falls into the water, they can grab onto the safety rope to pull themselves back into the canoe. There are also oar racks for storing your oars on the side when not using them and an all-around grab line.
The high-output pump allows you to inflate the canoe quickly. The product comes with a repair kit for fixing small punctures.
Check Price on Amazon
This inflatable canoe comes in four different sizes:
6.56 feet, for two people
7.55 feet, for three people
8.53 feet, for three people
9.84 feet, for four people
Make sure you select a size that will fit not only your entire group but also your camping gear.
With two layers of height, this canoe is incredibly buoyant. It also has three independent air chambers for maximum safety on the water.
The anti-collision and wear-resistant PVC material is durable and long-lasting. Despite the light weight, which makes it easy to transport the canoe, it has a high load capacity.
The inflatable cushions make paddling more comfortable. Other features include paddle clamps, rod holders, and boat grippers.
Included in the package are two fishing rod holders, two paddles, a safety rope, an anchor, an anchor rope, an introduction manual, and a repair kit.
Prices vary based on size, and free returns may be available, depending on the size you select.
Final Thoughts
Before buying any canoe, consider your needs and comfort level. What kind of waters will you be taking the canoe in?
How many people do you need, and how heavy is your camping gear? Look at weight capacity limits, the number of people the canoe supports, and whether it has comfortable seats.
It's a good idea to read reviews on Amazon or elsewhere before buying a canoe. You should also check the return policy if you want more flexibility.
Before heading out on your camping trip, you'll need to figure out what else you need in terms of equipment and how you're going to set up camp. Our kayak camping setup guide also applies here.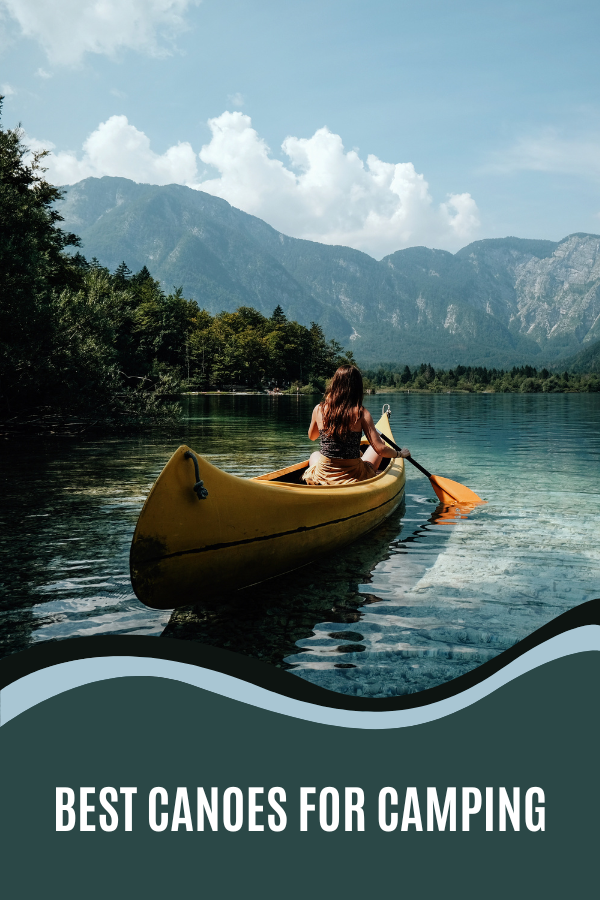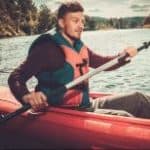 Author: Peter Salisbury
Pete is the Owner of KayakHelp.com. Born and raised in Cleveland, Ohio, he grew up kayaking, fishing, sailing, and partaking in outdoor adventures around the Great Lakes. When he's not out on the water, you can find him skiing in the mountains, reading his favorite books, and spending time with his family.