There is quite possibly no better way to beat the summer heat than to get out on the lake for a full-day tour. To do that, you will need one of the best day touring kayaks so that you can pack everything you need.
Day touring is a little different than preparing for long-distance kayak expeditions. You probably do not need to bring camping and cooking gear, but you will need water, drinks, safety equipment, and emergency gear.
That means preparing more than folks that are just out for a casual paddle in one of the best recreational kayaks. It also means that the kayak you choose for this type of adventure will need plenty of room to hold all of that extra gear.
Fortunately for you, we have compiled a list of the 10 best day touring kayaks for short and long day trips. We will also provide useful criteria to help you choose a kayak that fits your experience level and adventure style.
Photo by Virrage Images via Shutterstock
Best Day Touring Kayaks
Lifetime Payette 90
Evaxo Tide 10
Lifetime Glide 98
AQUAGLIDE Noyo 90
Driftsun Almanor
TERRAVENT Folding Kayak
AQUAGLIDE Navarro 145
Wilderness Systems Aspire 105
Dagger Kayaks Axis 10.5
Eddyline Kayaks Sky 10
What is Day Touring?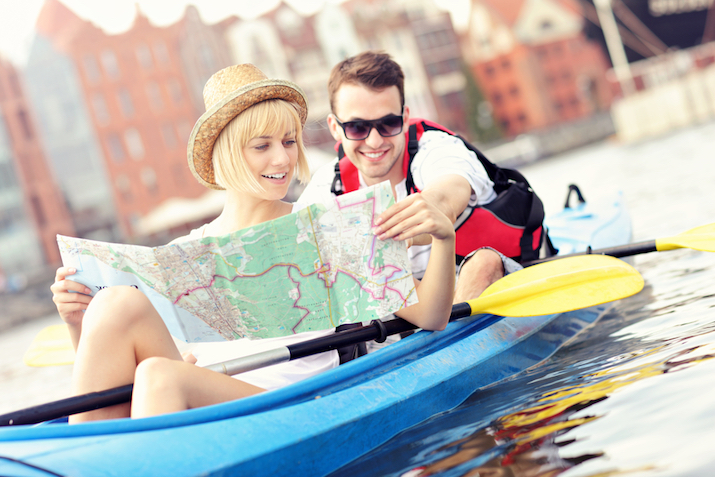 Photo by Kamil Macniak via Shutterstock
This term refers to long-distance kayak trips that last no longer than one day. The goal is to load your kayak down with enough water and supplies so that you don't need to stop anywhere to resupply on your journey.
However, this is different from overnight kayak touring. That style of kayaking either requires that you load all of your camping and cooking gear in your kayak or rent a lodge or cabin that is prepared with linens and cooking equipment.
The best kayaks for day touring are often slightly shorter than the best sea kayaks. That gives you a little less storage space (which you probably won't need anyway) but also makes the kayaks more maneuverable.
Also, you will find that most people use sit-inside kayaks for day touring. This is because these kayaks are compatible with one of the best spray skirts so that you can be prepared if inclement weather blows in while you are kayaking.
Day Touring Kayak Buying Guide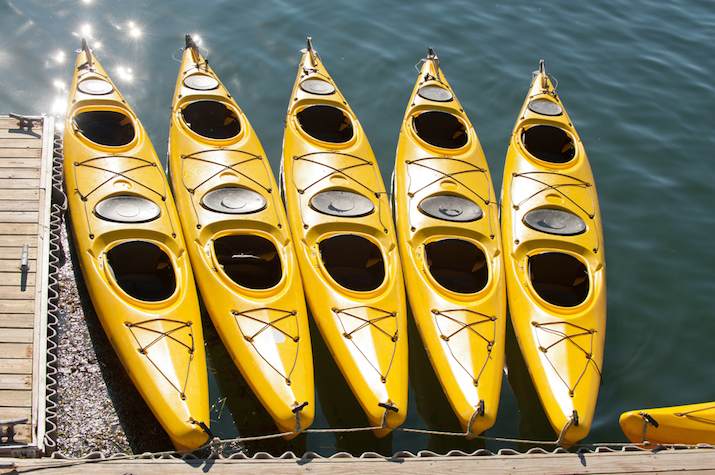 Photo by Natalia Bratslavsky via Shutterstock
These kayaks are a little different than your average sit-on-top kayak for beginners. So here are the three main criteria for choosing a day touring kayak.
Inflatable, Folding, or Rigid?
The first decision to help you narrow down your choices is whether you want an inflatable, folding, or rigid kayak. Inflatable and folding kayaks tend to be best for folks with smaller vehicles or a minimal amount of storage space at home.
They do, however, require more time to set up when you get to the water and can also be more likely to break or puncture over time. Rigid kayaks, on the other hand, are heavier and more cumbersome to transport but tend to be more durable in the long run.
Storage Space
You will need plenty of room to attach sandals, store a cooler, insert dry bags, and secure anything else you want to bring on your kayak for day tours. Keep in mind that space should also be set up so that you can enjoy easy access to gear that you want while you are actually paddling.
Weight Capacity
Day touring doesn't require as much gear as overnight kayaking. Still, you will need to make sure that your kayak will support the weight of paddlers and all the gear you do want to bring along.
As a general rule, plan on your kayaking gear weighing anywhere from 25 to 50 pounds. Add that weight to your body weight (or the combined weight of both paddlers if looking at a tandem) to get an understanding of the weight your kayak will need to support.
From there, make sure that weight doesn't exceed more than about 70-80 percent of the kayak's advertised weight capacity. That will ensure that you don't overload it and compromise its performance.
Thumbnail
Title
Lifetime 90899 Payette 98 Sit-in Kayak (Paddle Included)
Evaxo Tide 10' Sit-in Kayak (Paddle Included)
Lifetime 90321 Glide 98 Sit-In Kayak, Paddle Included
Aquaglide Noyo 90 Inflatable Kayak - 1 Person Touring Kayak with Cover
Driftsun Almanor 110 Inflatable Kayak - Yellow Single-Person Recreational Touring Kayak Package Includes EVA Padded Seat with High Back Support, Paddle, Pump and Travel Bag
Thumbnail
Title
Lifetime 90899 Payette 98 Sit-in Kayak (Paddle Included)
Thumbnail
Title
Evaxo Tide 10' Sit-in Kayak (Paddle Included)
Thumbnail
Title
Lifetime 90321 Glide 98 Sit-In Kayak, Paddle Included
Thumbnail
Title
Aquaglide Noyo 90 Inflatable Kayak - 1 Person Touring Kayak with Cover
Day Touring Kayak Reviews
Check Price On Amazon
Length: 9'8"
Width: 30 inches
Weight: 44 pounds
Weight Capacity: 250 pounds
The Lifetime Payette 98 is a great day touring kayak for shorter paddlers or teenagers. It is also a great choice for beginners because it has a larger cockpit opening that makes it easier to get in and out of the kayak.
Deep hull channels and chine rails provide a great balance between stability and tracking performance. It also comes with its own two-piece kayak paddle and there is a paddle keeper with bungee straps on the right gunwale.
The seat back on this kayak simply flips up and into place when you want to take it out. That makes it quick to set up and the seat back can also be tightened or loosened depending on whether you want to sit up straighter or recline more.
In front of the seat, there is a small water bottle holder to help you keep your beverage of choice close by while you are paddling. Inside the cockpit, there are also multiple footrest positions to accommodate paddlers of varying heights.
Behind the kayak seat, there is a small compartment with a lid and shock cord strap to keep the lid in place. If you need additional storage space, you can also attach a kayak deck bag to the bungee cord on the deck in front of the cockpit.
Also Read: Lifetime vs Pelican Kayaks
Check Price On Amazon
Length: 10 feet
Width: 29.5 inches
Weight: 48 pounds
Weight Capacity: 275 pounds
The Evaxo Tide 10 kayak is another compact option that has all the right features for day touring. Most importantly, it includes an innovative skeg wheel that makes it much easier to transport from your vehicle down to the water.
Once you are in the water, that skeg serves to improve the tracking ability of this kayak so that you are not getting blown about on windy days. Speaking of those windy days, you will be able to attach a spray skirt to keep your lower body warmer.
Inside the cockpit, the seat is amply padded and the back of the seat is as well. You will also find strips of paddling along the underside of the cockpit where your thighs will rest, which prevents uncomfortable rubbing and provides a better paddling experience.
There are also adjustable foot braces inside the cockpit that make it easier to maintain your paddle position. In terms of storing your gear, you will have a single compartment towards the stern with a hatch cover and bungee rigging on top.
There is also a secondary section of bungee rigging at the stern for attaching gear that you don't mind getting wet. The kayak itself is built out of high-density polyethylene material with UV protection.
Check Price On Amazon
Length: 9'8"
Width: 29 inches
Weight: 37 pounds
Weight Capacity: 275 pounds
The Lifetime Glide 98 is very similar to the Payette 98 in size and weight, but it features a few key differences, For starters, the seat bottom is actually padded on this kayak so that you are not sitting directly on hard plastic.
It also includes additional paddling on the thigh areas that you won't find on the Payette model. Instead of molded-in footrests, it also boasts adjustable foot braces inside the cockpit.
Aside from that, it still boasts the sharp keel for great tracking and chine rails for added stability. It also includes the bungee deck rigging at the bow of the kayak for attaching a dry bag or just attaching kayaking accessories that you don't mind getting wet.
One downside of the Glide 98 model is that it lacks an enclosed storage compartment like the Payette has. Instead, you will need multiple dry bags of the appropriate sizes to carry all of your day kayaking gear on this vessel.
Check Price On Amazon
Length: 9 feet
Width: 35 inches
Weight: 21 pounds
Weight Capacity: 250 pounds
Now we have gotten into the inflatable kayak section of our guide. There are a lot of reasons to choose an inflatable kayak these days (for more on that and a full list of inflatables for various types of kayaking, check out this article).
When it comes to day touring, the AQUAGLIDE Noyo 90 is a cool choice because it features a more enclosed design than you will find on most inflatable kayaks. That allows you to stay drier if you happen to be paddling in windy, wavy, or rainy conditions.
Because of its smaller dimensions, the Noyo 90 is a better choice for smaller paddlers. Unlike many cheaper inflatable kayaks, however, it comes with a quick-release fin that can easily be attached to the hull to improve the kayak's tracking ability.
It also features dry storage compartments that zip open to hold your touring gear and safety equipment. On the front of the kayak, an accessory strap also makes it easy to attach sandals and other belongings.
There are also Velcro straps on the gunwales of the kayak to hold your paddle so that you can have your hands free to adjust your seat or enjoy a few mid-day snacks.
If you do happen to get a little water inside the cockpit, you won't need a bilge pump or sponge to get it out. This kayak has a drain plug inside the cockpit that allows you to naturally evacuate water with ease.
Check Price On Amazon
Length: 11 feet
Width: 34 inches
Weight: 23 pounds
Weight Capacity: 300 pounds
The Driftsun Almanor is another inflatable single kayak, but this one is quite a bit longer than the last option. That makes it a better choice for taller paddlers or folks that need a little more storage space than you will get with the Noyo 90.
The longer waterline on this kayak will make it more efficient over longer distances and will also maximize the efficiency of your paddle strokes. It is best for paddling on calm, flat waters but can also handle mild chop on the ocean or windier lakes.
The 24-gauge air bladders used in the construction of this kayak are some of the toughest and most durable out there. It also uses a 600-denier polyester cover that provides protection against abrasions and UV degradation.
It also comes with an EVA padded high-back kayak seat that clips into the cockpit and can be adjusted to your desired position. There is also a foot brace that straps into the cockpit to help you maintain your ergonomic paddle position.
The Almanor inflatable kayak also comes with a four-piece kayak paddle, quick-release fin, dual-action pump, and travel bag for easy storage and transportation. Using the included pump, it takes roughly nine minutes to inflate the floor and side tubes to their specified pressures (2 PSI and 1 PSI respectively).
Length: 12'10"
Width: 25.6 inches
Weight: 40 pounds
Weight Capacity: 330 pounds
This is the only folding kayak on our list and it also happens to be the longest kayak as well. That makes it a great choice for paddlers that are comfortable with a thinner and longer kayak and want to cover longer distances on their day tours.
Because it is a folding kayak, it is also a great choice if you don't want to worry about transporting your kayak on top of your vehicle or on a kayak trailer. If you have a sedan or smaller SUV, you will love the ease and convenience of this kayak as well.
It takes anywhere between eight and 10 minutes to set up and just 3-4 minutes to pack up when you are finished paddling. Speaking of packing it up, it folds down to dimensions that measure just 33.8" by 28" by 11.8".
This kayak is made of the same five-millimeter, double-layered, custom-extruded polypropylene material that is used to construct many of the best folding kayaks. That material can be folded up to 2,000 times without wearing out or breaking.
Length: 14'6"
Width: 37 inches
Weight: 40 pounds
Weight Capacity: 500 pounds
If you stumbled upon this guide in search of a tandem kayak for day touring, we apologize that you had to wait this long. The AQUAGLIDE Navarro 145, however, is worth the wait.
Like the Noyo 90, it is one of the few inflatable kayaks with a sit-inside design for paddling in cooler climates. It also includes a zippered storage compartment at the stern for keeping dry gear secured (in addition to the bungee straps at the stern).
The cover that goes onto the main structure of this kayak actually zips into place as needed. That makes it easy to install once you inflate the main body of the kayak, which you will actually need to purchase a pump separately to do (one of its downsides).
The Navarro 145 uses drop-stitch construction to make the floor more rigid and improve the tracking ability of the kayak. It also comes with a quick-release fin so that you are not swerving back and forth across the water every time you paddle on one side or the other.
Inside the cockpit, the seats Velcro into place and can be adjusted for comfort. It also includes an adjustable footrest system that is a unique inclusion in the world of inflatable kayaks.

PC Wilderness Systems
Length: 10'6"
Width: 29 inches
Weight: 48 pounds
Weight Capacity: 400 pounds
The Wilderness Systems Aspire 105 is perfect for beginner and intermediate paddlers and it is designed for calm, flat waters. It boasts an adjustable skeg system that significantly improves your ability to cover longer distances when day touring.
Wilderness Systems is also renowned for making some of the most comfortable kayak seats in the industry. It is fully adjustable and the mesh fabric that covers the entire seat is vented to provide better airflow and keep you cooler on hot days.
The cockpit is also compatible with a Wilderness Systems Spray Skirt for paddling on cooler days. At the front of the cockpit, you will be able to take advantage of the dashboard console for securing smaller gear items and snacks.
Inside the cockpit, thigh and knee padding helps to alleviate uncomfortable rubbing or chafing. Plus, the padded footrests on the inside of the cockpit walls can be easily adjusted to accommodate paddlers of different heights.
At the stern, the Orbix hatch provides ample dry storage space and the locking lid keeps everything secure if you happen to capsize. Towards the bow, additional bungee rigging gives you the flexibility to add a dry bag or secure gear that can get wet while you paddle.

PC Dagger Kayaks
Length: 10'6"
Width: 28.5 inches
Weight: 50 pounds
Weight Capacity: 300 pounds
The Axis 10.5 from Dagger Kayaks is a super versatile day touring kayak. It is designed to handle flat water on lakes and ponds, calm, slow-moving rivers, and even mild intercoastal waterways.
It is a great choice for experienced kayakers who love to challenge themselves on new waterways. It is also nice for folks that know when it is time to simply glide out and enjoy a relaxing day on the water.
On the bottom of this kayak, you will find a drop skeg that can be adjusted to your desired height. That skeg provides better tracking ability in windy conditions, but it can also be pulled up easily if you are paddling in shallow waters.
This kayak is also highly maneuverable in more challenging paddle environments because it is designed with defined chines and an optimized rocker. It also includes a super comfortable seat and sliding foot braces that can be adjusted to your height.
There is a large dry storage hatch at the stern of the kayak for your dry gear. Plus, you will be able to use the mesh deck cover and bungee rigging for securing additional gear to the bow of this kayak.

PC Eddyline Kayaks
Length: 10 feet
Width: 26 inches
Weight: 32 pounds
Weight Capacity: 250 pounds
The Eddyline Kayaks Sky 10 is one of the lightest rigid kayaks on our list and it is made by a company that specializes in crafting touring kayaks for long-distance expeditions. With this model, however, it seems that they have struck a delicate balance between performance over distance and comfort for relaxing on the water.
Standard dual bulkheads at the bow and stern provide plenty of storage space for your dry gear and the hatch covers open easily for quick access. There is also room to store small items behind the seat and to secure it to the bungee rigging at the bow and stern.
This kayak is manufactured with a proprietary ABS and acrylic material that allows it to remain so lightweight. It is also made with recessed deck fittings that will minimize snags when loading and unloading it on a roof rack or kayak trailer.
Check Price On Amazon
The Driftsun Almanor is our pick for the best day touring kayak because it makes day touring accessible for paddlers of all skill levels. The compact dimensions it packs down to when it is deflated also make it an option for apartment dwellers and folks that don't have a large vehicle for transporting larger kayaks.
Still, once you inflate it, you will be able to enjoy the performance of a longer kayak and plenty of storage space. It has two covered storage areas at the bow and stern of the kayak and both of them are inside the cockpit.
This makes accessing all of your day touring supplies super easy compared to some of the other kayaks we have listed. You will not necessarily need to find a beach to pull your kayak up onto in order to grab stuff out of an enclosed storage compartment.
In addition, it truly comes with everything you need to get out on the water (aside from one of the best life vests for kayaking!). Once it arrives at your doorstep, simply throw it in the back of your car and head out to your favorite local waterway for a day tour!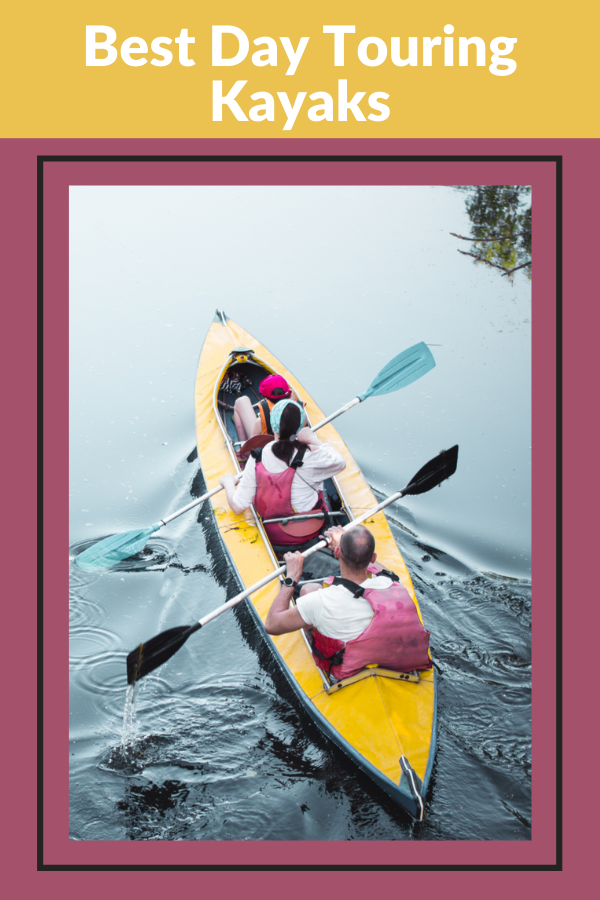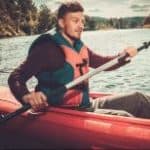 Author: Peter Salisbury
Pete is the Owner of KayakHelp.com. Born and raised in Cleveland, Ohio, he grew up kayaking, fishing, sailing, and partaking in outdoor adventures around the Great Lakes. When he's not out on the water, you can find him skiing in the mountains, reading his favorite books, and spending time with his family.