The world of skiing is full of characters, and the history of the sport has created and showcased some incredible talent. The most famous skiers have made their name from fantastic success stories, viral videos, and crazy antics. In this article, we will throw a spotlight on the best and most famous skiers in the world. Stay tuned.
Best & Most Famous Skiers In The World
1. Lindsay Vonn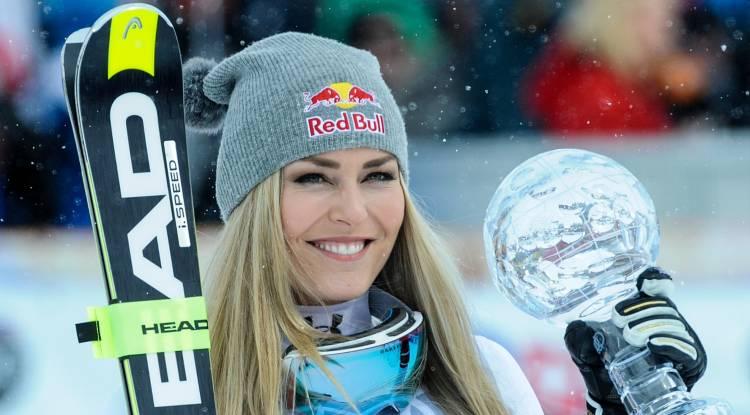 Image from LindsayVonn.com
Lindsay Vonn is world-famous for her success as an alpine ski racer. The American is only one of six females to have won World Cup races in all five ski racing disciplines. During her journey to becoming one of the world's best female skiers, she took 82 world cup victories, breaking Austrian Annemarie Moser-Prӧll's record that she held since the 1970s.
In 2010, Lindsay won a downhill gold medal at the Winter Olympics, eight World Cup downhill season titles, five super-G titles, and three consecutive super combined titles from 2010 to 2012.
Then in 2016, she was awarded the Crystal Globe for her 20th World Cup win. Her success has made her the second-highest ranked skier of all time, including both men and women.
2. Bode Miller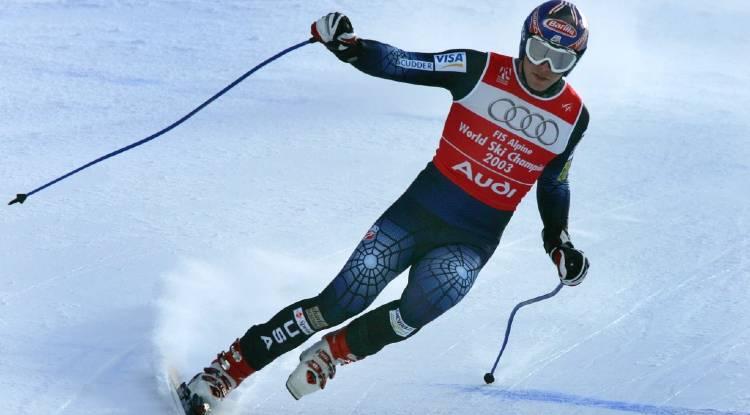 Image from Denverpost.com
Bode Miller is a gold medalist in both the World Championship and the Winter Olympics. He won the overall World Cup Championship in 2005 and 2008 and is the most successful American male ski racer in the U.S.
His 33 race victories saw him being tipped as one of the best World Cup ski racers ever. He's also won multiple races in all five alpine disciplines and is the only skier to win more than five times in each. Bode Miller took six Winter Olympic medals in his career, more than any American skier.
He even has Olympic medals in four different disciplines, making him one of only five skiers to have ever done this. By the time Bode retired from ski racing, he'd also taken six World Cup titles and four World Championships in four disciplines.
3. Alberto Tomba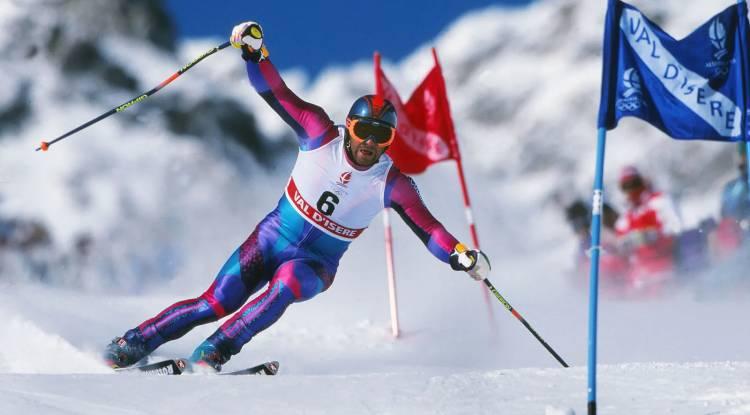 Image from Britannica.com
Italian alpine ski racer Alberto Tomba was a force to be reckoned with in the 1980s and 1990s. He specialized in slalom and giant slalom, using his brute strength and power to triumph over his lighter and more agile opponents.
Tomba's strength and stature allowed him to take advantage of the spring-loaded gates introduced in the early 1980s. He could take a more direct line down the course and keep his speed up as he raced.
Alberto took three Winter Olympic gold medals, two World Championship titles, and nine World Cup season titles. He was fondly known as Tomba la Bomba ("Tomba the Bomb") and was a superstar in Italy.
4. Hermann Maier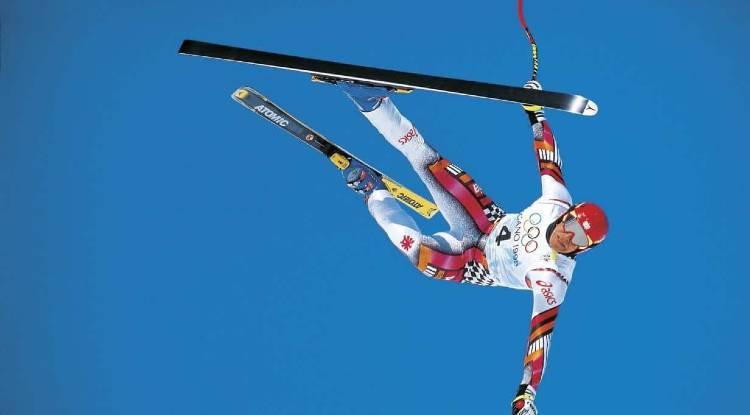 Image from Alpinestartgate.com
Austrian ski racer Hermann Maier is one of the best alpine ski racers the world has ever seen. His aggressive style earned him the nickname "The Herminator," as well as many victories. Hermann won four overall World Cup titles in 1998, 2000, 2001, and 2004.
He also won two Olympic gold medals in 1998 and three World Championships. During his career, he won 54 World Cup races, 24 Super-G, 15 downhill races, 14 giant slaloms, and one combined. This ranks him as third best alpine ski racer of all time. In 2013, Hermann Maier held the record for the most points won in a single season by a male alpine skier with 2,000 points.
5. Mikaela Shiffrin
Image from Twitter
Mikaela Shiffrin became the youngest American alpine ski racer to win a World Championship in 2013. In 2014 and 2018, she won gold medals at the Winter Olympics and became one of the most successful alpine skiers in the history of the World Cup.
She came from a skiing background, as her father was a ski racer and her mother an instructor. She started skiing at three years old in Vail, Colorado but moved to New Hampshire when she was eight. She developed her exceptional skills further at Burke Mountain Academy in Vermont and graduated in 2013.
Her precise skiing style and ambition were recognized at an early age. Her skills made her a natural for competing in slalom, giant slalom, and super combined events. After dominating the juniors and national competitions, she went to the World Cup in 2011 in the Czech Republic, two days before her 16th birthday, before winning gold in the U.S. National Championships the following month.
At 17, she came first in the slalom at the 2013 FIS Alpine World Ski Championships in Schladming in Austria. Her Olympic successes started at the 2014 Sochi Winter Olympics, where she became the youngest winner of a slalom gold medal.
The Winter Olympics in Pyeongchang, South Korea, saw Mikaela take gold in the women's giant slalom. She'd already taken the top spot in 50 World Cup national championships and Olympic competitions.
6. Ingemar Stenmark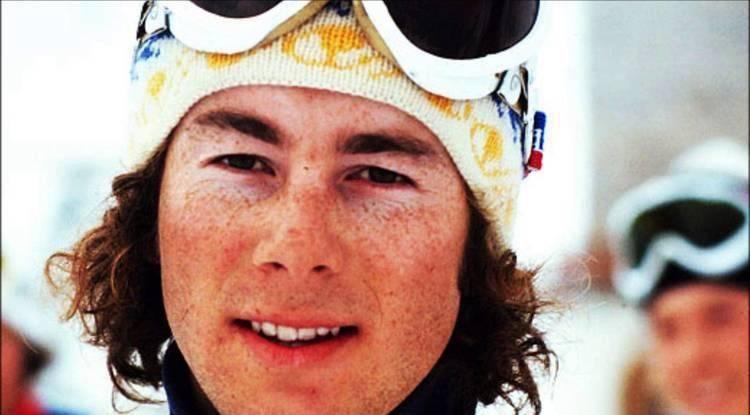 Image from Alchetron
Swedish skier Ingemar Stenmark specialized in slalom and giant slalom events. He is considered to be one of Sweden's most prominent sports personalities. In fact, he's considered by many to be the greatest alpine skier the sport has ever seen.
He won a total of 86 races in the Alpine Skiing World Cup, the only person to win more than Lindsay Vonn. But what makes this more impressive is that he did it at a time when there were only three alpine skiing disciplines. Back then, there were only downhill, giant slalom, and slalom – fewer races to make your mark.
Stenmark preferred the slalom and giant slalom events to downhill, as he didn't like going more than 80mph. But he won the overall World Cup title three times between 1976 and 1978. In the 1977/1978 winter season, Stenmark won all seven giant slalom races and all 10 in the 1978/1979 season.
He also won them all the following season apart from one. From 1976 to 1978, Stenmark and fellow Swede Björn Borg were national sporting icons and household names. However, he moved to Monaco for tax reasons and famously survived an earthquake in 2004 while on vacation in Thailand.
7. Eddie The Eagle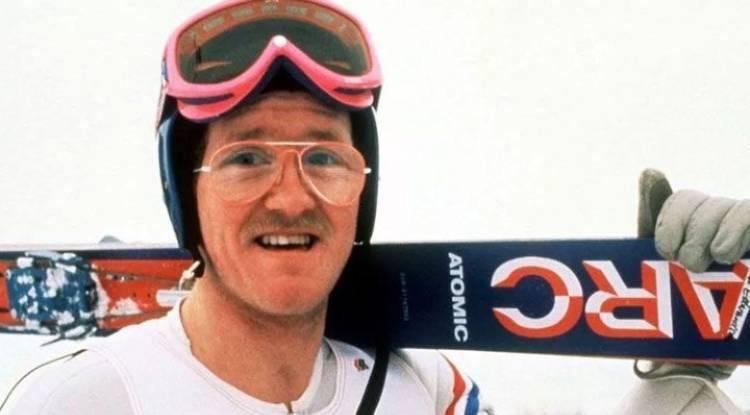 Image from Balcarras
Eddie "The Eagle" Edwards is probably Britain's most famous skier. He learned to ski on a dry slope in Gloucester, England, but had his sights set on the Winter Olympics. He was always the underdog but moved to Lake Placid in the U.S. to improve his chances of getting to the Calgary Olympics in 1988 by entering races and training.
However, he couldn't afford to keep going on his own, and the British team didn't have a ski jumper. So he started training as a ski jumper with John Viscome and Chuck Berghorn in Lake Placid. Using Chuck's old ski jumping gear (including boots that were too big), Eddie fought on, despite being 20lbs heavier than his heaviest rival.
He also had no money, so he worked as a plasterer and slept in a disused hospital for a while. On top of this, he had to wear thick glasses all the time due to his long-sightedness. But his glasses used to fog so much that he couldn't see the jump's take off. Despite all these obstacles, Eddie qualified for the 1987 World Championships.
His 55th world ranking got him to the 1988 Winter Olympics. He became the British ski jumping world record holder, even though he came last in both the 70m and 90m events. But, his story of determination made him the personification of the Olympic spirit by representing his country without any funding.
8. Jean-Claude Killy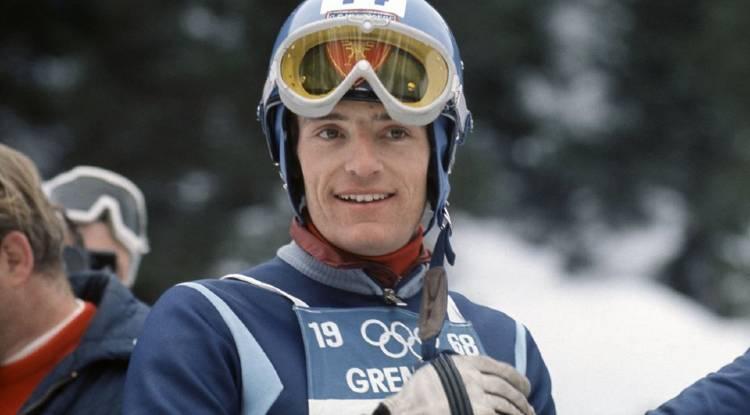 Image from Playersbio
Frenchman Jean-Claude Killy was a world-class skier in the late 1960s. He won 12 World Cup races in the 1966/1967 winter season and was tipped to clear the board at the Winter Olympics in Grenoble in 1968.
He won gold in the downhill just eight-hundredths of a second faster than his teammate Guy Périllat. But he won gold in the giant slalom by over two seconds. Killy had to become victorious in the slalom event to get a clean sweep. He was leading after his second run until it was Karl Schranz's turn.
But Schranz stopped as he skied through the fog, claiming someone had stepped into his path. Schranz was given another run and beat Killy's time. But Killy appealed and Schranz was disqualified, allowing Killy to claim the gold medal.
9. Vreni Schnider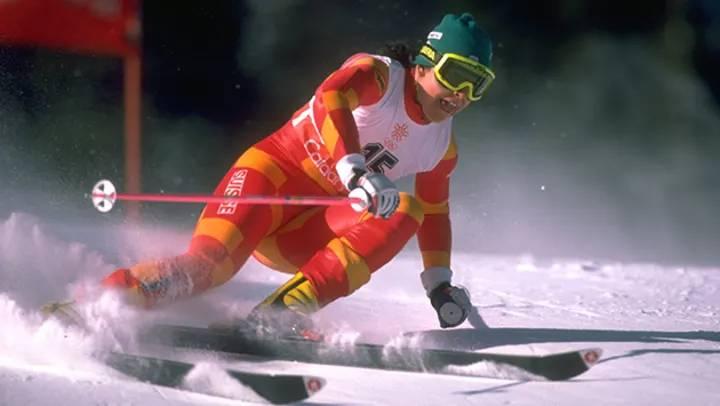 Image from Olympics.com
Swiss alpine ski racer Vreni Schneider competed in the Winter Olympics in 1988 in Calgary. She took the gold medal in the giant slalom and then the slalom two days later. During the 1988/1989 winter season, Vreni came first in 14 World Cup races.
This is a single-season record that has never been beaten. Vreni's domination of women's skiing continued into the early 1990s. But her 1992 Winter Olympic hopes were dashed by a herniated disc, causing her to miss the podium spots. But, when she headed to the 1994 Winter Olympics in Lillehammer, her luck changed.
She was back to full fitness and won silver in the alpine combined and took the bronze in the giant slalom. She finished fifth after her first slalom run, but she fought back on the second run to take the gold medal. She was the first female alpine ski racer to earn three gold medals and the first to win five overall medals.
10. Franz Klammer
Image from Prabook
Austrian Franz Klammer is one of the best downhill ski racers of all time. He won the downhill World Cup five times, which was a record in the 1970s and 1980s. He has 26 World Cup wins under his belt, 25 of which were in the downhill event.
He also won a combined event in 1976. He also did very well in major championships. For example, in 1974, he won the combined event at the World Championships in St Moritz. He also got the silver medal in the downhill. In 1976, he won the gold downhill medal after beating Bernhard Russi, dominating the course's bottom part.
However, after winning the World Cup in 1978, his performance waned for a few years. It wasn't until 1981 that he won another World Cup race. But he took the win in 1984 in Kitzbühel for the fourth time.
Austria is a passionate skiing nation, so Franz Klammer was voted Sportsman of the year in 1976 and 1983. He retired in 1985 to race in the German Touring Car Championships, but his on-track success did not match his success on snow. However, he did win the Austrian Touring Car Championship.
11. Candide Thovex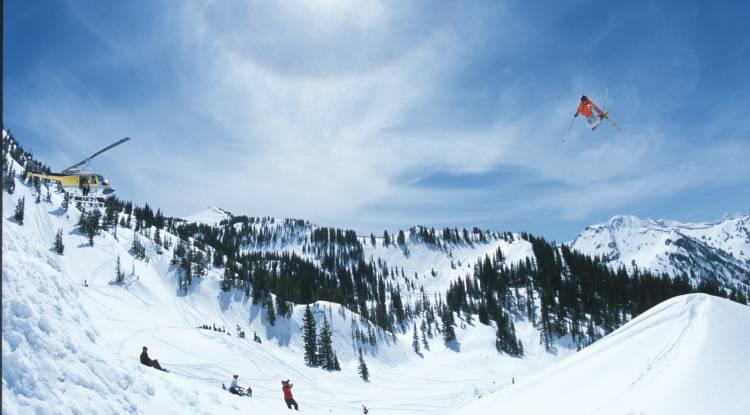 Image from Freeskier
Candide Thovex is known as the "Flying Frenchman" and started skiing before he turned three years old. By the time he reached four, he was building jumps in his yard. It didn't take him long to get into the eyes of the world, as he won his first French National Junior Championship at just 14. But in 1999, he took on the Chad's Gap event.
Chad's Gap is a vast gap measuring 126 feet in Utah's Wasatch Mountains, but a 16-year-old Candide Thovex cleared it on his first try, then did it again the following year, but with a 720 tail grab! It was stunts like this that sent Candide into the freestyle skiing elite and to compete at the Superpark event.
Candide's incredible height and speed, combined with graceful style, captured the imaginations of young skiers, kickstarting a revival that took people off snowboards and back onto skis. After recovering from a back injury he incurred in 2007, Candide stayed away from competitions and decided to ski for himself.
He started to have fun again and began making films in the backcountry. His talents earned Candide many video sections, but he also created a series, starting with "One of those days." This film showcased his abilities and where his mind was focused.
His short, musicless videos are fun to watch and awe-inspiring, and the winter sports community always looks forward to his next installment of viral footage. Candide's most popular video was a two-part one he did for an Audi advertisement in 2015. He skied on multiple surfaces, including dirt, leaves, and tarmac, but no snow, showing that he can do anything on skis.
12. Shane McConkey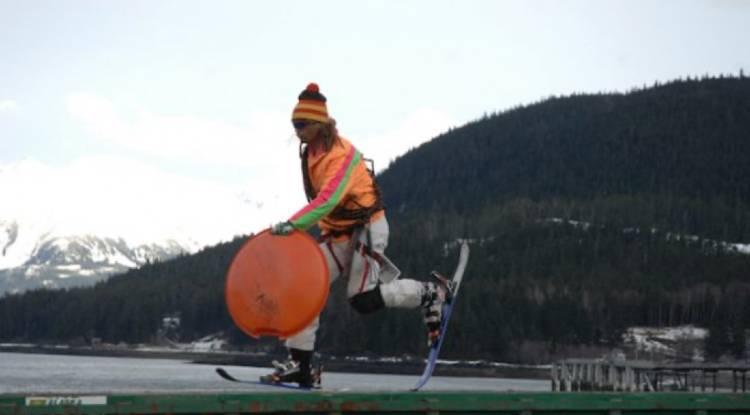 Image from adventure-journal
Shane McConkey was a character that inspired many skiers by changing the way the world sees the sport. His talent, experience, guts, and outlook on life steered people in a direction that skiing had never seen. Shane was a talented skier but also had a fun and eccentric personality.
His mother was a champion ski racer, and his father started the Whistler Ski School in Canada, but his father moved Shane to Santa Cruz in California when he was three.
Throughout his young life, he was kept back at school and in sports for being too small, which continued when he started to attend the Burke Mountain Academy. But he was adamant that he was to become a legendary skier.
Unfortunately, his physique meant he wasn't best suited to racing, but he had confidence and could backflip. While growing up in Boulder, Colorado, he skied every day and delivered pizza at night. He started competing in the Pro Mogul Tour, which he won after performing tricks that nobody else would. This led to sponsorships, and he dropped out of college to make it big as a skier.
However, he didn't compete anymore. Instead, he used his creative mind and athletic ability to create and star in hilarious and impressive ski movies. He was featured in 26 ski movies, entertaining and wowing audiences. He also introduced the world to fat skis after skiing on water skis in the snow.
He realized they were easy to turn in powder and convinced K2 to make fat rockered skis. Over the next few years, all ski brands started making fat skis for extra float in power. Shane was an avid base-jumper, too, and was the first to combine skiing and base jumping. Unfortunately, he died in a base jumping accident in Yosemite National Park.
13. Glen Plake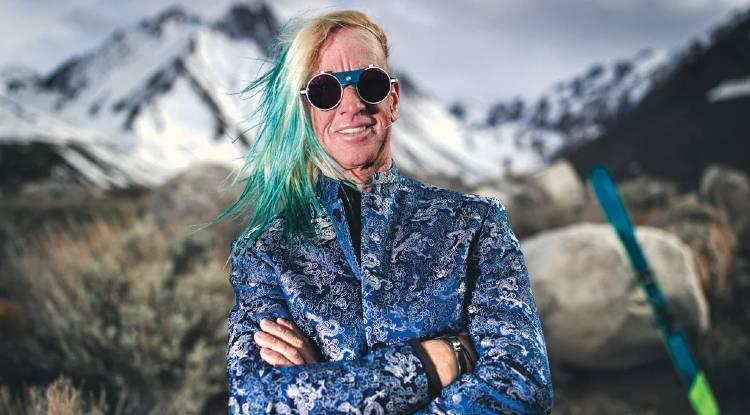 Image from Skimag
Glen Plake is not only a legendary skier but stands out from the crowd thanks to his multicolored and massive mohawk hairstyle. He is probably the most recognizable skier who has ever lived. He has featured on many TV shows, been seen in small U.S ski resorts, and has taken on impossible descents in ski films.
His presence in the media and in person has helped to promote skiing more than any other. Glen started skiing at the age of two years old in South Lake Tahoe. He became an accomplished racer and freeskier while also seeing success in mogul competitions.
He was one of the stars of the 1988 film "Blizzard of Aahhhs," which kickstarted a new genre of ski films, changing how the public saw skiing and what was possible. Glen also appeared in "Steep," "The Edge of Never," "License to Thrill," and "Fistful of Moguls," amongst others, further cementing his influence on the sport.
His extreme skiing career saw him conquer over 100 descents of the largest mountains in the world. One of which was the Arete de Peuterey on the Italian side of Mont Blanc in 2009.
Another significant descent was after scaling the 20,000-foot Callangate mountain in Peru. This was in 2008 for "Reel Thrills", but the 22,000-foot Kullu Pumori in India saw him take on slopes with up to 55-degree gradients.
14. Tanner Hall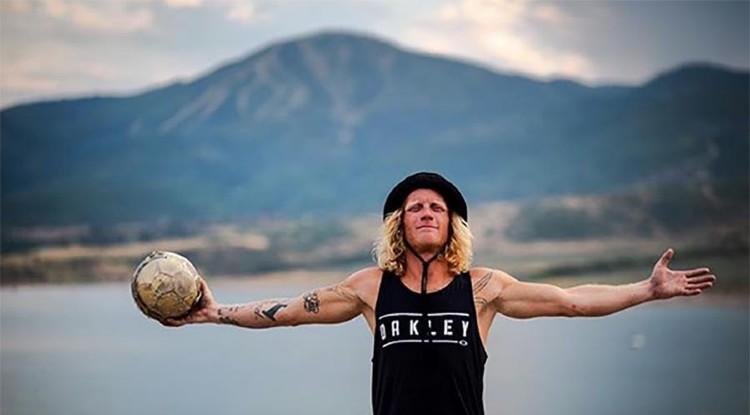 Image from Inertia
Tanner Hall became one of the most influential skiers in his early 20s. He was touted as the next big thing in skiing when he was just 14 years old, thanks to his incredible talent and style.
He competed in his first Winter X Games when he was just 16. But when he turned 17, he won his first X Games medal and continued to do so for the following five consecutive events. When he turned 19, he and a collection of other big-name skiers founded Armada. One of the most prominent ski brands you'll find today.
Strangely, Tanner Hall became the first and only skier to be sponsored by Snowboarder Magazine! His skills as a skier continue to develop, cementing his place as one of the world's finest skiers.
15. Sarah Burke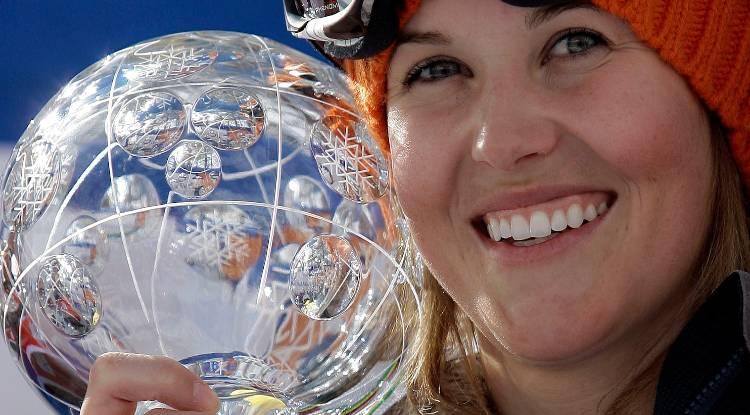 Image from Washington Post
Sarah Burke came second in the 2005 and 2006 Winter X Games Superpipe events. She narrowly missed out to Grete Eliassen, but she made Eliassen work for it, as they were both way ahead of the other competitors. Sarah Burke was at the forefront of women's freestyle skiing.
In the early days of big air competitions, when there was only a men's category, Sarah showed up anyway. She proved she could take on the men, inspiring a generation of female freestyle skiers. She also paved the way for the introduction of female categories in competitions.
So in 2004, ESPN allowed female skiers to win medals in the 2005 Winter X Games. This was mainly down to Burke's skill, influence, and determination.
Final Thoughts
There are, of course, many other famous skiers that could be added to this list. But this mixture of alpine racers, characters, extremists, and influencers represents a cross-section of winter sports personalities. We will undoubtedly encounter many more incredible skiers as they are discovered and creep into the limelight.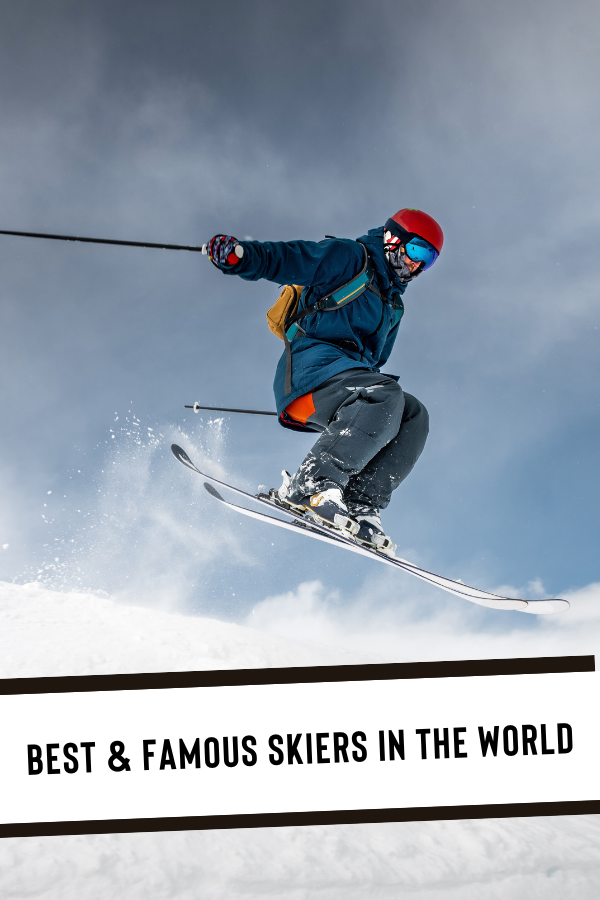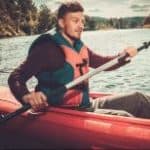 Author: Peter Salisbury
Pete is the Owner of KayakHelp.com. Born and raised in Cleveland, Ohio, he grew up kayaking, fishing, sailing, and partaking in outdoor adventures around the Great Lakes. When he's not out on the water, you can find him skiing in the mountains, reading his favorite books, and spending time with his family.