Are you looking for a fitness tracker and smartwatch for kayaking? You may find your answer in Garmin's line of smartwatches.
Garmin's smartwatches are versatile and designed for a variety of athletic activities.
It's possible to find a rugged, waterproof fitness watch from Garmin that will stay safe and avoid damage, even during heavy kayaking. In addition, what makes Garmin watches unique is that many of them have GPS navigation.
You'll find that very useful, especially if you're trying to navigate down a river or are interested in taking a hike from your landing spot.
In any case, it's essential to choose the right Garmin watch.
While some Garmin watches might be perfect for runners, they may not be optimal for kayakers.
Following are the best Garmin watches for kayaking and canoeing.
Thumbnail
Title
Garmin Fenix 7 Sapphire Solar (Mineral Blue/Whitestone) Multisport GPS Watch | Power Bundle with PlayBetter Screen Protectors, Portable Charger, & Hard Case | 2022 Fitness Smartwatch
Garmin 010-02064-00 Instinct, Rugged Outdoor Watch with GPS, Features Glonass and Galileo, Heart Rate Monitoring and 3-Axis Compass, Graphite
Garmin Fenix 6 Pro, Premium Multisport GPS Watch, Features Mapping, Music, Grade-Adjusted Pace Guidance and Pulse Ox Sensors, Black
Wearable4U Garmin Instinct 2 Solar Tactical Edition GPS Rugged Outdoor Smartwatch, Black with Multi-GNSS Support Black Earbuds Bundle
Garmin tactix 7, (Standard Edition), Ruggedly Built Tactical GPS Watch with Solar Charging Capabilities and Nylon Band Bundle with EZEE Powerpack kit (4 Items)
Best Garmin Watches for Kayaking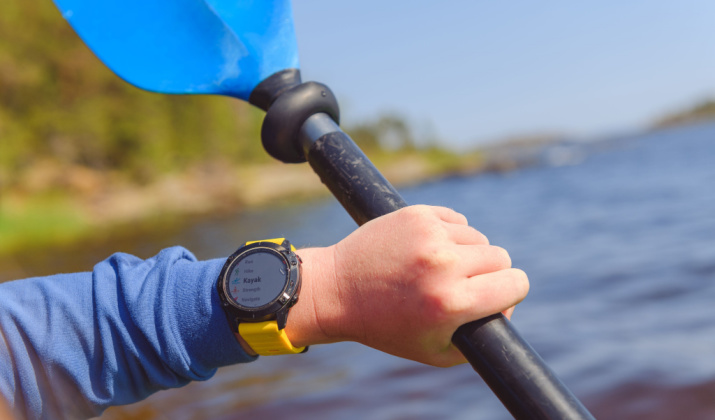 Image Source: Shutterstock
Check Price on Amazon
The Garmin Fenix 7 is the best watch for kayaking. It's a bit expensive, but it's well worth it.
This multisport watch is rugged and designed for campers, kayakers, and other outdoor activity enthusiasts.
Despite its ruggedness, it has a beautiful, sleek design that is bright, shiny, and just well-rounded. It comes in many colors, and all of them are stunning. Different colors available on Amazon include:
Mineral Blue and Whitestone
Slate Gray and Black
Silver and Graphite
It comes with screen protectors and a hard case, allowing you to protect your Fenix 7 both while using it and when you're not.
Not only that, but it comes with a portable battery charger, making it perfect for camping and kayaking trips.
The Power Solar charging lens means that you'll enjoy a super-long battery life on those long kayaking trips in the hot sun.
The watch's highly responsive touchscreen design means you won't have to struggle to get it to work.
With built-in Wifi and multi-band network support, you can remain connected at all times.
The compass, gyroscope, and barometric altimeter will help you stay on course while kayaking and help you avoid getting lost or losing direction.
It has built-in TopoActive maps that will help you find your way.
Its health and fitness tracking will help you keep track of your breathing, hydration, respiration, stress levels, heart rate, and more! It can be easy to lose track of hydration while kayaking. You can track your stamina, endurance, and overall performance.
There are more than 30 sports apps built in, and you can download additional apps as well.
It supports Spotify, allowing you to listen to music while on a calming float trip. You can also pay for stuff using Garmin Pay.
One of the most extraordinary things about this watch is that it has a built-in LED flashlight.
A flashlight is one of those safety items you should always take with you while kayaking, especially if you're camping overnight.
While you should still take a separate flashlight with a longer and more robust battery, the watch can be a helpful backup at times.
Another impressive thing about this watch, and one that makes it perfect for kayaking, is that it is waterproof.
It's been tested to survive depths of 100 meters (more than 300 feet), meaning you don't have to worry about it getting damaged if you fall into the rapids.
Check Price on Amazon
If the price tag on the Fenix 7 scared you off, don't worry. There are plenty of more affordable watches out there as well, one of them being the Garmin Instinct.
As a rugged watch designed for the outdoors, it's perfect for kayakers.
It has a water resistance rating of up to 100 meters, and it's designed to the US Military Standard 810G, meaning it is also shock and thermal-resistant and can withstand even the harshest outdoor conditions.
With multiple global satellite-based navigation systems, including GPS, Galileo, and GLONASS, you can use the watch to navigate the wilderness even when a typical GPS is not sufficient.
It also has a long battery life, lasting up to two weeks in smartwatch mode.
Using Garmin Explore, you can create trips in advance and follow them later. You can also use the backtrack feature to go back using the route you came from.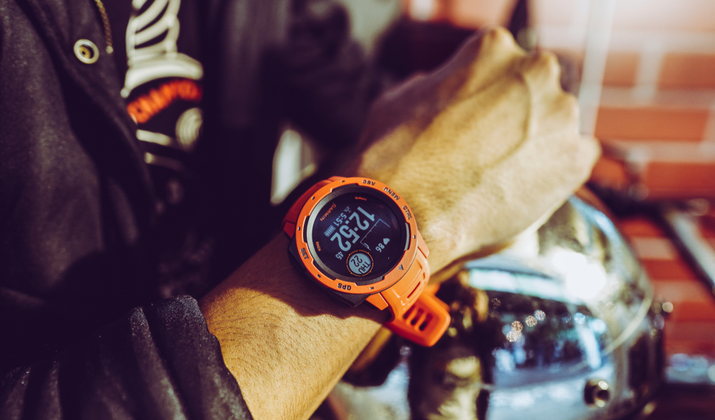 Image Source: Shutterstock
With a 3-axis compass and a barometric altimeter, you can keep your sense of direction at all times. Note that using the GPS will burn the battery more quickly.
It only lasts 16 hours, maximum, on GPS mode without the battery saver being turned on.
The watch will help you monitor your heart rate, stress, and activity.
There are preloaded activity profiles for various activities, like running and swimming, which you can use while exercising.
Pair the watch with your phone to see your notifications while kayaking.
The watch supports Garmin's GroupTrack feature, which allows you to share your location with your friends and see their location on a map.
While initially designed for runners and cyclists, the group tracking feature can also be valuable for kayakers.
Having a buddy system is vital, especially if you are two groups of people, with each group sometimes wandering on a different trail or down a different canal.
With GroupTrack, you can find your friends at any time.
While most phones have the ability to share your location with friends, your phone can always fall out of your pocket, which makes it less useful for group tracking.
A wearable watch is harder to lose.
Also, the watch has a high-contrast display. That makes it very easy to see the screen, even while kayaking in the bright sunlight with not a cloud in sight.
Check Price on Amazon
If you really liked the Fenix 7, but it's just a bit too expensive for you, how about the Garmin Fenix 6 Pro? It's around half the price, but it has many of the same excellent features.
It's a rugged, heavy-duty watch designed for outdoor activities. Its 1.3" display is easily readable in sunlight, and it comes with preloaded TopoActive maps as well as a three-pronged global navigational system (GPS, GLONASS, and Galileo).
It also has a fantastic battery. In fact, it can last for up to 28 days without a charge in expedition GPS activity mode!
Image Source: Shutterstock
In smartwatch mode, it lasts for up to 14 days, while in regular GPS or music mode, it lasts just 10 hours.
With grade-adjusted pacing guidance, you can learn how to run smarter and stay more fit.
Kayakers will love the waterproof rating of up to 100 meters, as it means you can splash water on it or even fall into a river without damaging it.
Check Price on Amazon
Do you want a tactical smartwatch with an unlimited battery? The Garmin Instinct 2 – Tactical Edition might be your answer.
In smartwatch mode, the watch has an unlimited battery life due to its solar charging capabilities.
That's providing you use it all day with at least three hours of outdoor wear in 50,000 lux conditions.
That means you will never have to charge the watch! However, if you use GPS mode, the battery will only last for up to 48 hours, even in those conditions. So, what exactly makes this watch tactical? Its military-grade toughness is one, but there's a lot more to it than that.
For example, there is night mode for night kayakers, which changes the screen to a view that is visible to night-goggle wearers.
Stealth mode allows you to disable all wireless connectivity, including GPS sharing, to go completely incognito.
There is even a kill switch that lets you wipe the watch of all private data within seconds.
All of that makes this watch perfect for hardcore wilderness kayakers who want to go off the grid and just enjoy nature.
Hardcore survivalists fit into this category perfectly. However, even regular kayakers will find this watch very useful.
For example, the dual format GPS feature shows you your latitude and longitude references, so you can figure out exactly where you are.
You can also see your elevation, time of day, pace, and more.
The ABC sensors, three-axis electronic compass, barometer, and elevation data will help you find your way while kayaking and watch out for weather conditions that can make kayaking dangerous.
The navigational system goes beyond GPS, though, and also includes support for GLONASS and Galileo for more accurate positioning.
With TracBack routing, you can easily find your way back using the route you just took.
Of course, there are some tactical features not really relevant for kayakers.
For example, the Jumpmaster mode helps you calculate high-altitude release points according to military guidelines.
You'll be able to use the health and fitness tracking features to monitor your heart rate, respiration, sleep, and more, giving you a better understanding of your body and helping you stay fit and healthy even during grueling kayaking trips.
The watch also comes with some cool accessories, which make the price even more worth it.
It comes with a Bluetooth power bank and a set of Bluetooth-powered earbuds that allow you to listen to music while wearing the watch.
Check Price on Amazon
Another tactical watch from Garmin is the Tactix 7, which comes in three editions: Standard Edition, Pro Edition, and Ballistic Edition.
It comes with a dimmable white or green LED flashlight, perfect for those kayak camping trips.
With stealth mode and a kill switch, you can ensure your privacy by disconnecting the watch from all wireless connectivity and wiping the data from your watch with the click of a button.
With preloaded TopoActive maps and dual-position GPS formatting that allows you to pinpoint your precise longitudinal and latitudinal position, as well as multi-GNSS navigational support, you can always find your way with this watch on your wrist.
Like other Garmin watches, it supports activity tracking and Garmin Pay.
With a battery life of up to four weeks in smartwatch mode, it's designed for long-term trips.
The Pro Edition, which costs around $200 extra, includes support for advanced activity tracking, including endurance and stamina tracking, among other advanced features.
Furthermore, it has an improved battery life, with a whopping 37 days of battery life in smartwatch mode (with solar charging and with all-day wear with at least three hours a day outside in 50,000 lux conditions).
The Ballistic Edition, which is around $500 more expensive than the Standard Edition, includes an Applied Ballistics calculator for shooting solutions and compatibility with the AB Synapse Garmin app, allowing you to create custom ballistics profiles.
You only need the Ballistic Edition if you're going on a combined kayaking and hunting trip.
Regardless of which edition you buy, you'll get four items in the pack: The watch itself, a portable charger, a car charger adapter, and a wall charger adapter.
Check Price on Amazon
Another excellent tactical watch from Garmin is the Delta Solar, which is rugged and built to military standards to withstand harsh conditions.
The solar charging feature helps extend the battery life up to 24 days in smartwatch mode and up to 16 hours in GPS mode (when solar charging).
With preloaded tactical activity and a dual-position format GPS, it's great for kayakers who love going on solo expeditions and are a bit more adventurous than the average kayaker.
With preloaded TopoActive maps, a public land map, and multi-GNSS support, navigating the wilds is made a lot easier for owners of this watch model.
If you want, you can upgrade to get this watch with an extra strap.
This premium strap transmits heart rate data using Bluetooth technology, tracks your running activity, and measures your calories, steps, and more.
Another device you can bundle together with the watch, one a bit more useful for kayakers, is the temperature sensor.
It measures the outdoor temperature and transmits ambient temperature data to your watch.
If you're a hunter, you can get the version that includes the Applied Ballistics Elite software for calculating aiming solutions for long-range shooting.
While not the cheapest watch on the market, this Garmin device has excellent reviews on Amazon from past customers.
Check Price on Amazon
If you don't care about having a fancy design that much and utility is more important to you, consider getting the Garmin Foretrex 601.
It's constructed to military standards (MIL STD 810G), and it's incredibly durable, with a screen width of two inches. It has a rectangular screen instead of a circular one.
However, it has precise GPS, GLONASS, and Galileo navigational capabilities, a three-axis compass, and a three-axis accelerometer, all of which can be useful for kayaking.
In navigation mode, the battery life often exceeds 48 hours, and it lasts for longer than a month in watch mode, making it perfect for those multi-day kayaking trips.
Just don't keep it on navigation mode all the time.
It's shock and thermal-resistant, and it supports night vision goggles.
Despite the design, it is a smartwatch, and it supports smart notifications, including texts, emails, and other alerts.
The price is another factor that makes it attractive, as it is incredibly affordable, unlike many of the other more stylish tactical Garmin watches on this list.
It has positive reviews from customers, and if you're willing to accept the bulkiness of the watch, it's a great low-cost survival watch.
Check Price on Amazon
The Garmin Foretrex 701 is an improved version of the Garmin Foretrex 601.
This particular model also comes with an Applied Ballistics calculator for aiming more precisely when shooting long-range.
However, while it is similar in design to the Garmin Foretrex 601, it is also more expensive.
It comes with many of the same features otherwise, including a three-axis compass and a triple navigation system for more accurate positions.
Furthermore, it comes with a barometric altimeter and a three-axis accelerometer.
With an ultra-longer battery life of more than 48 hours in navigation mode and more than a month in watch mode, you can use it on longer trips as well.
I recommend getting a screen protector to avoid having your screen scratched.
Check Price on Amazon
The Garmin Fenix 5 Plus comes with color topographic maps that include trend line popularity routing for all hiking lovers.
You can park your kayak and go hiking on popular routes in famous national parks.
It also comes with heart rate monitoring and a rugged design that will withstand harsh conditions.
It supports three satellite reception networks (GPS, Galileo, and GLONASS) to ensure you can always find your most accurate position.
It also comes with a three-axis compass for finding your way when technology fails.
Other useful tools include the gyroscope and barometric altimeter.
Battery life isn't as good as other Garmin watches, but it's still pretty decent.
While it lasts for up to 10 days in smartwatch mode, it only lasts for up to eight hours with GPS and music turned on.
You can store up to 500 songs for offline use for your float trips or while camping overnight in a place with no internet connectivity.
Its beautiful orange band will turn heads, and it also supports Garmin Pay.
Check Price on Amazon
The Garmin Vivoactive 4 is affordable and comes with 20 preloaded GPS and sports activity apps.
If you're a workout enthusiast as well as a kayaker, you'll love the animated workouts which you can follow on your screen for cardio, yoga, Pilates, strength building, and more.
One cool feature for kayakers is the emergency assistance feature.
It will send your real-time location to your emergency contacts when you are in trouble so they can find and rescue you.
It also supports smart notifications, including text messages and email alerts.
A Note on GPS, Galileo, and GLONASS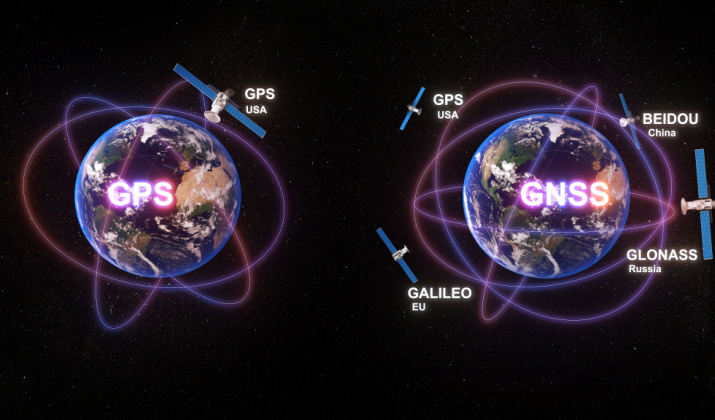 Image Source: Shutterstock
In this article, I've made many references to three satellite systems: GPS, Galileo, and GLONASS.
Most people are only familiar with GPS, which most smartphones have. However, GPS isn't the most accurate.
Let's quickly discuss these three satellite systems, which are also called GNSS (Global Navigation Satellite Systems).
GPS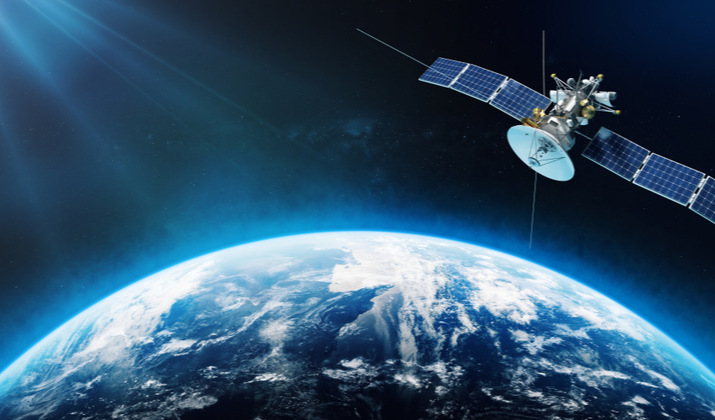 Image Source: Shutterstock
GPS stands for Global Positioning System.
This satellite system was developed and is owned by the United States government.
The US Space Force operates the satellites, of which there are 77. All you need is a GPS receiver that has an unobstructed line of sight to four or more GPS satellites.
It was first launched back in 1978.
Galileo
While GPS was created by the US Government, Galileo was created by the European Union, and it is based out of Prague in the Czech Republic.
The EU wanted to create a parallel system to the GPS system, so they would not have to rely on the US government for satellite navigation.
It was first launched in 2011, and it has around 24 satellites in orbit (with a few more satellites used as spares). Like GPS, Galileo is meant to be accessible to civilians.
In fact, the system provides the same high degree of accuracy to both militaries in the EU and civilians (it's available to anyone in the world, not just people in the EU).
According to a study, Galileo is more accurate than GPS, with a lower error rate. Modern devices, like Garmin watches, can use GPS together with Galileo for improved accuracy.
GLONASS
GLONASS is also an alternative to GPS.
It was created after GPS but before Galileo by the Soviet Union, which also wanted an alternative solution to GPS; it is now owned and operated by the Russian government.
It has 24 satellites in orbit.
Having a triple-receiver that is capable of getting data from satellites from all of these systems will ensure that wherever you are, you get the most accurate positioning.
Wrapping It Up: What Is the Best Garmin Watch for Kayaking?
I recommend getting the Garmin Fenix 7. It's rugged and durable and provides excellent navigational features.
However, if you're more of a tactical camper, you might want one of the tactical Garmin watches for your kayaking trip.
If you're on a budget, you can also choose one of the cheaper alternatives.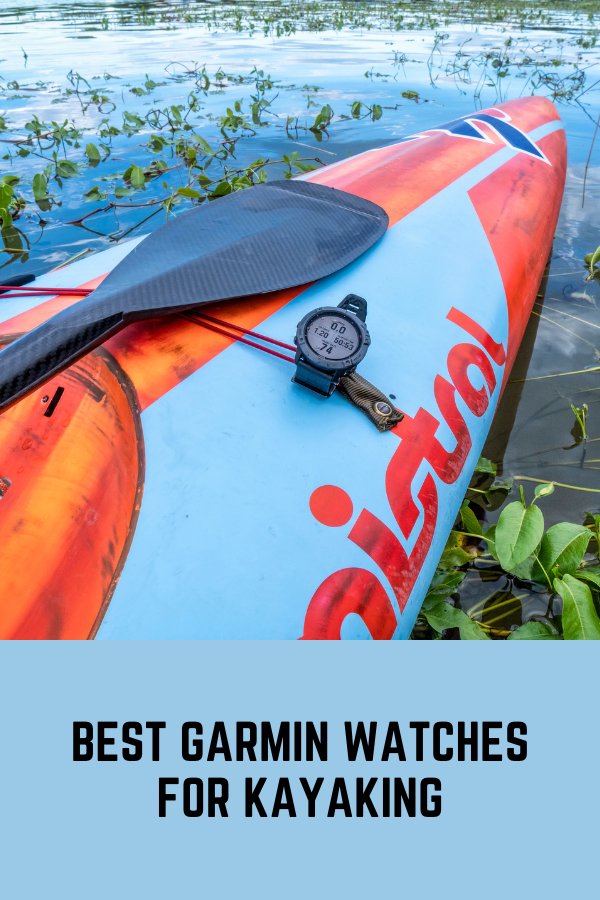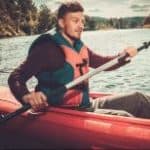 Author: Peter Salisbury
Pete is the Owner of KayakHelp.com. Born and raised in Cleveland, Ohio, he grew up kayaking, fishing, sailing, and partaking in outdoor adventures around the Great Lakes. When he's not out on the water, you can find him skiing in the mountains, reading his favorite books, and spending time with his family.