It's essential to dress appropriately for the conditions when you're skiing. If you wear the wrong pants, you'll get cold and wet, ruining your day.
There are many types of ski pants to suit the weather conditions and the style of skiing you do. Recreational skiers usually wear insulated pants with a suitable waterproofing level.
But skiers who head off into the backcountry and those who go out in all weather conditions require thinner, more technical pants. These pants aren't insulated, but they are more suited to this type of skiing and are often worn with thicker base layers.
Buying Ski Pants For Curvy Figures
When you go to buy a pair of ski pants, you need to consider the typical conditions you ski in.
For instance, if you ski in milder temperatures towards the end of the season, you don't need too much insulation. If your ski pants are too thick, you'll overheat. This is also the case if you ski in low-altitude resorts, which aren't as cold as higher ones.
Women's ski pants also come in different styles and fits. You will come across figure-hugging pants and ones that have a looser fit.
Tight-fitting pants may appeal to you, but you may struggle to comfortably fit a base layer under them. Also, they may restrict your movement, affecting your performance, unless they're made from super stretchy materials.
If you go for slim-fitting ski pants, it's more important to get the sizing correct than if you buy baggier ones. Loose-fitting ski pants don't restrict your movement, allow you to add more layers if needed, and are very comfortable.
Whether you're a beginner or advanced skier, you need to consider how waterproof and breathable your ski pants are. This is because the mountains are harsh environments, and the weather can change in minutes.
Also, you want to be able to head up the mountain, have fun, practice, and get your money's worth out of your lift ticket.
Thumbnail
The Best Ski Pants For Curvy Figures
Check Price on Amazon
Arctix makes some excellent ski clothing for the money, and these insulated snow pants are a perfect choice if you don't want to spend too much cash.
The 85-gram layer of insulation makes these pants excellent for freezing days on the mountain without being too restrictive. This is helped by the Thermalock coating, which is durable and keeps the elements out, including snow, rain, and wind.
Durability is enhanced by the reinforced ankle, scuff, and hem guard, so you'll be skiing in these pants for many seasons to come. In addition to all this, you can adjust the fit of these ski pants with a waist strap, and you can dial in the perfect fit with the belt loops.
The Arctix insulated ski pants also come in a wide variety of colors. So, you can find the perfect one to match your ski jacket.
Check Price on Amazon
These women's ski pants from YSENTO are incredibly comfortable and warm, thanks to their fleece lining.
Comfort is improved by their soft shell outer layer, but this doesn't make them the best choice for skiing in extreme weather conditions. They are, however, an excellent choice for when the temperatures are chilly, but the weather is good.
These ski pants are made from breathable waterproof material that complements the fleece lining well and is very stretchy, making your time on the mountain more comfortable. The technical fleece lining wicks moisture away from your body, so you don't get cold.
It's best to have somewhere to carry your stuff while skiing, so YSENTO has included two front and two rear zippered pockets to keep your phone, wallet, etc., safe.
You'll also love that the elasticated waistband makes them even more comfortable and forgiving while you shred the mountain.
Check Price on Amazon
If you want some excellent bib ski pants that don't cost a fortune, look no further than these from Arctix.
These ski pants are super warm, and you'll be surprised at their warmth when you feel how lightweight they are. The 85 grams of ThermaTech Insulation keeps you snuggly and warm without restricting your movement.
The over-the-shoulder suspenders keep your ski pants in place, and the bib section prevents snow from getting in, even on the deepest powder day. The suspenders are adjustable, too, so you can fine-tune the fit. At the same time, the elasticized side gussets allow you to move freely and perform at your best.
You will be able to wear these ski pants year after year, thanks to the durable 600 Denier Ballistic material. This reinforces the ankle and hem so they don't get scuffed as you walk around the ski resort.
Skiers who buy these pants like their practicality. The boot zippers make them user-friendly as getting your boots on and off is effortless.
Their practicality is enhanced with a convenient O-ring to clip your keys/gloves/lift tickets too. In addition, the boot gaiters use grippers to form a seal over the top of your boots, keeping the snow out.
Check Price on Amazon
We love the style of the Outdoor Ventures Women's Snow Pants, especially as they come in a range of elegant colors and prints. Their high-rise fit makes them super comfortable while allowing you to move freely.
Their slim fit enhances comfort without being too bulky. Thanks to the elastic boot gaiters with zips, you'll like how user-friendly they are, which also do a great job of keeping the snow out.
You can adjust the fit with the adjustable elastic waistband. On colder days, you'll be thankful for the fleece lining that keeps you warm and feels soft against your skin.
These ski pants are made from durable and stretchy fabric. It is resistant to abrasions while being waterproof and windproof, so you can stay warm and dry all day.
In addition, the warm, large, and zipped pockets mean you can ski without leaving anything behind that you need for the day.
Check Price on Amazon
Obermeyer is a higher-end brand than most of the ones we mention on this list. Therefore, you can expect these ski pants to be even better quality.
As Obermeyer is a premium brand, you can expect some superb features. One of the best features is the stretchy material that makes these ski pants incredibly comfortable and moves with your body as you ski.
The material also has a 15,000mm waterproofing and breathability rating, so you can ski in the worst conditions, even if it is on your way back to the après bar. Obermeyer has given the Bliss pants taped seams to ensure water stays out, even when the rain is pouring.
You will benefit from the 40gm 3m™ Thinsulate™ Platinum Flex insulation on cold days, keeping you cozy until the lifts close.
These ski pants are available in many sizes and their fit is ideal for curvy figures. You will find them comfortable, which is improved by strategically placed vents and a fleece-lined waistband.
Check Price on Amazon
Columbia is a well-known outdoor clothing brand with a reputation for quality. This quality is apparent in the women's Bugaboo Oh pants.
These ski pants will keep you warm on colder days, thanks to the heat-reflective technology called Omni-Heat. This uses a metallic lining constructed to dissipate moisture while simultaneously retaining heat.
Omni-Heat works incredibly well with the high-end waterproof rating. Therefore, you can expect to stay comfortable and dry all day.
You can customize the fit with the external waist adjusters, and the variety of colors will allow you to match it with your ski jacket.
Check Price on Amazon
These ski pants from Camel Crown are more basic than most, but they are very comfortable and low-cost. They are also very versatile, as they would be great for several outdoor pursuits.
These soft-shell ski pants are more suited to milder days on the mountain. But they are made from water-repellent fabric, which is teamed up with a cozy fleece lining. The fabric draws moisture from your skin and is incredibly stretchy, making these ski pants extremely comfortable.
You'll love how waterproof the Camel Crown women's soft shell pants are. They will keep you dry when you get unexpectedly caught in a downpour or snowstorm.
Keeping your things safe is taken care of by the two spacious zipped pockets. Also, the elasticated waistband ensures comfort while allowing you to move unrestricted.
Check Price on Amazon
These are another great pair of ski pants from Columbia. Their taffeta lining and insulation make them comfortable and cozy for wintery mountain trips.
Columbia has used 60 grams of their Microtemp XF II insulation to ensure your lower body stays warm all day. The outer layer of these ski pants is made from 100% Nylon Hydra Cloth 3000 material, which is incredibly waterproof, so you'll never have to worry about getting wet.
The materials used in the construction of these ski pants are also highly durable. Therefore, they will last many years, saving you money in the long run.
Columbia is well known for its craftsmanship. Therefore you can expect quality stitching, improving the durability of these ski pants further.
As with most products from Columbia, you get some excellent features in the Modern Mountain 2.0 women's ski pants. The two zipped front pockets, internal leg gaiters, reinforced cuff guards, and adjustable waist make these pants a delight to wear.
You can choose these ski pants in various colors, and they have an exceptionally good fit. This means you can look and feel great while cruising the blues.
Check Price on Amazon
It's essential to wear well-insulated ski clothing when the temperatures are low. This is where the Wulful women's insulated ski pants will keep you cozy when the mercury doesn't get above freezing.
These ski pants have 160 grams of quilted Acrylic/Cotton insulation, giving you superior heat retention and lots of comfort. The outer shell is made from material with a high rating for its waterproofing, breathability, and wind protection.
You will like the durability of the Wulful women's insulated ski pants and keep enjoying them for many seasons to come.
Even though these ski pants are inexpensive, Wulful has squeezed many great features into their design. They have an adjustable and elasticated waistband, allowing you to dial in the perfect fit.
Each leg has a side snap hem that makes getting in and out of your ski boots effortless. The boot gaiters grip around your ski boots, creating an impenetrable seal between you and the snow and wind.
Wulful has made these ski pants easy to live with and practical. There are large cargo pockets, zippered pockets at the rear, and two additional zippered hand pockets to carry your stuff in.
In addition, there is a D-ring for clipping your gloves or helmet to while enjoying an après drink. These women's ski pants are available in 10 colors, so you are bound to find some that will go with your jacket.
Check Price on Amazon
These ski pants from TBMPOY are low-cost but look very technical. You need to be realistic about the weather conditions you wear them in, but they are incredibly comfortable.
The soft shell outer layer repels water and protects you from cold winds, but the soft fleece lining insulates you while feeling great against your skin.
These are a great option if you want inexpensive ski pants that look great and are not too bulky. Their spacious fit means you can add additional layers underneath on colder days, but it's best to choose a larger size if you plan on doing this.
Check Price on Amazon
Burton snowboards have been in the game for many years, so they know how to make high-performing clothing. Their Society snowboard pants are tremendous and worn by pro rider Kelly Clark and are the company's best-selling snowboard pants for women.
Burton has given these pants their excellent DRYRIDE waterproofing, so you won't suffer from wet legs when you are shredding. Their design is versatile enough for you to ride with them all winter.
You can ride with peace of mind, as these pants are eco-friendly. They are made from 40% recycled materials and have been awarded the bluesign label.
These pants are insulated with Thermolite, which is high-quality and will keep you warm on the coldest days on the mountain. However, when the temperatures rise, you can let the heat out by opening up the mesh-lined vent on the inner thighs.
Burton has packed some great features into the Society snowboard pants. You can take advantage of the boot gaiters that block the snow and the cuff elevators that stop you from scuffing the bottoms when you walk around the resort.
You can buy these snowboard pants in a wide range of colors, so you can pair them perfectly with your snowboard jacket.
Check Price on Amazon
You can keep the usual
high prices of skiing
down by buying less expensive clothing. However, you need clothing that will still perform reasonably well.
The BenBoy Women's ski pants are a great option if you are on a budget. They are also versatile enough to be worn while doing other outdoor activities.
We like how they look and their fit, which adds to their versatility. The spandex polyester mix material is durable and has a slight stretch.
This material is also waterproof, warm, windproof, and resistant to scuffs and abrasions. Their warmth is enhanced by the fluffy fleece lining that traps heat and feels supremely comfortable.
The adjustable waistband allows you to customize the pant's fit and security while you are exploring the mountains.
Thanks to the multiple pockets secured with high-quality zips, you can be sure to have enough storage. Therefore, you won't have to worry about losing your wallet, phone, or keys.
If you like to do other outdoor activities like hiking, climbing, or camping, you'll love these pants.
Check Price on Amazon
These ski pants from GEMYSE have everything you need for a day of
skiing
at a great price.
They have a superb layer of insulation to keep you cozy on a chilly day at a high altitude. The outer layer has some great features that make these pants a great choice for skiing and snowboarding.
GEMYSE has reinforced the knees and seat panels for enhanced durability. This feature makes them ideal for beginner snowboarders, who will spend much of their early days falling over.
However, you'll be able to wear these pants for many seasons as the reinforcement makes them more durable. This also means they are kinder to the environment and will save you money.
The water-repellent coating does an excellent job of keeping you dry on soggy days. This is improved with waterproof zippers keeping the moisture out of your pockets. So you don't have to worry about your phone or wallet getting soaked.
You will also feel more comfortable thanks to the material's windproof properties and boot gaiters that stop snow from getting in. The adjustable waistband ensures the perfect fit and makes the pants secure and comfortable.
Check Price on Amazon
You can be sure that the Sportneer women's snow pants will perform well while you carve out your turns in the snow. But, comfort and user-friendliness are significant benefits of their design.
These ski pants are easy to get on and off and get the perfect fit, thanks to the easy-on adjustable velcro waistband. You'll also like the smooth lining in front of the sipper, making them even easier to slip on.
They are ideal for curvy figures as they come in a wide range of sizes and two lengths. These ski pants feature an elastic gaiter and snap button on each ankle, so you can wear them with ski boots or regular shoes.
The gaiter also keeps the snow and wind out, so you can enjoy a cozy fit. The coziness is backed up with lightweight insulation that keeps you warm without being bulky, making moving awkward.
The fleece-lined pockets are a treat for your hands on cold days. However, they also keep your phone warm, making the battery last longer in cold temperatures.
Check Price on Amazon
This ski jacket and pants combo is eye-catching and will make you stand out from the crowd without breaking the bank.
You will stay warm thanks to the extra coverage you get from the high waistline. The waist is elasticated, so it stretches to your body shape while allowing you to move freely.
As the jacket comes with the pants, you don't have to hunt around for one that matches. The jacket and pants are made from the same polyester material, which has a coating to make the combo waterproof and durable.
The design is quilted for insulation and style. It flatters the figure and keeps you comfortable.
You wouldn't wear this outfit on backcountry powder days. It's better suited to more casual skiing and aprèss drinks.
The range of striking colors will ensure you will be seen wherever you are skiing or partying.
Final Thoughts
Now you have some great tips on what to look for in a pair of ski pants, no matter your body shape. But, you also have a great selection of ski pants for curvy figures to choose from at competitive prices.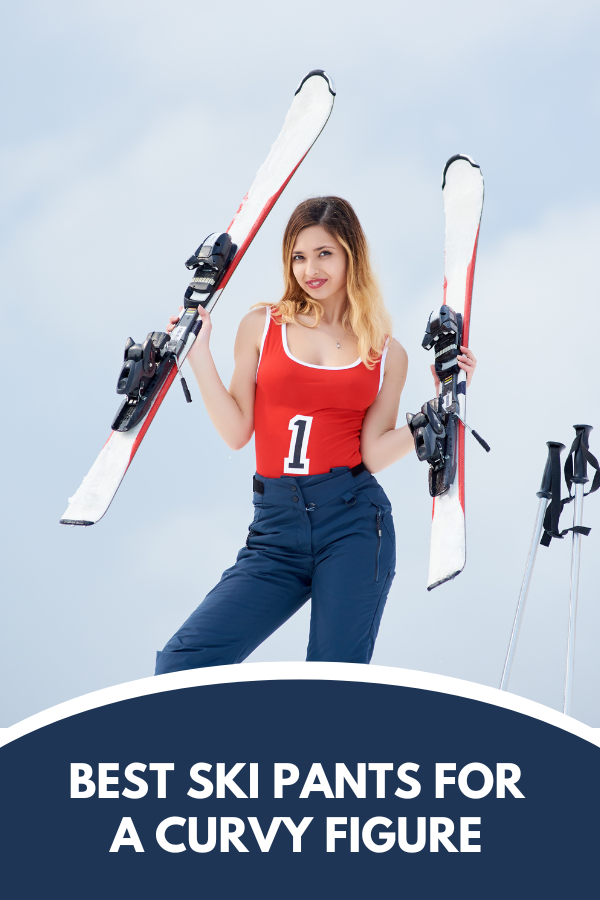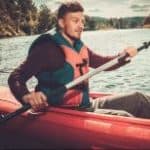 Author: Peter Salisbury
Pete is the Owner of KayakHelp.com. Born and raised in Cleveland, Ohio, he grew up kayaking, fishing, sailing, and partaking in outdoor adventures around the Great Lakes. When he's not out on the water, you can find him skiing in the mountains, reading his favorite books, and spending time with his family.