Buying the right kayak accessories will make your kayaking adventures considerably more enjoyable. Whether you're an angler or just a recreational kayaking enthusiast, accessories will make kayaking easier and let you have more fun.
From fishing accessories to kayak transport assistance, this article will go through the essentials you must have as an avid kayaker. If you want to transform your kayaking journeys, read on!
The short version: Start with the essentials, like a life jacket, first aid kit, a wetsuit or drysuit, a cooler, and a dry bag. Some other cool stuff to buy include paddling gloves, a trolling motor, and paddle or rod holders.
Best Kayak Accessories – Must-Have Essentials
Check Price on Amazon
The first thing you must have is a life jacket or personal flotation device (PFD). It may be required by the law, and it will also keep you safe.
I love this Onyx life vest because it's incredibly comfortable, with shoulder adjustments and a mesh back that allows for airflow. It has reflective material to keep you visible and safe at night and a zippered pocket where you can keep things like a whistle.
Check Price on Amazon
A kayak wetsuit will help you retain body heat by providing thermal protection when you get wet. It's especially important if you kayak in cold weather and fall into the water often (depending on the type of kayaking you do).
The Kokatat wetsuit is incredibly comfortable and affordable and highly rated on Amazon. It's easy to take on and off and is made of high-quality material.
Check Price on Amazon
Some people prefer wearing a
drysuit
. In addition to providing thermal protection, it is waterproof, unlike wetsuits, so you won't get wet.
However, they tend to be heavier than wetsuits, which are made of lighter material.
The O'Neill drysuit comes in many sizes and has a loose fit, so it won't restrict your movements as much as some other drysuits will. It is made of nylon and has a zipper closure, but the material is breathable, so you won't heat up.
Check Price on Amazon
Wearing a hat will protect you from sun exposure and possible sunburn. Kayaking out in a big lake or river without a lot of shade can invariably lead to sunburn and the health problems that come with it.
Even if it's a cloudy day, you can still get sunburn! That's because the clouds do not block all of the sun's UV rays.
I like this particular hat because it is comfortable, folds easily for storage, and, most importantly, is waterproof.
Check Price on Amazon
A hat will protect your face, but not completely. Sunscreen will offer additional protection.
You should also be applying sunscreen to your arms, legs, and any other exposed part of your body, such as your neck. It may seem like a pain, but it's a small price to pay to avoid skin cancer later in life.
I personally use Neutrogena and love it. It doesn't feel greasy, is easy to apply, and has a 70 SPF protection rating, which is pretty high.
Check Price on Amazon
You should also consider getting a pair of sunglasses. Sunglasses will protect your eyes from the harsh sun and increase your visibility.
Remember, UV damage is cumulative, so anything that blocks some UV damage will protect your health and safety.
I like these sunglasses not only due to their strong frame but also because they come with a string that you can hang around your neck, preventing you from losing the glasses in the water.
Check Price on Amazon
A kayak cooler will keep your drinks cool and delicious. That will help you stay hydrated and cool while out on hot sunny days.
You can also use a cooler to store fish that you catch while out kayaking.
Coolers come in different sizes. I like this one because of the soft shell (hard coolers exist as well) and its small and compact size – it fits easily behind the seat of your kayak.
Check Price on Amazon
Dry bags come in different sizes and allow you to keep your belongings safe while on the water. You can store a lot of things in a dry bag, and many of them float as well, so you won't lose the bag if it falls into the water.
A dry bag is good for keeping snacks, electronics, and other things you want to protect while out kayaking. This Earth Pak dry bag comes with a waterproof case, so you won't have to buy one separately.
Check Price on Amazon
A waterproof phone case is the easiest and most effective way to keep your phone dry while kayaking without stowing it out of reach. They typically come with lanyards, so you can hang them around your neck.
Some phone cases come with a strap, allowing you to attach them to your arm. Either way, get one with transparent material, so you can still see your phone without taking it out of the case.
Make sure to get a case that will fit your phone's dimensions.
Check Price on Amazon
A tackle box is a storage device that will help you organize and store the tackle you use while fishing. I won't go into which tackle to use right now, as it depends on the fish you are angling for, but a tackle storage box will always come in handy.
I like the KastKing tackle box because it is see-through, which is a personal preference of mine. However, it also has removable dividers, which I like.
Check Price on Amazon
To fish, of course, you will need a good fishing rod. The Ugly Stik Elite Spinning Fishing Rod is our top recommended fishing rod due to its versatility and strength.
It comes in many sizes, and you can purchase it with add-ons, such as a spinning reel. The material feels high quality, and it's easy to hold in your hand.
Check Price on Amazon
There are multiple ways to put fish on a kayak if you plan on taking them home (as opposed to catch and release).
I prefer to have a stringer system, like the Rogue Endeavor Stringer System, because it doesn't take up space on your kayak like a cooler does and keeps your fish fresh in the water. This particular system has an easy release system to make it easy to secure your fish and reattach the stringer system to your kayak.
Check Price on Amazon
If you want to be a serious angler, get a fish finder. A fish finder is a device that helps you find fish in water by detecting the air in the swim bladders of any fish present via sound energy detection.
They aren't expensive, and they're incredibly useful and totally worth it.
I like the LUCKY kayak fish finder because it's portable and easy to carry around. It also detects the water depth, and you can attach it to your kayak as well.
Check Price on Amazon
If you're staying hydrated and going on long kayaking trips, you will invariably need to pee while kayaking. Now, there are many ways to do that – you can just take an empty wide-mouthed bottle with you, for example.
I like these disposable urinal bags because they are unisex but most importantly, they contain a special chemical that turns your pee into gel. That means you don't have to worry about accidental leaks or bad smells.
Check Price on Amazon
A bilge pump is a device that helps you pump out water when your kayak gets filled with water. It can save your life by preventing you from sinking.
Manual bilge pumps are cheaper, but automatic bilge pumps are recommended if you expect your kayak to fill with a lot of water quickly.
For most people, a cheap manual bilge pump like this one will be enough, though.
Check Price on Amazon
For very small amounts of water, you can also use a kayak sponge to soak up the water in your kayak. The Perception Kayak Sponge can absorb up to one liter of water, which is actually a pretty nice amount, and you can also string it out into the water.
You can actually even use it for peeing. You can pee into the sponge and then clean it out in the water.
Check Price on Amazon
A kayak seat cushion will make your kayak seat more comfortable to sit on. This kayak seat cushion also contains anti slip properties to help you stay steady while seated; it is anti slip even while wet.
It is waterproof as well. The last thing you want is to sit on a soaking wet seat.
Check Price on Amazon
A kayak rod holder will help you store your fishing rods and free up your hands while kayaking.
This particular rod holder is compatible with a lot of kayaks and mount accessories and doesn't require any additional tools for installation.
It is made of high-quality materials.
Check Price on Amazon
Like rod holders for your fishing rods, paddle holders make your life easier and help you expend less energy while kayaking. They're great for anglers, because you can keep your paddles safely secured and within reach while freeing up your hands to fish.
I like this particular paddle holder because it allows you to store your paddles on the outside of your kayak, making room on the inside for things like your fishing rod holders.
Check Price on Amazon
I talked about buying a waterproof case for your phone to hang around your neck, but you can also buy a mount that you can attach to your boat. This is best if you use your phone for videoing or navigation while kayaking, but be careful to secure it tightly.
Also, it's best for calm waters where your kayak is unlikely to capsize.
Finally, I recommend using a waterproof case as well to add extra protection. Get a see-through case.
Check Price on Amazon
Your hands can easily get sore and calloused while paddling. If you're a man, you may enjoy that look – it might make you feel more masculine and tough.
However, if you don't like it, or if it hurts your palms, consider getting paddling gloves. I recommend these full-finger gloves, but half-finger gloves exist as well and can make your hands less sweaty.
Check Price on Amazon
A whistle is one of the basic pieces of kayaking safety equipment you should have. This simple device will help you alert others when you are in danger.
When kayaking with friends, it will also help you find each other when someone in the group gets lost. This particular pair comes with lanyards to wrap around your neck or attach to your life jacket.
Check Price on Amazon
If you plan to kayak at night, you must get a kayak light, so others can see you. Kayak lights also serve the purpose of allowing you to see when in dark bodies of water.
This pack of colorful, bright lights comes with a whistle and waterproof tape. They are battery powered, lasting for up to 10 hours (four hours on full power) and can be put on your bow and stern.
Check Price on Amazon
A compass is another piece of essential safety equipment. It will help you navigate when you are lost.
Even if you have a compass on your phone, get a physical one! You never know when you will need it.
I like this marine compass because you can easily mount it on your kayak deck.
Check Price on Amazon
Every kayaker should have a first aid kit with them. A first aid kit will contain basic medical equipment to treat small injuries like cuts, scrapes, etc.
This first aid kit is designed for kayakers and is waterproof. It has 116 individual pieces inside to treat basic injuries.
Check Price on Amazon
Continuing on the topic of safety equipment, we have the throw bag, which can help prevent someone in your group from drowning. You throw it out on the water, and the person who fell in can catch it.
It's not expensive, so it's not clear to me why more kayakers don't buy it. This particular throw bag comes with a rope length of 50, 70, or 98 feet.
Check Price on Amazon
If you're doing whitewater kayaking, it's important to wear a kayak helmet. It will protect you in case you hit your head on a rock.
This particular helmet fits both men and women. It comes in several colors and sizes and is a solid choice for whitewater kayakers.
It's made of strong ABS (acrylonitrile butadiene styrene) but is lightweight and has holes for ventilation.
Check Price on Amazon
How do you plan on transporting your kayak? There are several ways to transport a kayak, but if you have a traditional kayak (in other words, not an inflatable or folding kayak), most people would get a kayak roof rack.
There are different types of kayak roof racks. I like J-racks, because they're easy to put a kayak on, and they allow enough space to actually put two kayaks on your roof (due to their design).
These roof racks are easy to install, and they will keep your kayak safe and secure while transporting it.
Check Price on Amazon
One of the problems many people face when transporting kayaks on their vehicle roofs is simply getting the kayak up and down. This can be particularly difficult when you have a tall vehicle or your kayaks are heavy.
A lift assist roof rack can help you load your kayak on and off your roof. This roof rack also doubles as a bike carrier, so if you ever go on a trip and want to take a bicycle with you, you can use the same rack.
Pretty cool, right?
With a load capacity of 100 pounds, this lift assist rack makes loading your kayak effortless and is compatible with most kayaks.
Check Price on Amazon
Instead of loading your kayak onto your roof, you can use a kayak trailer. A kayak trailer attaches to the back of your vehicle, and you can simply detach it when you get home.
This reduces the amount of loading and unloading you need to do, because once you get home, you don't have to unload the kayak. Just keep it on the detached trailer.
Kayak trailers also make loading easier, because you don't have to load your kayak as high up. However, you might have to get used to driving with a trailer attached to the back of your vehicle, as it takes some skill.
I've chosen this particular kayak trailer because it's significantly cheaper than most other trailers. It also supports two kayaks, which is a plus.
It does require assembly, though.
Check Price on Amazon
A kayak trailer is great for transporting kayaks on the road, but what about transporting your kayak from your vehicle to the water? For that, you can use a kayak cart.
A kayak cart is a small cart that makes it easy to bring your kayak across shorter distances. I recommend this kayak cart because its wheels are puncture free, allowing you to transport your kayak across rocky surfaces.
It also has a hull pad that conforms to the shape of your hull and protects it from scratches, scrapes, and similar damage.
Check Price on Amazon
When storing your kayak outdoors, you need to use a kayak cover to protect it from sun damage, dust, and rain. In fact, I recommend covering your kayak even if you store it in your garage or shed, because dust and moisture can still damage it.
A good kayak cover will be waterproof and have UV protection. This kayak cover offers all that, as well as a storage bag in which you can store the cover when not using it.
Check Price on Amazon
The best way to store your kayak is not on the floor, where bugs, rodents, moisture, and dust can damage it, but on an elevated storage rack. You can install this rack in your garage or shed – anywhere indoors that is not too humid is a good choice.
Storage racks are available for both the wall and the ceiling. I like the wall racks, because they're simply easier to install and put your kayak on.
This kayak rack has adjustable levels for your convenience. It's easy to install and comes with four shelves, so it's perfect for families with several kayaks.
Check Price on Amazon
A trolling motor can be attached to your kayak to free up your hands for paddling. It's great for fishing, as trolling motors are quiet and don't disturb the fish.
I like this trolling motor because it has a remote control. It allows you to change your steering and even reverse.
Most trolling motors don't, requiring you to use your feet or even your hands to control it, which limits you.
Check Price on Amazon
The last item on our list is a bit of a luxury, but it's a really cool thing to have if you want to document your kayaking adventures.
Whether you want to take some cool shots for the gram or save your memories for future years, a GoPro will allow you to do it.
This GoPro is waterproof as well. If you don't like the price, there are plenty of generic GoPro alternatives from other companies on the market.
Wrapping It Up
So, there you have it. These are my top accessories all kayakers should consider getting.
Buying all these accessories can be a bit expensive, so focus on the more essential ones first. For example, a GoPro is definitely cool, but a first aid kit, life jacket, whistle, and compass are more important.
Have fun kayaking!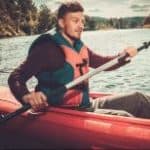 Author: Peter Salisbury
Pete is the Owner of KayakHelp.com. Born and raised in Cleveland, Ohio, he grew up kayaking, fishing, sailing, and partaking in outdoor adventures around the Great Lakes. When he's not out on the water, you can find him skiing in the mountains, reading his favorite books, and spending time with his family.