Lake George, in northern New York State, is one of the most beautiful areas in the Northeast. If you haven't yet gone kayaking on Lake George, you're missing out on its stunning beauty, calm waters, and kayaking scene.
It's time to put Lake George on your bucket list, so read on for the complete guide on how to kayak in Lake George.
Where Is Lake George?

Zburkhart95/Shutterstock.com
Lake George is a massive lake located in the Adirondack region of New York State, known for its breathtaking forests and lakes. There is also a town called Lake George, which is situated on the lake, and that is where you can base yourself when going on a kayaking trip on Lake George.
The area is easily accessible from major cities like Albany, and you can even drive up from New York City, New Jersey, New Hampshire, and Connecticut. The lake is not far from the border of Vermont, and you can even drive down from Canada.
Why Kayak on Lake George?
majicphotos/Shutterstock.com
Lake George offers beautiful scenery, especially during the autumn, when the trees turn colors. You'll find yourself gaping in awe at the stunning array of colors.
When the weather is nice, you can enjoy long, warm, sunny days on the lake.
The lake itself is long and narrow. While it covers a total area of 44 square miles, it has a length of around 32 miles.
That means you can go on a long kayaking trip, enjoy a wide variety of scenery, and never get bored.
Lake George is called the "Queen of American Lakes" for a reason. Its majestic peaks and calm waters make it perfect for kayak lovers. And there are plenty of things to do in the area, with an established tourism scene, plenty of lodging providers, camping areas, five-star restaurants and bars, and more.
Whether you're going alone, with a friend or partner, or with the entire family (yes, you can go kayaking with kids), a kayaking trip to Lake George will be unforgettable, providing you with memories that you will keep with you for decades.
The Best Time of the Year to Kayak on Lake George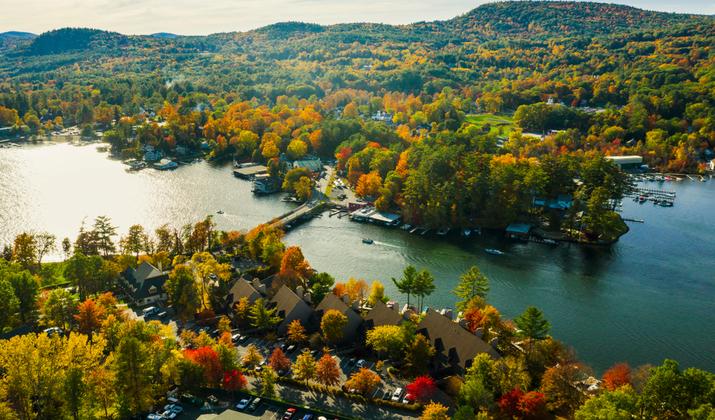 Cheng Gan/Shutterstock.com
New York winters can get really harsh, and the lake may be frozen over, depending on the year. Adventurous kayakers may brave the freezing temperatures to enjoy an empty lake, but the best time of the year to kayak in Lake George is late spring, late summer, and autumn.
During the peak of summer, temperatures can get really hot, and the air can get humid and muggy. That can make kayaking a bit uncomfortable, and it's also easier to get dehydrated and sunburned.
Late spring and late summer both offer perfect weather. It's not too hot, but it's also not cold – the temperature is just right.
The exact time can vary from year to year, but it's usually around April-May and the end of August to early September. During spring, in particular, there will be a sense of freshness in the air, with everything blooming.
Autumn offers an entirely different experience. If you can make it during the fall (October to mid-November), I highly recommend you aim for that.
During autumn, leaves start changing colors, offering a dazzling display of green, yellow, red, orange, brown, and even purple.
There's nothing that can compare to kayaking on Lake George during autumn. While it might be a bit chillier, you won't notice it if it's a sunny day and you wear a light jacket.
What if you still want to avoid the crowds? For around 10 percent of the years for which records exist, Lake George never fully froze the entire year.
In 2012 and 2013, for example, while there were pieces of ice on the lake, it was never cold enough to freeze solid.
Most years, however, Lake George freezes solid for 76 days each year, on average. Some years, it can stay frozen for more than three months.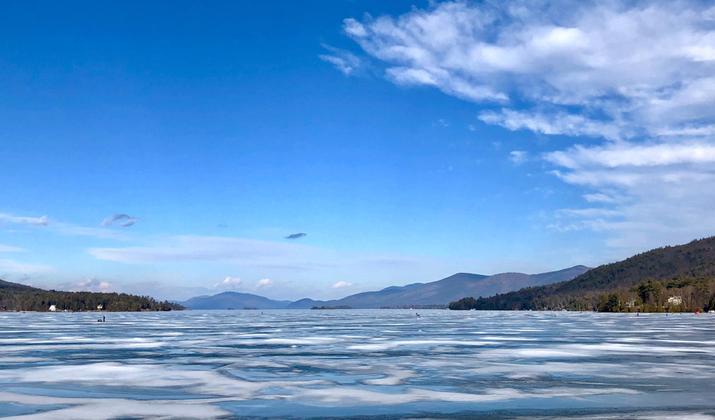 Malgosia S/Shutterstock.com
You might want to call some tourism providers or hotels in advance to see if the lake is frozen over before heading there during the winter.
If it's your first time kayaking in winter, check out these winter kayaking tips. You'll also need some good winter kayaking gear.
If the lake is frozen, and you have to give up kayaking, there are other things you can do around Lake George.
Lake George is pretty beautiful during winter, with pure white snow all around. In fact, there is a yearly Winter Carnival at Lake George (pictured below), where people gather for activities like snowmobiling, dog sled rides, ice racing, and more.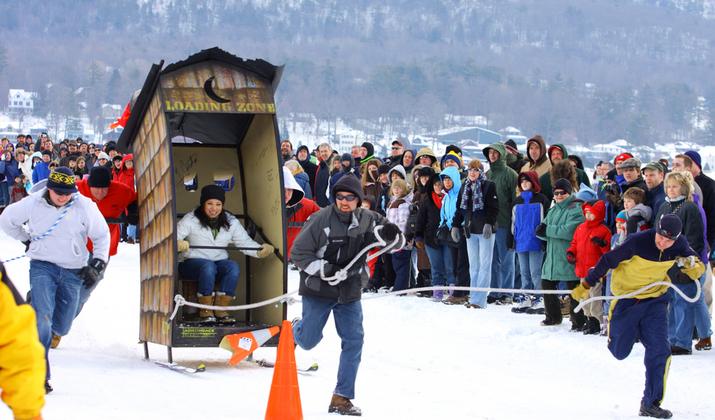 Sean Donohue Photo/Shutterstock.com
The Best Type of Kayak for Lake George
The rental companies around Lake George offer many types of kayaks. The busier the season, the less availability they might have.
While reservations might not be required, calling and booking a specific type of kayak in advance might be a good idea during the peak season. Regardless, however, the kayaks that the local companies offer are all suited for Lake George.
Of course, you can always bring your own kayak. Generally, kayaks that are 8-12 feet long are great for Lake George.
If you're a beginner or small to regular-sized adult, an eight-foot kayak can be great. It will be easy to maneuver.
If you're a beginner kayaker, check out these beginner kayaking tips for help.
Ten-foot kayaks might be a bit harder to maneuver, making them a bit more suitable for intermediate kayakers.
However, they can also be faster, and they may have more storage space. Also, if you're a heavier adult, an eight-foot-long kayak might not be enough.
Typically, the wider the kayak, the more stable it will be. At the same time, you might have to sacrifice speed for stability.
The longer the kayak is in relation to the width, the faster it will be, allowing you to go a further distance in a shorter amount of time. Twelve-foot kayaks can be pretty agile but less stable, so they're more suitable for more experienced kayakers.
If you're a woman kayaker, check out these best kayaks for women.
Some brands are also better than others. Check out the 15 best kayak brands if you want a quality kayak.
Where Should You Go Kayaking on Lake George?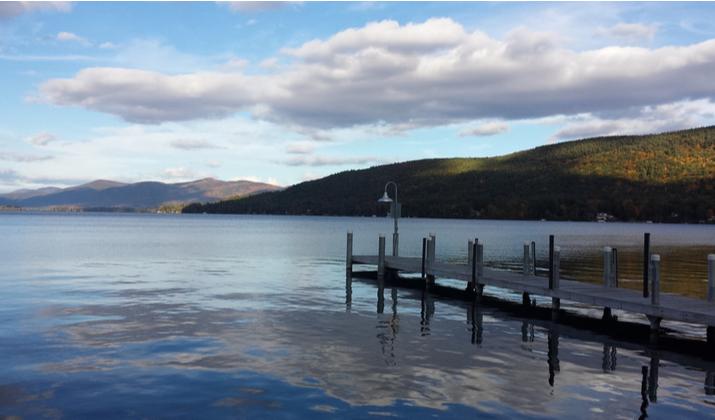 Angela Guzman/Shutterstock.com
Lake George is rather large. Being that it's around 32 miles long, there are many points along the lake that are perfect starting points for your kayaking adventure.
Here are the best places to go kayaking on Lake George.
Washington County Beach
Lake George is known not only for its scenery but also for its beaches. Yes, there are beaches in Upstate New York – lake beaches, that is!
One of those beaches is Washington County Beach, located on the eastern shore of Lake George in Huletts Park (also called Washington County Park).
The beach features a small boat dock for canoes, kayaks, and other small vessels (here's how to get in a kayak from a dock).
The beach is open throughout the summer, and there are picnic tables, along with barbecue pits and grills, so you can have a hot dog or hamburger after a long day of kayaking.
There is sand, of course, and the beach offers beautiful views of the lake. There are restrooms and a play area for kids. While admission is free, if you park at Huletts Landing Marina, there is a parking fee of $12.
For more information about opening days, opening hours, lifeguard hours, and amenities, check out this page.
Veterans Memorial Park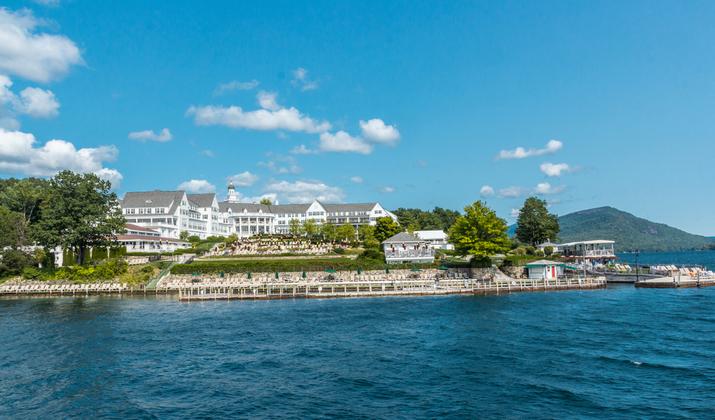 Brian Logan Photography/Shutterstock.com
Veterans Memorial Park is located on Lake George, located in the hamlet of Bolton Landing (pictured above). On the north side of the park, there are metal docks from which you can launch a kayak or canoe.
In addition to kayaking, activities you can do at Veterans Memorial Park include playing basketball and bringing your kids to play in the kids' area.
There is a shallow swimming area, as well as a picnic area with barbecue grills. During the summer, the park is open every day, with lifeguards around to keep you safe.
You can park for free in town or at the park for a $5 fee.
For more information about Veterans Memorial Park, check out the NY State Official Tourism Site.
Rogers Park
Another popular park and beach area on Lake George is Rogers Park, also located in Bolton Landing. It's the second of the two Bolton Landing parks located on Lake George.
Parking is $5, but admission is free. In Bolton Landing, you can find free parking.
There are public docks, but there are also amenities like picnic tables, a gazebo, tennis courts, a basketball court, and more. For more information, see this page on the Bolton Chamber of Commerce website.
Rogers Rock Campground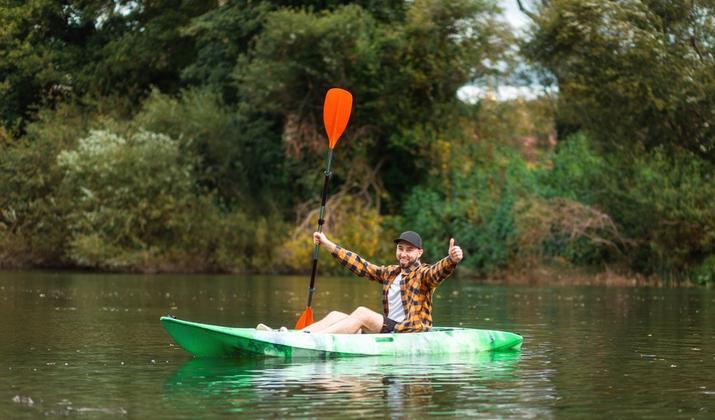 STEKLO/Shutterstock.com
Rogers Rock Campground is located on the northern shore of the park, which tends to be a bit quieter.
It's a campground where you can camp with your family overnight, but there is also a dock from which you can launch your kayak. If you're bringing your own kayak, here's how to pack it for your camping trip.
There are bathrooms, showers, picnic areas, barbecue grills, and a total of 13 campsites.
For overnight camping, there is a fee of $22/night. If you are a resident of Vermont or any other state other than New York, the nightly camping fee is slightly higher – $27/night.
According to reviews on Google, rentals of kayaks and canoes are available, but I have not been able to verify that. You can check this page to make reservations for the campsite and for up-to-date information about opening hours, fees, and amenities.
Shore Meadows Motel in Lake George Village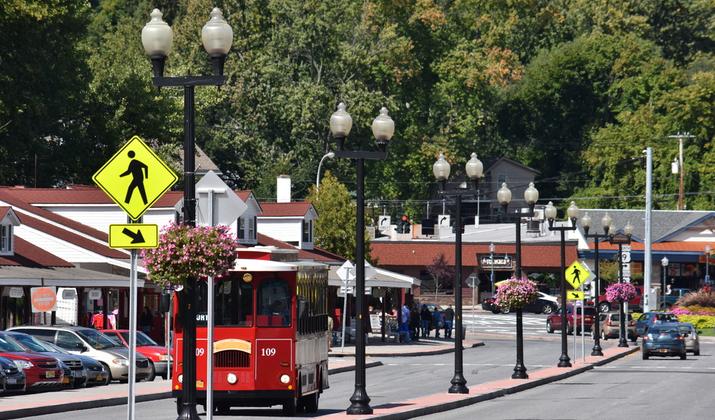 Ritu Manoj Jethani/Shutterstock.com
Shore Meadows Motel is located in Lake George Village (pictured above). Kayak Lake George offers rentals on-site. According to reviews, the location is perfect for beginners, as it's a shallow launch, meaning it will be easy to get your kayak in the water and start paddling.
In addition, this particular area of the lake is a bit more secluded, allowing for a bit more privacy and fun. Beginners can get lessons, and anyone can rent a kayak for as little as one hour.
The exact address is 22 Lake Avenue.
Where to Rent a Kayak or Guide in Lake George?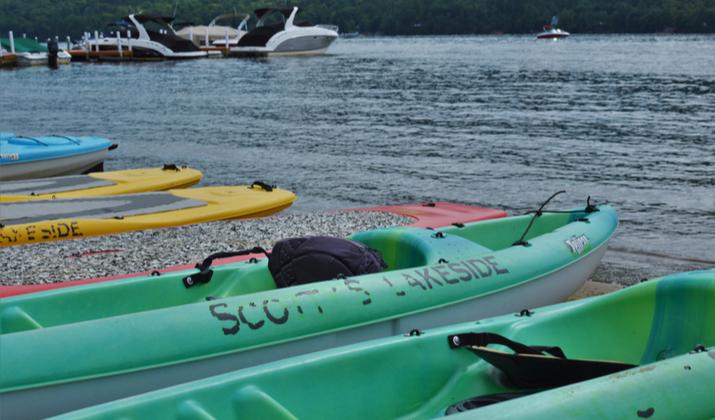 Kits Pix/Shutterstock.com
There are several companies around the lake offering kayak and paddleboat rentals. Some companies also offer guided tours for groups and individuals or kayak lessons.
If you are an experienced kayaker, you won't need a guide. However, if you are a beginner and don't yet feel comfortable kayaking this Queen of the American Lakes by yourself, you can hire a guide or even an instructor.
Lake George can be an excellent place to learn kayaking, as the waters tend to be calm and the weather beautiful.
With that being said, here are the best places to rent a kayak in Lake George.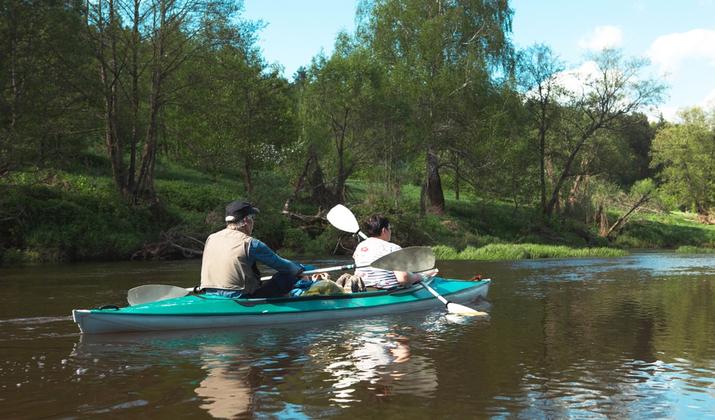 Simol1407/Shutterstock.com
Lake George Kayak Company offers kayak, canoe, and SUP rentals at affordable rates. You can rent for as little as one or two hours, allowing for more flexibility without burning a hole in your pocket.
Current prices range from $30/hour to $85/day for a single kayak.
If you rent for two hours or half a day, you'll get a massive discount on the hourly pricing. Check this page for updated pricing information.
Parking is available and you don't need to reserve your kayak in advance. Call (518)-644-9366 or visit the website for more information.
The company also offers kayaking lessons. Even if you are a complete beginner with no experience, you can start kayaking with expert instruction.
Another company worth checking out is Kayak Lake George. During the popular kayak season, it's open every day, including weekends, but check the website for updated information.
Pricing is slightly cheaper, starting at $27/hour, but again, check the website for updated information.
It's located right in the center of Lake George Village, so if you're staying in town and using it as a base for your kayaking adventures, it won't be far. Walk-ins are welcome, so you can head there spontaneously, with no prior reservation.
Where to Stay in Lake George?
If you live a bit further away, there are plenty of places to stay overnight around Lake George. Accommodation options range from campsites to simple motels to luxury resort-style hotels.
Let's explore some of the different lodging options available at Lake George.
Camping and RV Parks
According to the Warren County Tourism Department, there are a number of campsites and RV parks located around the lake.
They include the Loon Lake RV Campground; in addition to camping out in an RV, you can rent cottages. Eagle Point Campground also allows you to camp overnight and launch canoes.
For additional camping and RV park grounds, check out the Warren County Tourism Department site.
Also, check out our guide on the best kayaks for camping trips.
Cabins and Cottages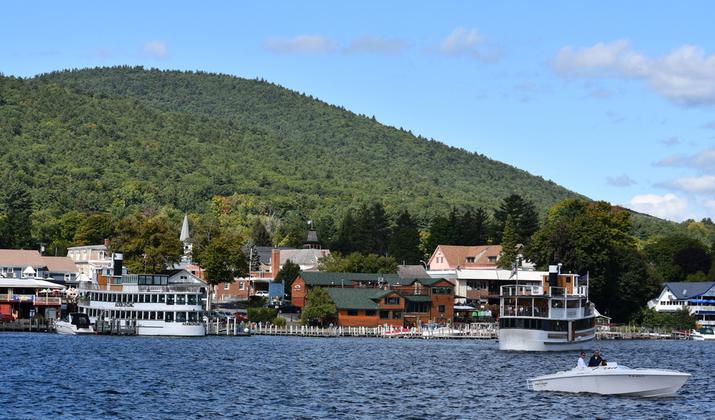 Ritu Manoj Jethani/Shutterstock.com
You can rent private cabins and cottages. Some have a rustic feel, while others are located right on the shore, giving you access to stunning views.
There's nothing like taking your significant other to a log cabin on the water, with an old-fashioned fireplace. There's something cozy and romantic about it that's hard to capture in words.
Kathy's Motel offers cottage and resort rentals, and it's located just a short drive away from Lake George Village. A bit further away is Pine Point Cottages and Motel, which offers log cabin rentals on Lake Vanare, just five miles away from Lake George.
Contessa Resort is located right on the water, and it offers cabins and multi-room suites with decks that overlook the water. In addition, the resort offers free kayaks to its guests, making it perfect if you want to combine a romantic getaway with a kayaking trip.
Hotels, Resorts, Motels, and Inns
If you need a bit more comfort than a tent or a rustic log cabin, there are plenty of hotels, inns, and motels. Some offer luxury accommodation, while others are a bit more homey and affordable.
Shore Meadows Lodge is a cute little inn on the shores of Lake George, offering amenities like fast WiFi and cable TV. There are comfortable rooms and a seating area right on the lake.
Lido Motel is located in Lake George Village, with beaches within walking distance. There is also a swimming pool on-site.
If you need even more comfort, check out Howard Johnson by Wyndham Hotels. Wyndham Hotels and Resorts is one of the most recognized hotel brands.
This particular hotel offers easy access to Six Flags, Bolton Landing, Lake George Village, and more. It comes with free breakfast, and it's not far from Albany Airport, so you can even fly in.
For those who prefer even more luxury, check out Marine Village Resort. It's located right on the water, and it offers kayak and canoe rentals at discounted rates.
With the swimming pool and other on-site amenities, you'll never have to leave the property, though there's plenty to do in the area as well.
Airbnb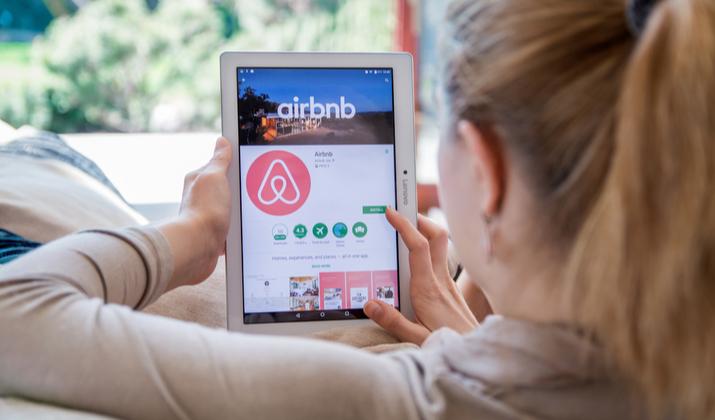 Daniel Krason/Shutterstock.com
A quick search on Airbnb brings up multiple properties, including hotels, houses, and cabins starting from around $40/night. Availability can depend on the season. There are properties both in Lake George and in nearby Glens Falls, a 20-minute drive away.
You can also check out The Inn of Lake George Bed and Breakfast if you don't have Airbnb.
Final Thoughts
I hope this guide has been of help in planning your kayaking adventure in Lake George. If Lake George has been on your bucket list, bookmark this page and refer back to it when planning your trip.
Also, check out our guide for kayaking on Lake Placid, another beautiful lake in Upstate New York.
If you've enjoyed this guide, share it with your friends!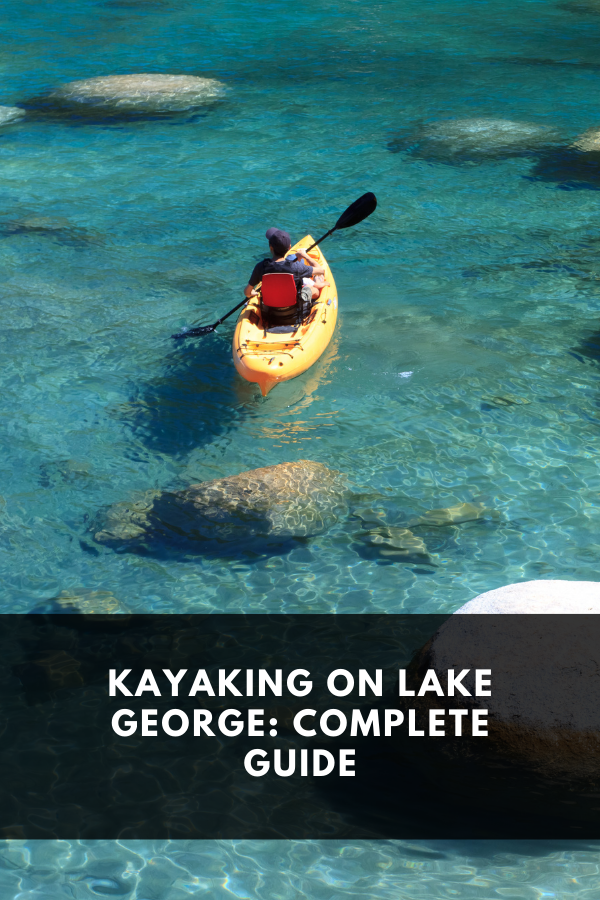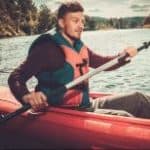 Author: Peter Salisbury
Pete is the Owner of KayakHelp.com. Born and raised in Cleveland, Ohio, he grew up kayaking, fishing, sailing, and partaking in outdoor adventures around the Great Lakes. When he's not out on the water, you can find him skiing in the mountains, reading his favorite books, and spending time with his family.