Old Town Canoe is one of the oldest makers of kayaks and canoes in the US. It is well-known for its high-quality kayaks, which are made of the best materials and are durable and long-lasting.
Incorporated in 1901, its roots go back to 1989, when the first Old Town canoe was made. Old Town Canoe is based out of Old Town, a city in Maine, hence the name.
While Old Town Canoe produces many kayaks and canoes, there are some that stand out from the others. In this guide, we will be showing you the best Old Town kayaks which your money can buy, focusing exclusively on kayaks (not canoes).
The short version: The Looksha T and Castine 140 are the best Old Town kayaks, but the Venus 10 is great for small women, and the Heron Junior Kids' Kayak is perfect for children. Read on for the full list!
Let's find out more about them and other models.
Best Old Town Kayaks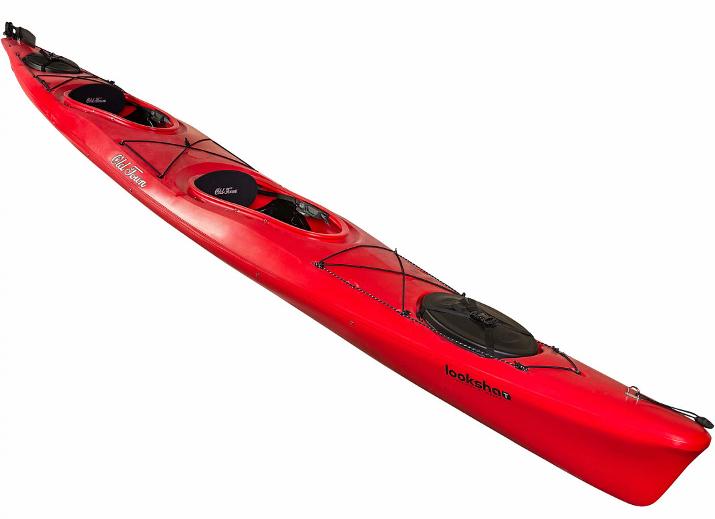 The Looksha T kayak is a tandem touring kayak meant for long trips with your friend or partner.
It's a bit over 18 feet long, and it's 30 inches wide, with a weight capacity of 529 pounds. The boat itself weighs 96 pounds.
Available in red and lemongrass colors, this kayak has plenty of storage space, featuring two hatches that you can lock and securely store items.
One hatch is in the bow and the other in the stern, making storage easily accessible to both kayakers. The Cross Lock buckle and Quick Seal systems ensure that the hatches remain sealed and closed.
There is also a deck bungee, which you can use to tie down other items as well.
The seats are cushioned and made of composite materials, featuring a removable pedestal and thigh braces that you can adjust for your comfort levels.
The composite rudder system also comes with adjustable foot pedals, so this kayak is very easy to control and maneuver as well.
Other thoughtful features include the handles on the bow and stern, allowing for easier transport, and the reflective safety line that helps you be seen.
Check Price on Amazon
The Old Town Castine 140 is designed for medium-sized paddlers.
Like the previous kayak, it features Quick Seal hatches in the bow and stern; these hatches come with the Crosslock system. In addition, there is a removable slide-track day storage hatch for extra storage you might need.
The ACS2 Seat is nice and comfortable, with a low profile backrest that makes it a pleasure to sit on. We didn't even get to the adjustable foot and thigh braces, ensuring you are nice and comfy whenever you are on the water.
Bow and stern carry handles make it easy to carry this kayak to and from the water. The kayak weighs just 59 pounds, so you should be able to carry it easily; if you find it heavy, consider getting a kayak cart to roll it to and from the water.
Made of single layer polyethylene, this 14-foot kayak is designed for one person but has a weight capacity of 316 pounds, which is more than enough for your extra gear and equipment. While designed for touring, this is a comfortable kayak that can be used for many purposes.
It even comes with a phone cradle!
The kayak is available in lemongrass. It's compatible with a rudder system, which you can purchase separately.
The Sportsman 120 is an excellent choice for a fishing kayak. It is incredibly stable, with a DoubleU hull that allows it to glide nimbly through the water.
The seat features dual-layer textilene and a middle mesh layer, making it comfortable and breathable. There are also cushioned floor pads, allowing you to get a better grip, and the kayak has foam deck pads that you can stand on, with traction to keep you stable.
Also, the foot braces help you remain stable and comfortable while sitting on this sit-on-top kayak.
There are two cupholders, ensuring you stay hydrated at all times. The kayak also features a lot of other things that are designed to make fishing easier, including a universal transducer mounting system that you can use to mount a fish finder.
There are also fishing rod holders and a paddle clip to securely lock your paddle in place, freeing up your hands to fish.
With a weight capacity of 415 pounds, this kayak is more than enough for an average person plus plenty of fishing gear. The kayak itself weighs just 85 pounds, so it should be light enough to carry.
If you need help getting the kayak up on your roof rack, consider investing in a lift-assist system.
If you're a serious angler, consider getting the Topwater 106 fishing kayak. Weighing just 80 pounds, this light and nimble kayak features a comfortable and breathable ElementAir seat as well as a sturdy stand-up platform with EVA foam pads integrated into the floor of the kayak, with non-slip traction, for fishing.
There is plenty of room for storing your fishing gear, including in the large tank well in the stern and other storage areas for your tackle.
The DoubleU hull design makes this kayak very stable. There are three rod holders (two rear-facing holders and one forward-facing holder) for your fishing rods and a universal transducer mounting system for your fish finder system.
Next up we have the Topwater 120 PDL. Like other kayaks in the Topwater series, this 12-foot angler fishing kayak is sturdy, stable, and comfortable.
The PDL, though, specifies that it has a pedal drive, allowing you to free up your tired hands and pedal with your feet. The pedal drive on this kayak allows for both forward and backward navigation.
The drive requires very little maintenance and is made with materials that are resistant to saltwater damage, so you can even use this kayak in the ocean, and it won't get damaged.
Like other Topwater kayaks, it features three rod holders, a large stern tank well for storage, tackle storage, and deck pads that provide plenty of traction when you need to stand up to fish.
Overall, it's a lightweight and nimble fishing kayak that is well worth the price.
On the other hand, if you are looking for a recreational kayak, the Loon 126 is an excellent option.
Made of polyethylene and weighing just 56 pounds, this lightweight kayak features a seat with the Active Comfort System 2.0, with a comfortable backrest and easy-grip thigh pads for added comfort, as well as a foot brace system.
The hatch provides storage, and the bungees for the bow and stern give you even more storage opportunities. There is a drain plug to keep you safe and dry (although you might also consider getting a bilge pump), and the paddle clip helps secure your paddle in place.
There is even a removable work deck, which can provide even more storage, and here's something new: a USB port which you can use to charge your electronics while fishing. The charger is sold separately, but it's worth the money.
Make sure to get a waterproof phone case to keep your phone nice and dry.
At 12 feet and six inches long, the Loon 126 is the largest of the Loon series, with the other two being the Loon 106 and the Loon 120, at 10 feet and six inches long and 12 feet long, respectively.
Let's take a look at the Old Town Sorrento 126SK, which comes in Old Town's famous sunrise color. Made of single layer polyethylene and weighing less than 50 pounds, this kayak has a drop-down skeg, allowing the kayak to track like an arrow in the water.
Don't worry, though; you can retract the skeg if you want to kayak in shallow waters.
Like other Old Town kayaks, it features a very comfortable seat as well as foot braces. There is plenty of legroom as well, so you will always feel comfortable in this touring/recreational kayak.
Also, there is a hatch in the rear of the kayak and bungees for securing additional gear.
At 12 feet and six inches long, this is a decent-sized kayak for medium-sized or larger individuals who want something sturdy and capable of full-day touring.
Old Town kayaks can be quite expensive, often costing well over a grand. This is a cheaper, more affordable option that is perfect for beginners looking to buy their first kayak or people on a budget.
At just 11 feet long, this kayak has a cozy seat and thigh pads to keep you comfortable all day long. The track foot brace system helps you maintain control, while the cupholder ensures you can stay hydrated, and the paddle clip helps reduce the exertion and pressure on your hands and arms.
With a weight capacity of 282 pounds, the Heron 11XT is enough for most people and some additional gear. The Click Seal hatch is located right behind the seat, making it easily accessible.
With an interesting photic color, this kayak has a sleek design. The handles on the front and rear of the kayak also make it easy to transport and lift.
Another great multipurpose kayak that can be used for touring, recreational use, and even fishing is the Old Town Vapor 12XT.
It features Old Town's famous Comfort Flex seat and thigh pads for comfortable seating throughout the day, while the kayak design offers maximum stability, making it perfect for fishing.
The carry handles and built-in paddle rest are nice additions, and the kayak also features a skid plate and a drain plug.
There is not much else to say about this kayak other than that it is sturdy, comfortable, stable, and affordable. At 12 feet long and weighing around 50 pounds, this is an excellent entry-level kayak for beginners and budget kayakers.

If you are looking for a sit-on-top kayak, the Old Town Twister is an impressive choice. It has a molded-in seat with a high backrest, unlike many other Old Town kayaks, and it's low maintenance and sturdy.
Coming in lime camo and sunrise colors, the Twister is versatile and can handle lakes, creeks, and rivers. It's best for recreational use.
The side grab handles add extra stability while kayaking, and there are also grab handles on the bow and stern for transporting the kayak.
For storage, there is a large tank well with a bungee cord for securing things like a cooler, and there is also a cupholder where you can keep your water.
If you are drinking a lot of water, by the way, check out our useful guide on how to pee while kayaking.
The boat weighs just 47 pounds but has a weight capacity of 228 pounds. It is 11 feet and three inches long and 30 inches wide.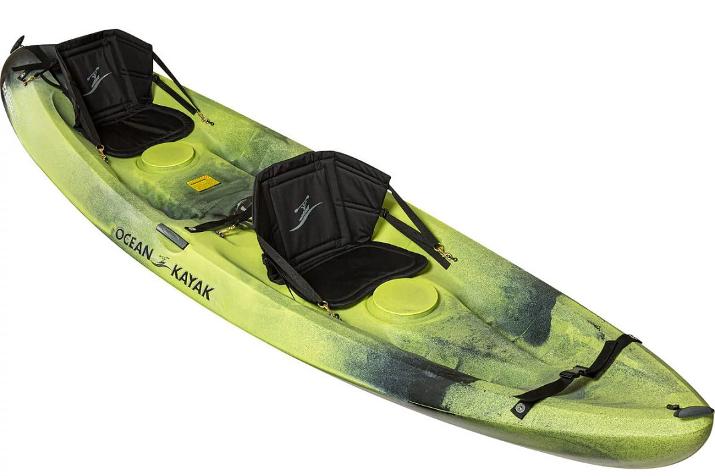 The Malibu Two is the perfect Old Town kayak for family adventures. It is a tandem kayak that also has a small place for a dog, so you can go with your partner and pet.
The two Comfort Plus seats ensure both you and your partner are comfortable on the water. It has molded-in seat wells and gear straps to secure your gear, as well as overlapping foot wells for added comfort and stability.
The kayak comes in lemon camo and seaglass, both beautiful and unique colors that will make heads turn.
Best of all, the kayak is super affordable, especially when compared to other Old Town kayaks.
Despite being designed for two people, this kayak is usable solo as well. You can still go out on a solo adventure on this kayak.
It has a weight capacity of 362 pounds. This should be enough for two people and some added gear, although if both of you are very heavy, it might not be sufficient.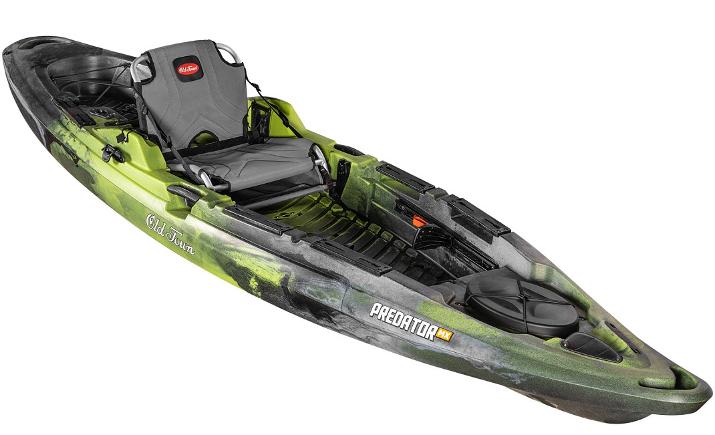 The Predator MX is great for sport kayaking. MX stands for Mixed Water, and it signifies that this kayak is made for various water conditions, including moving water.
You can use it for fishing or on-water sport. The Exo-Ridge deck provides a lot of standing space with lots of traction and a slip-free surface, and the kayak is incredibly stable and sturdy, so it's great for sportsmen and anglers alike.
The Tri-Hull design increases stability and improves performance, while the scupper holes help keep the kayak dry in all kinds of water conditions, including heavier waves.
It comes in lime camo and regular camo, and it has a length of 12 feet.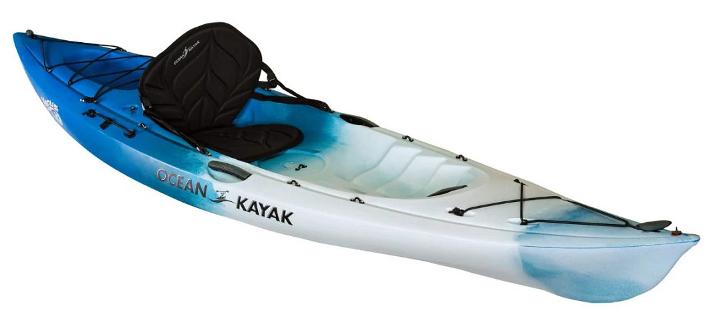 The Venus 10 is one of Old Town's most affordable kayaks. It is also designed specifically for women – there are not that many kayaks like that, so if you're a smaller-sized woman and are looking for a lightweight and nimble kayak, this might just be the one for you.
The kayak is very lightweight, at just 40 pounds, making it easy to carry. It has a weight capacity of 135 pounds, which is perfect for most smaller women.
The Comfort Hybrid seat has a comfortable backrest, and the seat well was specifically designed for the female center of gravity. The same applies to the low deck profile.
While this list focuses mostly on adult kayaks, Old Town has some great junior kayaks as well.
The Heron Junior Kids' Kayak is a smaller and lighter version of the regular Old Town Heron kayak. It is extra nimble and lightweight, weighing just 26 pounds, making it easy to maneuver for kids and teens.
It is also designed to fit a child, with a lightweight foam billet and carry handles on the bow and stern. At just seven feet and five inches long, it's the perfect gift for your child, nephew, niece, or grandchild.
With a 115 pound capacity, most children and lightweight teens can use this kayak.
Another amazing feature that I like is the Tag Along Tow System. When your child gets tired of paddling, you can always tow them to shore.
This is Old Town's towing system for youth kayaks, with a stored towline at the end of the kayak. It is only recommended to be used in calm waters, though, for safety reasons.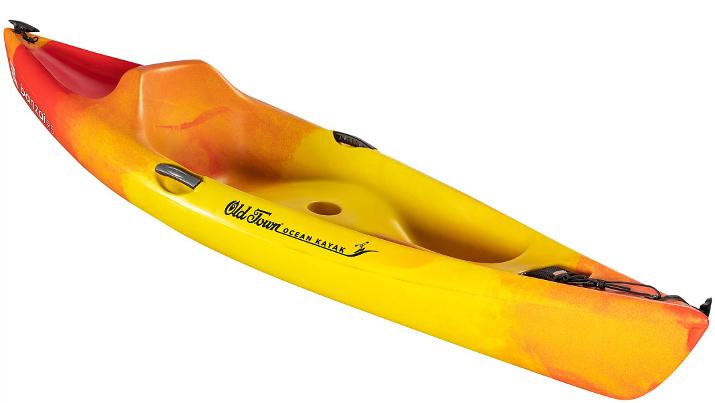 This is another youth kayak perfect for kids. It is a bit longer than the previous kayak, at nine feet and six inches long, and it also features the Tag Along system, so you can tow your kids to shore when they are tired.
The low profile deck is designed for smaller arms, and the weight capacity of 194 pounds makes it a good choice for larger youths.
Final Word
I hope you enjoyed this list. Old Town kayaks are well worth the price, as they require little maintenance and last a long time.
To increase the longevity of your kayak, make sure to buy a good kayak cover. Also, read our guide on how to properly store your kayak; improper storage will wear your kayak out quicker.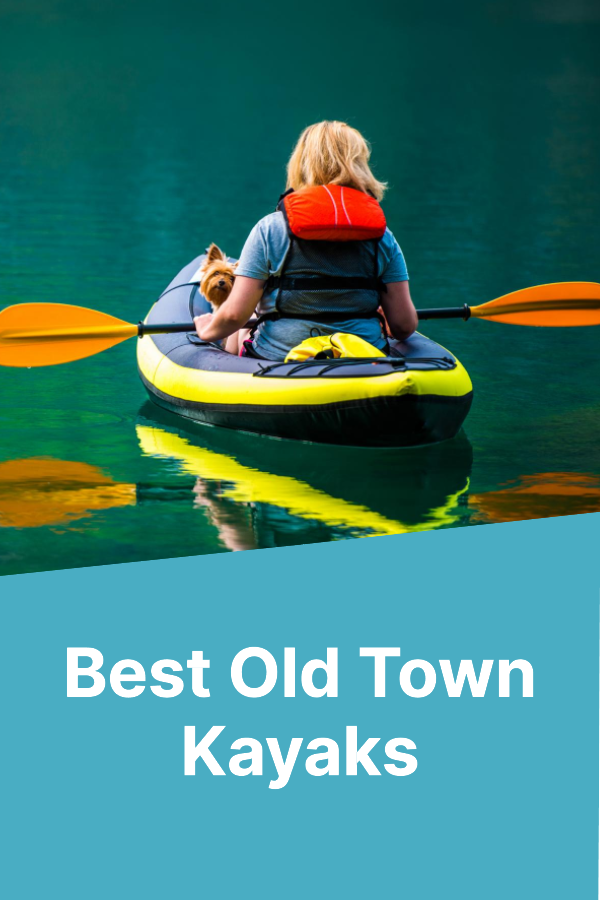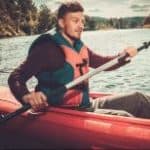 Author: Peter Salisbury
Pete is the Owner of KayakHelp.com. Born and raised in Cleveland, Ohio, he grew up kayaking, fishing, sailing, and partaking in outdoor adventures around the Great Lakes. When he's not out on the water, you can find him skiing in the mountains, reading his favorite books, and spending time with his family.