Not everyone has the ability to haul a regular kayak around on all their adventures. This is a good reason why folding kayaks have become so popular. In the recent times, Tucktec vs Oru debate has gained steam.
Both of these companies produce some of the best folding kayaks you'll find. In fact, they may just be duking it out for the title as the 'best folding kayak brand' on the market today.
Both companies have their own pros and cons though. If you're looking to invest in a folding kayak, exploring more about Tucktec and Oru kayaks should help.
In this guide, we will provide a comprehensive look at these two folding kayak brands. This will help you make the right decision for your kayaking needs.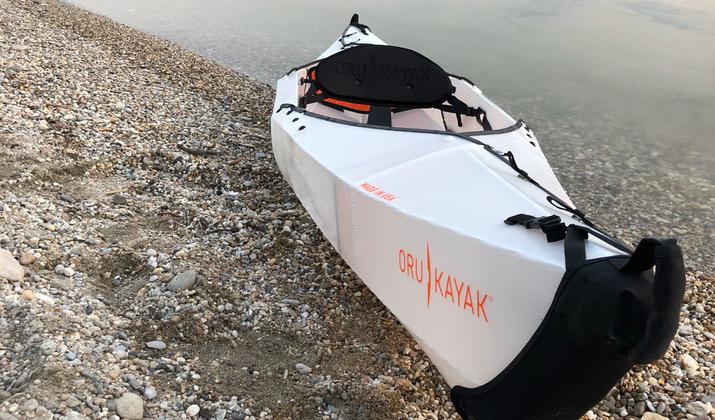 Photo by fivetonine via Shutterstock
What are Folding Kayaks?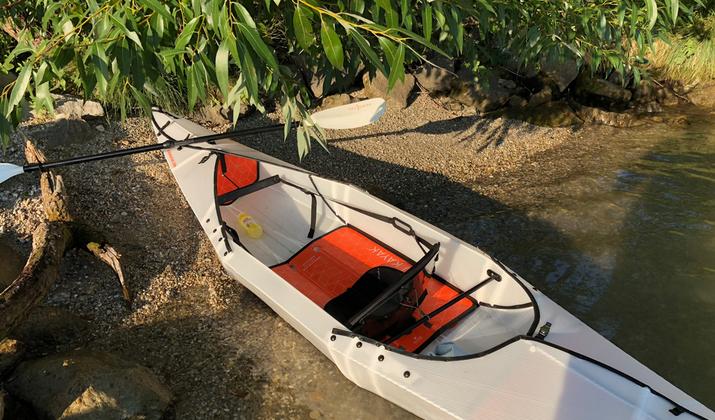 Photo by fivetonine via Shutterstock
Folding kayaks are exactly what they sound like. There are many different designs out there these days but they all have the same purpose. To fold up and store in a significantly smaller space than a recreational kayak would ever fit in.
The two kayaks are constructed with a thin, plastic-like material that can be folded without cracking or breaking. Other folding kayaks, however, are made of a wooden frame with waterproof skin stretched around it.
The latter style of kayak tends to be much more expensive than those made of plastic. They also require a bit more deconstruction. These kayaks even take more space than Oru, and Tucktec kayaks.
Both brands target beginners too which expands their audience further.
Still, all folding kayaks are better suited to kayakers that have similar challenges. These include lack of storage space, lack of ability to transport kayak on a vehicle's roof rack, or the need to travel to remote destinations.
So if you are struggling with one of those challenges, finding out more about folding kayaks is a good idea.
The Benefits of Folding Kayaks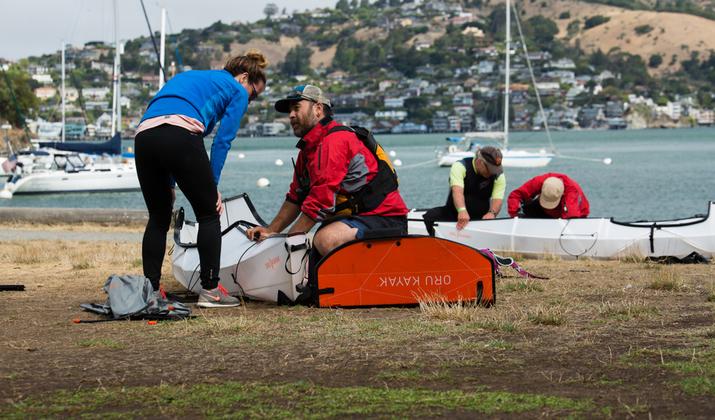 Photo by Geartooth Productions via Shutterstock
Many long-time kayakers worry about the ability of folding kayaks to perform as well as their old trusted touring kayaks. But with innovation and time, they are getting better. Here are some benefits of owning a folding kayak.
Storage Space
It all starts here with folding kayaks. Many of the original models were designed with urban dwellers in mind. How the heck are you supposed to get a 13-foot kayak up and into your third-floor apartment?
And because of the minimal height of most apartment parking garages, many are forced to take the chance of leaving their car on the street with a kayak strapped on top overnight. Those nights are always uneasy as you wonder whether or not your kayak will still be there in the morning.
Fortunately, folding kayaks solve that problem by packing up into a box. They can either be stored securely in your trunk or slung over your shoulder and carried up to your apartment. It hardly takes up more room than your work briefcase.
Also Read: Best Kayaks That Will Fit In A Car
Transportability
As mentioned, folding kayaks can be easily stored in the trunk of your vehicle. This means you don't have to shell out extra cash for a kayak roof rack once you've finally popped for your new kayak and realized you have no way to transport it around.
Folding kayaks also help folks with smaller sedans. They are not needed to upgrade their vehicle or awkwardly try to strap an oversized kayak to their vehicle that isn't designed to transport it.
Weight
The folding kayaks are lightweight when compared to traditional kayaks. This makes them suitable for smaller paddlers. They can also be handy in teaching children how to kayak. A lighter kayak also makes it easier to access boat ramps and launch points that require a bit of a hike from the parking area.
While you could always get a rolling kayak cart to help you in these cases, that's just another kayak accessory you will have to purchase. A folding kayak can eliminate the need to purchase by being easier to carry to harder-to-reach put-ins.
Setup and Assembly
While folding kayaks take more time to set up and assemble than regular sea kayaks, they compare well to inflatable kayaks on this front. Most take a maximum of 15 minutes to set up. Some require even lesser time than that.
You won't need to have a foot pump, hand pump, or electric pump to inflate one of these kayaks. This means less work to get your folding kayak set up for your paddle. This allows you to remove another kayak accessory from your kayaking checklist.
Tucktec Kayaks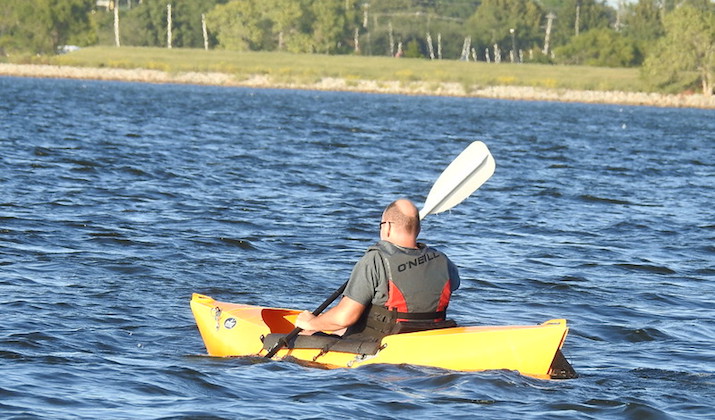 Photo by Andrew Penney Photography via Flickr
Tucktec hasn't pushed as much money into social advertising as Oru over the last few years, so they have somewhat flown under the radar. Still, they make good folding kayaks that suit certain purposes better than most.
About the Company
Tucktec is a family-owned and community-centered company based in Myrtle Beach, South Carolina. They take pride in constructing their kayaks in-house. This also includes the parts that go in kayaks. Though they source them locally when they can't manufacture themselves.
Folding Kayaks
Tucktec's folding kayaks are designed with the RVer, tent camper, or apartment-dweller in mind. They claim you can set up their kayak in just two minutes. You'll have a durable, hardshell design that is ready to paddle.
Their kayaks are made of high-density polyethylene material which is a solid eighth-of-an-inch thick. Each fold line is then reinforced with carbon fiber to reduce the likelihood of tears, splits, and punctures.
The material is rated to be folded thousands of times without cracking or breaking down. It is tough enough to hold up against impacts to rocks, trees, and other obstacles on the bottom of your favorite water body.
Every Tucktec kayak is manufactured to exceed US Coast Guard manufacturing and safety requirements. Each comes with its own unique hull identification number (HIN). You must register the number with the company for warranty purposes. This is also important from safety perspective if you ever need to be rescued.
The assembly of a Tucktec kayak only requires about six clamps. Each model is protected by a three-year warranty.
Here's a quick video on assembling a Tucktec kayak.
Other features of Tucktec kayaks include a retractable tracking fin, an adjustable footrest, a wide bottom for extra stability, an adjustable back support, and an open cockpit with plenty of legroom.
Tucktec Kayak Specs
At this time, Tucktec only makes a single folding kayak design. Though it is available in varying colors. Here are the specifications for Tucktec kayak:
Length: 10 feet
Width: 30 inches
Folded Size: 15" x 47"
Weight: 28 pounds
Maximum Capacity: 300 pounds
Oru Kayaks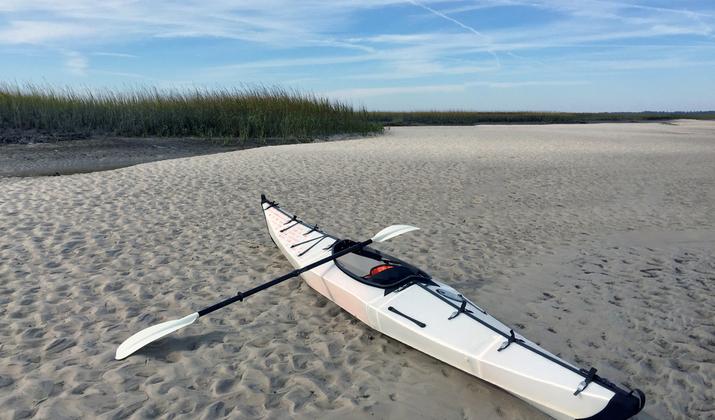 Photo by Joanne Dale via Shutterstock
If you follow any kayaking or paddlesports-related accounts on social media, the odds are pretty good that you have seen an advertisement of Oru Kayaks. They invest big on their marketing campaigns.
About the Company
Oru is headquartered in Emeryville, California. They came up in the San Francisco startup scene and now share a block with the likes of Pixar and a vintage race car shop.
Their team comes from all over the world, but they all share a passion for connecting their customers with their love for the water. In short, it is about a whole lot more than just selling some of the most innovative folding kayaks out there today.
Interestingly, they've tagged themselves the "original origami kayak".
Also Read: Best Oru Kayak Alternatives
Oru Kayak Models
Oru manufactures five kayak models that are designed for varying purposes.
Let's start by sharing the ideal paddling situation for each model. We will also discuss what their kayak designs have in common.
The Inlet: Ideal for beginners, paddling on calm lakes and/or slow-moving rivers. Their widest and, in many ways, most stable design.
The Beach LT: Great for casual paddling with family and friends. It boasts plenty of storage for all-day trips with a stop for a picnic lunch along the way.
The Bay ST: Made for long days on the water. Whether you're into fishing, backcountry kayaking, or want something to easily get to and from your sailboat, this is a nice option.
The Coast XT: Their most rugged expedition-style solo kayak. It's made to handle rough water conditions, surf, and wind while covering ground more efficiently. It also offers more storage space than others.
The Haven: This is the only tandem folding kayak in their arsenal. It is ideal for fishing, camping, or casual family paddling. You can also convert it for a single paddler if required.
For an in-depth comparison of these models, check out the table here.
What Do Oru Kayaks Have in Common?
While the length, width, weights, and carrying capacities of these kayaks are different, they share the basic construction process. All Oru kayaks are made with a custom-extruded polypropylene material.
The material is five millimeters thick and double-layered to provide extra rigidity. It is also coated with a 10-year UV treatment which helps in keeping the kayak intact for a longer time. The material doesn't break down even with prolonged sun exposure.
The anchor points that hold the kayak's shape once it is unfolded, have been reinforced to provide more structure. The aluminum cockpit latches have been bulked up for added durability.
Each Oru kayak can be folded and unfolded tens of thousands of times. The custom polypropylene material is strong enough to withstand rock bumps and drags onto a sandy beach without tearing or splitting.
Finally, all Oru kayaks can be assembled anywhere within three to 15 minutes. The longer models take a little longer to put together, but you'll get quicker the more you do it.
Here's a quick video on assembling an Oru kayak.
Oru Kayak Specs
As mentioned, Oru currently has five kayak models, if you don't count the Bay ST Black Edition. It is just the same as the normal Bay ST, but in black.
Here are the specifications for each Oru model.
Oru Inlet
Length: 9'8"
Width: 31 inches
Folded Size: 42" x 10" x 18"
Weight: 20 pounds
Maximum Capacity: 275 pounds
Oru Beach LT
Length: 12'1"
Width: 29 inches
Folded Size: 33" x 12" x 29"
Weight: 25 pounds
Maximum Capacity: 300 pounds
Oru Bay ST
Length: 12'3"
Width: 25 inches
Folded Size: 33" x 14" x 29"
Weight: 26 pounds
Maximum Capacity: 300 pounds
Oru Coast XT
Length: 16'2"
Width: 25 inches
Folded Size: 33" x 14" x 29"
Weight: 32 pounds
Maximum Capacity: 400 pounds
Oru Haven
Length: 16'1"
Width: 33 inches
Folded Size: 34" x 17" x 29"
Weight: 41 pounds
Maximum Capacity: 500 pounds
Check Out: Best Folding Canoes
Tucktec vs Oru – Which is Better?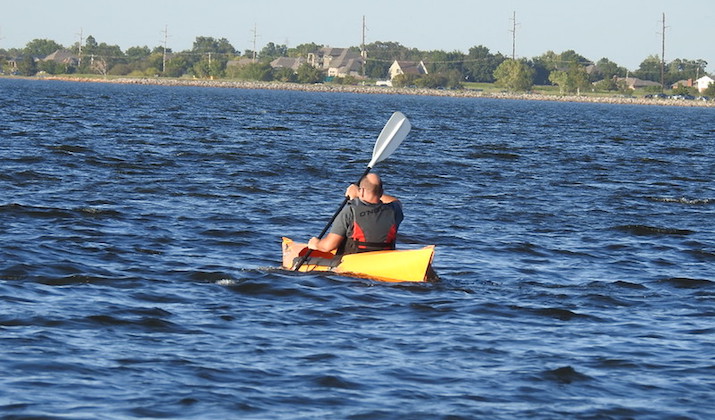 Photo by Andrew Penney Photography via Flickr
We finally get to the crux of the argument: which is better – Tucktec vs Oru kayak?
The short answer is…(drum roll please)…both!
Each of them have their applications that they'd prove better for. Not to mention the fact that some of you will be better suited to paddling one or the other based on your kayaking preferences.
Let's summarize this by providing a brief breakdown of the situations and types of padders that each of these folding kayaks would prove most useful for.
What is a Tucktec Kayak Best For?
Savings: You can get two and maybe even three Tucktec kayaks for less than the smallest Oru kayak model.
Adjustability: You'll have more ability to adjust your footrests and back support with Tucktec.
Assembly Time: Tucktec boasts a shorter average assembly time compared to all the Oru models.
Safety: Tucktec is recommended here as they include info about US Coast Guard requirements, along with a unique HIN for each kayak.
What are Oru Kayaks Best For?
Choices: You will be able to find a kayak that is specifically designed for the kind of paddling you do.
Storage Space: If you need room for extra kayaking gear, Oru kayaks are better.
Material Thickness: Oru = 5 millimeters (double-layered) Tucktec = 3.175 millimeters (⅛")
Long-Distance Performance: The Coast XT will outstrip any Tucktec kayak on a long-distance, multi-day kayak trip.
Tandem Paddling: The Haven is one of the few folding tandems out there.
There you have it. You can consider these pros and cons before making your decision.
Check online for any guide companies in your area that offer folding kayak rentals. You can also join a local kayaking or paddling group on social media. Do inquire in your group if anyone has a folding kayak for you to try.
The best part is that these folding kayaks can be easily resold in the market for nearly as much as you originally purchased it for. So if any of the aforementioned tips doesn't work, buy one and use it for sometime.
Final Thoughts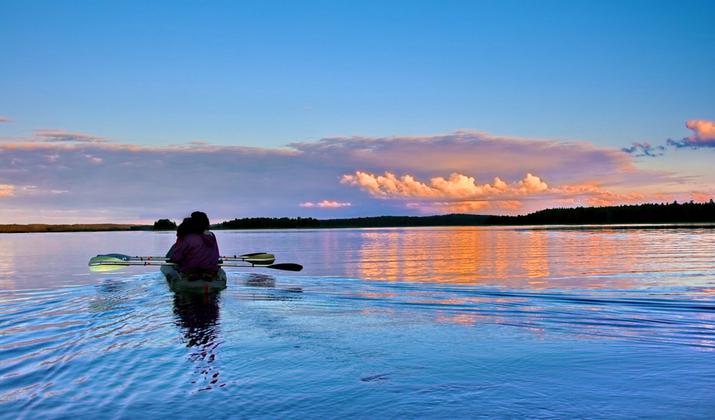 Photo by Olena Rublenko via Shutterstock
As you can see, both Oru and Tucktec are good and not so good in one or the other area. Which one is better depends on your requirements, budget, and other preferences.
Regardless of what you pick, we wish you the best and safe kayaking adventures with your folding kayak.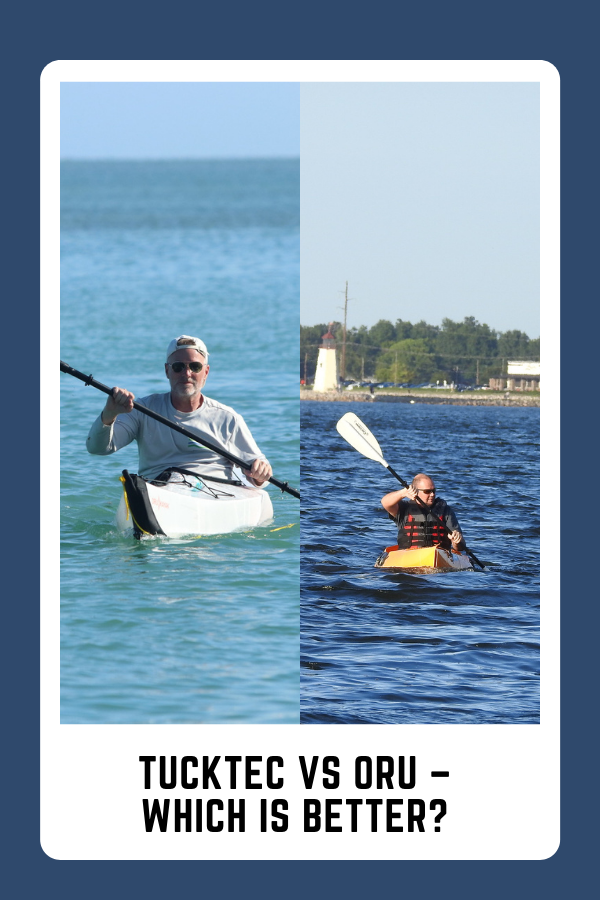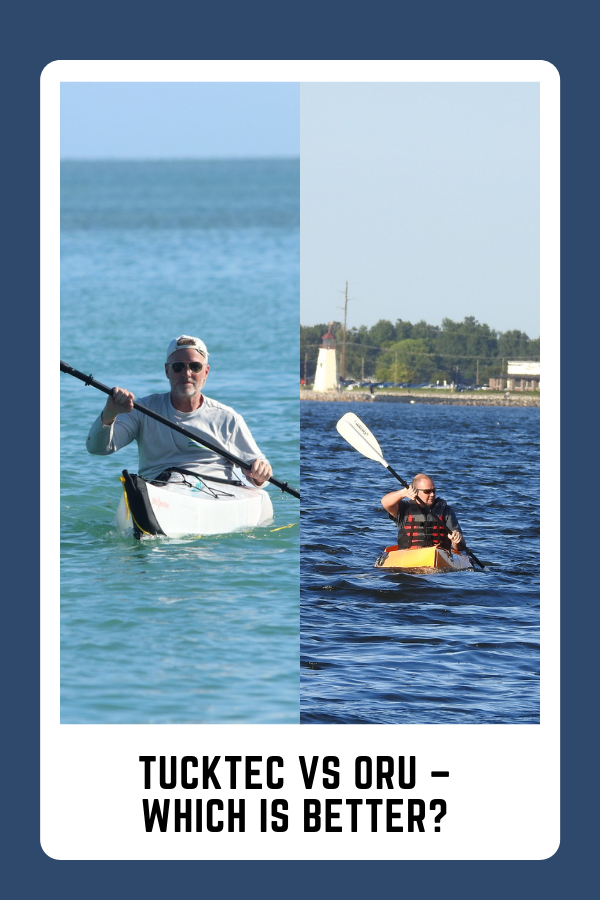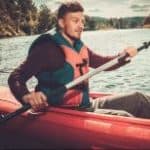 Author: Peter Salisbury
Pete is the Owner of KayakHelp.com. Born and raised in Cleveland, Ohio, he grew up kayaking, fishing, sailing, and partaking in outdoor adventures around the Great Lakes. When he's not out on the water, you can find him skiing in the mountains, reading his favorite books, and spending time with his family.