Heading up to Michigan during the summer will take you right into one of the best places for kayaking in the entire United States. The state has a lot to offer, so to narrow down your options you should be aware of the best kayaking trips in Michigan.
There are plenty of options for kayaking in Michigan on one of the Great Lakes, smaller lakes in the state's interior, and, of course, some of the best rivers to kayak in Michigan. That is to say, you'll have options.
Kayaking on the Great Lakes requires a little bit more preparation due to how quickly the conditions can change. Fortunately, we covered a lot of great tips for how to prepare in our complete guide to kayaking in Northern Michigan.
In this article, we are focusing on details on extended kayaking trips in Michigan. These trips require a little more planning than a casual day trip and they are geared for intermediate to advanced paddlers.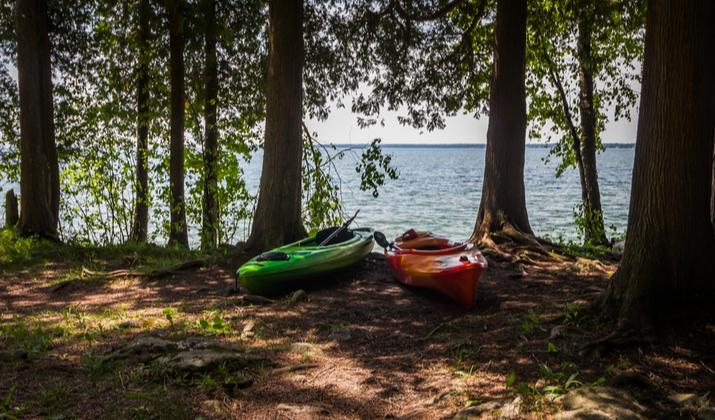 Photo by William Gottemoller via Shutterstock
Best Kayaking Trips in Michigan
Circumnavigating Grand Island National Recreation Area
Overnighting in Pictured Rocks National Lakeshore
Exploring The Au Sable River
Sunrise Trip Around Mackinac Island
A Pine River Multi-Day Expedition
The Two-Hearted River
The Crystal River Water Trail
Shiawassee River Water Trail
Tip of the Thumb Heritage Water Trail
Dowagiac River Water Trail
Best Kayaking Trips In Michigan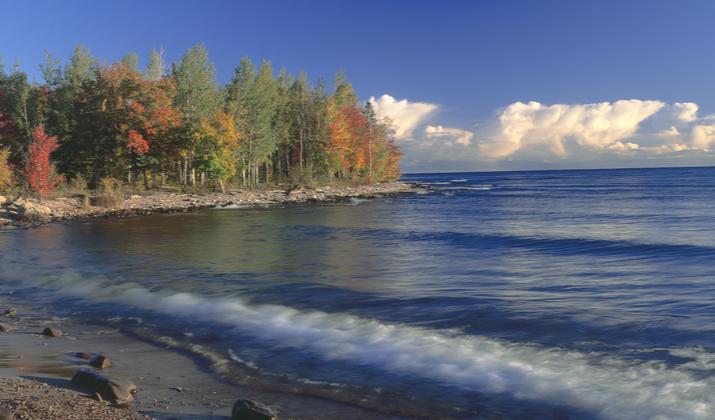 Photo by Joseph Sohm via Shutterstock
Starting in the Upper Peninsula, Grand Island is a lesser-known attraction that is actually not too far from the acclaimed Pictured Rocks National Lakeshore. The town of Munising will be your basecamp for this paddle adventure on Lake Superior.
To provide a little more overview, Grand Island National Recreation Area is about a half-mile offshore from the mainland town of Munising. There are private ferries that head out there, sure, but the paddle is an enjoyable one as long as you judge the weather correctly.
The island's perimeter measures roughly 30 miles in circumference, which makes it perfect for a two to three day kayaking adventure. While large sections of the island are inaccessible due to high cliffs, there are campsites in bays and low-lying areas throughout.
That means you will need to plan your trip according to your camping locations, which is where having that extra day and night can come in handy. Plus, there's a lot to explore on the island on foot if you want to leave your kayaks parked securely on the beach for a day.
Summer is the best time to plan an adventure around Grand Island, as you're most likely to get the best weather during this time of the year. Still, Lake Superior can see large waves and strong winds throughout the year, so make sure you're checking the weather before and during your trip.
You should also consider filing a float plan with the US Coast Guard Station in Munising before leaving for your trip. Campgrounds on the island can be reserved on Recreation.gov and there is a $5 day-use fee if you're just heading out for the day.
2. Overnighting in Pictured Rocks National Lakeshore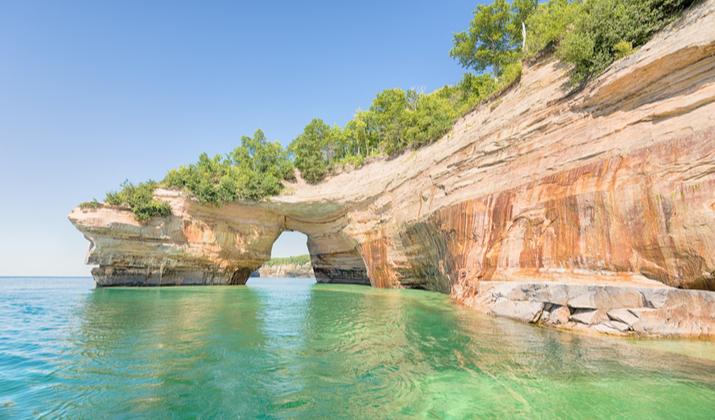 Photo by Steve Lagreca via Shutterstock
Pictured Rocks National Lakeshore is arguably the most iconic paddling destination in the entire state of Michigan. There are plenty of guided day trips that explore the cliffs and beaches along this section of lakeshore, but going for an overnighter will open your eyes to other opportunities.
There are several locations to launch for a paddle along this stretch of lakeshore, but Miner's Beach is one of the most popular. It is also used by many of the area's local guide companies, which means you might be able to pick up some last-minute advice as you're packing your sea kayak for a camping trip.
If you want a really mellow paddle and prefer more time lounging on the beach or hiking along the park's trails, the first campsite you could paddle to is the Mosquito Beach Campground. Mosquito Beach is roughly a 2.5-mile paddle from the northeastern end of Miner's Beach.
If you're looking for something a little more adventurous than that, there are park campgrounds located at Beaver Creek, Pine Bluff, and Sevenmile and Twelvemile Beaches. The best place to get more information on these campsites and to check campground availability is on the National Park's website or Recreation.gov.
That said, those campground locations would be roughly 11 miles, 12.1 miles, 16.2 miles, and 18.75 miles, respectively. So you can see how it would be possible to do a multi-day out-and-back kayaking trip along this stretch of shoreline as well.
Just keep in mind that these are also popular campsites along the acclaimed North Country National Scenic Trail. So you'll be competing with backpackers to reserve what campsites are available along this pristine stretch of Lake Superior shoreline.
3. Exploring The Au Sable River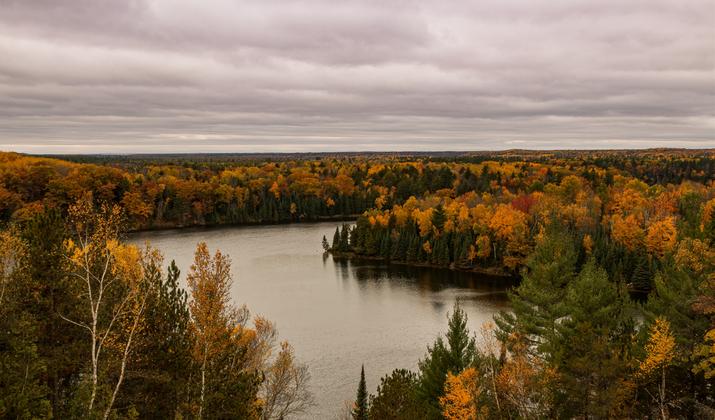 Photo by Paul Massie Photography via Shutterstock
The Au Sable is a long river running roughly east to west in the northeastern part of Michigan. If you think of the state like the back of your left hand, it would be located about where you'd find the middle knuckle on your index finger.
The headwaters of the Au Sable start near the junction of Kolka and Bradford Creeks in the middle of the "mitten." From there, it flows through the towns of Grayling and Mio before entering Lake Huron near the town of Oscoda.
In total, the river runs 138 miles and there are numerous riverfront campsites you can reserve for a multi-day kayaking trip. Some sites can also be accessed by car if you want to use them as your starting or ending location.
In a state that's already known for its exceptional water quality, the Au Sable takes this to a new level. This river is also one of Michigan's best coldwater fisheries if you want to take your stable fishing kayak for a spin down the Au Sable.
Brown trout are one of the most sought-after fish species in this river, which also lends itself well to those of you with fly fishing kayaks. Even if you don't fish, there are plenty of attractions of cultural and historical significance along this beautiful river.
4. Sunrise Trip Around Mackinac Island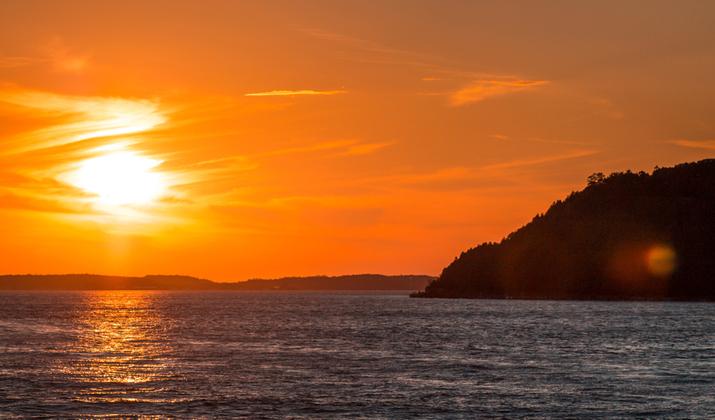 Photo by Michael Deemer via Shutterstock
Mackinac Island is a destination worth visiting whether or not you're going to head out onto Lake Huron or in the Straits of Mackinac. If you do head up there, it's worth getting up early to experience sunrise from the water.
While the island's full-time population is less than 500 people, folks flock here in the thousands during the summer months. So be prepared to deal with some crowding and plan your kayak rental in advance if you need one.
Avoiding crowds is one major benefit of getting on the water for sunrise, however. The island's circumference is roughly eight miles, which makes it doable for a day trip if you want to get up early, enjoy the sunrise with a hot beverage in your favorite camping mug, and then continue exploring the shoreline for the better part of the morning.
There are guided two-hour tours that take you out for sunrise and teach you about local information if you don't want to paddle around the whole island. Plus, these tours get you back to shore just in time for a healthy breakfast.
There are also plenty of natural attractions to see around the island, including Arch Rock, Fort Mackinac, Devil's Kitchen, and Sunset Rock if you want to paddle over at the opposite end of the day.
Plus, it's only a short paddle over to Round Island if you want to check out the lighthouse over there and extend your trip a bit. Always be aware of the weather before making that crossing, however, and make sure to file a float plan with a local authority.
Photo by Cory Hart via Shutterstock
Located in Gratiot County, the Pine River is a great location for a multi-day paddling trip in Michigan. While the river itself flows for a total of roughly 54 miles until it feeds into the Manistee River, the Pine River Water Trail is about 30 miles in length.
Some sections of this river feature great paddling for whitewater kayakers, but others are mellow enough for recreational kayaking or canoeing. Those mellow miles wind through open fields and floodplain forests in the "pinky-knuckle" region of the state–a little over an hour south of Traverse City.
Lumberjack Park is the location of the start of this water trail and it ends around the town of Alma. Spring and fall are the best times to attempt a long-distance paddle on this water trail, but portages may be required year-round as a result of falling logs or other obstructions.
Depending on where you want to start and end your adventure, Peterson Bridge Campground and Lincoln Bridge State Forest Campground are two of the best camping options along this stretch of the Pine River.
6. The Two-Hearted River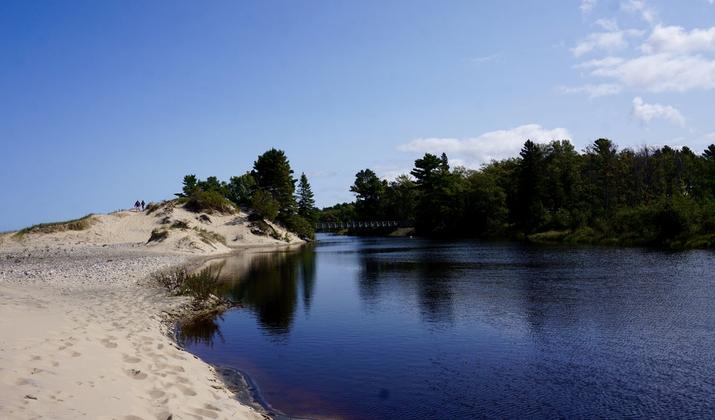 Photo by shafa1121 via Shutterstock
This kayaking trip in Michigan will take you to a river whose name gained incredible fame after being mentioned in a poem written by Ernest Hemingway. The river offers 30 miles of serene paddling and beautiful natural scenery.
Despite what might be a misleading name, this river is very gentle and it's a great choice for beginners. There may be a few small portages required if you try to paddle the entire 30 miles, but they are relatively short and manageable.
The Two Hearted River is located in the eastern part of the Upper Peninsula and eventually drains into Lake Superior. The headwaters begin roughly 15 miles southeast of the town of Grand Marais.
The length of time that is required to paddle the river's 30 miles can vary greatly depending on the portage lengths. Flow rates at different times of the year make conditions very different from spring into fall.
So, it is recommended to undertake this kayaking trip when you don't necessarily have to stick to a hard timeline. That will allow you to meander, enjoy the breathtaking views, and use as much time as you need to portage around impassable sections.
7. The Crystal River Water Trail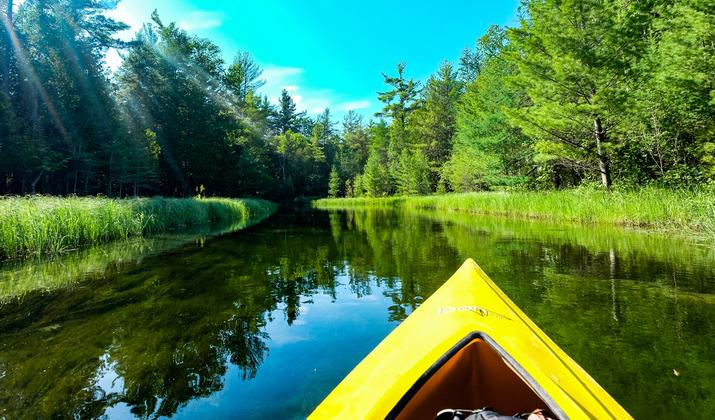 Photo by backpacker79 via Shutterstock
Originating in Glen Lake, the Crystal River flows through gorgeous sections of Sleeping Bear Dunes National Lakeshore before emptying into Lake Michigan. This is one of the few destinations on this list that is well-suited for a day kayaking trip if you're staying in the area.
The nearby town of Glen Arbor is the perfect basecamp for a trip on the Crystal River, but there are plenty of places to camp in the national lakeshore as well. There are also plenty of outfitters in the area if you need to rent a kayak or other paddling gear.
If you intend to launch your own kayak, one of the best places to do so is just off Fisher Road near its intersection with Dunns Farm Road. Most of the nearby outfitters will also shuttle you and your gear to this launching location, for a fee.
There are no hiking trails along this river, which means that kayaking or canoeing are the best (and only) ways to experience it. You'll likely see numerous different species of waterfowl, as well as otters and spawning salmon.
This casual stretch of river is also a paddler's dream if you like to do some wildflower viewing along your way. The banks are often lined with ferns, water lilies, orchids, and red cardinal flowers.
Historically speaking, there was a time when the banks of this stretch of the Crystal River were nearly turned into yet another luxury golf course in the region. Through foresight, hard work, and determination, it was eventually preserved as a glorious part of Sleeping Bear Dunes.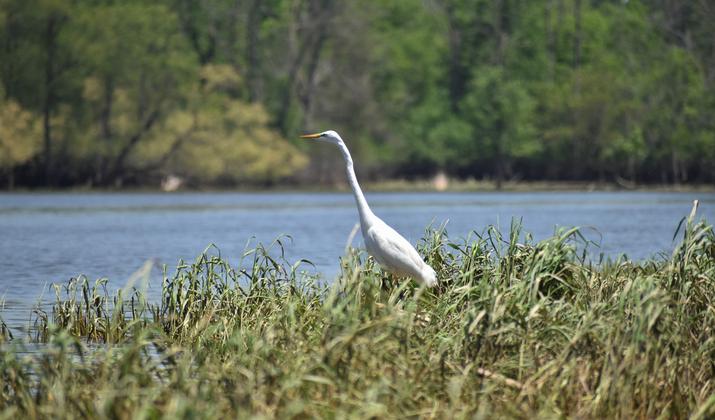 Photo by Lester Graham via Shutterstock
The Shiawassee River Trail offers something for paddlers of all skill levels–from novices to experienced kayakers. The river's relatively gentle current even makes it possible to paddle upstream at certain sections.
This makes it a great choice if you want to avoid having to stage vehicles at two points for drop-off and pick-up locations. You can start from one place, paddle upriver for several miles, and then casually float back down as you enjoy a beautiful day in the sun.
The cool part about this river is that it flows through various lakes and ponds throughout its journey. That means you'll go from paddling through narrow stretches of moving water to exploring more open regions of flatwater that offer excellent fishing habitats.
There are even swampy fen-like regions that are protected wetlands within the Shiawassee National Wildlife Refuge. These regions are formed by the presence of underground alkaline springs and they provide critical habitat for rare species of turtles, bats, and insects.
Along its northward journey, the river's scenery changes dramatically. What starts as a river lined with low banks, shaded tree hammocks, and wildlife often several feet away eventually morphs into steep river banks with towering cliffs as you glide closer to the river's confluence with the Saginaw River.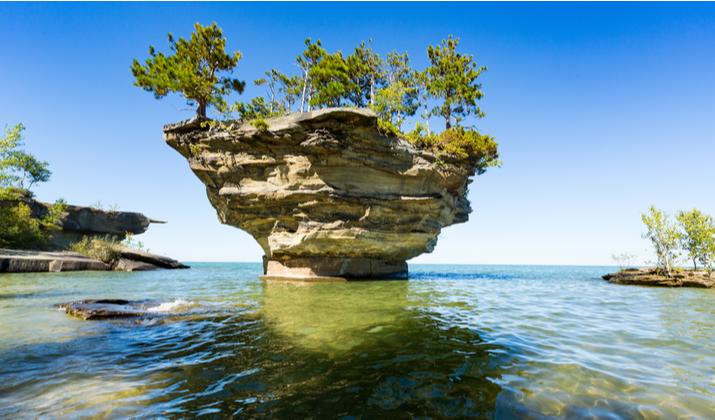 Photo by Craig Sterken via Shutterstock
This kayaking trip will take you to the quaint town of Port Austin at the tip of Michigan's thumb. There's a lot of history of some of the earliest sailing endeavors around the thumb in this area, so be sure to stop into town on your journey.
The Port Austin Light Station is a unique attraction in this area in its own right, and you can only reach it by water. It's not the easiest paddle as it can become very unprotected if even mild winds come up.
That being said, the Heritage Trail keeps you closer to the shoreline to explore mind-blowing natural attractions like Turnip Rock (featured above). Overall, the trail covers 103 miles and includes much of Saginaw Bay.
The trail is broken into northern and southern sections, depending on exactly what you'd like to explore. The northern section starts at White Rock Park and heads north and around the thumb before terminating at the public access ramp at Quanicassee Park.
The southern section of the trailheads the other direction from White Rock Park and works its way down the shoreline to the city of Lexington. Because there are 44 different water access points along the trail, this is a great kayaking trip for exploring as much (or as little) of this part of Michigan as you want.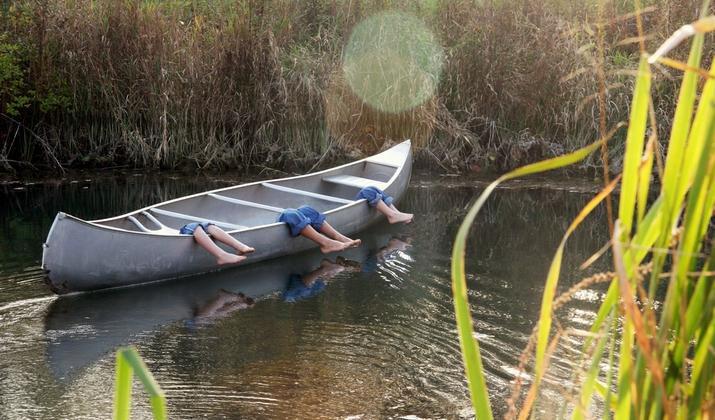 Photo by Rachel L. Sellers via Shutterstock
The Dowagiac River is one of the most southern rivers in the state of Michigan. In fact, the mouth of the river where it flows into the St. Joseph River is less than six miles from the border of Michigan and Indiana.
It is a moderate to swift-flowing river that is a great option for intermediate to advanced whitewater paddlers. It also happens to be the largest coldwater river system in southern Michigan.
Trees and wetlands are the commonplace environments along the river's banks, and you can hope to see plenty of wildlife along your paddle. Fishing is also a sport of choice on the Dowagiac if you have one of the best river fishing kayaks.
Brown trout is typically the fly fisherman's choice on the Dowagiac, but the river is also known for its steelhead and salmon runs at certain times of the year. The condition of the river itself, however, is always changing and requires plenty of research before attempting this kayaking trip.
The put-in is located just north of the town of Dowagiac and you can explore take-out options where the river meets the St. Joseph near the town of Niles. There is a river access site along M139 north of Niles that offers the final take-out point before entering the St. Joseph River.
Final Thoughts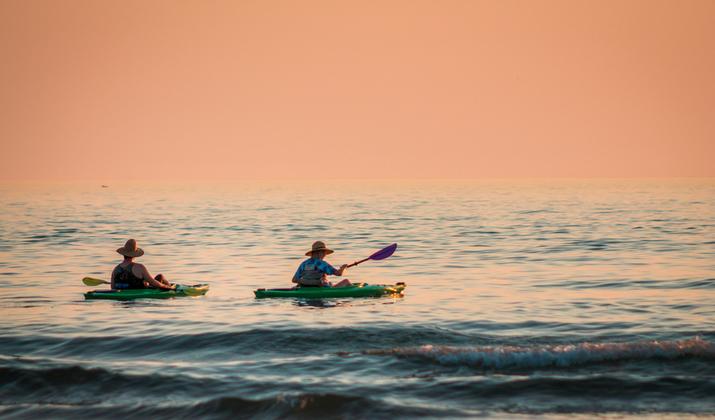 Photo by Michael Deemer via Shutterstock
Michigan is a unique place to kayak thanks to an abundance of freshwater lakes and free-flowing rivers. Skills like knowing how to portage a kayak might come in handy on some of these trips, but you'll enjoy clean water and magnificent natural scenery wherever you choose to go.
We hope you've enjoyed this collection of the best kayaking trips in Michigan and we wish you the best of adventures on your next trip!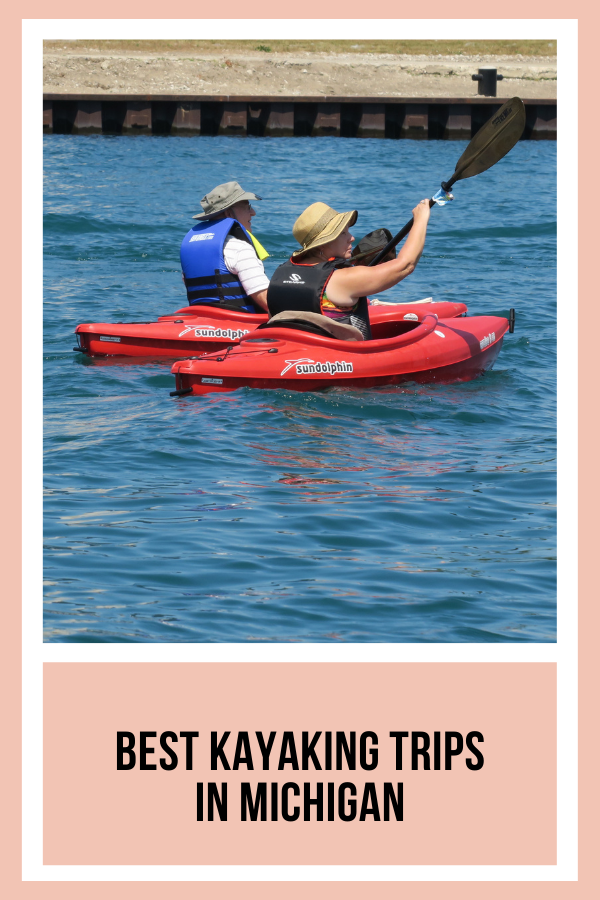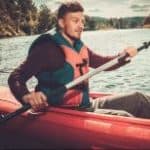 Author: Peter Salisbury
Pete is the Owner of KayakHelp.com. Born and raised in Cleveland, Ohio, he grew up kayaking, fishing, sailing, and partaking in outdoor adventures around the Great Lakes. When he's not out on the water, you can find him skiing in the mountains, reading his favorite books, and spending time with his family.