When you're pregnant, a lot of things go out the window for the sake of the baby. You can no longer go on roller coasters, shoot down a water slide, eat sushi, drink alcohol or caffeine, or enjoy a soak in a hot tub, and that's just scratching the surface.
If you love kayaking or you're thinking about taking it up, you might be wondering if it's allowed or prohibited now that you're carrying a baby.
This post is going to answer all your questions about kayaking when pregnant so you can make an informed decision and stay safe if you do venture out on the water.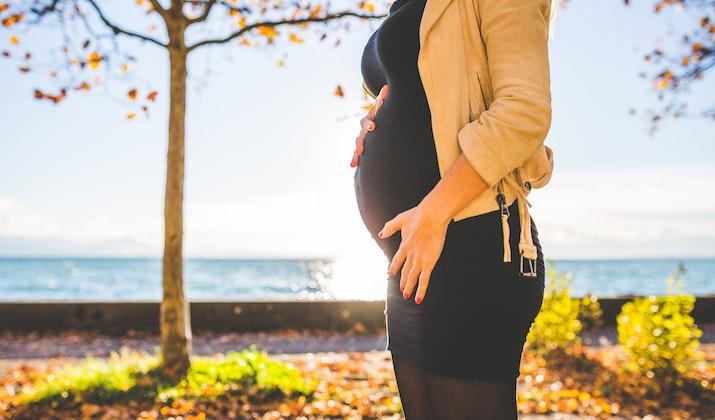 Photo by Negative Space
Can you kayak during pregnancy?
Photo by Brooke Lewis
Yes, you absolutely can. Pregnancy is not an illness, so it doesn't prevent you from having fun or engaging in outdoor water activities like kayaking. If you were the kind of person who liked to stay active before you got pregnant, it's okay for you to continue being active for the duration of your pregnancy as long as you have your doctor's okay.
The only thing that matters in these situations is how you are feeling and what your healthcare provider says. Be sure to check in with your doctor to address any concerns you might have before going kayaking.
If you're taking any medication, especially the kind that can cause dizziness, nausea, or affect blood pressure, ask your doctor about it so they can tell you how to monitor your condition and care for yourself when out on the water. Once your doctor gives you the go-ahead, feel free to start planning your kayaking adventure.
Is it safe to go kayaking while pregnant?
Although every pregnancy is different, it is generally safe to kayak while pregnant. There are several factors that you and your doctor will need to take into consideration to figure out whether it's safe for you to go paddling during your pregnancy. These factors include:
Your stage of pregnancy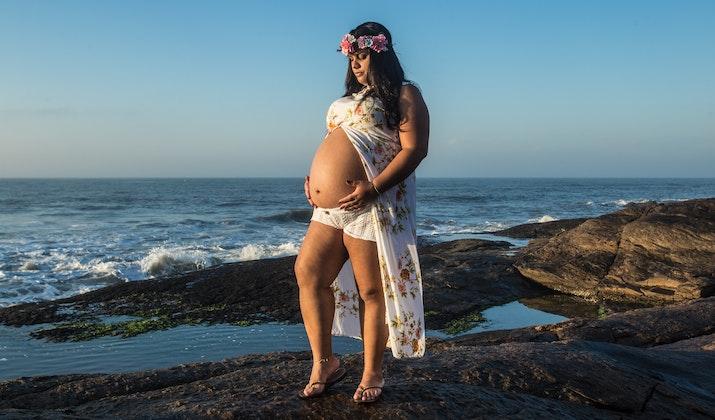 Photo by Gabriel Lara
Depending on how far along you are in your pregnancy, you might need to take extra precautions when kayaking or hang up your kayak paddle until the baby arrives. Doctors usually recommend avoiding heavy or strenuous physical activities after the second trimester, especially if you were not very active before you got pregnant.
Kayaking is a tad physically demanding and it may not be a good idea to be lugging around a kayak to and from the water when you're heavily pregnant. During the first tr
Where's the fun in being out on the water if you're going to be sick and throwing up the whole time? Also if you're still early along in your pregnancy—in the first or second trimester—it may be easy for you to find a life jacket or personal floatation device (PFD) that fits well.
But during those last few weeks when your bump is much bigger, it might be harder to find a good-fitting PFD. And without a PFD, it's not advisable to go kayaking because you might end up drowning if you fall into the water.
The type of kayaking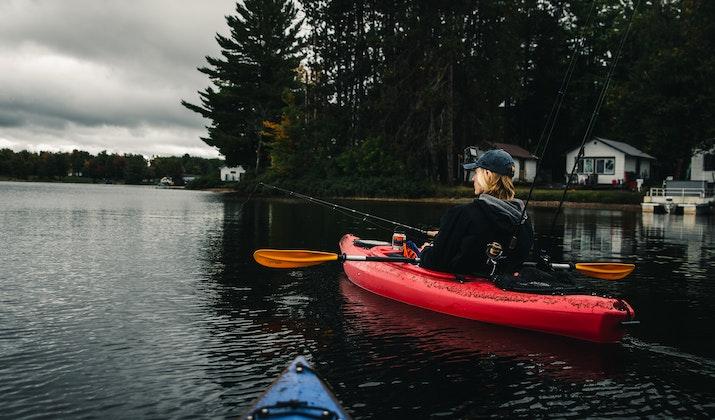 Photo by Harrison Fitts
Some types of kayaking—whitewater kayaking, for instance—are more strenuous and dangerous than others even for people who aren't pregnant. If you intend to go kayak fishing or do some recreational kayaking in calm, smooth waters, then it's perfectly safe.
But if your plan is to head for choppy waters with intense rapids, that might not be a good idea because of the risk involved. You may not be able to maintain the same balance, center of gravity, or roll as easily as before which could make whitewater paddling even trickier.
When you're paddling water bodies with rocks, falls, floating logs, fast-moving waters, and roiling waves, you can easily be knocked off your kayak and fall hard into the water or onto a rock. If this happens, your condition may make it difficult or even impossible to get back into your kayak. Even if you're an excellent swimmer, the harsh, unpredictable currents of whitewater can overwhelm your abilities and cause you to drown.
You could also be at risk of hypothermia if you end up in the water and your body temperature drops drastically, posing a threat to your life and that of your unborn child. Whitewater kayaking can also increase the risks of falls and bumps to your midsection, which could put your pregnancy in jeopardy.
So while planning your kayaking trip, scout for slow-moving waters that are free of obstacles and stay away from whitewater activities in the meantime.
Your health history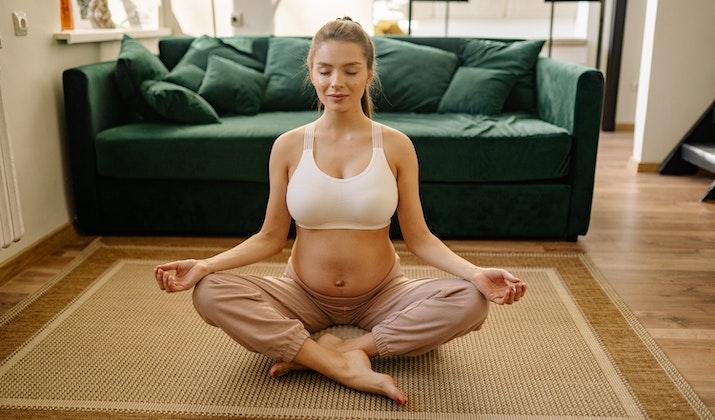 Photo by Yan Krukov
If you do not have any health issues, it's probably safe for you to kayak during pregnancy. However, if you have a high-risk pregnancy, it is best to give up kayaking and other physically demanding activities to prevent complications. Some examples of situations where you may need or be directed to "slow down" and not kayak until after your baby is born include having:
A weak cervix
Motion/morning sickness
History of premature birth or miscarriage
Multiple pregnancies (you're having more than one baby)
Pre-existing medical conditions like diabetes, low blood pressure, heart issues, etc.
Tip: If and when you go paddling, make sure you keep an eye on your temperature to avoid overheating. It's also important to monitor other pregnancy complications such as muscle cramping. If you experience this, stop paddling right away and get away from the water for at least 15 minutes before resuming your trip.
Are there any health benefits of kayaking during pregnancy?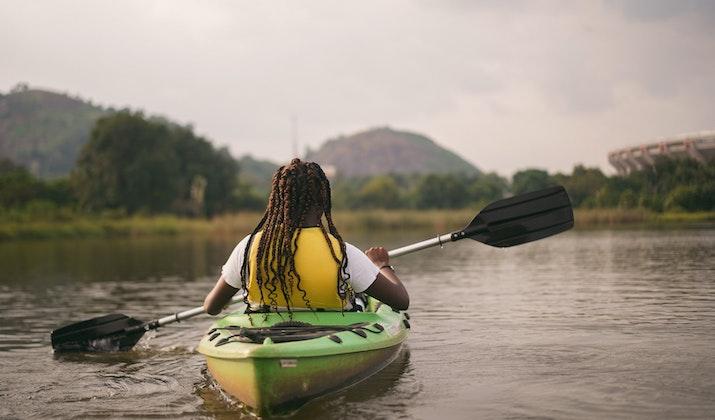 Photo by Oladapo
Yes, kayaking is a good way to get some exercise without putting too much stress on your body, especially your legs and feet which might be swollen and aching because of the pregnancy. You can sit down, take the weight off your lower body, and stay active all at the same time.
Paddling a kayak is a cardio and strength training activity so it will get your heart rate up while working the muscles in your upper arms, shoulder, back, and chest. Other benefits of being out on the water in a kayak while expecting include:
1. Improved mood and energy levels
Pregnancy not only affects the body, but it also affects your mental and emotional health. It can make you feel anxious, stressed, and even depressed, which is why you need to actively seek out opportunities to relax, clear your head, and boost your mood.
Mood-boosting activities that you can engage in include getting ample sunlight, spending time in nature, and exercising. Kayaking allows you to do all these things at the same time.
Paddling helps your heart beat faster and opens up your lungs as well as the blood vessels in your muscles, resulting in improved circulation, increased metabolism, and the release of endorphins. You will feel a burst of energy and a sense of relaxation.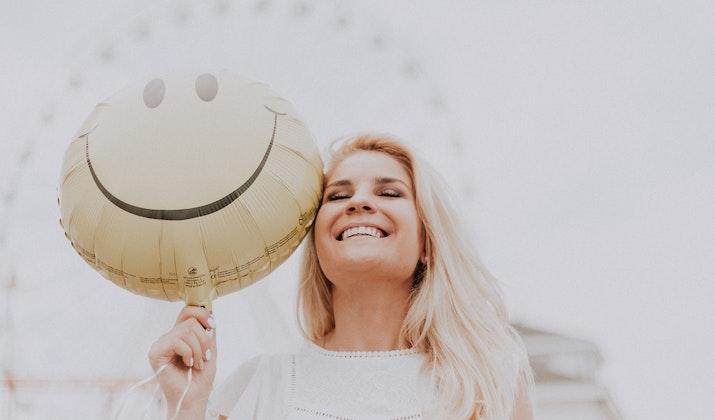 Photo by Julia Avamotive
2. Reduced pregnancy discomfort
From back pain to swollen joints, bloatedness, and headaches, pregnancy is full of discomforts that can leave you irritable and in pain.
Kayaking can be very effective in minimizing these symptoms by loosening and strengthening your muscles and reducing swelling. Don't be surprised if you find yourself feeling more comfortable and able to sleep better after a few rounds of paddling.
3. Increased stamina
Pregnancy is physically demanding and exercising regularly can help you build up your endurance and better manage the stress of growing a baby inside you. It takes effort to glide a paddle in and out of the water and cover the distance from one point to the other.
The more you do it, the greater your stamina will be, the longer the distance you can cover in a shorter amount of time, and the less exhausted you'd be after a day of paddling.
Kayaking can help boost your endurance levels in this way and prepare you for labor and delivery by improving your stamina, strengthening your pelvic floor, and minimizing back aches.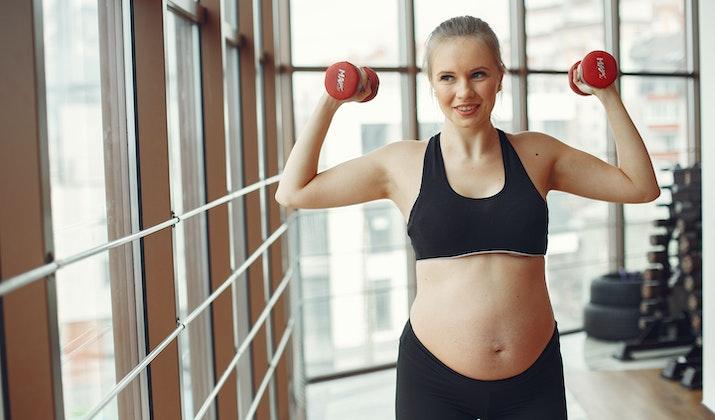 Photo by Gustavo Fring
4. Lower risk of gestational diabetes
There's a chance that you may develop diabetes for the first time when you get pregnant. Gestational diabetes impacts how your body processes glucose and can lead to high blood pressure which poses a risk to your pregnancy and the health of your unborn child.
Although your blood glucose level will typically return to normal after your baby arrives, getting gestational diabetes makes you more likely to develop type II diabetes in the future. This means you will need to keep an eye on your blood sugar level by getting check-ups regularly after giving birth.
You can reduce your risk of getting gestational diabetes and reduce its effects if you do get it by taking medication, eating healthy, and engaging in regular physical exercise like kayaking.
5. Calorie burning and weight management
It's normal to gain weight during pregnancy, but you also want to be careful about how much weight you gain. Too little or too much weight gain can be problematic.
Not gaining enough weight can lead to babies being born prematurely or with low birth weight, while excessive weight gain can result in fetal macrosomia, gestational diabetes, gestational hypertension, c-section births, and premature babies.
Kayaking as a form of exercise is a great way to maintain a healthy weight gain range during your pregnancy. With just one hour of leisurely paddling, you can burn up to 350 calories.
Are there any risks of kayaking while pregnant?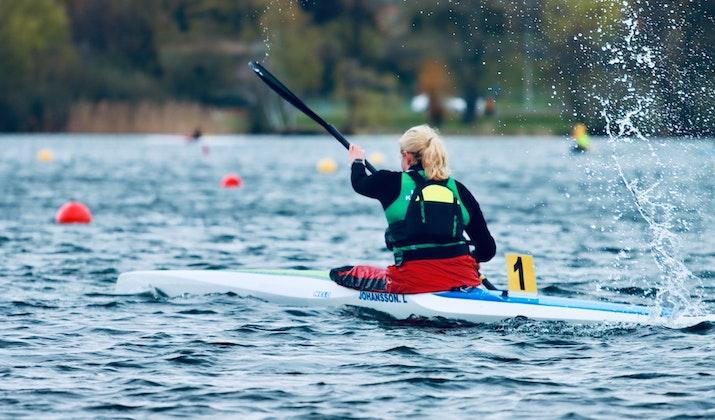 Photo by Efrem Efre
There are some risks associated with doing any physical activity while pregnant and kayaking is no different. There's the risk of falling or being thrown off your kayak, but this can be avoided or greatly minimized by not paddling in rough, rocky, or fast-moving waters.
Other common kayaking risks include exhaustion, dehydration, and heatstroke. You can sidestep these risks by staying hydrated, wearing loose and breathable clothing, and not pushing yourself too hard.
Also, fatigue, morning sickness, and the extra weight you've gained might prevent you from maintaining your balance or reacting as quickly as before when something happens.
What type of kayak should you use when pregnant?
Photo by Patrick Case
The kayak you use can make or hinder your kayaking experience. But with so many different shapes, styles, and sizes available, how do you choose the right type of kayak for your growing belly? You want a kayak that will give you more freedom of movement, make you feel comfortable, and allow you to adjust your seat and foot braces as needed.
For these reasons, you'll be better off going for sit-on-top kayaks rather than sit-in kayaks when pregnant. Sit-on-top kayaks make it easier for you to get on and off your kayak by yourself, without requiring assistance. They also offer better support and are more stable than their sit-in counterparts.
What's more, sit-on-top kayaks come with backrests and adjustable seats and footrests, allowing for a more comfortable and relaxing float trip. But if you prefer sit-in kayaks or have no other option available, be sure to bring along a buddy to help you get in and out of it.
If you already own a kayak, you don't need to buy or rent a new one just because you're pregnant. It's perfectly okay to keep using your old one as long as you are still within the kayak weight limit when you factor in your pregnancy weight.
What precautions should you take when kayaking while pregnant?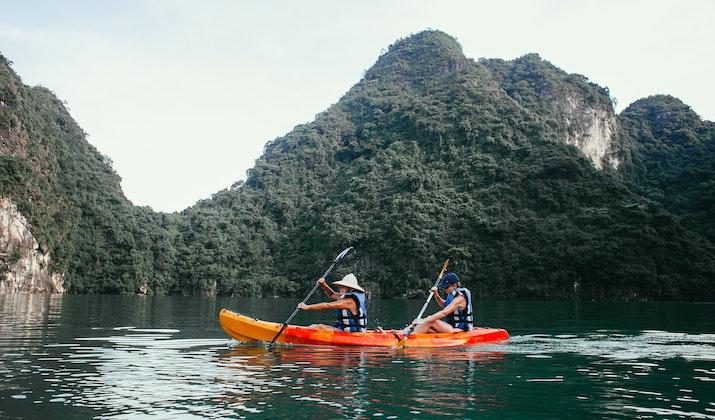 Photo by Rachel Claire
While there's little harm in kayaking when pregnant if you are in good health and you have a low-risk pregnancy, there are still measures you need to take to ensure the utmost safety of you and the child growing inside you.
1. Wear a personal floatation device (PFD)
Never go out on the water without a personal floatation device, even if you aren't pregnant. Your life jacket can keep you from drowning and help you get out of the water quickly if you end up falling in. Make sure your personal flotation device is the right size for you. You want it to be snug and secure, but not so tight that it restricts your breathing or movement.
2. Opt for calm, slow-moving currents
You can bask in nature's beauty and have loads of fun kayaking without putting yourself or your baby in danger. Don't be tempted to go chasing the thrill of tempestuous rapids because things can go awry really fast. Stick to shallow, peaceful waters with smooth currents and minimal obstacles, and save whitewater kayaking for after your baby comes.
3. Use sun protection
Soaking in the sun can help uplift your mood, but you don't want all the harmful rays being absorbed by your skin without protection. Always apply a generous amount of sunscreen—at least SPF 30—on your skin before venturing out and reapply every two hours when you're on the water.
4. Listen to your body
Even if you were an award-winning kayaker before, being pregnant might slow you down a little. It's normal and it'll be over soon. In the meantime, pay attention to your body's cues while you're kayaking and take action immediately to alleviate symptoms before the situation deteriorates.
5. Know your personal limitations
You know your fitness level better than anyone. You don't have to prove anything to anyone including yourself by trying to push yourself harder than you're used to. Don't go on trips meant for advanced paddlers if you're just a beginner or slightly experienced kayaker. If you feel yourself getting tired, stop and rest or call it a day.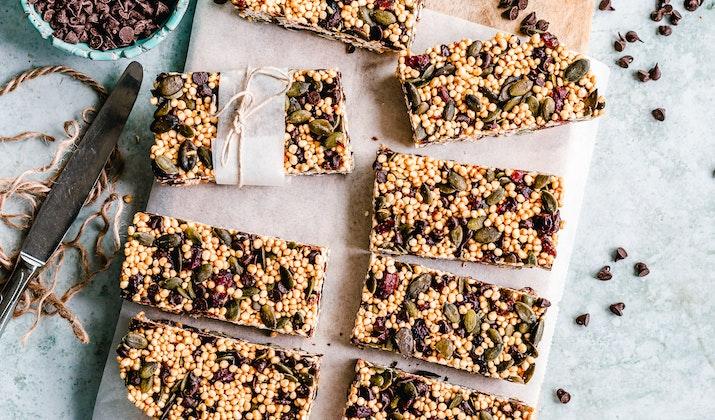 Photo by Ella Olsson
6. Pack enough water and snacks
Your body is already using up more calories during pregnancy and kayaking will force it to burn even more energy. This means you need to eat enough before heading to the water and bring along extra float trip food to keep hunger at bay and your energy levels up while kayaking. Be sure to bring bottles of water and juices with you to stay properly hydrated during your trip.
7. Monitor the weather forecast
As you're planning a kayaking excursion, don't forget to monitor weather forecasts so you don't get caught up in a surprise storm that turns a pleasant trip into a life-threatening situation. Checking the forecast will also help you plan and dress appropriately for the weather and water temperature.
8. Avoid areas with heavy boat traffic
When choosing kayaking destinations, opt for spots that don't have a lot of boat traffic. If you're sharing the water with large boats or too many kayaks, you can easily get hit, pushed into unfamiliar waters, or knocked over by waves, and get seriously injured. Heavy traffic will also make it harder for you to be noticed. So if something happens to your boat, people might not see you and help won't come as quickly.
9. Paddle with a partner
Going kayaking with someone else can make the experience safer and less demanding for you. You can use a tandem kayak that allows both you and your partner to paddle. This way you don't have to be stranded in your kayak alone if you get too exhausted to paddle back. Your partner can also help with carrying the kayak to and from the water, and act as a rescuer if you fall off the boat.
10. Kayak close to shore
For safety reasons, it's better to kayak near the shoreline, especially if you are paddling alone. It will be easier for you to swim to land or get help if something happens to your kayak, so you won't have to worry about being stranded out in open water.
Conclusion
Kayaking is a healthy form of exercise that you can do when pregnant. As long as you have your doctor's approval and you take all the necessary precautions before and during your trip, there's no reason why you can't enjoy a relaxing day outdoors on the water.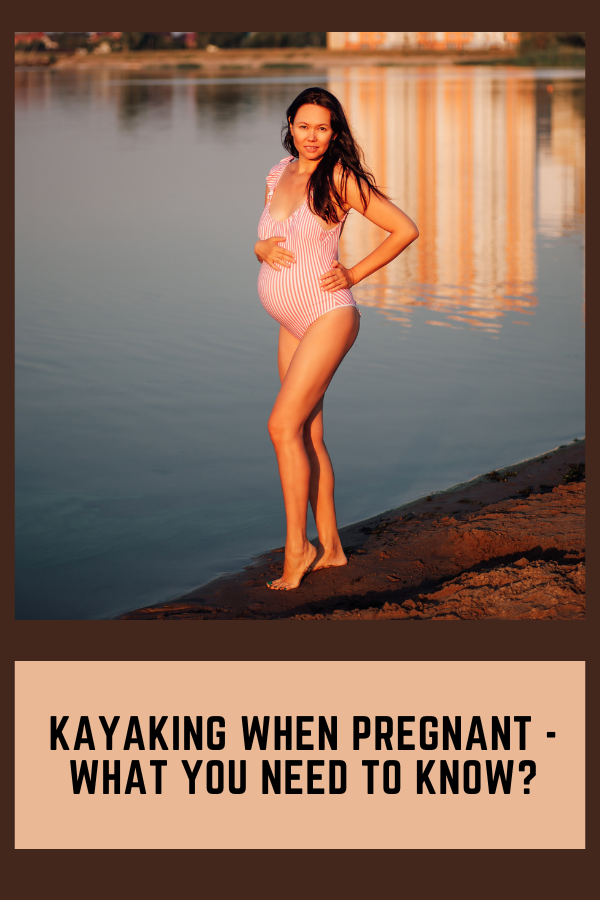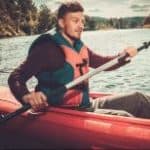 Author: Peter Salisbury
Pete is the Owner of KayakHelp.com. Born and raised in Cleveland, Ohio, he grew up kayaking, fishing, sailing, and partaking in outdoor adventures around the Great Lakes. When he's not out on the water, you can find him skiing in the mountains, reading his favorite books, and spending time with his family.