Aside from being the iconic site of the 1932 and 1980 Winter Olympic Games, Lake Placid is a beautiful destination for year-round recreation in upstate New York. If you visit in the warmer months, you'll need this complete guide to kayaking on Lake Placid.
Lake Placid is both a city and, of course, a body of water. So you'll find plenty to do in this region even if you only spend a few hours out on a recreational kayak.
To help you plan that kayaking portion of your trip, however, we've put together this guide that includes tips on the best time of year for kayaking, places to launch your kayak, ideas for kayak camping locations, and much more.
Make sure to look into upcoming events in Lake Placid while planning your visit as well. This will help you plan for things like increased traffic and also schedule a concert or a museum visit when you're not paddling!
Photo by Leonard Zhukovsky via Shutterstock
Where is Lake Placid?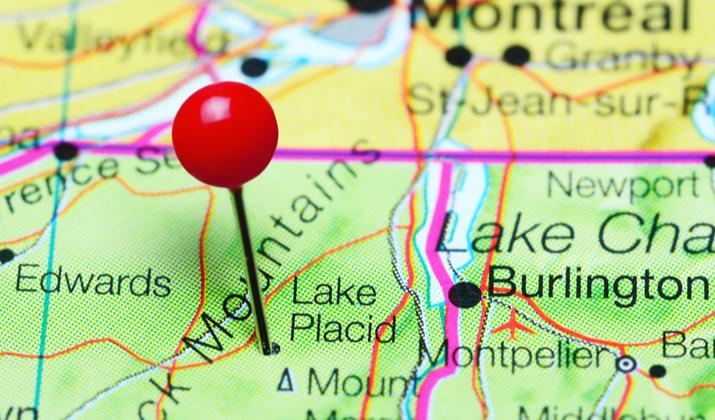 Photo by Dmitrijs Kaminskis via Shutterstock
As we mentioned, Lake Placid lies in upstate New York and it's roughly 35 miles west of the New York-Vermont border, as the crow flies. However, there's no direct driving route to the border through this mountainous region of the Adirondacks.
Burlington, Vermont, is one of the closest urban cities to Lake Placid, but it's roughly a two-hour drive to go between these destinations, regardless of whether you head south and cross on the Essex-Charlotte Ferry or head north and take the Cumberland Head-Grand Isle Ferry.
Lake Placid is also nearly due north of New York City, but that drive would require roughly 5.5 hours. Syracuse is another large city in New York that lies roughly a three-hour and forty-five-minute drive from Lake Placid.
The terrain around Lake Placid is quite mountainous and it is known as the High Peaks region for the numerous mountain peaks that rise over 4,000 feet in elevation, which is why this area is popular for hiking and mountain biking.
However, paddling is also a sport of choice here because there are more than 2,300 ponds and lakes, more than 1,500 miles of rivers, and over 30,000 miles of creeks and streams in this section of the Adirondacks.
So whether you plan on bringing a crossover kayak, a recreational inflatable kayak, or one of the best whitewater kayaks to the region around Lake Placid, you will find plenty of waterways to meet your needs.
How Big is Lake Placid?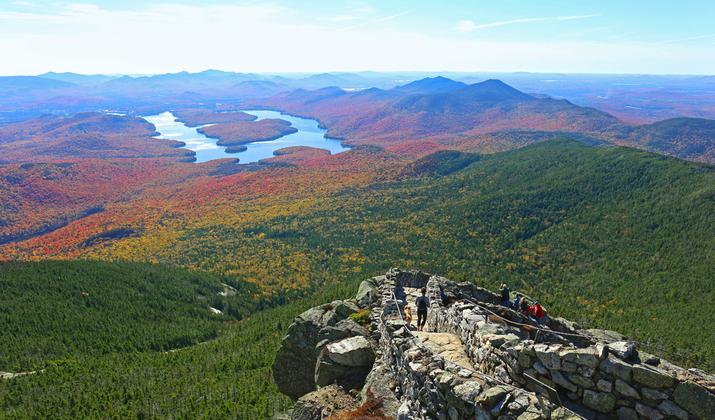 Photo by Alexander Sviridov via Shutterstock
If you look at this region from directly above, you will actually see a large lake with two sizeable islands in the middle. A third and smaller lake, Mirror Lake, lies to the south of Lake Placid and directly east of the downtown area.
Mirror Lake is a more popular choice for taking out an inflatable paddleboard because it is considerably smaller than the big lake and, therefore, less impacted by wind. It can also be one of the best places for beginners to get started in the area.
Lake Placid itself, however, is broken up into East Lake and West Lake because of the islands in its center. The lake does connect, however, via Sunset Strait, Shelter Strait, and around the smaller Hawk Island at its northeastern end.
In total, the lake covers approximately 1.54 square miles (~2,173 acres) and offers an average depth of just 50 feet. At its maximum dimensions, Lake Placid is roughly four miles long and 1.5 miles wide.
What Is The Best Time of Year for Kayaking on Lake Placid?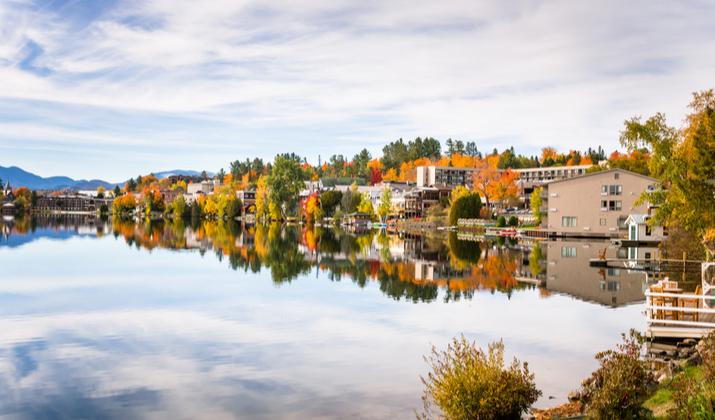 Photo by Albert Pego via Shutterstock
Summer is the most popular time of year for outdoor recreation on Lake Placid and in the surrounding mountains. However, there are several nearby ski resorts for avid winter recreation enthusiasts to enjoy.
If your intention is to come here and enjoy some kayaking, however, you will want to visit from June through September. Temperatures can be a bit chilly for paddling throughout the rest of the year, although you may be able to extend your paddling season with the right cold-weather kayaking gear.
That said, you can see from the image above that the fall colors in the Adirondacks are a sight to behold. So if you're willing to deal with paddling in slightly colder temperatures from September into November, you'll have some breathtaking scenery to enjoy at Lake Placid.
What Is The Weather on Lake Placid?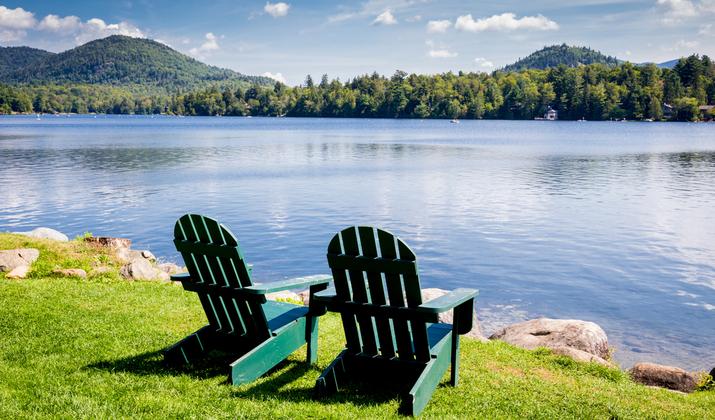 Photo by mervas via Shutterstock
From November through March, the daily high temperature rarely goes above 40℉ and the nightly low regularly dips into the single digits. Interestingly, February is the only month of the year that averages fewer than 10 days of rain.
In April and May, the average high temperature ranges from the low 50s into the mid-60s. The average nightly temperatures for these months vary from the high 20s into the upper 30s on a "balmy" night.
June, July, and August are the warmest months for paddling on Lake Placid. The average daily temperatures regularly get up into the mid-70s and the temps at night rarely dip below 45℉.
September still sees average daily temperatures in the upper 60s, but things start to cool down in October when the average high is 55℉. The average nightly temps for these months are 44℉ and 34℉, respectively.
Where Can You Launch For Kayaking on Lake Placid?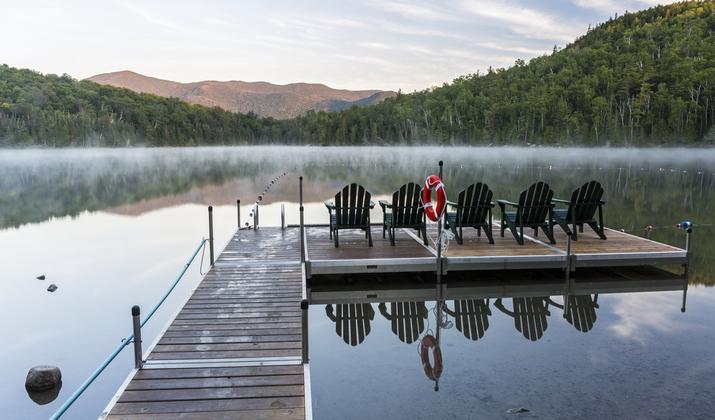 Photo by Colin D. Young via Shutterstock
Getting your kayak on the water is the first step to enjoying kayaking on Lake Placid. So here are some options for public boat ramps at various spots around the lake:
Located in Paradox Bay near ADK Aquatics and The Canoe Club. this is a great spot to launch to explore the bay and the southern part of the lake.
Located on the narrow strip of land between Lake Placid and Mirror Lake. This is also the location of Lake Placid Marina and Boat Tours and close to the Mirror Lake Kayak Launch if you want to paddle over there.
This one is technically only accessible to guests, but if you do choose to stay here, you'll have easy access to Paradox Bay via the hotel's private dock.
Are There Sites for Kayak Camping on Lake Placid?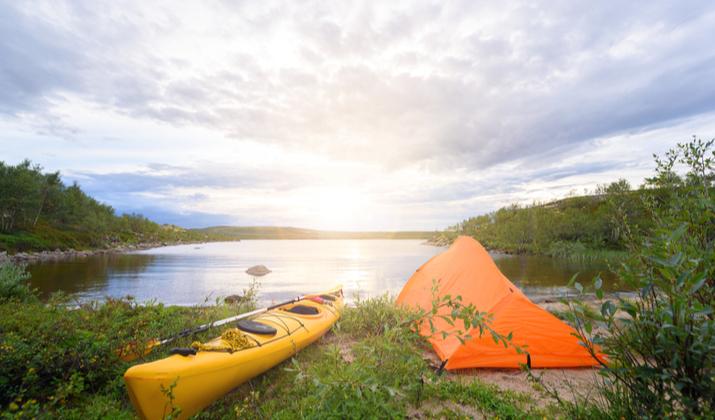 Photo by Pyatak via Shutterstock
There are more than 300 residential homes and private properties along the shores of Lake Placid. That means there aren't a ton of options for pulling a kayak on shore and setting up a tent for an overnight trip.
Fortunately, your options aren't limited to none, even if they require paddling a little further. Once you've learned how to pack your sea kayak for a camping trip, check out some of these options for paddle-in camping on Lake Placid:
Whiteface Landing is at the far northern end of the lake and it's a popular place for hiking and, in the winter, snowshoeing. The Whiteface Brook lean-to is a cool spot for a kayak overnighter, if you can procure it.
Hopping Bear Point is at the northeastern tip of Moose Island. The camping here is first-come, first-served, but if you're lucky enough to pull your kayak up and grab a spot, you're sure to enjoy a beautiful night under the stars.
What Type of Kayak is Best For Lake Placid?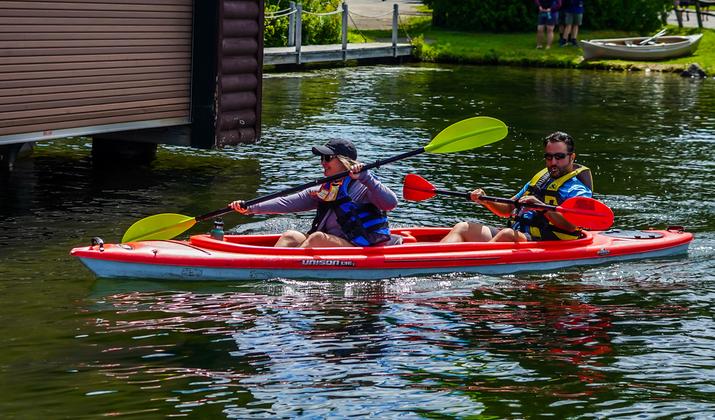 Photo by Leonard Zhukovsky via Shutterstock
There are several different types of kayak that you can use on Lake Placid. For a casual paddle on a calm day in a location like Paradox Bay, you'll be fine with a sit-on-top kayak or even an inflatable kayak designed for recreational use.
If you want to try your hand at fishing on the lake, bring out one of the most stable fishing kayaks. Just make sure you also obtain your New York state fishing license from an approved location in town first.
For fall or spring flatwater paddling anywhere in the Adirondacks, you'll want a touring kayak that can be equipped with a spray skirt to protect the cockpit from water and also to keep your lower half warmer in chilly weather.
A sit-inside recreational kayak can also be fine for paddling on both Lake Placid and Mirror Lake, along with the best tandem kayaks for families and even the best folding kayaks if you don't have a ton of room to transport a regular kayak.
As a final note, the Adirondacks in general are well known for offering excellent canoeing as well. So if you want to explore the differences between a solo canoe and a kayak, this is a great place to do it.
Are There Guide Companies for Kayaking on Lake Placid?
If you aren't able to transport your kayak on an easy-load roof rack or in the bed of your truck, you will still be able to get out on the water while you're in Lake Placid. Here are some of the best kayak guide and rental companies in the region: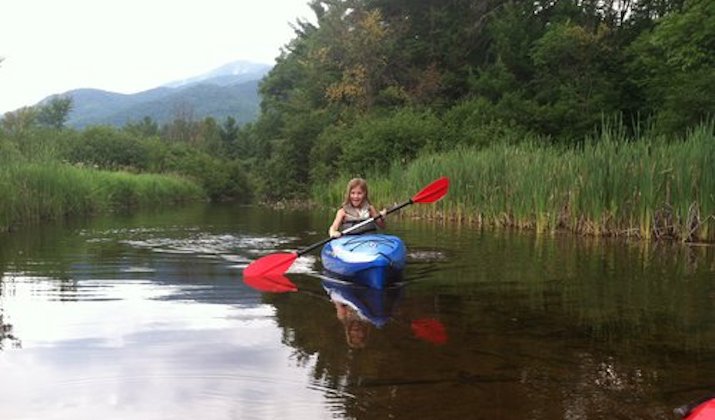 PC High Peaks Mountain Guides
High Peaks Mountain Guides has been around since 1983 and was founded by husband and wife team – Brain and Karen Delaney. They specialize in trips in the Adirondack Forest Preserve and offer a wide variety of guided outdoor experiences.
Their paddle offerings include half-day, full-day, and multi-day trips with full-service to meet your group's needs. They can take you out on paddleboards, kayaks, or canoes and their guides will share some of their favorite spots, along with some interesting info on local flora and fauna.
Even if you do not feel like you need a guide, you should go to their retail location – High Peaks Cyclery. You can rent canoes, stand-up paddleboards, or kayaks there and their guides will provide any information you need to help you plan your outing.

PC Bear Cub Adventures
Bear Cub Adventures specializes in guided kayaking and canoe trips. Trips can be simple day trips or multi-day camping trips to explore more areas and teach you the basics of wilderness survival in the Adirondacks.
In addition to guided trips, Bear Cub Adventures also offers basic canoe and kayak instruction. They are ACA certified, commit to a 4-to-1 student-to-teacher ratio, and offer instruction in flatwater and whitewater skills.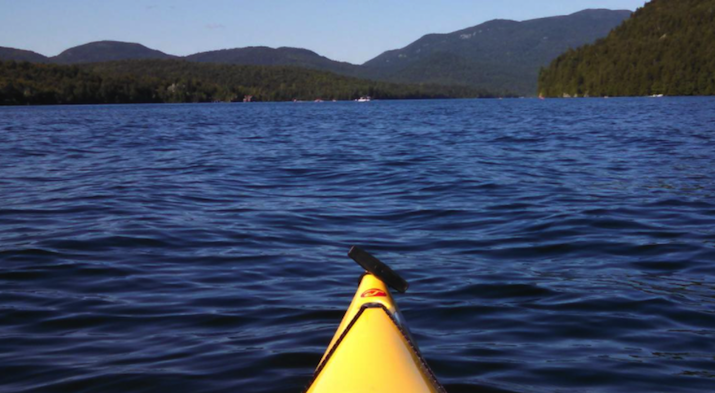 PC St. Regis Canoe Outfitters
St. Regis is a family-owned business that is actually based in Saranac Lake, but they offer guided trips on Lake Placid. They have 38 years of experience in the area and attentive staff with loads of knowledge about the history and nature in the area.
Their trips on Lake Placid are two-night outings with opportunities to camp on Moose or Buck Islands. Both campsites offer great chances for swimming and fishing if you bring, or rent, fishing gear.
These trips run from the middle of May until the middle of October and they offer discounts on larger groups. You'll just need to reserve your guides at least a month in advance to enjoy this epic trip on Lake Placid.
What About Kayaking on Mirror Lake?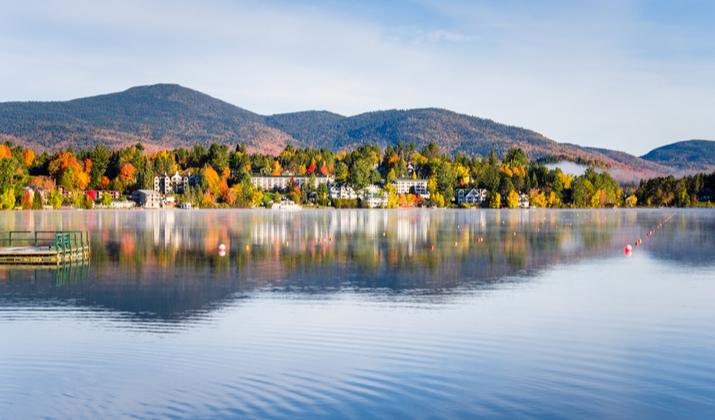 Photo by Albert Pego via Shutterstock
As we mentioned earlier, Mirror Lake is the smaller body of water right to the east of downtown Lake Placid. It's a great place for kayaking in this area if you have kids or you are new to the sport.
Use the Mirror Lake Public Kayak Launch at the north end of the lake if you want to launch your own kayak on this lake. If you don't have your own kayak, you can rent from Mirror Lake Boat Rental or you can grab a paddleboard from SUP Lake Placid.
Final Thoughts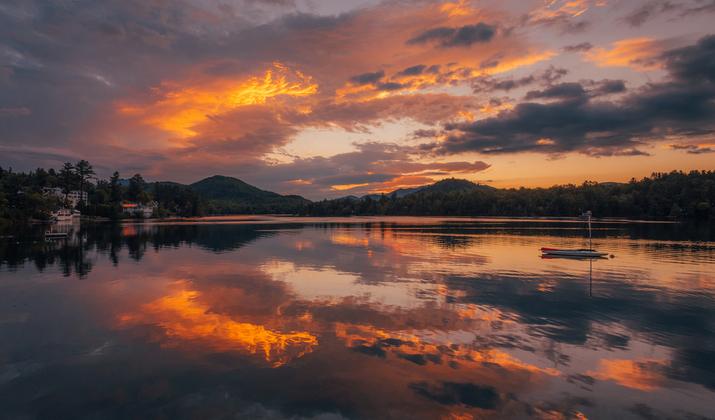 Photo by Jon Bilous via Shutterstock
Whether you're just visiting upstate New York for the first time or you live in one of the neighboring cities and are looking for a new excuse to get out into nature, Lake Placid is an exceptional destination for kayaking, paddleboarding, hiking, and even skiing and snowboarding in the winter.
We hope you've found this complete guide to kayaking on Lake Placid useful and we wish you the best of luck on your next trip there!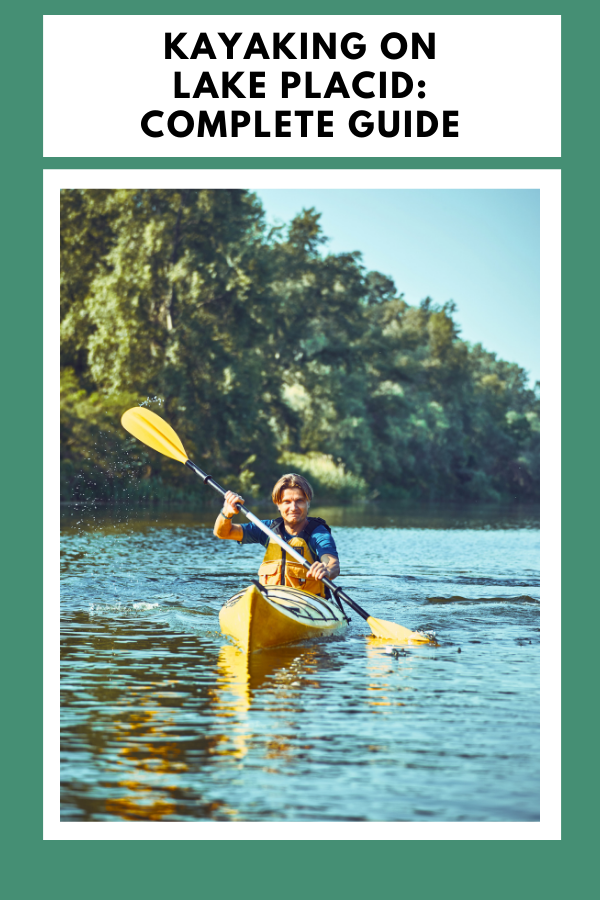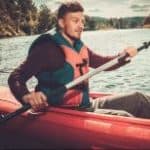 Author: Peter Salisbury
Pete is the Owner of KayakHelp.com. Born and raised in Cleveland, Ohio, he grew up kayaking, fishing, sailing, and partaking in outdoor adventures around the Great Lakes. When he's not out on the water, you can find him skiing in the mountains, reading his favorite books, and spending time with his family.