Float trips on the Illinois River are one of the best ways to spend your weekend in Oklahoma.
They offer an exciting way to experience the scenic beauty of the Illinois River, as it cuts through the rocky bluffs creating a magnificent landscape.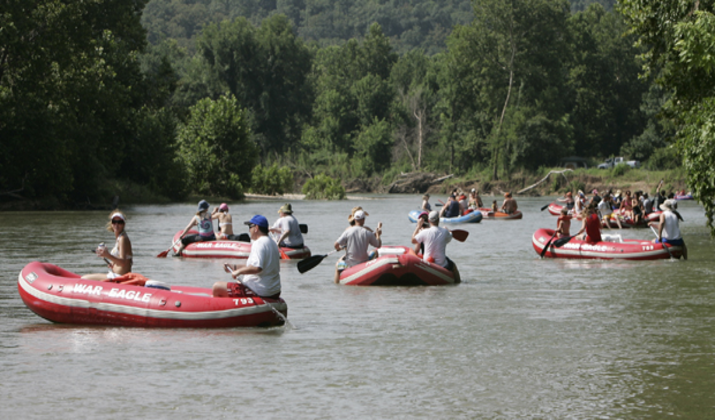 The Illinois River is also surrounded by trees such as the shortleaf pine, sycamore, hickory, and redbud trees that provide shade and serve as a wildlife habitat for foxes, deer, and a variety of bird species.
Recreational opportunities, including floating trips, abound along this iconic river. You'll enjoy a leisurely ride on the calm waters of the river, especially along the portion of the river flowing parallel to the SH-10 northeast of Tahlequah.
Floating on the Illinois River is even more exciting because you can get everything you need for the trip, thanks to the many campsites and outfitters surrounding the river.
About the Illinois River, Oklahoma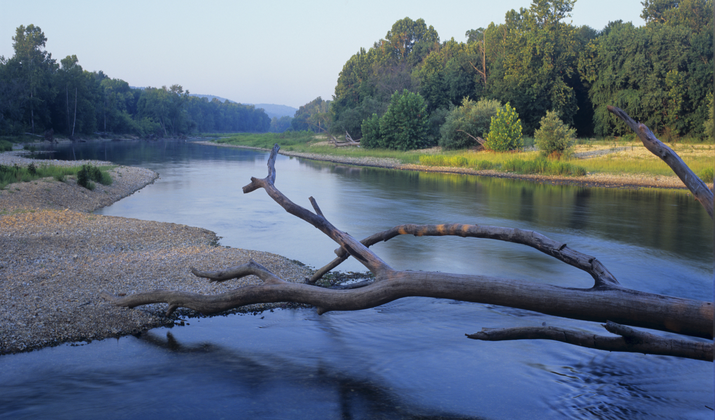 PC Save The Illinois River, Inc
Oklahoma's Illinois River is a principal tributary of the Mississippi River, measuring about 273 miles full of outstanding landscape. The slow-moving river is an excellent fishing spot where anglers make fine catches of walleyes, white bass, channel fish, pan fish, and sauger.
The river starts on the northwestern side of Arkansas in the Ozark Mountains and then flows southwest into Tahlequah before joining up with the Arkansas River.
The Illinois River section that is perfect for a floating adventure is about 68 miles. Since it is a Class II river, the Illinois River is ideal for all skill levels and ages. The gorgeous river has easy access and exit points with local outfitters where you can rent kayaks.
The river is known across the US as one of the best floating streams that offer over 60 miles of clear water in the most outstanding setting.
Floating on the Illinois River
The Illinois River is about 145 miles long, but some sections aren't suitable for floating. The first step to having a successful float trip is knowing where to go.
Mention the Illinois River to paddling enthusiasts and watch their faces light up as the river is a known legendary spot for big whitewater, jaw-dropping sceneries, and beautiful camps.
Illinois River float trips flow through the northern end of the famous Kalmiopsis wilderness in the southern part of Oregon.
The paddle on the Illinois River takes you approximately seven hours (16 miles) and provides you access to Oklahoma's clearest water. Along the way, you'll spot great swimming holes and tons of great fishing spots.
If you plan a kayaking trip on the river, you can bring your kayak and launch it for free. The section used for float trips on the Illinois River is north of Tahlequah, which forms part of the Cherokee Nation. The best way to get to this sport depends on where you come from.
Tulsa (72 miles): this is the easiest and closest way. When coming from Tulsa, you can head east using Highway 82 and then head straight towards the south.
Oklahoma City (168 miles): coming from Oklahoma City is a bit far, but it'll take you under three hours. Head out of the city towards the east on 1-40 until you reach Highway 69. Take it north and follow Highway 165, then 62, to Tahlequah.
Springfield (183 miles): Springfield is also three hours away if you come from the Missouri side. Take 1-44 West out of town to Highway 69 to get off the interstate, then head south. Continue with Highway 20, followed by Highway 82 towards Tahlequah.
As I have discussed, the Illinois River is full of beautiful landscapes. Since the river also offers a large section for floating adventures, it can be hard to figure out the type of Illinois River floating you'd wish to participate in.
But let me make it easier for you by breaking down the trips into two categories: Shorter day-float trips or longer multi-day float trips.
Illinois River floating day trips
If it is your first time taking a float trip in Oklahoma, I recommend starting with a day trip. A floating day trip ranges from about four miles to 12 miles and only takes one to eight hours.
Note that the amount of time you spend on the water is determined by your paddling speed, how often you make stopovers, and how fast/far the river flows.
Day trips are perfect during summer, and to enjoy such trips, kick back in a tube or a raft and watch the breathtaking landscape made of beautiful bluffs, open fields, and wooded areas.
Day trips are also perfect if you will be floating with kids or people who have never taken a floating trip. Day trips are also ideal for larger groups and people who don't prefer camping.
Illinois River floating overnight trips
If you are a big fan of camping and looking for a bit of adventure, then an overnight floating trip is an excellent choice.
It is also a perfect choice if you are not floating on the Illinois River for the first time, so all you need is to bring your camping gear in either a kayak or canoe and spend your night camping along the beautiful Illinois River.
While rafts and tubes are ideal for day trips, outfitters will highly recommend a canoe or kayak for your overnight float trip.
Overnight trips might not sound like a thing for everyone but are an excellent way to get out in nature without a crowd. The Illinois River can also get busy during the day over the weekend, so choosing an overnight trip can give you a more relaxing experience.
Illinois River Safety
I cannot talk about float trips without mentioning safety measures. The good thing about Illinois River float trips is that outfitters know all the safety measures and the current water levels.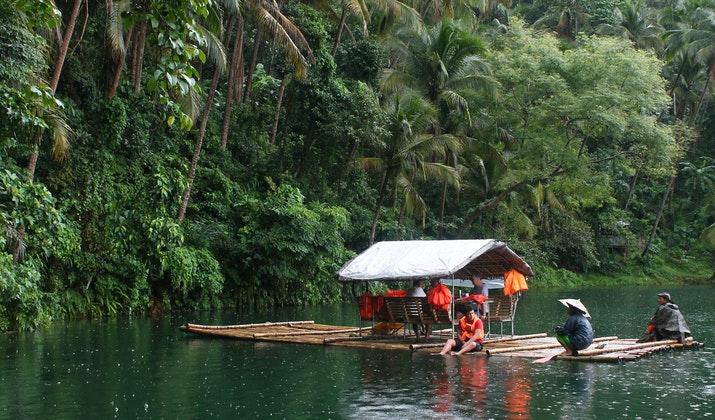 Photo by Elmer Domingo via Pexels
Therefore, you can be sure to learn all you need to know to keep safe on your trip from their offices before you take off. In 2016, the Oklahoma Scenic River Commission (OSRC) took care of the safety of the Illinois River.
After 2016, the Grand River Dam Authority (GRDA) took over, and now the GRDA monitors the river and enforces rules for every float trip enthusiast. The GRDA places extra safety guidelines when the water levels are high.
When water levels are below 5 feet 6 inches, children aged 2 to 10 must float in a raft.
Everyone taking a float trip must be in a raft for six-foot water levels.
No one is allowed to float the river when the level hits 9 feet 6 inches.
If you frequently take float trips in other states, you might have tied some rafts and tubes together to get a large group floating down the river. Unfortunately, this is not allowed on the Illinois River.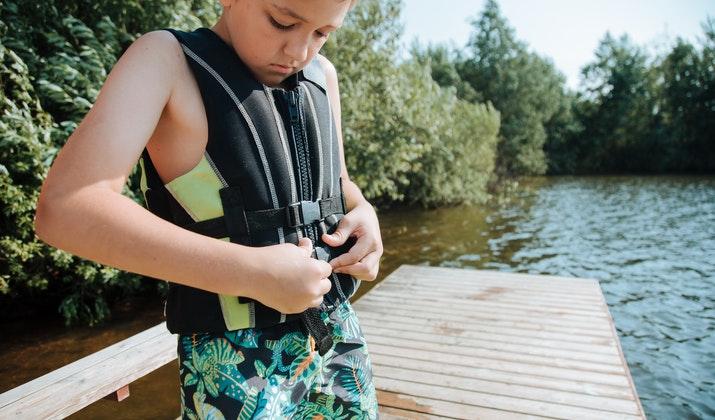 The Oklahoma State Rangers are always on the lookout and will write you a ticket if you tie rafts or tubes together.
You are allowed to carry drinks on your trip, except for hard alcohol, and ensure that any soft drink you bring isn't in a glass.
Keep your coolers tied and less than 48 quarts, as you'll not be allowed to use any Styrofoam coolers. Always wear life preservers, protective footwear, and any other suitable clothing.
What to Pack for the Illinois River Floating Trip
Packing for a float trip on the Illinois River can be challenging if you're doing it for the first time. Ensure that you spare enough time for packing your float trip essentials to avoid forgetting the little things that matter.
The first thing to think of should be the sun. You are likely to be floating in the sun, so you need to pack a nice pair of sunglasses, some sunscreen, and a good hat, as you don't want to return to your camp only to realize that you were burnt in the process.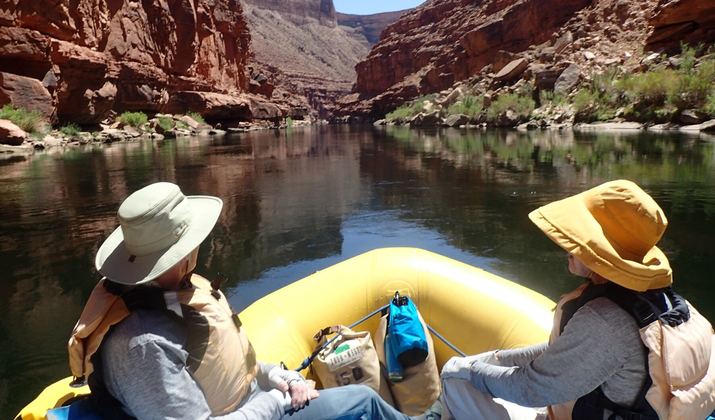 With several fun things to do on the Illinois River, plus a chance to get out and swim, you may need to get a pair of water shoes to keep your feet protected. Water shoes also offer improved water flow when submerged and better drainage when you get out of water.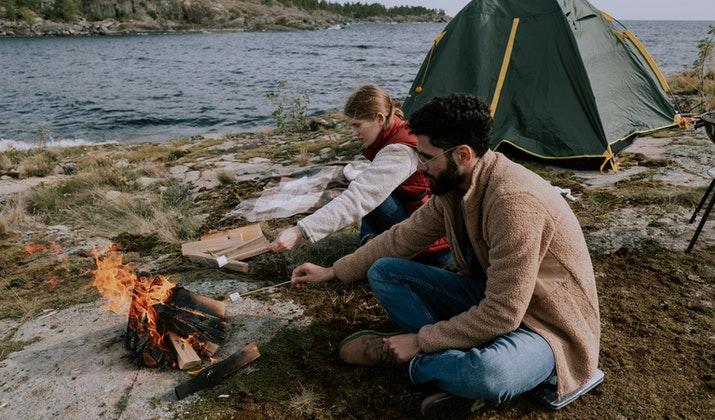 If you are going camping, then you need a reliable tent. Leave some area of your tent that is not enclosed and not part of the sleeping area for taking off shoes and keeping dirt and sand out of your tent.
What's the Best Time to Take an Illinois River Float Trip?
With all of the information on where to go for float trips on the Illinois River, what to carry, and safety guidelines, it's time to look at the best time to plan the trip. The great news is that the river is navigable all year long, meaning you can go on a float trip whenever you feel like it.
However, the Illinois River offers a drastically different summer to winter experience. Therefore, your winter or summer trip entirely depends on the experience you are looking for.
Illinois River floating during summer
Summer Illinois River floating is the most popular option. The busiest time on the Illinois River is between Memorial Day and Labor Day, and choosing to go on a floating trip in July sounds like a perfect plan.
During summer, the weather is calm and warm, making it conducive for swimming and floating, half in the tube and half out of the tube.
The only downside of floating the Illinois River during summer is that everyone else loves floating during this time too; hence, the river can get crowded, especially on weekends and holidays. You should definitely consider calling the outfitters in advance to make reservations.
Illinois River floating during winter
Winter is the best time for you if you are looking for a quieter and less crowded Illinois River floating experience.
As discussed earlier, the river is navigable throughout the year, and most of the outfitters remain open all year round. However, you may consider calling the outfitters in advance so that they can accommodate you.
One crucial thing to note about Illinois River winter float trips is that in December and January, temperatures in Tahlequah fall to 40 degrees Fahrenheit, which is way too cold for swimming.
While a raft and tube might work for your summer float trip, winter float trips require you to use a kayak or canoe and a kayak spray skirt to keep you warm and dry.
Pros and Cons of Floating the Illinois River on Your Own
The Illinois River has become a target for escaping the summer heat. While many people plan to go to one of the river's outfitters for recreation, others are looking for a less costly adventure by floating on their own.
Deciding on whether to float on your own or not is a crucial decision to make, and to help you make better decisions, I shall discuss the pros and cons of doing it on your own.
Pros
It can be cheaper based on how often you take the float trips. Whenever you float with an outfitter, you'll be charged around $25-$150, depending on how long you stay on the water. The charges also depend on whether you want a canoe, tube, raft, or kayak.
Floating without an outfitter allows you to choose your route, so the outfitter's decisions won't confine you on the routes. It is also a way to escape the crowds, especially when the river is packed.
Cons
Going on a floating trip on your own means having your own gear. You will also need to figure out your own transportation. This is not the case when you float with outfitters as they provide shuttle services up the river, so you can comfortably float back to your car.
You will also have to check water levels by yourself to determine whether the river is safe for floating.
Above all, the decision to either use an outfitter or float on your own boils down to your experience level and how often you plan to go on such trips.
If you've been on several float trips and only want to get away from the crowd, do it by yourself. But, if you are doing this for the first time, go with an outfitter.
Choosing an Outfitter
An outfitter will help you with all the equipment you need for the float trip. Most outfitters will offer transport to your drop-off point, from where you'll float back to the camp or a pick-up location.
The outfitters also offer campsites, low-maintenance bunkhouses, comfortable cabins, and swimming pools, so you don't have to worry about a place to rest on your trip.
You will find most outfitters within a 15-mile stretch northeast of Highway 10, but there are chances of finding other outfitters along the river.
Below are some of the outfitters you can consider for your float trip on the Illinois River: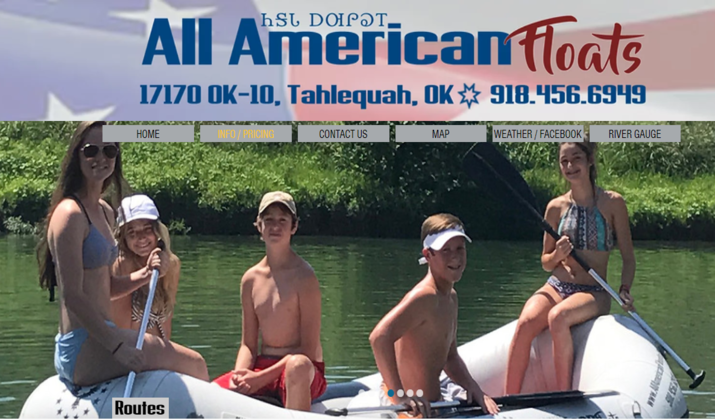 Enjoy a great camping experience when you set up a camp at All American Floats. Find comfortable picnic areas, volleyball courts, showers, and restrooms a few feet from your tent.
You can choose between four, nine, or 13-mile float trips and set yourself on a journey on a kayak, raft, or tube. All American Floats will also provide quick access to Hwy 62 straight to Tahlequah.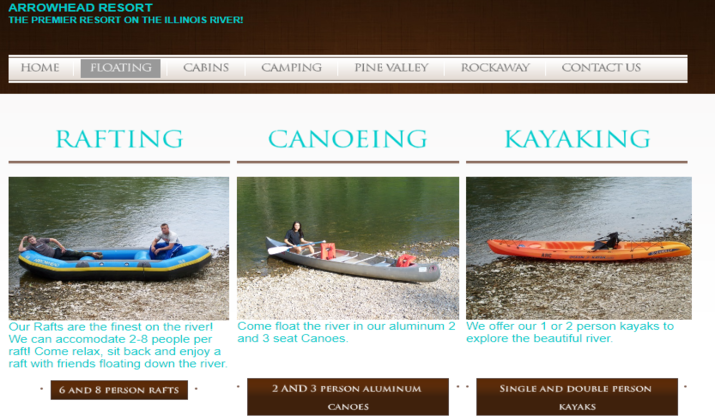 Arrowhead Resort has you covered for float trips and weekend getaways. Start your 58-mile challenge trip on a kayak or canoe, or pick a more relaxing 12-mile float. Once done with your river trip, rest on the camping grounds, in a cabin, or in the group lodge if you have a big group.
Diamondhead Resort gives you lodging options such as motel rooms, a campground, and a bunkhouse. The full-service campground has a nine-hole disc golf course, lighted basketball and volleyball courts, and a horseshoe pit to add to the fun.
Set off on a relaxing six to 12-mile journey on the Illinois River on a raft, canoe, or kayak.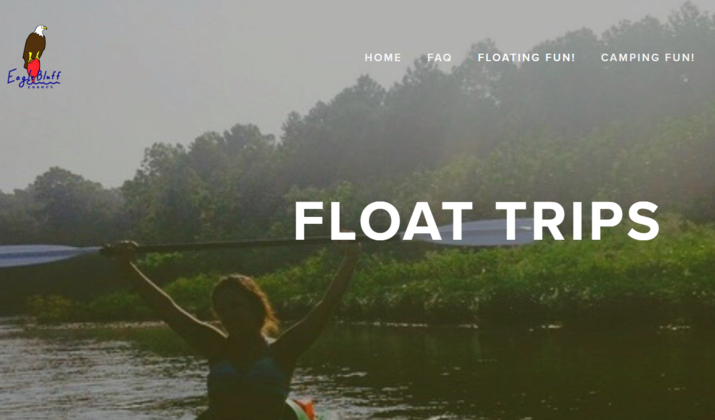 Enjoy camping along the Illinois River in an air-conditioned cabin or a tent, or settle in a group lodge. You'll also find a snack shop, sand volleyball and basketball courts, and a playground. Go on a leisure trip in an inner tube or a float trip in a canoe or kayak.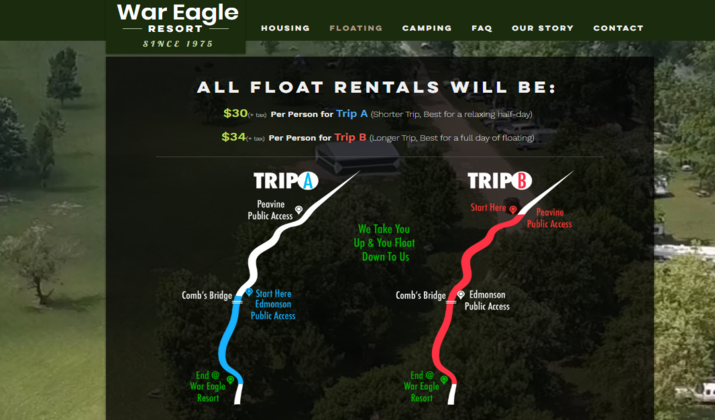 Set off on a six to 12-mile relaxing float trip and rest easy in one of War Eagle Resort's two-bedroom A-frame cabins or the motel upon your return.
If you are traveling with a large group, you can rest in one of the bunkhouses or campgrounds. The huge water slide and swimming pool will ensure you stay cool and have a great time.
Other outfitters include Peyton's Place, Riverside Resort, Hanging Rock Camp, and Falcon Floats.
Final Thoughts
If you are looking for fun things to do during summer, a float trip on the Illinois River should be at the top of your list.
The endless supply of beautiful scenery and the class II easy-to-float waters are an assurance that you'll have the best time on your trip.
So, pack your bags with the floating essentials and get out there and do some Illinois River floating!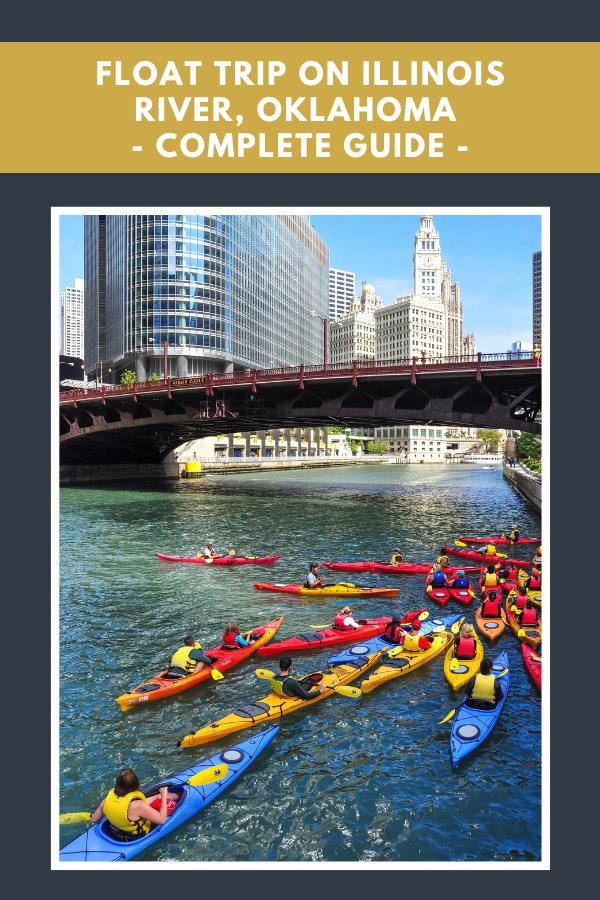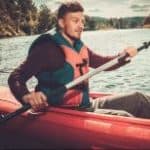 Author: Peter Salisbury
Pete is the Owner of KayakHelp.com. Born and raised in Cleveland, Ohio, he grew up kayaking, fishing, sailing, and partaking in outdoor adventures around the Great Lakes. When he's not out on the water, you can find him skiing in the mountains, reading his favorite books, and spending time with his family.