The year was 1998 and somewhere in Warsaw, North Carolina, a group of paddling enthusiasts were having a conversation about the outdoor activity and sport they all loved: kayaking.
In the process, they realized they were not happy with the current state of the kayak manufacturing industry and the products that were being released by the big-name brands at the time.
They decided to do something about it and the Hurricane kayak company was born. Since then, Hurricane has carved a name for itself as a manufacturer of premium thermoformed recreational, touring, fishing, and sit on top boats boasting innovative and functional designs.
Hurricane kayaks are known for being astonishingly lightweight, spacious, and beautiful thanks to their construction and glossy exterior. Moreover, their kayaks are designed to suit paddlers of all skill levels.
In this article, I'll explain what makes Hurricane kayaks an excellent investment and walk you through the best Hurricane kayaks that you can buy depending on your needs.
Why Should You Buy a Hurricane Kayak?
What makes Hurricane kayaks better than the average kayak in the market? What does the brand do differently to make its offerings stand out?
Here are some of the reasons why Hurricane kayaks are an excellent kayaking brand to patronize:
Innovative kayak material and construction
Hurricane kayaks are made using the thermoforming construction process and the brand's proprietary ABS plastic laminate called Trylon. During thermoforming, sheets of Trylon are heated and poured into a kayak mold.
One sheet forms the bottom of the kayak and the other forms the hull, and then both parts are bonded together using a chemical sealant.
The advantage of Hurricane's kayak production process is that it requires fewer materials and delivers a better-looking finish compared to kayaks made using the rotomolding technique.
The thermoforming process combined with the use of Trylon ABS material results in kayaks that are just as strong but much lighter (about 10-15 pounds on average) than polyethylene kayaks. This means that your kayak will move faster and you'll expend less effort on propelling it forward.
Hurricane kayaks are also more environmentally friendly than boats from other brands made with other construction methods.
Paddler-friendly design
Most kayaks from Hurricane, especially sit in kayaks, have wide cockpits that make it easy to enter and exit the kayak. Even if it's your first time in a kayak, you're not going to feel confined or uncomfortable in your boat.
You can even bring along a small child or your dog and they'd be able to fit comfortably in the cockpit alongside you. Just remember to use a personal flotation device for them so they stay safe throughout your trip.
Top-notch performance
Thanks to Trylon, Hurricane kayaks have increased rigidity which enables them to move through water more efficiently.
As you execute your paddling strokes, the kayak's Trylon material will minimize the surface friction of the water on the hull which then increases how smoothly you glide in the water.
Long-term durability
The Trylon material that Hurricane uses to make its kayaks is pretty strong, so the kayaks can withstand abrasions and regular impact as well as—or in some cases, better than—rotomolded polyethylene boats.
They're also less likely to spring leaks from their bulkheads and better able to retain their hull shape and lustrous appearance without oil canning, warping, or fading.
As long as you use the right kind of straps, store the kayak properly, and avoid over-tightening the kayak when tying it to your car's roof rack, your Hurricane kayak will last for many many years.
9 Best Hurricane Kayaks Worth Buying
1. Tampico 130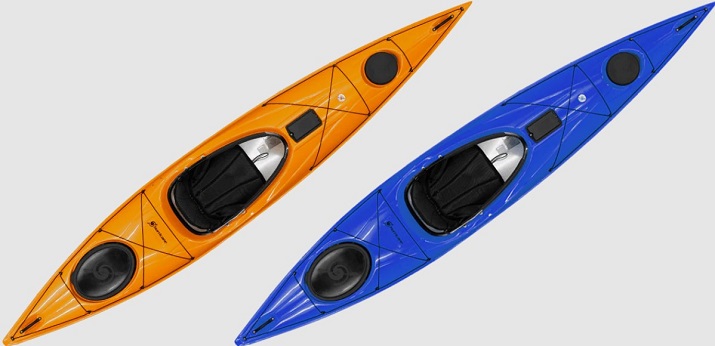 The Tampico 130 is an award-winning touring and recreational kayak that clocks in at 13.2" feet long with a weight of 18.4kg and a load capacity of 158.7 kg.
It's an incredibly lightweight vessel that delivers top-notch paddling performance without compromising on comfort and storage.
This kayak's cockpit is roomy enough to support easy exit and entry. You can choose to use a spray skirt or do without one depending on your preference and the body of water you're paddling in.
The Tampico 130 has a lot of handy features that I love and that are designed to improve the kayaking experience. For example, it has a gasketed H-pod where you can keep your phone, wallet, and other small items you want within reach.
This high-performance kayak can go from day trips to multi-day excursions with ease, providing you with front and rear bulkheads and rubber hatches for safely storing all your gear.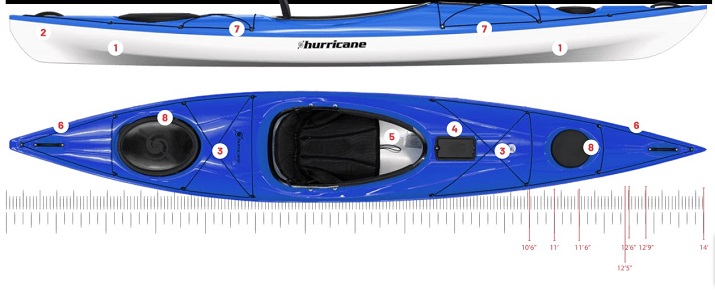 With the new Airstream side-padded seat with adjustable back support installed on the Tampico 130, you can spend as much time as you want on the water without worrying about your body revolting against the decision due to discomfort.
Since the Tampico 130 is 26" wide, it's not the most stable kayak in Hurricane's lineup but it still provides above-average primary and secondary stability. You don't have to worry about this kayak tipping over unless you intentionally make it happen.
The Tampico 130 cuts through water efficiently while maintaining a straight line thanks to its V-shaped hull and pronounced stern keel. It performs well in both calm and rough water conditions, although it is primarily designed to navigate more tranquil waters.
2. Santee 116 Sport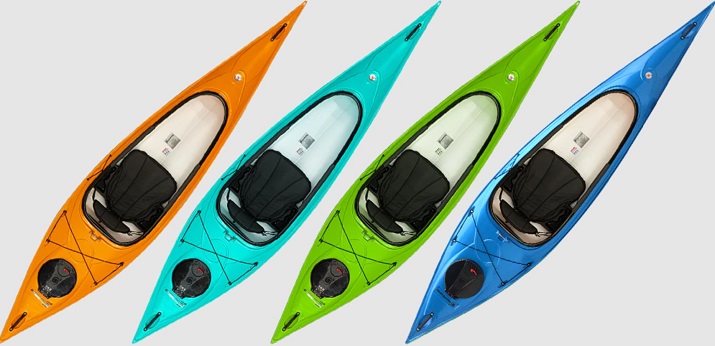 This is the bestselling kayak from Hurricane and it's easy to see why. For starters, the Santee 116 Sport only weighs 16.56 kg so it's lightweight enough to be carried singlehandedly.
It provides a secure and stable recreational paddling experience thanks to its excellent tracking abilities which allows you to easily paddle in a straight line.
The Santee 116 Sport features a comfortable padded kayak seat and a roomy cockpit so you can bring along some extra kayaking accessories or even a pet on your trip.
With front and rear bulkheads made from ABS plastic, a stern deck bungee, and a hinge hatch, you'll get to enjoy increased buoyancy in addition to having ample storage room for your favorite gear.

Whether you're planning a leisurely paddle for just a few short hours or you want to spend the whole day exploring rivers and lakes, the Santee 116 Sport will help your trip as smooth sailing as possible.
It comes with a paddle holder to help you securely attach your paddle to the kayak when not in use. There are also molded grab handles in the bow and stern for conveniently transporting your kayak from land to water and vice versa.
Despite its lightweight frame, the Santee 116 Sport doesn't slack when it comes to load capacity as it has a maximum weight limit of 136.1 kg. This means that it will easily fit the average person.
3. Sweetwater 126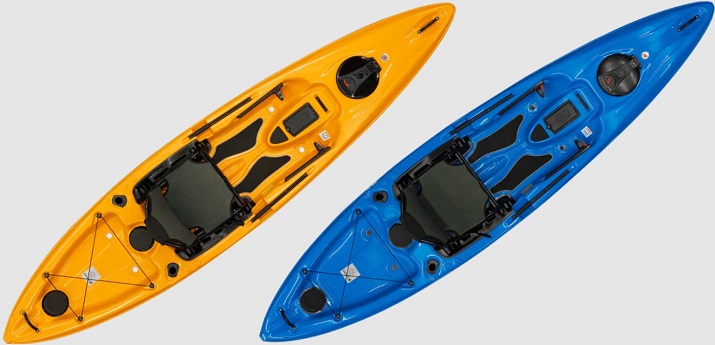 If you're in the market for a stable sit-on-top fishing kayak, the Sweetwater 126 is one of the best Hurricane kayaks in the market at the moment.
The allure of this boat is that it provides all the features you'd want your kayak to have when you're going fly fishing.
It is able to maintain perfect stability at all times regardless of whether you're paddling, sitting, or stretching to cast your reel.
You spend the whole day trying to find a great catch without experiencing unnecessary discomfort because of the Sweetwater 126's high-low first-class frame seat.
The kayak's seat can even be removed to reduce the weight of the kayak or to suit your preference for paddlers who prefer to sit directly atop their kayaks.
When it comes to tracking, the Sweetwater 126's pronounced keel allows it to deliver unrivaled performance and wade through water without too much effort.

Hurricane has redesigned new models of the Sweetwater 126 to include a 4-inch gear track for mounting accessories and a gasketed H-pod for storing small items and valuables.
As you might expect, there's a paddle holder, two inset rod holders, and a fly pod for your fishing flies and lures.
The Sweetwater 126 also offers two hatches in the stern and midship, a spacious stern well with bungee, and one hinge hatch in the bow to keep larger gear and belongings dry and safe.
Despite being a full-featured fishing kayak, Sweetwater 126 weighs considerably less than most of its counterparts from other brands.
At 23.58 kg, you won't be risking injury by trying to load your kayak onto the roof of your vehicle or transporting it to the water on your own.
4. Skimmer 106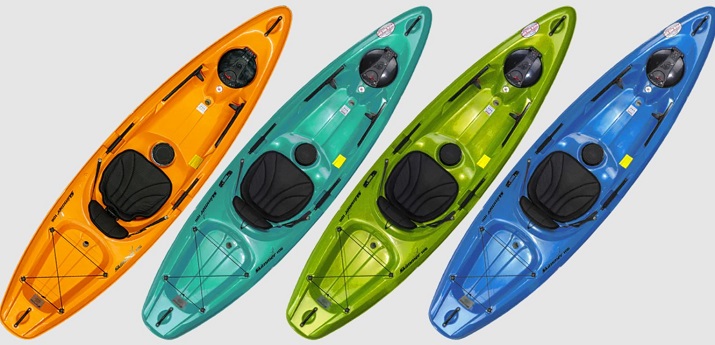 The Skimmer 106 is another high-performing kayak from the Hurricane family that's worth checking out if you're on the hunt for a compact sit on top kayak. It's also one of the more affordable options from the brand.
With this kayak weighing only 17 kg, you can go paddling whenever you want because loading, unloading, and carrying it to the water is always going to be a breeze.
But don't let the size of the Skimmer 106 fool you because it can still hold a pretty decent load of up to 143 kg without compromising performance or stability.
You can easily adjust the pinch and pull mechanism of Skimmer 106's foot brace system to align with your frame and seating position and maximize your comfort level.
You don't have to stress over manually draining your kayak when paddling in choppy waters because the kayak scuppers in the footwell and rear wells as well as a stern drain plug that helps with filtering excess water out of your craft.
Additionally, the Skimmer 106 has a paddle holder for securing your paddle to the deck and sufficient storage compartments that will protect your belongings from getting wet as long as you pack them using dry bags.
The Skimmer 106's broad frame, lightweight design, and stable nature make it a super beginner-friendly kayak.
5. Osprey 120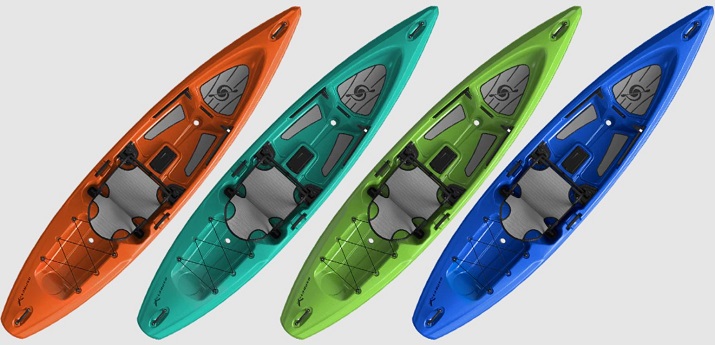 Whether you're a seasoned kayaker or it's your very first time on the water, the Osprey 120 is designed to make your paddling experience as exciting and comfortable as possible.
Coming in at 19.5 kg, the kayak is easy to load, transport, and paddle and hands down one of the best Hurricane kayak offerings you can invest in. The Osprey 120's construction boasts a new relaxed hull design that gives it increased stability and tracking efficiency.
Your back, thighs, and glutes can stay sore-free no matter how long you spend paddling thanks to the elevated seat system upgraded with Camlock security knobs that are installed in the Osprey 120.

This combined with Hurricane's first class seats will enable you to sit higher in your kayak so you can better spot birds, cast reels, or take in your surroundings without straining your body.
One striking feature of the Osprey 120 is its open floor structure which integrates a bow deck K-9 comfort pad and a spacious rear well. This means that you will have plenty of space to work with so you can bring along your pet and all the gear you require.
Additionally, the Osprey 120 offers reinforced scuppers to help drain any water that finds its way inside the kayak so you can keep having fun.
It also has several spots and crevices for storing various items like your phone, GoPro, baggage, and even the day's catch conveniently.
6. Sojourn 135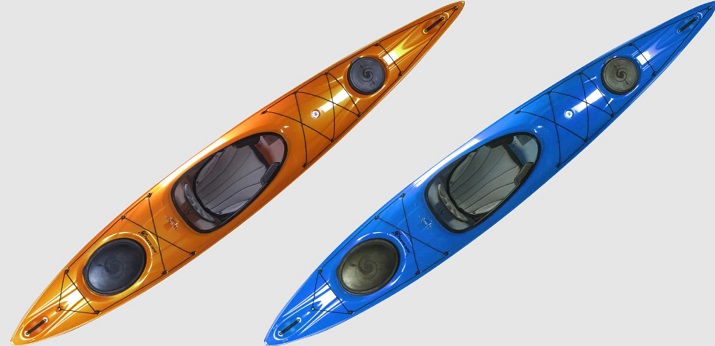 Made with thermoformed ABS plastic, Sojourn 135 is an incredibly durable boat that doesn't skimp on performance. It leverages its V-shape hull and minimal rocker to deliver impeccable tracking while the large cockpit makes getting in and out of the kayak effortless.
This day touring kayak will help you cover more ground in less time. The impressive agility of the Sojourn 135 enables it to move through the water easily and quickly respond to your movements.
If you're the kind of paddler who requires considerable space to store your float trip food and gear, you're going to get a kick out of how generous the hatches on the Sojourn 135 are.

The Sojourn 135 is fitted with Hurricane's trademark AirStream seat, offering maximum comfort on long paddling trips. The chair's ventilated backrest allows it to stay cool even on hot days and the height can be modified to suit your specific frame.
The kayak also features an optional rudder with gas-pedal style foot control that can allow you to put down your paddles and focus all your attention on fishing, capturing photos, or basking in the beauty of your surroundings.
You'll have a hard time capsizing this kayak even if you tried because of the level of initial and secondary stability it offers. This makes it one of the best Hurricane kayaks for beginners and expert paddlers.
At 20.41 kg, the Sojourn 135 is light enough to be easily carried from place to place without requiring assistance.
7. Santee 140 Tandem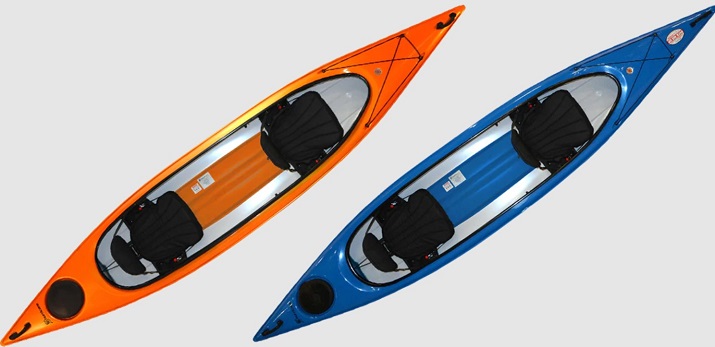 It can be tough to find a tandem kayak that comfortably accommodates you and a paddling partner and all your gear and doesn't weigh a ton. But it is precisely this quality that makes Hurricane's Santee 140 Tandem unique and a must-have.
At just 25.85 kg, the Santee 140 Tandem is even lighter than many single-occupant kayak models from other brands. You should be able to store the kayak or get it on the roof of your car on your own or with some help from a lift-assist kayak rack.
The Santee 140 Tandem comes with adjustable padded seats that can be configured for solo paddling, eliminating the need for you to buy another kayak for when you have to go exploring alone.
The kayak's foot brace system can also be modified according to your body and comfort needs.
With the Santee 140 Tandem, you will get to enjoy stellar tracking, stability, and buoyancy, ample cockpit space, and a roomy hatch in the rear bulkhead for storing any items you want to keep dry during your float trip.
Feel free to use this kayak on day trips or when paddling in calm, smooth-flowing waters for the most optimal experience.
8. Skimmer 116 First Class
The Skimmer 116 First Class is the result of Hurricane's decision to upgrade the original Skimmer 116 sit on top kayak by pairing it with the renowned First Class frame seats from Native Watercraft.
With the First Class seats, your thighs and back will feel as loose and nimble as they were at the beginning of your paddling expedition.
This touring kayak handles well in different conditions and is equipped to provide you with maximum stability and comfort regardless of the kayaking activities you choose to engage in.
Thanks to its Trylon construction, the Skimmer 116 First Class glides through the water with remarkable speed, enabling you to cover longer distances using less time and effort.
Comfortable grab handles strategically placed at the bow and stern of the kayak make portage an uncomplicated affair, while two-day hatches and a hinge hatch allow for convenient storage.
Other handy features that make the Skimmer 116 First Class one of Hurricane's best kayaks include a stern well bungee, an integrated bottle holder, and a paddle holder.
The Skimmer 116 First Class is amongst the lightest kayaks in Hurricane's lineup with a weight of 16.78 when carried without the seat installed. The kayak's deck console offers adequate space for mounting a gear track to hold your favorite kayaking and fishing accessories.
9. Prima 125 Sport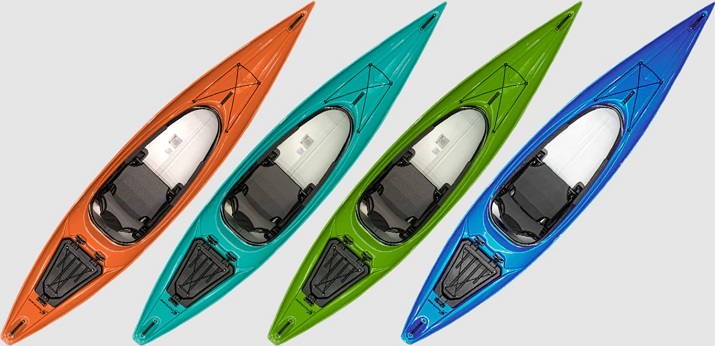 There's a lot to love about this 12-foot recreational kayak from Hurricane. It boasts a spacious cockpit and a sleek multi-chined hull design that's accompanied by flattering deck lines and comfortable handles for easy transportation during portage.
At 20.41 kg, the Prima 125 Sport isn't much of a hassle to carry or load and you can probably handle it on your own if you're reasonably fit.
Part of the reason why the Prima 125 Sport is one of the best Hurricane kayaks is because of its frame seats which can be removed to further reduce the weight of the kayak.
Or it can be improvised as a beach chair, saving you the trouble of bringing one along or worrying about where you're going to sit when going kayak camping.

Alternatively, you can adjust them forward or backward depending on your size, height, or the amount of gear you want to store in the cockpit.
What's more, it has foam pads for your thighs which will help prevent chafing and maximize your comfort level throughout your trip.
The Prima 125 Sport also features a large hatch in the stern which provides room for storing dry bags and other equipment you want to bring with you.
And if you've still got extra gear to stash, you can always rig them to the deck using the bungee attachments.
The Prima 125 Sport has gear tracks for mounting accessories like a fish finder, camera holder, and more as well as a storage tray and water bottle holder that's been integrated into the seats for convenience.
Final Word
Hurricane has a broad range of paddle crafts to choose from if you're in the market for a premium, high-performing kayak to use on flat water.
The kayak for you will depend on the activity you plan to use the kayak for whether it's kayak camping, fly fishing, or day tripping.
However, if you want a kayak that is flexible enough to serve different purposes and works well for both short and multi-day trips, the Tampico 130 is your trusted ally.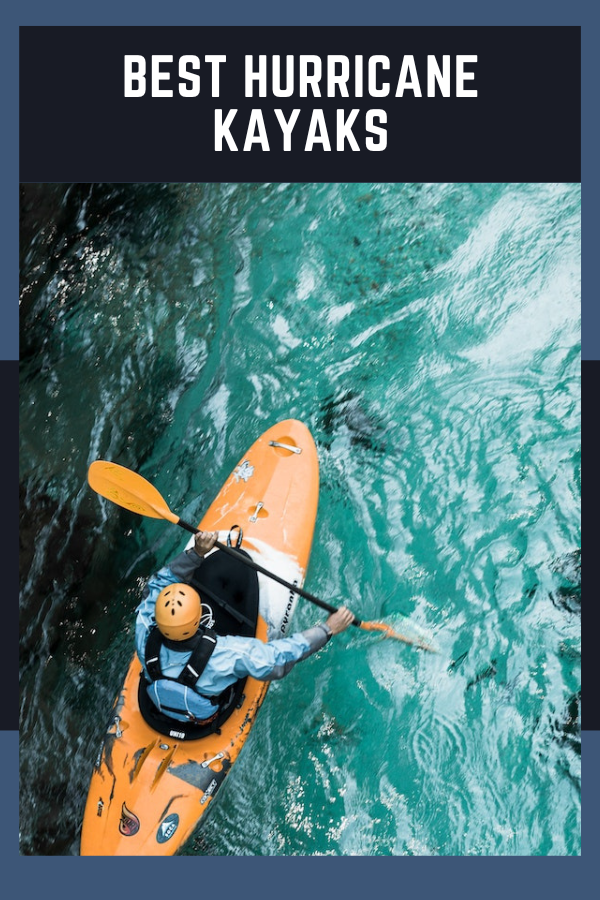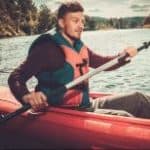 Author: Peter Salisbury
Pete is the Owner of KayakHelp.com. Born and raised in Cleveland, Ohio, he grew up kayaking, fishing, sailing, and partaking in outdoor adventures around the Great Lakes. When he's not out on the water, you can find him skiing in the mountains, reading his favorite books, and spending time with his family.