Folding kayaks have been gaining popularity in recent years because of their portability and ability to be stored in smaller apartments or garages. One thing that holds many people up, however, is whether the best folding kayaks perform comparably to the best traditional kayaks.
If you search Amazon, you will find several folding kayak brands claiming that there is hardly any difference between a folding kayak and a regular kayak once you get on the water. Unfortunately, not all folding kayaks can compare to regular kayak models.
Tucktec is one brand that is currently competing with the likes of Oru and other more popular brands. In today's guide, we are going to review the folding kayaks from Tucktec and see whether they are worth buying.
Let's get to it!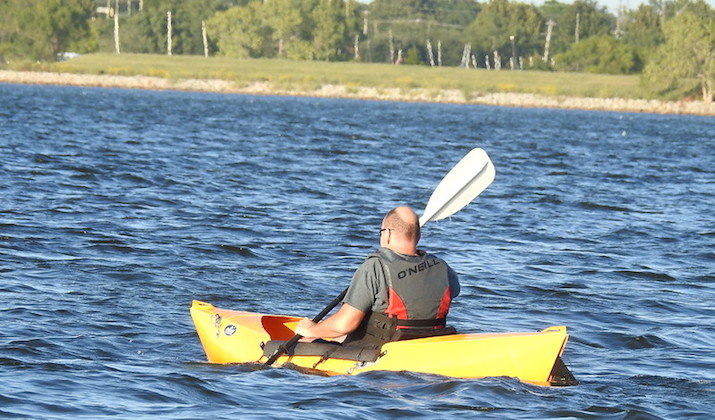 Photo by Andrew Penney Photography via Flickr
What Are Tucktec Folding Kayaks?
Photo by Phil Venditti via Flickr
Tucktec folding kayaks have really grown in popularity in the recent times. The brand claims that their models are some of the lightest around. Most importantly, they take the least amount of time to set up when preparing to paddle and break down when packing up to head home.
They company bets big on the durability factor too. All folding kayaks are only rated for a certain number of folds (usually in the thousands) in their lifetimes. The company says that they produce a kayak which is one of the longest-lasting models in this space.
Also Read: Best Kayak Carts, Wheels, Trolleys
Tucktec Folding Kayaks Review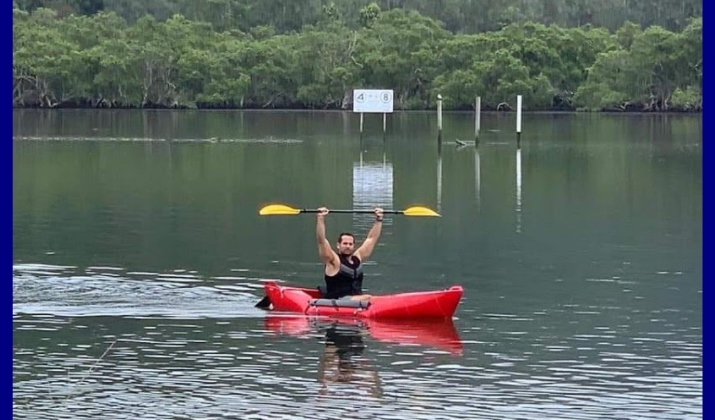 PC Tucktec
Now it is finally time for our review of Tucktec folding kayaks. We evaluated them on parameters like performance, durability, portability, and other key factors. Take a look at what we discovered.
Tucktec Specifications
Here's the breakdown of the specifications for all Tucktec folding kayaks.
Length: 9'8"
Beam: 31 inches
Weight: 28 pounds
Weight Capacity: 300 pounds
Packed Dimensions: 48" x 15"
Assembly Time: Two Minutes
Pack Up Time: One Minute
Tucktec Features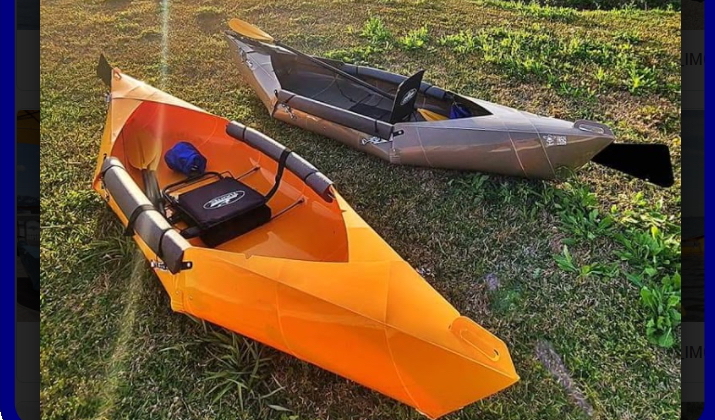 PC Tucktec
Now let's take a look at what they offer in terms of features.
Tucktec's design features a flat hull which is good if we talk about stability. They should also work for those interested in kayak fishing.
At the stern, you will be able to take advantage of a retractable tracking fin to help you navigate high winds and stronger ocean currents. On top of the deck, you will find bow and stern handles that make it easier to carry your Tucktec with a partner or gently drag it across a sandy beach by yourself.
Inside the cockpit,  we found that the adjustable seat includes a high back. This is good to provide that extra lumbar support for longer paddles. An adjustable footrest, allowing the kayaks to accommodate paddlers of varying heights was another plus. It also helps you maintain a more upright and engaged paddling position.
Along the edges of the cockpit, marine-grade foam sponsons provide a cushion for your knees and thighs while you are paddling. They also prevent scrapes or uncomfortable contact with the kayak itself when entering and exiting the cockpit. This was another impressive feature.
We found the cockpit roomy. There was ample legroom for larger paddlers. The seat could also be slided towards the bow or back closer to the stern depending on the height of the paddler.
Tucktec Assembly
PC Tucktec
First and foremost, it should be noted that the advertised setup and breakdown times for Tucktec folding kayaks are what can be achieved once you have some experience with how they work.
On our first try, it took us around 15 minutes to figure out how to set the Tucktec kayak up correctly. The plastic sheet simply unrolls and there are only six clamps to secure to complete the assembly.
Thankfully, they include opening and assembly instructions with each kayak they ship out to new buyers. Their website has a quick video of a new owner assembling her Tucktec kayak in just 90 seconds after practicing only three times.
Or here's a quick video on how to assemble the Tucktec folding kayak!
Tucktec Durability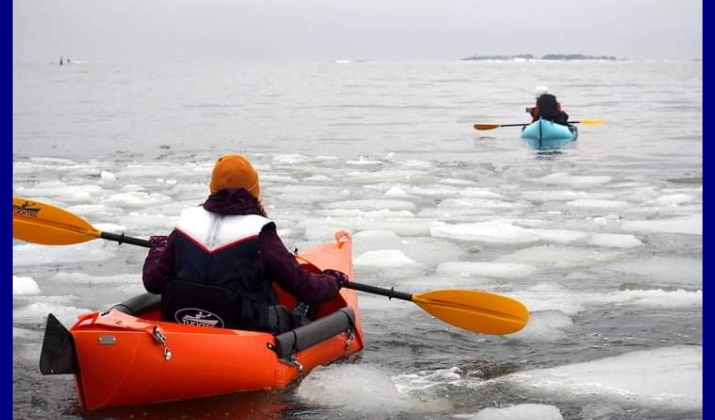 PC Tucktec
We noted the kayaks were made with a solid sheet of high-density polyethylene plastic that is one-eighth of an inch thick. This solid sheet is rated for thousands of folds and it is reinforced with carbon fiber straps at the stress folds.
There weren't any open seams or seals in the sheet of plastic which could potentially become problem areas for leaks to manifest in the future. Plus, the folds went up and over each other in what they describe as a "Z pattern" when you pack the kayak up.
This essentially creates a roll of the plastic sheeting that minimizes stress on the entire sheet when the kayak is being stored. With other folding kayaks, they fold flat and that can place unwanted strain on the folds when it is in storage.
Overall, we were impressed by their design which looked as durable as a rigid, rotomolded kayak when they are on the water. This means that they are essentially puncture-proof while handling bumps against rocks and trees, as well as the abrasive nature of being pulled up onto a sandy beach or rocky shoreline.
Tucktec Portability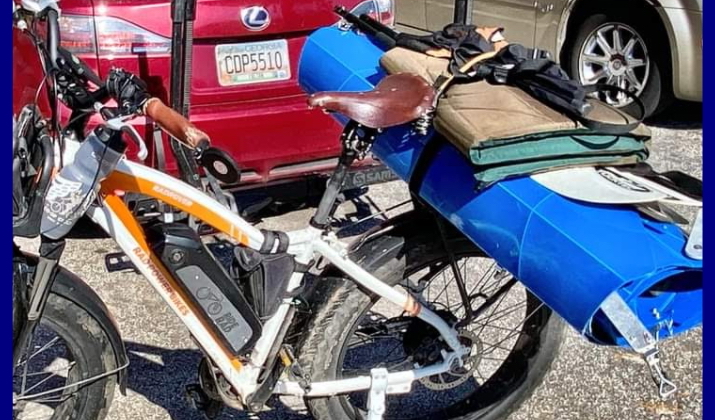 PC Tucktec
Our observation was not much different with what you see in the picture above. As you can see, Tucktec folding kayaks can be packed down small enough to strap them onto the back of a bicycle and pedaled over to a nearest kayak launching location. They also come with a shoulder strap that makes carrying them over short distances much easier.
Now, that portability is solid and actually compares very similarly to how other folding kayaks pack up. If you compare them to some inflatable kayaks, however, the inflatables have certain advantages.
One downside that we noted was the Tucktec kayak doesn't pack into any sort of carrying bag or backpack-style carrying case. That makes it harder to transport them over long distances even though they weigh considerably less than many inflatable kayaks.
In addition, you will have to purchase some other sort of storage bag or get creative if you want to transport your Tucktec kayak in the cargo area of an airplane. While they pack down small enough to fit under the plane, you will need some sort of additional bag to protect them from damage if you want to fly with your Tucktec.
Tucktec Versatility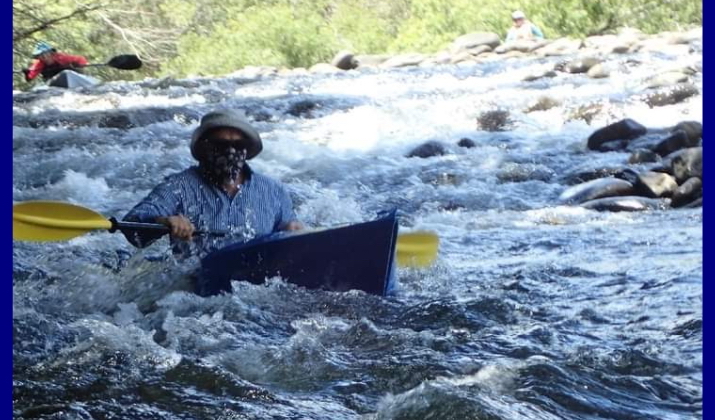 PC Tucktec
Tucktec kayaks looked pretty versatile too. Though we didn't get a chance to try them in all environments, but you will notice if you search through the gallery of customer-submitted photos on Tucktec's website, their kayaks have been used in a wide variety of environments and for different types of kayaking.
This includes rivers, lakes, streams, creeks, open ocean, coastal bays, and even semi-frozen waterways around the globe. There is almost no scenario that Tucktec folding kayaks can't handle if you, as the paddler, are also adequately prepared.
When it comes to safety, their kayaks adhere to all United States Coast Guard safety and manufacturing requirements.
While this doesn't mean you don't have to wear one of the best kayak life vests when paddling one, it should give you some peace of mind that your Tucktec can handle challenging conditions.
Tucktec Pricing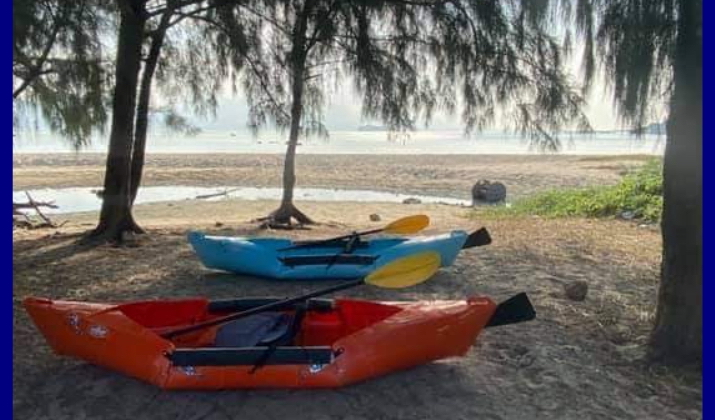 PC Tucktec
This is one of Tucktec's biggest advantages because many of its competitors offer folding kayaks with four-digit price tags. Thankfully for beginners and those of you looking for a budget-friendly folding kayak, Tucktec kayaks are priced well below $500.
They also occasionally run volume sales in which they will offer multiple kayaks for an overall discount. If you can hit their website at the right time, you may be able to grab two Tucktec kayaks for much less than a single kayak from some of the more expensive folding kayak brands.
Tucktec Warranty and Satisfaction Guarantee
PC Tucktec
It should also be noted that Tucktec offers a 90-day satisfaction guarantee. Because they know that you may not be able to adequately test your new Tucktec kayak immediately, they essentially give you three months to return it for a full refund if you do not feel satisfied with the assembly process or how it performs on the water.
In addition to their satisfaction guarantee, Tucktec also offers a three-year warranty on their folding kayaks. You will most likely need to register the hull identification number (HIN) of your unique kayak on their website in order to apply the warranty on the hull sheet and hardware.
Once you register your kayak, you should receive an email that confirms registration. You will need to keep that email saved somewhere that you can easily access it down the line should anything malfunction with your Tucktec folding kayak.
Are Tucktec Folding Kayaks Worth It?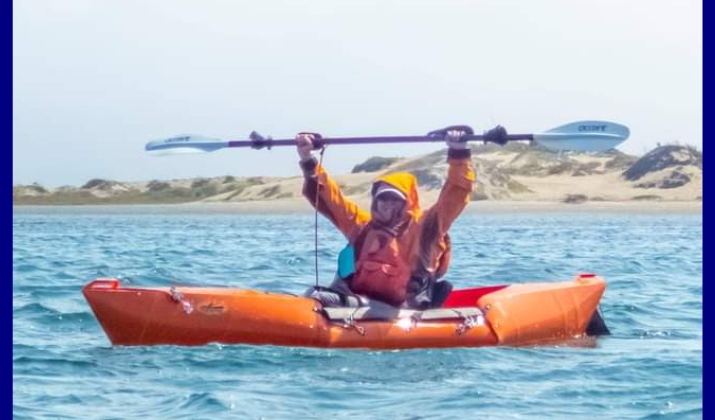 PC Tucktec
Let's now answer the most sought-after question. Are Tucktec kayaks worth it?
If you are looking for your first folding kayak simply because you want to explore whether or not you will like paddling one, a Tucktec folding kayak is definitely a great place to start. Their kayaks are much more affordable than some of the other brands out there right now.
In addition, a Tucktec folding kayak will be more versatile than many of the other models you will find. Your Tucktec will be able to handle calm lakes, slow-moving rivers, coastal bays, and even mild whitewater paddling.
While we wouldn't quite recommend a Tucktec for long-distance sea kayaking expeditions (certain Oru Kayak models or folding canoes might be better suited to that), they are great for almost all other types of kayaking.
Furthermore, the Tucktec beats almost every other folding kayak brand out there when it comes to setup and breakdown time. That makes it worth it simply for the fact that you will be able to spend less time preparing and cleaning up and, as a result, more time actually paddling on your favorite waterway!
Benefits of a Folding Kayak
This is especially for people who are new to Kayaking. If you're one of them too and considering to buy a folding kayak, here are some of the benefits to know.
PC Tucktec
Certain types of kayaks are always going to be better for some paddlers than others. That is one of the main reasons why there are so many different specialized kayak models on the market these days.
If you aren't sure whether or not a folding kayak would be right for you, check out some of the benefits of a folding kayak.
They Are Easy to Carry and Transport
Most of these folding kayaks weigh less than 50 pounds and some are much lighter than that. If you want to paddle on less accessible waterways or places that require quite the carry from the parking lot down to the water's edge, folding kayaks are much better than having a regular, rotomolded kayak.
Of course, you can always build your own kayak cart to make transporting a rigid kayak easier, but even the best kayak carts for rough terrain won't be able to handle a long-distance hike into a remote alpine lake.
Some folding kayaks pack up into backpack-style storage bags that allow you to carry them more easily into remote locations. Because they pack up so small, they are also the best option for international travelers that want to stash their kayak under a plane on their far-flung adventures.
In addition to being easy to carry, folding kayaks also eliminate the need for a kayak roof rack on top of your vehicle. They also pack down small enough to fit in the trunk of most sedans and SUVs.
This makes folding kayaks more accessible for folks with smaller vehicles. They also reduce your overall expenditures when you are first getting into kayaking because you will not be forced to invest in all of the other kayaking accessories that are a must with rigid kayaks.
They Require Minimal Storage Space
Another factor that can be tough for some people that are interested in getting into kayaking is where to store your kayak when you are not using it. If you live in a larger home with plenty of property, you will probably have no trouble storing a rigid kayak in your garage, under your deck, or in an outdoor storage shed.
For apartment dwellers and those living in smaller homes, you might not have the kind of space needed to store a 12-foot kayak, not to mention a kayak paddle and all of the other gear that goes along with it.
This is where folding kayaks come in and provide an accessible option for people that do not have enough space to store a regular kayak at home. Many of these folding kayaks pack down to a relatively compact size that isn't much bigger than a large suitcase.
They Can Be More Durable Than Inflatables
The best inflatable kayaks have come a long way since some of the earliest models were introduced. That being said, some of the cheaper inflatables are more likely to tear or puncture if you accidentally hit a sharp rock or tree branch.
Folding kayaks can typically handle a little more in the ways of scrapes and impacts than the less-durable inflatable kayaks out there. That allows them to handle shallower waterways and eliminates the concern over your dog's nails popping your kayak halfway through your paddle.
They Are Affordable
Even expensive folding kayaks rarely cost more than a rigid kayak that is designed to perform in a similar fashion. This can make folding models more accessible for beginners that want to explore kayaking without investing thousands of dollars into gear.
For those of you that have spent years renting kayaks every time you want to hit the water, a folding kayak can also help you save money in the long term. Plus, you will be able to go whenever and wherever you want without being limited to rental locations and kayak availability.
Folding Kayak Buying Guide
Finally, we come to the buying guide. Take a look at the things you should check out before buying one.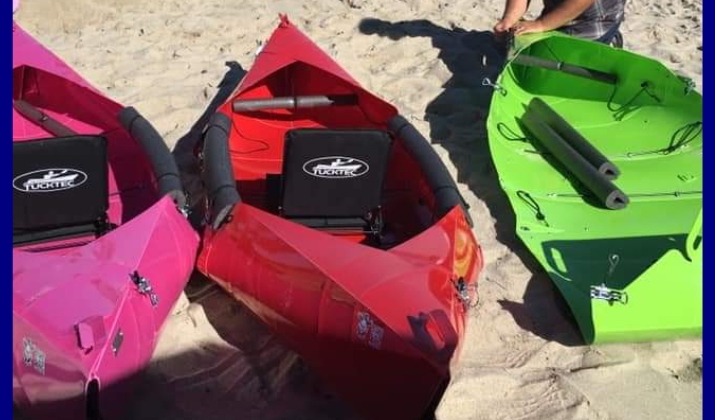 PC Tucktec
For those of you comparing different folding kayak models, it is important to use a system to evaluate them critically. So let us briefly address some of the most important features and specifications to think about when you are looking into buying a folding kayak.
Length and Width
The size of a folding kayak will impact its speed, stability, and maneuverability, just like it would with a regular kayak. Shorter and wider kayaks tend to be more stable and easily maneuverable while longer and skinnier kayaks are faster and track straighter.
If you are a beginner, a shorter and wider kayak is usually going to serve you better as you practice all of your kayaking skills and techniques. Shorter and wider kayaks also tend to be better for kayak fishing and navigating smaller creeks and streams.
Many experienced kayakers naturally begin to gravitate towards longer and skinnier models because they are more efficient over long distances. This makes it possible to challenge yourself with multi-day kayak camping expeditions or simply get a better workout when you head out onto the water for just a few hours.
Tucktec offers shorter and wider kayaks that are quite versatile. That being said, they are really best suited to beginners and those prioritizing stability and maneuverability over speed and tracking ability.
Cockpit Design and Features
Many of the cheaper folding kayaks are really designed for casual paddling and they do not offer the kind of comfort features that you would need for longer excursions. These features include things like adjustable seats, lumbar support, footrests, and padded thigh braces.
All of these things might seem like minutia, but they play a large role in your ability to stay comfortable in the cockpit of your kayak when you are paddling for multiple hours at a time.
The best folding kayak cockpits include all of these features and provide some level of adjustability to accommodate different body types. The more adjustable a kayak's cockpit is, the easier it will be for you to get comfortable and then make micro-adjustments throughout your paddle.
In addition to the features inside the cockpit, you should also consider the size and design of the cockpit as a whole. A larger cockpit opening will be easier for bigger paddlers and also make it easier for everyone to climb in and out of the kayak.
A larger cockpit opening will also allow your kayak to accommodate a paddler and a human or canine passenger. This is one of the main reasons why Tucktec has designed their kayaks with a more open cockpit.
That being said, there are downsides to having a kayak with a more open cockpit design as well. They will take on more water quickly if you accidentally capsize and generally will not accept one of the best kayak spray skirts.
This makes them less suitable for cold weather paddling or for locations where rain is frequent regardless of the air temperature. For these kinds of environments, you will want a folding kayak with a closed deck and a small cockpit opening that can accept some type of kayak spray skirt.
Folded Size
It is also useful to compare the folded sizes of various folding kayak models when you are searching through different models. This will dictate how much space you will need in the trunk of your vehicle to transport the kayak between uses.
It will also play a role in how much space you need to carve out in your closet or storage area at home. Make sure to also compare the kayak's folded size to your favorite airline's luggage dimension restrictions if you are planning to take your folding kayak along on your next long-distance trip.
Fold Rating
Last, but certainly not least, you should also pay attention to the number of times a folding kayak is rated to be folded and, subsequently, unfolded. In many ways, this will tell you a lot about the durability and expected longevity of the kayak.
Most of the best folding kayaks are rated for thousands of folds. Even if you kayaked every day, that would translate to 3-5 years of use at an absolute minimum.
More importantly than the differentiation between 5,000 and 10,000 folds, however, is whether or not the brand mentions the fold rating for its kayaks at all. If they fail to do so, this is a good reason to shy away from their folding kayak models.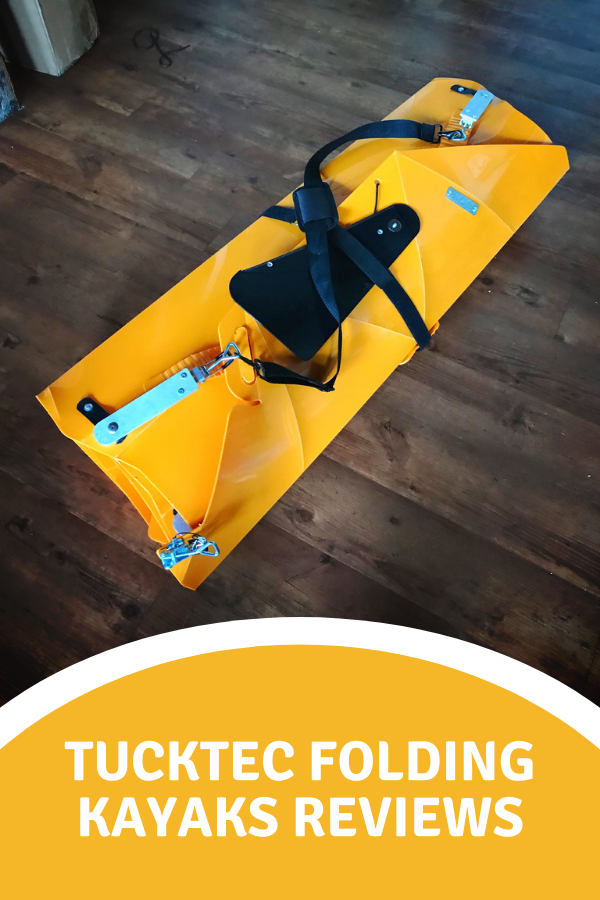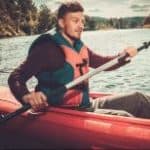 Author: Peter Salisbury
Pete is the Owner of KayakHelp.com. Born and raised in Cleveland, Ohio, he grew up kayaking, fishing, sailing, and partaking in outdoor adventures around the Great Lakes. When he's not out on the water, you can find him skiing in the mountains, reading his favorite books, and spending time with his family.