It is never a bad time to give the kayaker in your life a great gift. Like many sports, kayaking requires a lot of safety equipment and accessories that many kayakers take years to acquire all on their own.
In fact, building out your collection of kayaking gear is a lifetime endeavor for many passionate kayakers. This is especially true if you like several different types of kayaking because they all require different gear.
Whitewater paddlers use different paddles and safety equipment than your casual touring kayaker for example. Not to mention, your friend's kayaking preferences are likely to change throughout their lifetime.
So that full-brimmed kayaking hat could get swapped out for a kayaking helmet next year if one is overtaken by the thrill of running big whitewater rapids. All that said, it helps to have a lot of ideas when you are shopping for a kayaker.
To that end, we have put together a collection of the 40 best gifts for kayakers. We hope this list gives you plenty of ideas to surprise the kayaker in your life with an awesome gift whenever you plan to give it!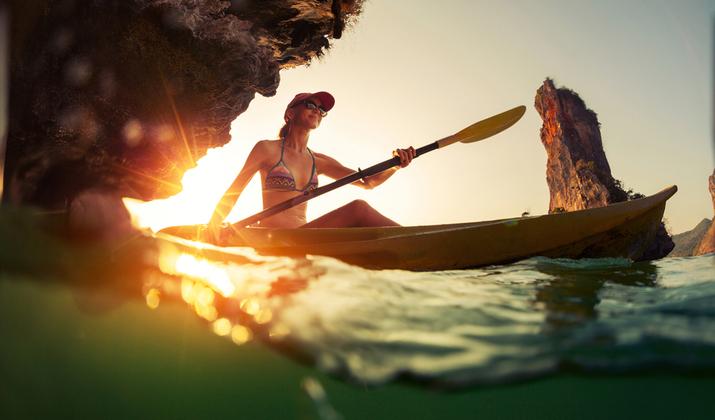 Photo by Dudarev Mikhail via Shutterstock
Thumbnail
Title
Yakpads Low Back Cushioned Seat Pad, Gel Seat Pad for Kayaks, Portable Seat Cushion for Outdoor Watersports and Recreation - Cascade Creek (Low Back)
JBL Flip 5 Portable Waterproof Wireless Bluetooth Speaker - Black Camo
NRS Rio Paddling Pants-Charcoal-XL
NRS Vapor Kayak Lifejacket (PFD)-Black-L/XL
RTDEP 3MM Neoprene Socks Diving Socks Resistant Scuba Snorkeling Water Socks For Beach Swim Boarding (Blue, M)
Thumbnail
Title
Yakpads Low Back Cushioned Seat Pad, Gel Seat Pad for Kayaks, Portable Seat Cushion for Outdoor Watersports and Recreation - Cascade Creek (Low Back)
Thumbnail
Title
JBL Flip 5 Portable Waterproof Wireless Bluetooth Speaker - Black Camo
Thumbnail
Title
NRS Rio Paddling Pants-Charcoal-XL
Thumbnail
Title
NRS Vapor Kayak Lifejacket (PFD)-Black-L/XL
40 Best Gifts for Kayakers
Check Price on Amazon
Long hours in the saddle can wear out even the most experienced kayaking behind. Why not make the kayaker in your life more comfortable with a gel-based paddle saddle this year?
This saddle from Yakpads provides insulation against heat and cold. It also offers easy installation and exceptional adjustability so that the kayaker in your life can enjoy more comfortable lumbar support than he or she has ever experienced before.
Check Price on Amazon
Admittedly, some of us take to the water on our kayaks specifically to
get away
from all the noise and commotion of our everyday lives. Others love to bump their favorite tunes while they are out on the water.
There's no right or wrong choice, but if you know your friend or a family member falls into the latter category, make sure he or she can jam out on their kayak without worrying about water splashing onto their speaker.
Check Price on Amazon
Any kayaker that seldom goes out in adverse weather might not even know about the need for paddle pants. This gift, however, is a great choice for kayakers that try to get out year-round or even just extend their paddle season into the fall.
Paddle pants will not keep you 100% dry if you fall in, but they do a great job at keeping out splashing water and rain. They also provide great insulation against the wind on cold days.
Check Price on Amazon
Your kayaker's personal flotation device (PFD) is arguably the most important thing that he or she puts on before going kayaking. The overwhelming majority of kayaking accidents are exacerbated if folks aren't wearing a PFD.
That being said, many long-time kayakers fall in love with the snug comfort of their old PFD, even if it's worn out to the point of being ineffective for its intended use. If you know an old kayaker with a PFD they bought back in the 90s, it might be time for an upgrade.
Check Price on Amazon
Cold toes are the bane of the four-season kayaker's existence and they can even be troublesome on sunset or sunrise paddles. The average water shoes can protect your toes, but they don't do so well when it comes to insulating against cold water and air temperatures.
Neoprene socks are a great gift for the kayaker in your life that just seems to keep getting cold feet. These kinds of socks are available in varying thicknesses, so the colder the temps in your region, the thicker the socks you'll need to find.
Check Price on Amazon
Regular dry bags are pretty cool, but a dry bag backpack is even better. It is a great gift for kayakers that like to go on multi-day kayaking trips because it makes it easier to set up camp once they pull their kayak up on shore.
This gift is also great for days out on an expensive fishing boat or your friend's ski boat. It carries just like a regular backpack but will keep your gear dry if it starts to rain or the bag accidentally gets dropped overboard.
Check Price on Amazon
A new and fashionably comfortable headlamp is the perfect gift if your kayaking friend or family member loves early morning or late evening paddles. Even if they only put it on while loading or unloading their kayak, it'll be of great use.
Check out the Bilby headlamp made by a company called Knog. It provides so many different lighting modes that you'll almost lose track of them and the silicone headband cleans up so easily that it doesn't take much to keep it looking brand spanking new.
Check Price on Amazon
If cold feet aren't your kayaker's problem but he or she is struggling with circulation to their fingers, you may consider paddling gloves as an alternative gift. These types of gloves are regular staples for avid, long-distance paddlers.
Other advantages to paddling gloves include improved grip on your kayak paddle and decreased finger and hand fatigue. If you've never experienced hand fatigue when kayaking, it just means you haven't paddled long enough…yet!
Check Price on Amazon
Every kayaker should have a quality pair of polarized sunglasses at his or her disposal, but not everyone has considered what will happen if their sunglasses fall off and into the water. Sure, there are Croakies and Chums, but these sunglasses render those accessories useless.
Rheos Gear has nearly defied the laws of physics (actually they've just used them to their advantage) to create sunglasses that are literally lighter than the amount of water they displace. In plain terms, that means they float if you accidentally drop them in the drink!
Check Price on Amazon
While covering up in layers is an alternative to wearing a heaping tablespoon of sunscreen for your kayaking trip, some of us like to get a little tan on during the summer months. Still, it's smart to lather up to protect your skin if you kayak a lot.
Check Price on Amazon
There is a lot of variety when it comes to kayak paddles and a few differing digits in the price tags aren't the only things that separate good paddles from great ones. Getting your friend a lighter paddle might just be the upgrade they need this year.
Having a lighter paddle means having to exert less effort to propel your kayak forward. As you might imagine, having to exert less effort with each paddle stroke means the ability to explore more before you wear out!
Check Price on Amazon
NRS (Northwest River Supply) is one of the best brands out there when it comes to paddling gear. If the kayaker in your life doesn't carry an emergency knife on his or her PFD, this could be your perfect gift.
There are so many uses for this kind of knife when you're a kayaker. Hopefully, your friend just uses it to cut the occasional apple, but it might become a life-saving device in a critical moment of need.
Check Price on Amazon
No, not all kayak carts are created equal, unfortunately. Some carts just can't handle rough terrain, so this might be the perfect gift if the kayaker in your life has been complaining about having an ineffective cart.
Kayak carts for rough terrain offer larger, never-flat tires and the ability to make it over larger rocks, tree roots, and even through deep sand. They'll make it much easier for your lucky gift recipient to roll their kayak down to harder-to-reach boat ramps too!
Check Price on Amazon
Binoculars are a great gift for kayakers that love bird watching because they make it so much easier to identify what your regular eyes are straining to see. The catch is that the binoculars you choose need to be waterproof if you plan on gifting them to an adventurous kayaker.
Check Price on Amazon
A kayak cockpit cover is a great gift for the kayaker in your life that is struggling to keep their kayak's cockpit clean and dry. It is useful for long-term kayak storage and also when you're transporting your kayak on a roof rack on top of your vehicle.
This gift is only for kayaks with a defined cockpit (aka it won't work for sit-on-top kayaks). It goes around the rim of the kayak's cockpit to seal it from dust, rain, falling leaves, critters, and anything else that tries to make a temporary home inside there.
Check Price on Amazon
Orienteering on the water isn't a struggle for everyone, and most places these days have pretty great cell phone reception on the water. If you don't want your kayaker to rely solely on high technology, however, a kayak compass is a great gift.
The cool part about these compasses is that they can attach temporarily to your kayak so that you don't lose them if you flip over. Plus, they're waterproof and can be easily removed if you need to use them for overland navigation.
Check Price on Amazon
While taking your phone on your kayak always comes with some risk, you can minimize it with smart choices. That's why a waterproof phone case is a great gift for kayakers that insist on bringing their phone on their kayak trips.
This is one gift that is worth spending a little more to get quality. There are lots of "waterproof" phone cases out there, but we trust Pelican's line of Micro Phone Cases as the best in the business.
Check Price on Amazon
Paddle grips are a great alternative gift if you think the kayaker in your life will balk at the idea of kayaking gloves. These slide onto the shaft of a kayak paddle to provide better grip and some protection from the fiberglass, plastic, or carbon that the shaft is made of.
Check Price on Amazon
Some larger kayaks have GPS mounts for larger units, but a handheld GPS will work just the same. Instead of relying on your cell phone, you can keep that stored safely for emergency calls and navigate with your GPS instead.
Check Price on Amazon
Some people struggle with just staying in their kayak when they're first learning how to kayak fish. At least if they have a portable fishfinder on hand, they'll have an easier time seeing if there are actually any fish where they're trying to cast.
Check Price on Amazon
Losing your kayak paddle is one of the worst things that can happen to you when you're in the middle of a long paddle. A paddle leash will eliminate that possibility by keeping your paddle permanently attached to your kayak, whether you're holding it or not.
Check Price on Amazon
If you haven't spent all day in a kayak, you'll be surprised by how much energy the sun saps from your body. One of the best ways to beat the heat and stay feeling fit is to stay hydrated, and a hydration pack makes that so much easier.
There are a lot of brands out there that make quality hydration packs, but we're big fans of Osprey. Even if your kayak friend or family member doesn't want to wear it the whole time, it's a better way to store water than a clunky Nalgene.
Check Price on Amazon
We all have our favorite beverages of choice when we're preparing for a long day of paddling. Whatever yours is, you probably want it to remain cold until you're ready to drink it, so consider gifting the kayaker in your life an upgraded cooler that will fit in a storage compartment or open hatch.
Check Price on Amazon
When your kayak friend goes out on a particularly hot day, the tendency might be to take their shirt off and get cooked in the sun. Instead, give them a breathable kayak shirt that helps them stay cool while also providing protection from UV radiation.
Check Price on Amazon
A paddle jacket serves much the same purpose as paddle pants, but for your upper body of course! It can be a great layer to block wind, spray, and rain to keep you drier and more comfortable when paddling in less-than-ideal weather.
Check Price on Amazon
This is another gift that is only for kayaks with a defined cockpit (of the sit-inside variety). Instead of simply protecting the cockpit from external debris, however, this gift is about protecting the gift recipient and keeping him or her warm and dry.
It plays a major role in extending the comfortable kayak season into the late spring and early fall in colder destinations. In some places, it may even allow for more comfortable winter paddling, which is why you'll find it on our cold weather kayak gear list.
Check Price on Amazon
If the kayaker you're shopping for has enough experience to
pack for a kayak camping trip
, then they need a way to keep their electronics charged while they're exploring. So what better way to help them do that than to gift them a power bank that they don't have to worry about getting a little wet?
Check Price on Amazon
Visibility is really important when you're kayaking in fog, at sunrise, sunset, or any other time when the light is minimal. Gifting your kayaker a light that attaches to their kayak will help them see, but also help other potentially dangerous boaters see them.
Check Price on Amazon
Capturing your kayak adventures is a great way to prove to your friends that you actually did catch that 28-inch trout. Or, you might just capture something else entirely unexpected, like this Florida man.
Check Price on Amazon
Kayak dry bags are great, but they can wind up being a bit bulky and hard to find inside your kayak's storage compartments. That's why a deck bag can be a great gift to help your kayak friend store things in a more compact and easy-to-reach fashion right on the deck of their kayak.
Check Price on Amazon
Do you have a kayaker in your life that keeps complaining about the inability to bring multiple fishing rods on his kayak fishing adventures? If so, then get him a set of swiveling fishing rod holders that he can mount for rod storage or trolling.
Check Price on Amazon
All adventurers should really have a quality multi-tool accessible to them at all times. For kayakers, it can help you fix broken kayak parts, snip fishing lines, remove hooks from fish, cut rope for tying your kayak off to a dock, and so much more.
Check Price on Amazon
This is the perfect gift for the person in your life that uses an
inflatable kayak
for their paddle adventures. It will save them both time and energy when blowing up their kayak so they can spend those resources once they're on the water.
Check Price on Amazon
Many older kayakers start paddling less simply because they grow weary of loading and unloading their kayak from their vehicle. If this sounds familiar, an
easy load kayak roof rack
is a great gift to lessen that burden and encourage them to get out paddling again!
Check Price on Amazon
Self-rescue is the best way to get yourself out of a sticky situation as a kayaker. For those that have
sit-inside kayaks
, however, it can be much harder to get back inside than it is with a sit-on-top kayak unless, of course, you have a paddle float!
Check Price on Amazon
While neoprene socks provide good insulation, they don't have the kind of grip or protection you'd really like for the bottom of your feet. That's where a good pair of water shoes will not only help to keep your feet warm, but they'll also provide the kind of stability you need when walking on potentially rocky shorelines.
Check Price on Amazon
For the kayaker in your life that needs a footwear upgrade but doesn't dare kayak in cold temperatures, consider gifting a pair of adventure sandals. They're great for protecting your toes and the tan lines they make will be a great conversation starter amongst kayaking friends.
Check Price on Amazon
This is the right gift for any kayaker that keeps complaining about how filthy their vessel gets while it's in storage. It wraps around their entire kayak and keeps it protected from the elements until they're ready to use it again.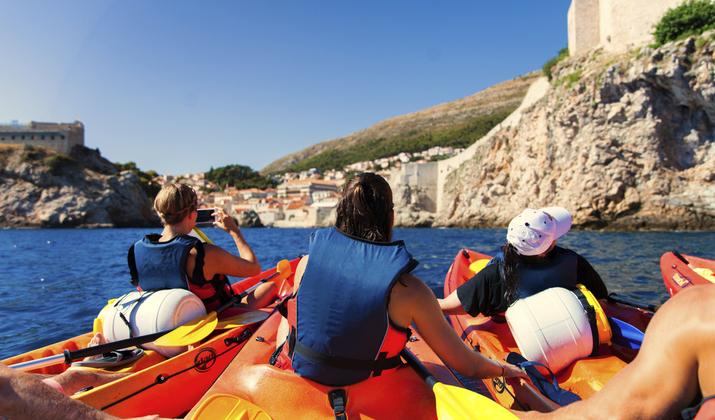 Photo by Gabor Sieto via Shutterstock
If the kayaker in your life is already laden down with gear, then consider gifting him or her a trip to a new kayaking destination. There are so many places that kayakers love to explore, so do your homework and find a place that the kayaker in your life hasn't explored yet!
Check Price on Amazon
Last, but certainly not least, you could actually buy that special kayaker in your life a new vessel to explore with. There are plenty of options out there if the kayaker in your life needs a
touring kayak
, a
whitewater kayak
, or just a
kayak for casual recreation
.
The winter is a great time of year to find deals on new and used kayaks because it's the offseason (in most places) and companies are more likely to be offering special promotions.
Also Read: Pelican vs Lifetime Kayaks
Final Thoughts
Photo by Me_Studio via Shutterstock
There is something for every kayaker in this list of the best gifts for kayakers. It doesn't have to be expensive to make that kayaker feel special and give them a new toy to play with.
We hope you've enjoyed this gift guide for kayakers and found inspiration for your holiday shopping. As always, we wish you the happiest of paddling adventures to come!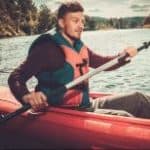 Author: Peter Salisbury
Pete is the Owner of KayakHelp.com. Born and raised in Cleveland, Ohio, he grew up kayaking, fishing, sailing, and partaking in outdoor adventures around the Great Lakes. When he's not out on the water, you can find him skiing in the mountains, reading his favorite books, and spending time with his family.