Are you having difficulty loading your kayak onto your car?
Many people who use roof racks to transport their kayaks struggle with lifting the kayak up and bringing it down every time they need to transport it.
A good alternative to using a kayak vehicle rack to transport your kayak is to opt for a kayak trailer instead.
A kayak trailer can attach to the back of your vehicle, allowing you to easily transport your kayak anywhere.
One of the advantages of kayak trailers is that you can simply detach them from your vehicle once you get home, which means you don't even need to unload it.
You can just leave it on the trailer and leave the trailer in your garage.
However, kayak trailers can be expensive at times. Though there's a fix to it that will help you save money. Why not build one using your own hands?
If it sounds like a good idea, check out these DIY kayak trailer ideas.
What You'll Need to Build a Kayak Trailer?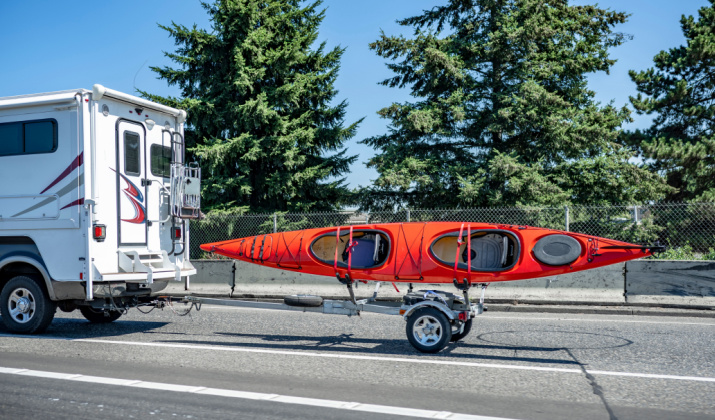 Image Source : Shutterstock
Buying a ready-made kayak trailer is always an option, but it can be pretty expensive.
They usually run for thousands of dollars, while building your own kayak trailer will cost significantly less – even as low as a few hundred dollars if you source the materials from the right places.
There are two options you will see, which are both recurring themes in this article.
The first is transforming an old jet ski or boat trailer into a kayak trailer. You can usually find old jet ski trailers for cheap on online marketplaces like Craigslist, Facebook Marketplace, eBay, and elsewhere.
They can cost as little as a hundred bucks or two, depending on the condition and age of the trailer.
The cheaper ones, though, might end up costing more than you originally thought, as the wheels may be so damaged that you have to buy new ones, or they may even be missing entirely.
You may also be able to find old jet ski trailers at junkyards. Many will be in poor condition, but if you are willing to put in some work to fix them up, you can find pretty good deals.
Even if you buy a new jet ski trailer, it could cost as little as $700 or so (for a single jet ski), if you buy it online. You can buy it from the above-mentioned marketplaces or places like Alibaba.
However, I would not recommend buying a new trailer for your custom build, as you will have to make modifications anyway.
The second option is using a utility trailer.
Utility trailers are general trailers that attach to the back of your vehicle and are designed to transport all kinds of things, from lawn mowers to bikes to camping gear to gardening tools to furniture.
While you can technically use utility trailers as-is for kayaks, it is best if you make some modifications to optimize them for kayaks, as your kayak will be less likely to get damaged or fall off the trailer.
Utility trailers tend to be cheaper than boat or jet ski trailers.
You can get new ones starting from around $200 to $500, depending on the quality of the materials, the size of the trailer, and the weight capacity.
You can also get them online or at places like Lowe's. Buy them from Amazon or eBay if you want something cheaper.
This 40×48 inch kayak trailer kit is selling on Amazon for just around $400, for example – new. Shipping can cost extra, though – perhaps an extra $150.
That's why I say you should check Craigslist or eBay for old trailers selling in your area, so you can go pick them up yourself.
If you buy a used utility trailer, it will be cheaper, of course. If you have a longer kayak, you will need a bigger utility trailer, which will cost more.
The other materials will depend on the exact build. Usually, sourcing them is easy – you can find them online or at chains like Home Depot, Lowe's, or Walmart.
Most of the tutorials here will give you a list of the items you need and where to get them, or even link to the Amazon products the tutorial author used while building the DIY trailer.
15 DIY Kayak Trailer Ideas
1. $300 Kayak Trailer on the Cheap (No Welding)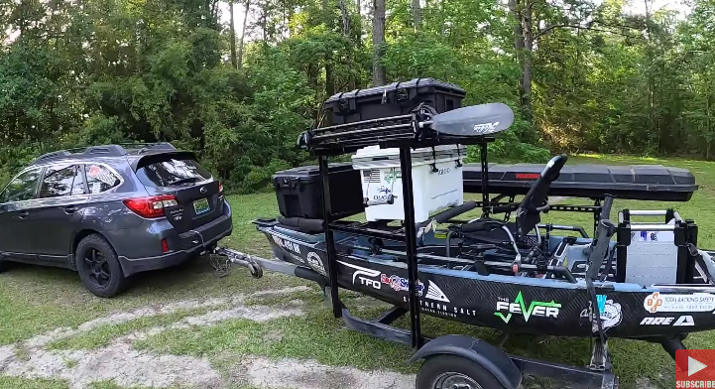 Southern Salt, YouTube
If loading a kayak onto your roof rack is too much work, and you can't find a lift-assist system that fits your budget, you can instead check out this trailer build, which only costs around $300.
That is not including the cost of the storage boxes placed on the trailer and the trailer itself.
However, if you do include those, it should only cost you around $600, which is pretty cheap, and if you remove the boxes, as they are optional, it will be less than that.
The trailer looks sleek, sturdy, and firm. You can buy an old jet ski trailer on Craigslist, eBay, or elsewhere online for $100 or so, or perhaps up to $200 or $250 if you have to add wheels.
The good thing about this DIY option is that it only uses unistrut material, which means that you don't have to worry about any welding, so forget about those awful fumes.
You do need to do drilling, though, but other than that, you can just bolt on the bars.
It also takes just four to five hours to build this particular trailer, so you can get it done in a day.
Another amazing thing about this particular kayak build is the mass amount of storage space it provides you, including racks at the top where you can put storage boxes like a cooler or a gear box.
You can secure them in place with cables, or you can actually bolt the boxes down and lock the boxes, so nobody steals your items.
In the video description, you will see the items used to create this build, including links to the Amazon pages. The rack, for example, was purchased for just $25 or so.
2. Turning an Old Boat Trailer Into a Kayak Trailer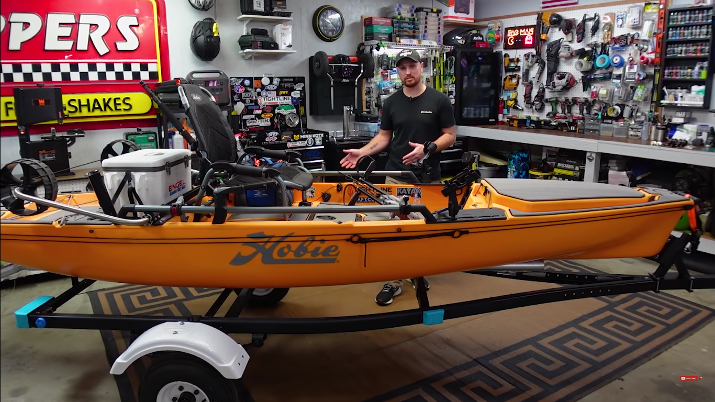 Kayak USA, YouTube
If you have an old boat trailer, you can follow this instructional video from TJ at Kayak USA to turn it into a kayak trailer. This also works for old jet ski trailers.
You don't even have to own an old boat trailer. If a friend of yours has one and doesn't use it, you can take it off their hands.
This particular method involves using EMT conduit runners instead of traditional PVC. This makes it a bit more unique.
It does take some work, though – it's probably not a one-day job.
This particular kayak trailer was made to carry a Hobie Pro Angler 14, a popular type of fishing kayak.
Before you start, though, verify that the trailer will fit your kayak. Make sure the form factor and length is appropriate for your kayak; for example, if you have a long kayak, it might be too short.
About a year after the original video was released, TJ released a new video providing an update – how to install bunk lights that glow under the water on this trailer.
Not only are these lights really cool, but they serve an important purpose.
If you are loading your kayak onto or off the trailer at night, it can be hard to see what you are doing if you are at a dark lake or campsite without a lot of lighting, and these lights will help you load the kayak properly.
The update not only talks about adding lights but also some de-modifications.
TJ decided to remove a few things from the trailer that he thought were not good additions, so check it out!3.
3. Double Trouble: DIY Trailer for Two Fishing Kayaks
Kayak USA, YouTube
If you liked the previous tutorial, you will definitely like this one as well, because it is meant to hold two Hobie Pro Angler 14 fishing kayaks, not just one!
Whether you want to help your buddy transport their kayak or you and some family members often go out as a group, this kayak trailer will come in handy.
This particular video tutorial again shows you how to turn a used jet ski trailer into a kayak trailer. So, if you can get your hands on an old jet ski trailer, this is the tutorial for you.
The video is actually the first of a two-part series.
The second video in the series builds on the first video and shows you how to truly stand out with your trailer by installing LED lights, new wheels, custom storage, and more.
Don't worry – the video description includes links to all the materials talked about and shown in the video, so you can replicate the tutorial exactly by ordering those exact items (or purchasing them in person).
4. Turning a Utility/Motorcycle Trailer Into a Kayak Trailer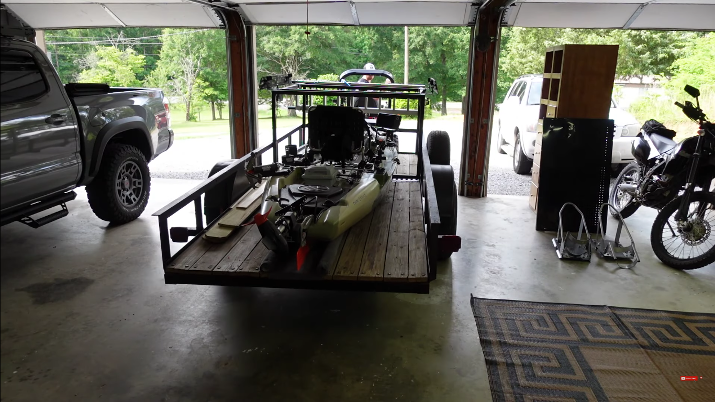 Kayak USA, YouTube
You might also enjoy this tutorial, in which TJ explains his plans for turning a utility trailer he had been using to transport dual sport motorcycles and other things into a kayak trailer.
In this video, he clearly explains exactly what he will do with the trailer, how he will add a rod tube, and the things he will switch to optimize the trailer for transporting kayaks and even backing the trailer into the water for easier loading and unloading into the water.
Don't worry – the trailer will still be able to transport golf carts, dual sport motorcycles, and other things.
The difference is that it will now be able to transport kayaks as well – it will be a multipurpose trailer perfect for people who need to transport multiple big items.
5. An Easy Way to Turn a Boat Trailer Into a Kayak Trailer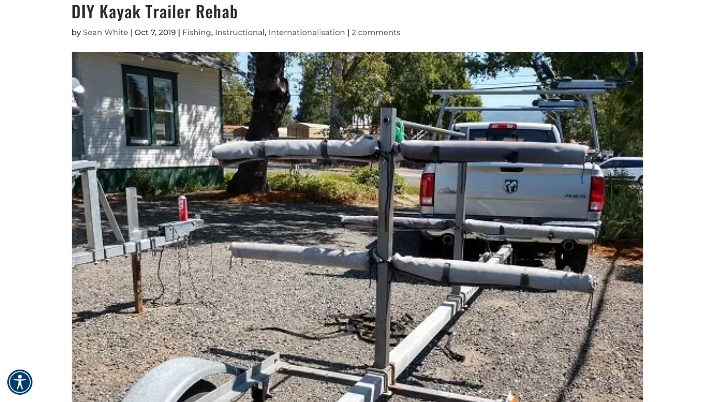 Sean White, JacksonKayak.com
This particular tutorial involves turning an old boat trailer into a kayak trailer, similar to some of the ones we have seen prior.
However, this one is particularly easy, as it doesn't require much more than adding padded posts, so you can stack the kayaks without damaging them.
While the original version of this tutorial required the loading of the kayaks upside down to avoid damaging them, the new, updated tutorial does not require that.
It's definitely easier than loading your kayak onto a J-rack!
6. Easy Kayak Trailer Build for Those Without Skills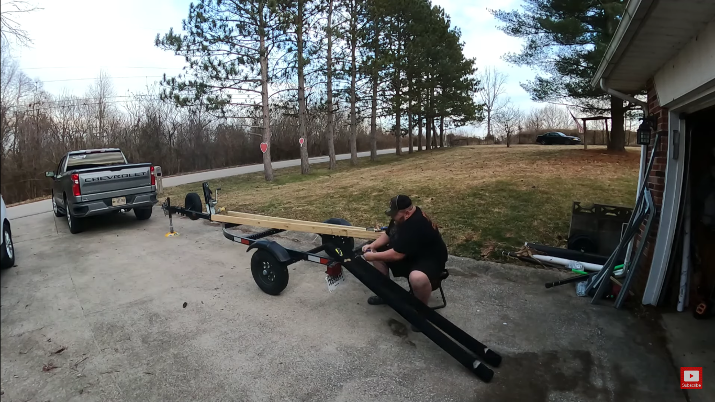 Fishing With GRAMPS, YouTube
If you don't have a lot of building skills, and all of the above videos kind of intimidate you, this particular tutorial is great. It is easy to build, and it is also great for longer kayaks, as it uses 10-foot bunks.
It uses only some basic materials, such as rod tubes and bunk carpet tape, all of which are linked to in the video description, so you can obtain them easily.
7. No Welding Required Kayak Trailer Build
Legal Limit, YouTube
Do you hate welding? Maybe welding scares you, or you hate the fumes and the associated health risks that come with welding.
Don't worry – this particular kayak build does not require any welding.
The tutorial makes use of a Harbor Freight trailer, and the video is conveniently timestamped, so you can easily go back and find the materials or rewatch the instructions on how to make the build.
According to the tutorial, the entire build, with all the materials, should cost you around $300 to $400, not including tools, but you may already own the tools required (remember, no welding is necessary).
8. Quick Tutorial for Converting a Jet Ski Trailer Into a Kayak Trailer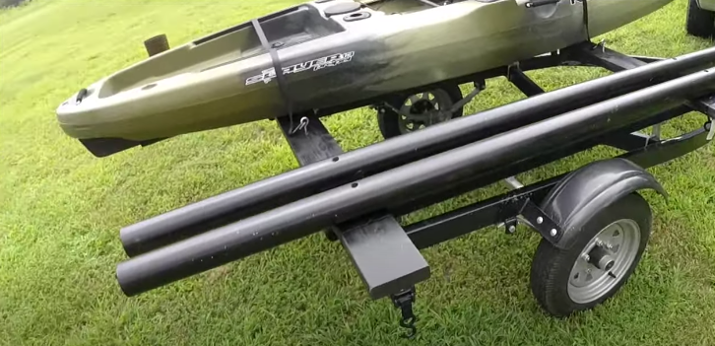 Yaktimes, YouTube
Are you tired of all those long video tutorials? If you just want a quick and easy tutorial, this one's for you.
In less than four minutes, you will see exactly how you can turn a jet ski trailer into a kayak trailer that can hold not one but two kayaks.
The steps are very well explained; this is a great example of quality over quantity.
Of course, most tutorials on YouTube will be longer, and that is because the channels that post them will earn more ad revenue if they post longer videos.
9. $500 Kayak Trailer – DIY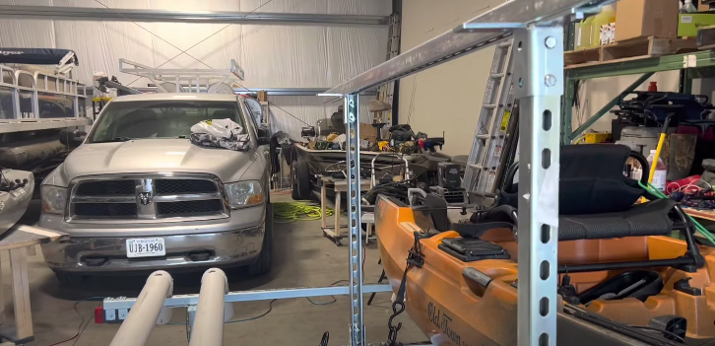 Blessed to Fish, YouTube
This particular trailer build should cost you around $500. It is relatively affordable, and while there are cheaper builds out there, this one works pretty well.
The kayak trailer can actually carry three kayaks. In fact, as he discusses in the video, it is even customizable to carry four kayaks!
However, if you have just two kayaks, it is definitely enough. For $500 and some relatively easy work, this is a great DIY kayak idea.
10. Two Kayaks AND Two Bikes?
Mike Jordan, YouTube
This particular trailer build uses a small Northern Tool base trailer, measuring just 40″ x 48″, but man is it impressive! It can hold two kayaks, two bikes (on a separate rack), and plenty of extra storage space.
No welding is required, as everything was bolted together, and the video tutorial goes through all the different things you will need.
There are links in the video description to the Amazon product pages.
The DIY build includes a storage box at the top for your extra things. You can put things like dry bags, life jackets, and dry suits there.
The kayaks are secured in place with straps, and there is a light system installed on the back so you can be seen by other motorists.
I like how the vlogger included a Google Drive with pictures of the build from various angles, giving you a better understanding of how to construct it. That was very helpful on his part.
11. Quad Kayak Trailer DIY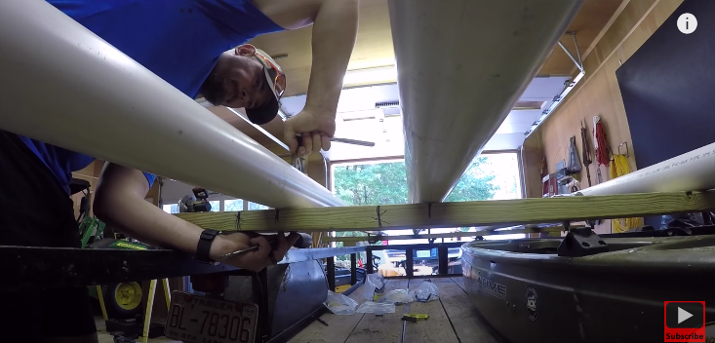 Southern Outdoors Fishing, YouTube
This particular tutorial shows you how to turn a 5×10 Kaufman utility trailer into a kayak trailer that can hold multiple kayaks – up to four.
It's pretty genius, and you will only need some basic supplies from Walmart and Lowe's, which are all listed out for you in the video description and mentioned in the video as well.
If you can't get to a Walmart or Lowe's, don't worry – you can easily find these basic materials, such as D-rings and lock nuts, online as well.
The video goes through exactly how to do it, where to get the hardware, and how to build the trailer.
12. Haul 4 Kayaks With This DIY Harbor Freight Trailer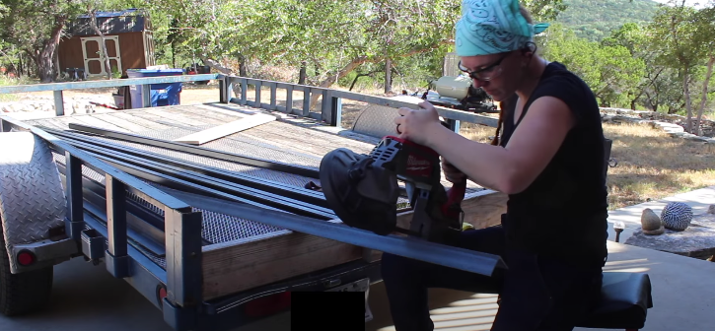 April Wilkerson, YouTube
This video tutorial, by April Wilkerson, shows you how to turn the frame of a Harbor Freight trailer into a kayak trailer that can hold up to four kayaks.
It does require welding, so be prepared for welding if you plan to follow this tutorial.
April gets right into it, not wasting any time at the beginning of the video as other vloggers tend to do, showing exactly how she builds the trailer in real time and explaining every step of the way.
Links to all the materials used in the tutorial, including the trailer itself, the tools used, and the safety equipment you will need while welding, are all linked in the description.
You can get them all on Amazon.
You might need some powerful tools, so do watch the video before you decide to use this tutorial.
13. Harbor Freight to Kayak Trailer: Do's and Don'ts Tutorial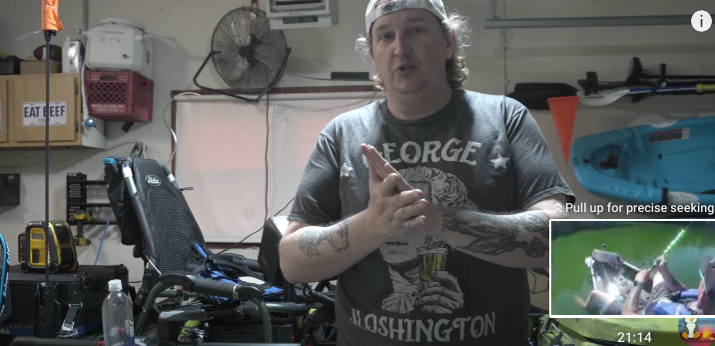 Penguin Outdoors, YouTube
Are you struggling to get your DIY kayak trailer right? If you seem to keep making mistakes, this tutorial is for you.
This particular build is made from a Harbor Freight trailer to fit a Hobie Pro Angler 360 kayak, but you can build it to fit other kayaks as well.
He explains how he messed up his own trailer and the mistakes he made. A smart person learns from the mistakes of others to save time, effort, money, and frustration!
14. Tandem Kayak Trailer Custom Build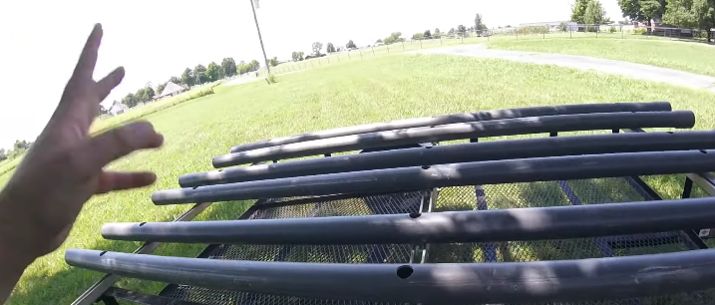 Adam Willby, YouTube
This tutorial shows you how to convert a 5×8 utility trailer into a kayak trailer that can transport a tandem kayak. If you own a long kayak, this will work well, as it was made for a Lure 13.5S.
The tutorial requires some basic drilling and bolting.
The good thing about this build is that you will retain the utility usage of your trailer.
At any time, you can take the bolts and kayak rack you added off to transform the trailer back into a utility trailer, so you can transport your other equipment.
It is also customizable; you can adjust the PVC depending on the kayak you have. It can also fit two and perhaps three kayaks depending on their size.
15. Transform a Single Jet Ski Trailer Into a Dual Kayak Trailer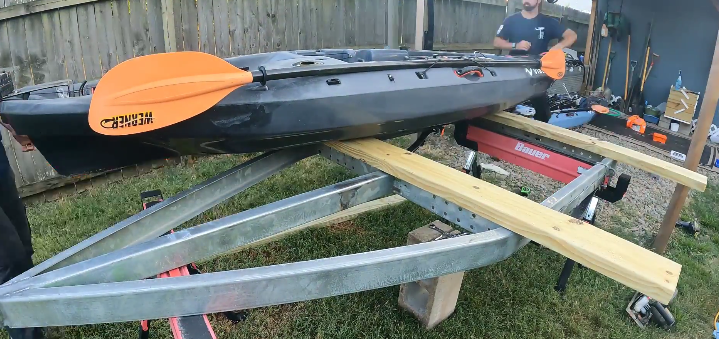 rjguess1, YouTube
Single jet ski trailers cost a lot less than double jet ski trailers, but can you transform them, so they can carry two kayaks? The answer is a resounding yes.
This tutorial shows you how to transform a jet ski trailer into a dual kayak trailer for relatively cheap. It's a relatively easy job as well.
I recommend checking out the comment section, though, as the lovely commenters in the comment section have added some really helpful tips and advice on how to optimize this particular build and make it better.
Conclusion
If you want to save money on a kayak trailer, avoid buying expensive premade kayak trailers.
There is no need to spend thousands of dollars on a trailer when you can make a perfectly functioning and sturdy trailer by yourself for a few hundred dollars – a fraction of the cost – and in just a day's work (or a few days' work, depending on the build).
There are many tutorials out there, but these should be sufficient.
Whether you can get your hands on a used jet ski trailer or a utility trailer, and regardless of the type of kayak you have, these tutorials are easy to follow.
If you liked this article, please share it with a friend, so they can benefit as well.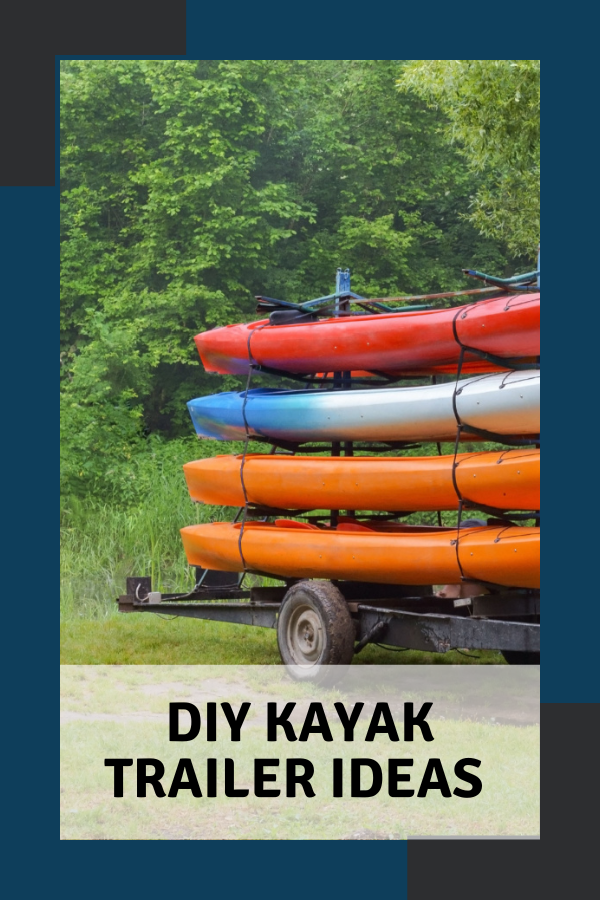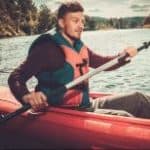 Author: Peter Salisbury
Pete is the Owner of KayakHelp.com. Born and raised in Cleveland, Ohio, he grew up kayaking, fishing, sailing, and partaking in outdoor adventures around the Great Lakes. When he's not out on the water, you can find him skiing in the mountains, reading his favorite books, and spending time with his family.