Are you considering giving kayak camping a try but have no idea where to explore? Or maybe you're an experienced paddler and camper looking for the perfect location for future multi-day adventures.
Either way, I've put together the best kayak camping places and trips to go on that cater to different tastes and paddling abilities.
These destinations are perfect for creating those wonderful outdoor memories with friends and families.
Let's find out.
Best Kayak Camping Trips & Places To Go
1. San Juan Islands, Washington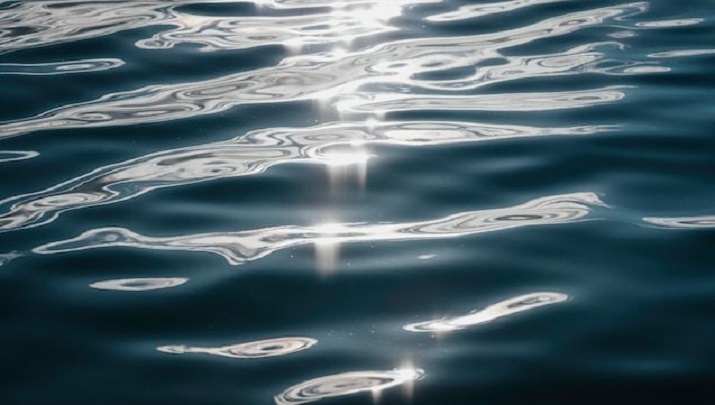 Photo by Toan Chu
Dreamy loops of islands, snow-capped mountains, rocky coastline, sweeping ocean views, spreading greenery, and an abundance of marine wildlife are just some of the reasons why the San Juan Islands are considered a bucket list kayaking destination.
This stunning archipelago was formed by glaciers and volcanoes millions of years ago and currently occupies the cold sea between Canada and Seattle. Whether you're a beginner or an experienced kayaker, the San Juan Islands are teaming with paddling opportunities to satisfy everyone's preferences.
You can begin your journey at Friday Harbor and camp at the north or west beach before exploring the wildlife haven that is Lopez Island. On the other end of San Juan Island, you'll find the historic Roche Harbour, which was once a lime manufacturing town.
This spot is the perfect place to camp if you want to catch whale sightings or add activities like hiking to your itinerary.
Other excellent kayaking camping spots you can check out in the San Juan Islands include Orcas Island, Clark Island, Blind Island, Shaw Island, James Island, Sucia Island, Jones Island, Matia Island, Doe Island, and Patos Island.
As you float down the waterways that make up the San Juan Islands, be on the lookout for seals, orcas, sea lions, bald eagles, and other magnificent animals that have made a home in the area. You can also expect to run into blissfully quiet beaches and campgrounds where you can recoup by the waterside.
2. Koreshan State Park, Florida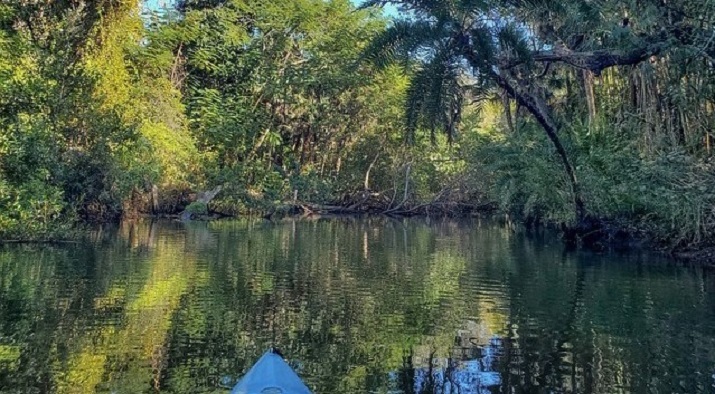 Photo by Michelle Raponi
Looking for a leisurely paddle to soothe your senses and wash away the stress of daily life? Koreshan State Park is one of the best kayak camping spots in the United States.
It is situated close to the Estero River, which was once a pioneer community so you get to travel back in time and peek into the lives of the people who lived by the river banks.
The salty river is not influenced by the tides, so its gentle waters provide a great opportunity for relaxing kayaking explorations.
Koreshan State Park has 60 campsites with running water, fire rings, and picnic tables standing by for visitors who have planned an extended trip. The park has a boat launch where you can kick off your trip by placing your kayak in the water.
You can bring along your own kayak or rent one from the ranger station if transporting your vessel is inconvenient or impractical for you.
To add some more excitement to your trip, you can take hikes, watch the local wildlife, and kayak fish for muskellunge, brown trout, smallmouth bass, striped bass, and largemouth bass.
3. Mockhorn Island, Virginia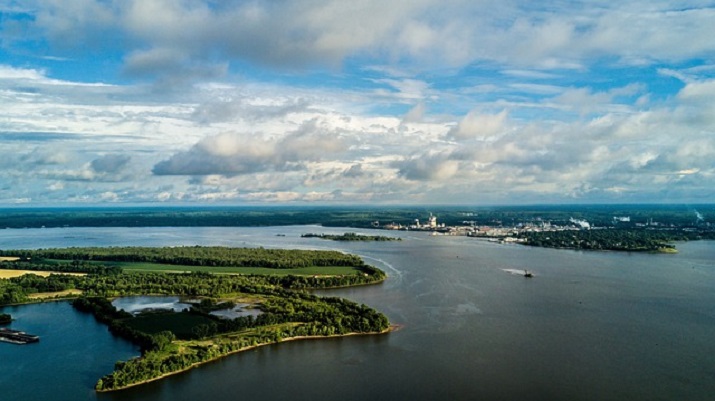 Image by Tim Morrisette from Pixabay
Virginia's Eastern coast is home to one of the longest expanses of protected and undeveloped shorelines on the Atlantic coast. Mockhorn is one of the barrier islands that dot the Atlantic Coast and it is situated on the southern end of the Delmarva Peninsula.
Unlike some of the other islands that are closed off to the public or only accessible for day use, Mockhorn allows you to camp on the grounds while exploring the waters with your kayak. Primitive camping is free but you have to get a permit beforehand from the Virginia Department of Wildlife Resources.
Mockhorn Island makes for the perfect kayaking camping trip for people who love wildlife sightings and bird watching. You can find egrets and herons nesting in trees and low shrubs, ospreys occupying bays, and an assortment of other shore and seabirds.
Your exploration of this tidal marshland will also reward history lovers with a journey into the past. You can catch glimpses of the water and fire control towers that were used during World War II, as well as the abandoned and dilapidated concrete homesteads erected in the 1920s by the Cushman family.
The splendor of Mockhorn Island is best enjoyed when the tides are low and the island is fully visible, rather than when most of the area is submerged in water from high tides.
The island is also an excellent spot for kayak fishing. So be sure to pack your rod and reel and try your hand at catching some bluefish, flounder, croaker, tarpon, grey trout, black drum, and many other saltwater fishes.
4. Eleven Point National Scenic River, Missouri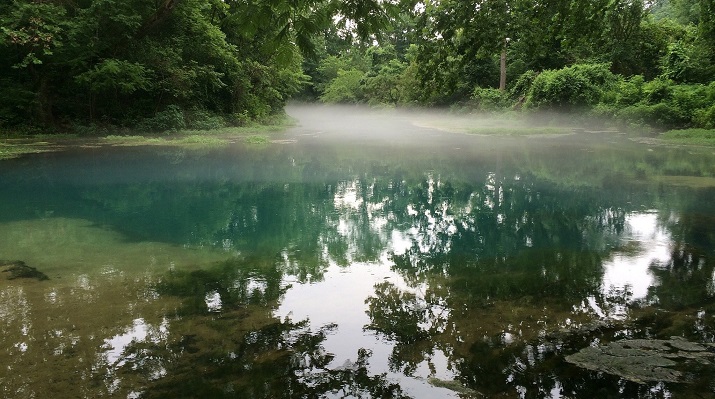 Photo by Jamie E
If you want a less-traveled destination that doesn't skimp on beauty and excitement, visiting the Eleven Point River is one of the best kayak camping trips you can make.
The Eleven Point River was one of the original eight waterways to be added to the National Wild and Scenic River system in 1968 and it hasn't lost any of its allure.
The river snakes through the majestic Ozark hills, cutting across forested valleys, steep bluffs, moss-covered boulders, and low-lying riverine ecosystems.
Located in the small country town of Alton, Missouri, the 138-mile River is fed by gorgeous springs and an immense network of underground systems that provide an adequate flow for float trips all year round.
As long as you have the right kayaking clothing and gear, you can go paddling in the Eleven Point River in all seasons. The river is classified as a Class II whitewater river with thrilling, but not too intense, rapids that can be tackled by anyone with minimum water reading skills.
Less experienced paddlers can take advantage of the flatwater pool sections of the Eleven Point River, while those with advanced paddling skills and rescue training can run the river at high water levels for a bigger adrenaline rush.
The Eleven Point River also abounds with trout, pan fish, and smallmouth bass for those who like to go kayak fishing. All you have to do is follow the regulations laid out by the Missouri Department of Conservation.
5. Tomoka State Park, Florida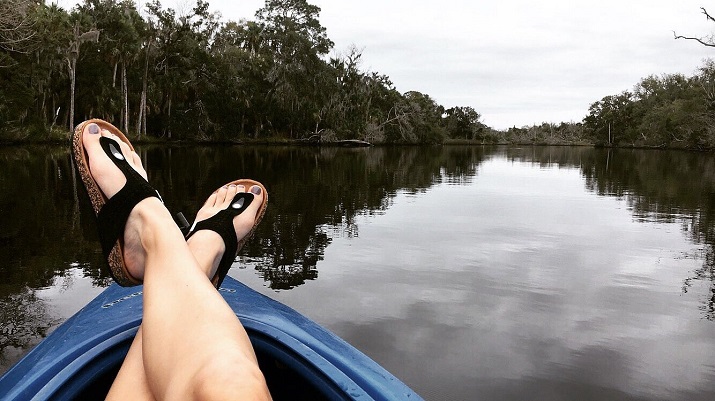 Photo by Alyssa M
Tomoka State Park is a paddler's, historian's, and birdwatcher's paradise that sits on 900 acres of land. The site was once inhabited by the Timacua Indians of Nocoroco village and later served as a rice and indigo plantation in the late 1700s.
The park draws its name from the Tomoka River and it offers plenty of scenic paddling opportunities for those who like to combine sightseeing with their water expeditions.
You can have a great time exploring the ample paddling trails within the park or seek out more tidal-influenced paddles beyond the park.
The park is home to diverse wildlife, marine mammals, and endangered species such as the West Indian manatee, as well as over 160 bird species. So don't be surprised if your trip takes longer than expected because you keep stopping to take pictures.
Tomoka River is also rife with fishing opportunities. Florida's Marine Research Institute has identified over 90 different species of fish in the waters including tarpon, sheepshead, black drum, common snook, red drum, and spotted sea trout.
The park has over 100 full-facility campsites with water, grills, picnic tables, and electric hook-ups for paddlers who want to stay overnight.
6. Klamath River, California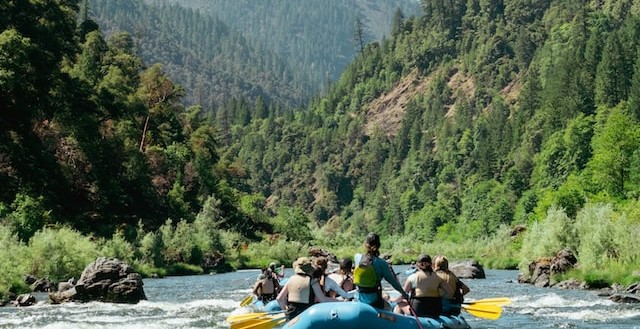 Photo by Megan Nixon
The Klamath River provides a respite from the regular hustle and bustle of California. It's one of the premier kayaking destinations in the state teeming with opportunities for you to explore warm waters, breathtaking scenery, and memorable waterfront camping.
If you're interested in navigating challenging rapids and riding big waves, this is the place to go. The Klamath River is also a great entry-level kayak camping trip and it's kid-friendly too so you can bring the whole family to have some fun on the water and cozy up next to a fire in your camp at the end of the day.
The lower section of the Klamath offers novice kayakers a laid-back pace, while the river's upper section promises to deliver roiling rapids with Class IV power for those who need an adrenaline boost.
With otters swimming in the water, raptors trailing the sky, and black bears strolling along the riverbanks, the Klamath River is a sight to behold. To get the most out of your trip, plan to visit during the summer season which runs from April to August.
And don't worry, you don't need a permit to explore this slice of nature. Just come ready to be amazed and don't forget your kayak camping gear.
7. Indian River Canoe Trail, Michigan
Photo by Laura Baker
Designated a National Wild and Scenic River in 1992, the Indian River boasts a diverse ecosystem, rugged landscape, and breathtaking waterways with pristine water quality that makes it an excellent choice for day paddles and multi-day kayak camping trips.
From vast marshlands to sharp turns, steep and narrow banks, and forested wetlands, the Indian River is full of sights that will engage and impress even the most stoic paddler. The Indian River sits on the Hiawatha National Forest and makes its way through different beautiful settings.
Depending on how long your float trip is, you can expect to encounter a network of connected lakes in the upper sections of the river. The middle section holds a winding channel in a carved valley, leading to a braided channel that feeds Indian Lake.
Plan to arrive after mid-June when the water is calm and smooth-flowing if you're looking to do some recreational paddling. But if you're experienced enough to handle high and fast waters, you can visit earlier in the year.
If you pack binoculars and stay on the lookout while paddling about, you might catch sightings of various rare, sensitive, or threatened species that inhabit the area including wolves, ospreys, bald eagles, wood turtles, common loons, and American Martens.
You'll find the Widewater Campground and many campsites distributed along the river where you can take shelter during your trip.
8. Brunet Island State Park, Wisconsin
Photo by ElderEagleWatcher
If you want a relaxed paddle in an area with gorgeous scenery and plenty to do other than paddling, a trip to the Brunet Island State Park will check all your boxes.
The park consists of more than 1300 acres of charmingly dramatic landscape brimming with freshwater lagoons and waterways that are perfect for paddling, kayak fishing, and catching glimpses of wildlife. The Chippewa and Fisher Rivers converge at the park.
Spend your days kayaking the quiet waters and getting to know the rugged shoreline either independently or as part of a guided tour group.
You can catch a variety of fishes in the waters around Brunet Island State Park including crappie, walleye, catfish, yellow perch, northern pike, and smallmouth bass.
Brunet Island State Park offers two campgrounds – North and South – for paddlers who want to stay the night.
The majority of campsites in the North campgrounds are a bit primitive and are situated on or near the Chippewa River coastline, so you can paddle in and set up camp at different points in your journey.
However, the South campgrounds offer electricity, shower buildings with flush toilets, and better access for people with disabilities.
9. Green River, Utah
Exploring the 120-mile Green River in a kayak is one of those activities that will fill you with renewed wonder and respect for nature.
The river travels through two deep canyons to reveal majestic views of rock formations and calm waters along with some Class III rapids that will get your heart racing.
Whether you opt for a sea kayak, fishing kayak, or recreational kayak, you can make beautiful memories navigating the Green River area.
Paddlers who want a less-beaten path can choose to explore the Stillwater Canyon, launching from Mineral Bottom and traveling past vistas of red mesas to get to the landing site at Spanish Bottom.
Alternatively, you can launch from the Green River State Park and head for Labyrinth Canyon if you want an amped-up experience.
For camping, Green River offers 32 campsites scattered along the shore, but you'll need to make reservations weeks before your trip to secure a spot.
10. Lake Chelan National Recreation Area, Washington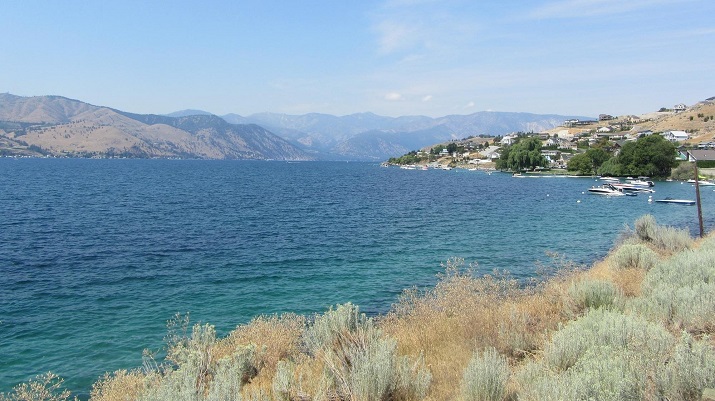 Photo by Relayer
With over fifty miles of coastline stretching through the North Cascades, the idyllic Lake Chelan is a lovely spot for your next kayak camping trip.
Lake Chelan is a narrow waterway fashioned by a glacier during the last Ice Age and the second largest body of freshwater on the west coast.
Lake Chelan's clear, blue waters have lots of spirit and excitement to offer both the recreational paddler and the water sports expert. Bring your own kayak or rent one that suits your needs at any of the local vendors near the boat launches.
To get to the original point of Lake Chelan in Stehekin village, you'll need to take a ferry or make your way by foot. You can paddle different sections of the lake on a day trip or explore the full length of the lake in a multi-day trip lasting six to seven days.
Additionally, there are many smaller lakes and channels near Lake Chelan that you can explore. Don't forget to pack your swimwear because you might not be able to resist taking a dip in the lake, especially if you visit during the summer.
After an exciting day of paddling, you can rest your bones, cook a delicious meal, or feast on the float trip food you brought with you at one of the 25 campsites situated around Lake Chelan's shore.
11. Lake Tahoe, California and Nevada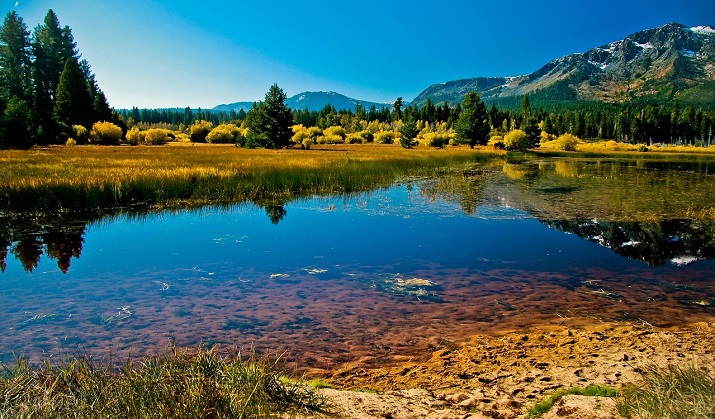 Photo by Jody Summers
Lake Tahoe is the largest freshwater lake in the Sierra Nevada, as well as one of the bluest and most transparent waters in the world.
The sheer beauty of the scenery, gorgeous sandy beaches, and swarms of colorful fishes alone are worth a trip to this magnificent pocket of nature.
There are few places to go kayak camping that are as perfect as the 72-mile water trail of Lake Tahoe. However, because it's a high alpine lake, you need to be conscious of winds, weather, and mountain conditions when paddling because they can turn on a dime.
There are many launch sites that you can use to access Lake Tahoe including Kiva Beach, Timber Cove, Lakeview Commons, Regan Beach, Zephyr Cove, and Camp Richardson. The route also features wayfinding signage, navigation tools, landing sites, water safety tips, and paddle paths to suit your interests and skill level.
Although you can experience water activities on Lake Tahoe all year long, the best time to visit is during the summer months when the water is at its warmest. But if you want to avoid the rush of tourists, time your visit for the spring or fall season.
12. French Broad River, North Carolina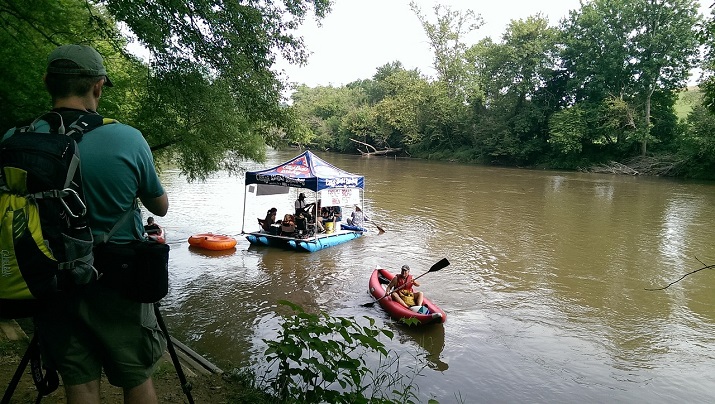 Photo by Tommy Green
Are you planning your next Kayak Camping adventure? Take a trip to the 218-mile-long French Broad River nestled in North Carolina's Blue Ridge Mountains and flowing all the way to Douglas Lake, Tennessee.
The French Broad River is part of the Tennessee River Valley System and it is considered the third oldest river in the world. Whether you're looking to do some recreational paddling, go chasing after hard-core whitewater rapids, or put your intermediate skills to the test, the French Broad River is accessible to all kayakers.
Taking off from Rosman, North Carolina you can wade through flat and whitewater all the way up to Douglas, Tennessee, stopping at campsites to rest along the way.
If you're new to kayaking, the Brevard, Bent Creek, and Hominy Creek sections of the French Broad offer calm sections of the river that you can paddle with ease.
More experienced paddlers can head for the sections north of Woodfin, while advanced kayakers can tackle Class V rapids in the Courthouse Falls, North Fork, and West Fork areas. You can paddle the entire scenic stretch of the river in a 10-day trip.
The French Broad River has a network of private low-cost campgrounds that you can reserve ahead of time spread out every eight to ten miles along the trail. But if you can't get a reservation, you can always rely on the public unreserved campsites in the area.
13. Missouri River, Montana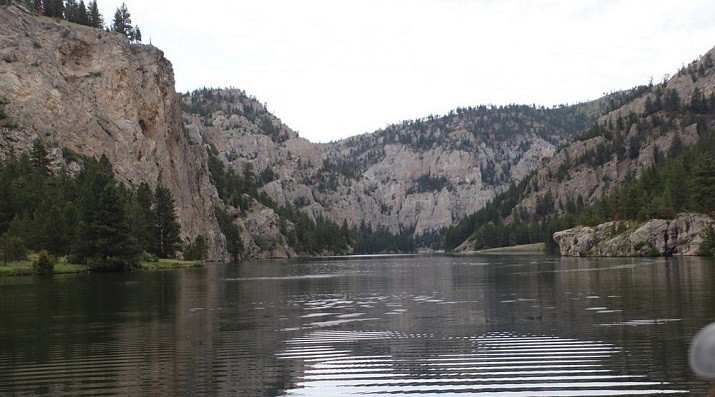 Photo by Robby G.C
Paddling the "Mighty Mo" as the Missouri River is fondly called by natives, should be on the bucket list of any serious kayaker looking for a thrilling and challenging adventure. Missouri
Although there are no rapids to tackle, shifting sandbars, changing wind conditions, and strong currents add interesting hurdles and intensity to the prospect of paddling the Missouri River.
The dynamic landscape makes each trip unique so that you're never quite taking the same trip twice even when paddling the same route.
Beginners and intermediate paddlers who wish to explore the Missouri River will want to use a guide service or join a group tour led by a paddler who is familiar with the waters.
It takes about 10 days to paddle the entire length of the river, but if you have fewer days to spare for the trip you can spend three days tackling the 47-mile route stretching from Coal Banks to Judith Landing.
Although there are a few public campgrounds along the Missouri River banks, primitive camping is usually permitted on sandbars and islands.
14. Main Salmon River, Idaho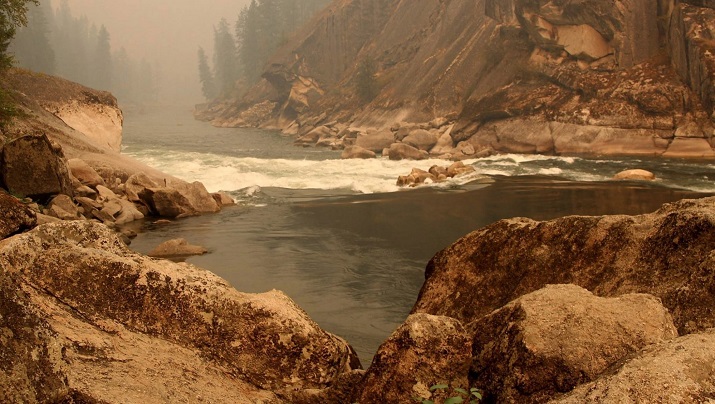 Photo by Phormio18
The Main Salmon River is another great destination for kayak camping trips for those who are looking for a challenge. This spot offers Class III rapids, deep canyons, and fierce water flows that will leave you tingling and gasping for air at the end of the day.
Also known as the 'river of no return' due to its fast-flowing nature and rapids which make it challenging to paddle back up, the Salmon River is not for the less experienced paddlers. However, if you belong to this category, you can still make the trip as long as you bring along a seasoned paddler to guide you.
Whatever route you take will bring you across seemingly endless fir trees, otters, moose, black bears, and bighorn sheep. You can also camp on one of the many riverbank beaches.
The Main Salmon River runs through the Sawtooth Mountains and the over 2,000,000-square-mile Sawtooth National Forest. It will take several multi-day trips to cover the length of it, so there are plenty of reasons to keep coming back.
15. Boundary Water Canoe Area Wilderness, Minnesota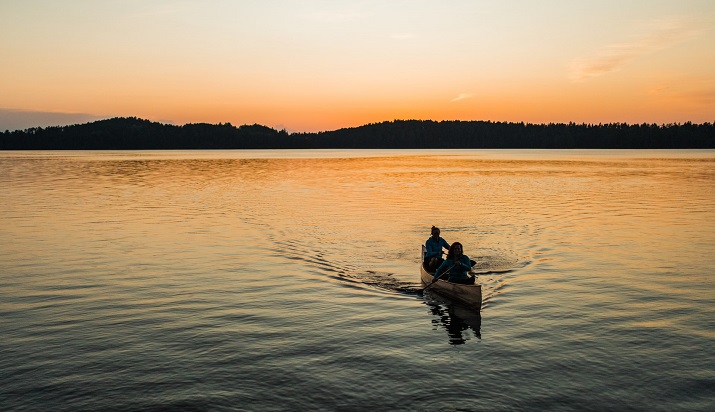 Photo by Lee Vue
Consisting of over 1,000,000 acres of remote and rugged coniferous forests, the Boundary Water Canoe Area Wilderness is one of the most visited areas/paddling destinations in the country. It's ideal for paddlers who are seeking risk, thrill, adventure, and solitude in one package.
The Boundary Water Canoe Area Wilderness features more than 1,200 miles of canoe and kayaking routes, over 2,000 designated campsites, and a dozen hiking trails in case you want to go exploring on foot.
The wilderness forms the aquatic border with Canada in Northern Minnesota and lies adjacent to LA Verendrye and Quetico Provincial Parks. It is made up of rocky landforms, islands, lakes, streams, and other water bodies that give you a chance to experience long-distance watercraft trips.
You can explore the area for several weeks without using the same campsite twice. That's how massive the Boundary Water Wilderness is.
However, regardless of your reason for visiting the area or how long you intend to spend there, you're going to need a permit so make sure you reserve or pick one up before the start of your trip.
Wrap Up
Kayak camping is a great way to explore the great outdoors and extend your paddling adventure.
I hope this list of memorable spots will inspire you to plan your kayaking and camping trip.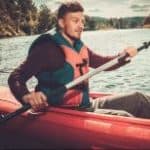 Author: Peter Salisbury
Pete is the Owner of KayakHelp.com. Born and raised in Cleveland, Ohio, he grew up kayaking, fishing, sailing, and partaking in outdoor adventures around the Great Lakes. When he's not out on the water, you can find him skiing in the mountains, reading his favorite books, and spending time with his family.