If you're an avid kayaker and love fitness, you might have been looking for a way to track your kayaking activity.
Many people use apps and fitness trackers to keep track of how many miles they ran or how many calories they burned while swimming, but there are apps that have a kayak tracking mode as well.
These apps make it easy to track how many laps you've done while paddling, how many calories you've burned, and how much time you've spent exercising on the water.
In this article, I will discuss the best fitness tracker apps for kayakers. Whether you own an Android or iPhone, there is an app for you.
The short version: The best kayak tracking apps are SportsTracker, Waterspeed, and Sportractive. However, other good ones include Strava and Paddle Logger. Read on to see the others!
Best Kayak Tracking Apps
The first app we will be looking at for kayak exercise tracking is Sports Tracker, which supports over 90 physical activities, including kayaking and canoeing.
It uses your phone's internal GPS. I recommend buying a waterproof pouch for your phone so that it doesn't get ruined while you are kayaking.
However, if you want an extra level of tracking, you can buy the smart sensor band sold by Sports Tracker, which is a lightweight band that will track your heart rate.
Sports Tracker also sells a variety of smartwatches; check them out on the Sports Tracker store.
I also like how it has a free online backup service that stores your workout data and allows you to view in-depth reports and breakdowns on your laptop or desktop computer after you get home.
The app tracks things like calories burned, heart rate, average speed, distance traveled, trip duration, pace, and more.
With the audio feedback option, you can get real time feedback about your trip performance while kayaking.
Your workout log and activity can remain private, or you can share them with friends. You can even compete with friends on a leaderboard, providing you motivation to paddle faster and get more exercise.
If you plan on combining your kayaking trip with hiking, you can use Sport Tracker to find popular routes and plan your own routes. Check out the best kayaks for exercise!
Sportractive is another excellent kayak tracking app. The app was created by hikers who were also software engineers who realized that there wasn't a satisfactory app for tracking physical activities.
A lot of the apps at the time had annoying ads, popups, or unclear data collection and privacy policies.
Therefore, they set out to create an app that didn't have ads and didn't collect your data for nefarious purposes. Over the years, the app has been installed over eight million times, according to the website.
It tracks calories burned, time, pace, speed, and a lot more. It is also possible to track your heart rate if you have a Bluetooth heart rate sensor. Most Bluetooth LE sensors are supported.
The customizable screen makes it easy to display the exact information you are interested in.
Meanwhile, there are also customizable diagrams that help you see your tracking data.
Sportractive is great for staying motivated, as you can set goals for yourself, such as how many calories you want to burn, how long you want to go kayaking for, and how far you want to go.
You will also be able to see all your trip history in the app with a statistical analysis of your workouts.
Furthermore, it helps you calculate your BMI, body fat percentage, and other personal details.
Not all features are available for all activities.
For example, one cool feature that Sportractive offers for many activities is automatic pause.
It automatically stops tracking when you are at a slow speed or a standstill, so you don't include extra time in our workout report when you actually weren't working out.
However, this feature isn't available for kayaking. The app is free to use, although some features, like training plans, are not available to free users.
Nevertheless, you probably aren't interested in training plans if you mostly use the app to track your kayaking activity. Currently, the app is only available for download on Android.
The third app we'll be looking at is Waterspeed, which is an excellent tracking app dedicated to all kinds of water sports, including kayaking.
One reason I am not including it first on the list is because it is only available for iOS, not for Android.
If you have an Apple Watch, though, it is perfect. You can also use it with your iPad's built-in GPS or with any external GPS that is compatible with your iPad.
The app tracks all sorts of things, such as real-time speed, max speed, trajectory, distance traveled, max speed over 10 seconds, average speed for different distances, pace, and more.
You can see your activity in your logbook, and there will be helpful graphs and stats that will give you a better overview of your trip.
The Pro version gives you access to additional features, such as cloud backup and cloud sync between your iPad and iPhone.
It also includes automatic wind detection, wind speed forecasts, weather and tide forecasts for up to six days, and a lot more.

Strava is an activity tracking app that is primarily used for running or biking. However, it does have a kayaking mode, as well as SUP and canoeing modes.
This highly popular fitness tracking app is compatible with a wide range of fitness tracking devices, including Fitbit, Garmin, Hammerhead, Amazfit, and many other devices.
You can see a full list of compatible devices here – new devices are always being added. After you track an activity, Strava will give you in-depth performance reports, allowing you to dive deep into your activity data.
It also tracks your performance using your heart rate data if the fitness tracking device you are using supports that.
Strava also has a built-in social network, which is quite cool. Using Strava, you can share workouts with friends and followers or follow and comment on their workouts.
You can take pictures during your kayaking trip, whether of beautiful scenes you pass by or interesting fish you catch. You can then post them to your trip activity, so others can admire them.
There are even clubs and groups on Strava in which people organize activities that they enjoy. For example, you might like the Paddle USA club on Strava, which consists of kayak, canoe, and SUP enthusiasts.
Strava has a useful feature that allows you to share your trip with a friend or family member. They will see your location in real time, making it easy for you to get help in an emergency, although you need to have good internet access for this to work.
If you are kayaking in a remote area, you might lose internet access.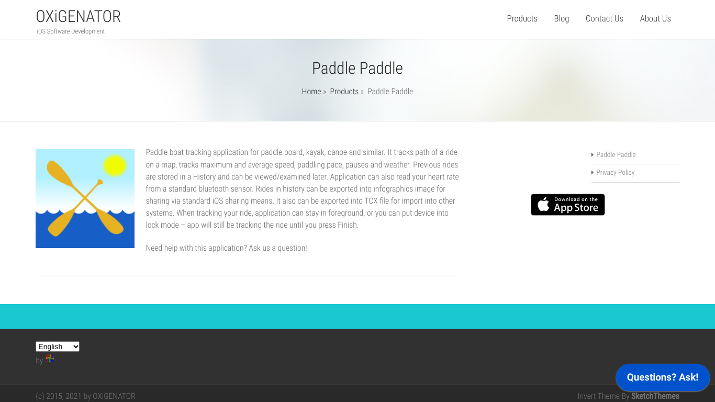 Paddle Paddle is an iOS app that you can use to track your kayaking and canoeing trips. It will measure average speed, max speed, paddling pace, and trajectory.
It will also track pauses in your journey, which is pretty awesome, so you will know to subtract those pauses from your overall workout time.
Furthermore, it tracks the weather, and all logs are stored in your history so you can analyze them later. It works with Apple Watch as well as standard Bluetooth heart rate sensors.
You can also export your data and import it into Strava. It's possible to export your data as an infographic, which will help you better understand it.
Paddle Logger is a water sport tracking app for iOS. It's great for setting goals, such as the number of hours you want to paddle, the number of trips you want to go on, and the distance you want to paddle for.
You can then see how far along you are towards reaching your goals in the dashboard of the app. It prides itself on being a one-button tracking app that allows you to set up the app and then start tracking everything with the touch of a single button.
The app integrates with Apple Watch to track your activity. You can leave your phone in your car, so you don't risk losing it if it falls into the water, and get all the features of the Paddle Logger on your watch.
It also has a cool feature called PaddeLive, which is designed to inform your buddies or relatives – or anyone you trust – your real-time location on the water.
For this to work, you need to have a cellular connection. You also need a subscription to the premium version, as it is not available to free users.
Siri voice control helps you multitask, and you can also set a countdown, so the app only starts tracking your activity after you have already set out on the water.
After your trip, you can edit trip details and share your trip information on social media. The subscription service includes all kinds of extra benefits.
We already mentioned PaddleLive, but here are some of the other perks you can expect to get:
See pictures and videos from your trip in the Trip Photo Gallery in the app
Detailed session data that includes speed, pace, and splits
Details graphs of your trip
The ability to drop pins on the water during your trip, which can help you get back to nice fishing spots, for example
Set up custom folders for different types of sessions, such as fishing trips vs leisure trips vs racing trips
Satellite trip maps that help you see how your trip speed is changing throughout your trip
For a full breakdown of the features available on the free version and the difference between the free and paid versions, check this page.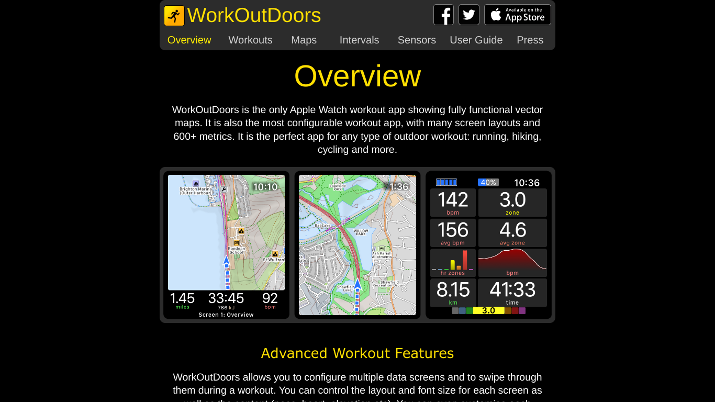 An amazing tracker app for all sorts of outdoor activities, including kayaking, is WorkOutDoors. It allows you to connect to Bluetooth sensors to track heart rate, pace, distance, power, and more.
There are over 600 metrics to choose from when customizing the screen that will display your trip information.
You can set up multiple data screens and simply swipe between them. These different screens can show different information, such as heart race or pace.
Then, during a trip, you can simply switch between different screens depending on what you want to see at the moment. You can configure your screens either on your iPhone or Apple Watch. It integrates with Apple Health.
Your trip activity will be saved automatically to Apple Health so that you can analyze your health data. I liked how it also allows you to set up notifications for intervals.
For example, you can set up different intervals for any amount of calories burned, distance traveled, etc.
There are also alerts for upper and lower limits. For example, you can set up an alert if your heart race reaches a certain point, so you don't get a heart rate that is too high.
Or, you can set up an alert after you have traveled your desired distance. Not only that, but you can set up zones for different metrics, such as heart race and pace, and see in which zone you are.
Either way, alerts will be shown on the screen, or you can set up voice alerts, so you don't have to check your physical watch.
There are a lot more features that you will surely find useful, although I couldn't go through all of them. Nevertheless, WorkOutDoors is a powerful app overall, and I'm sure you'll enjoy it. 9.
Surfing – Water Sports Tracker is an iOS app that allows you to track your water sports activities, including kayaking, stand up paddleboarding, and more. Set it up on your iPhone or Apple Watch and let it track your trip.
After you complete your trip, it will display important statistics, such as the distance you traveled, the duration of your trip, your average speed throughout the trip, and the max speed you reached.
You can even playback a session to analyze your stats in more detail. The app also provides audio feedback during your trip, and you can save notes about your trip for later reference. The app has a clean and sleek interface.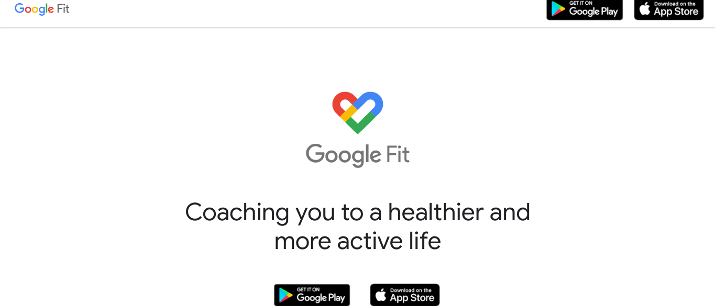 Google Fit is another good option for tracking kayaking. One of the benefits of using Google Fit is that Google collaborated with the World Health Organization to develop a system called Heart Points.
The Heart Points System is based on The World Health Organization's health recommendations.
Therefore, Google Fit is great not just for your kayak trip tracking but for your overall fitness and wellbeing. A different amount of Heart Points are allocated for different activities.
The more demanding an activity is, the more Heart Points you will get until you reach the WHO's recommendations for your weekly amount of exercise.
Google Fit lets you set weekly targets and daily goals to improve your health and track your performance. There are activity types it supports, including kayaking, and it integrates with many health and fitness apps.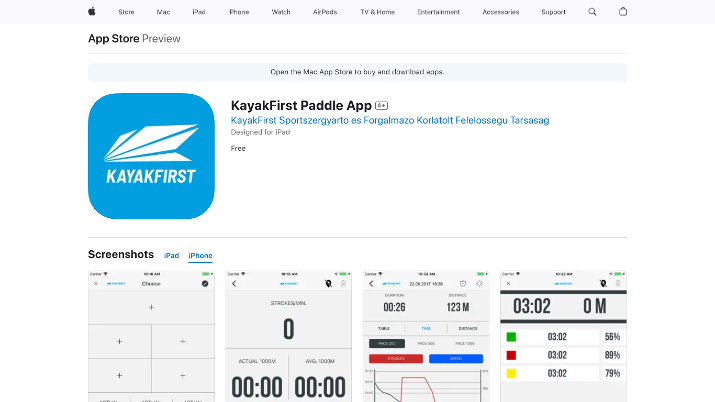 The KayakFirst Paddle App is an excellent kayak logging app for your kayak trips. It helps you track things like strokes per minute, duration, distance, and time traveled.
It also monitors and logs details such as stroke rate, average speed for different distances, and more.
It's particularly useful for interval and intensity training, as you can set up an interval training plan and view your activity in your logbook.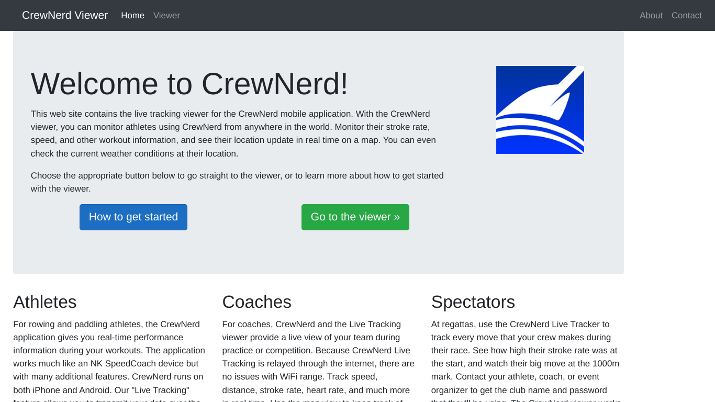 Most of the apps on this list are for individuals, and that's okay. You can use CrewNerd, though, either for yourself or for your team if you are a coach.
However, CrewNerd is a lot more than just a tracking app. It not only tracks your kayaking activity but is a training tool that helps athletes improve their kayaking skills and performance.
When you are on the water, you can have it track and display all kinds of information, such as elapsed time, distance traveled, speed, average pace, course, direction and distance, and a lot more.
There are all kinds of pre-made workouts built into the app, but it's also possible to create your own workouts based on distance, time, or stroke target.
You can then play these workouts while on the water and even use the timer, so you have some time to start before the app officially starts tracking.
Another option, which is great when you're training for races, is to create a course in the app with start and end lines.
That way, when you cross the start line, it will automatically start tracking your activity; it can also provide suggestions and feedback to help you stay on course and avoid diverting.
You can view your logs in Apple Health or other apps, including Strava. You can also export them in multiple formats.
If you are part of a team, you can use CrewNerd to transmit your data to your coach, who can then point out ways you can improve.
Conversely, if you are a coach, you can track your entire team on CrewNerd – CrewNerd shows the real time position of its users on the water.
It uses cellular data for that. It even has an option to track your teammates or athletes in your web browser on a desktop, so you don't even need to be by the water to see what your team is up to.
According to CrewNerd, it supports all Bluetooth heart rate sensors. It even provides voice feedback for people who are visually impaired. Download the CrewNerd iOS app here.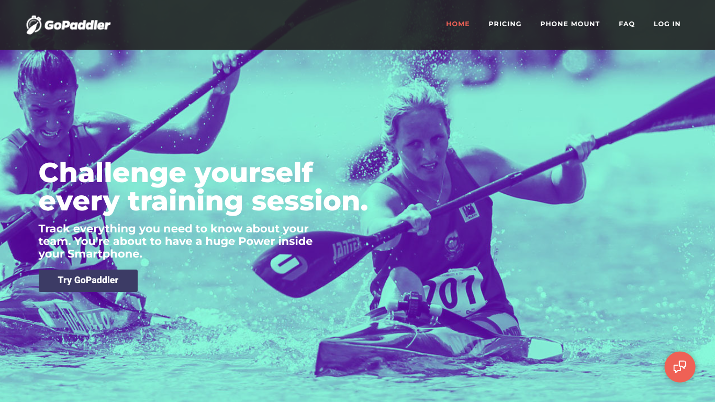 Another fantastic tracking app for kayak coaches is GoPaddler. It will track the kayaking sessions of your entire team and display all that data in an easy-to-read dashboard.
GoPaddler has developed a unique algorithm that can track kayak strokes using a smartphone's built-in hardware, without needing additional equipment.
It makes use of the smartphone's accelerometer and GPS to calculate stroke rate and how much distance the athlete can cause the boat to move forward with each stroke.
It also tracks metrics such as average speed, distance, trip duration, and more, breaking them down by intervals and providing graphs and charts to help coaches get a better overview of what's going on.
Coaches can also track their athletes in real time, as they are kayaking. The app is available on both iOS and Android.
13. Garmin Apps
If you own a Garmin smartwatch, there are kayak tracking apps available in the Garmin app store. First of all, there are Garmin watches that support kayak mode, so you don't need to download any additional software.
However, if you have one of the Garmin watches that don't support kayak mode, there are additional apps you can download.
For example, you can download the Kayak PRO app, which provides a way to track your trips.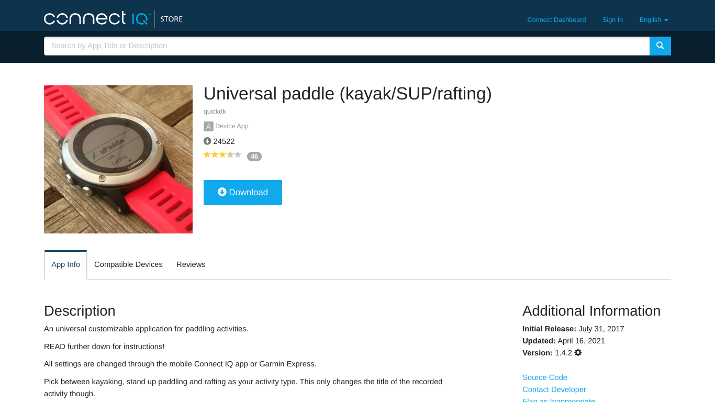 Another great Garmin kayak app is Universal Paddle, which supports kayaking, SUP, and rafting. It can track all kinds of activity, such as elapsed time, current lap time, speed, last lap distance, and more.
Another useful app, if you are training for a slalom race (a type of kayak race that is featured in the Olympics), is Kayak Training.
It tracks the number of laps and gates you pass, which helps you train while you are alone and also helps coaches train athletes remotely.
There are a few other apps as well, which you can find by going to the Garmin app store and searching for "kayak."
Wrapping It Up
Kayaking is a great exercise and works out a lot of muscles. Tracking your kayak trips isn't a must, but it will help you get a better idea of how well you can kayak.
It's also useful for keeping track of the amount of exercise you are doing, including how many calories you are burning, your heart rate, and more.
SportsTracker and Spotractive are my personal favorites for kayak tracking, but there are many other great alternatives as well.
I recommend trying out a few apps, depending on the operating system your phone has, and seeing which one you like best.
If you liked this article, please share it with a friend! Also, check out our lists of the best kayak apps and the best kayak apps for iPhones.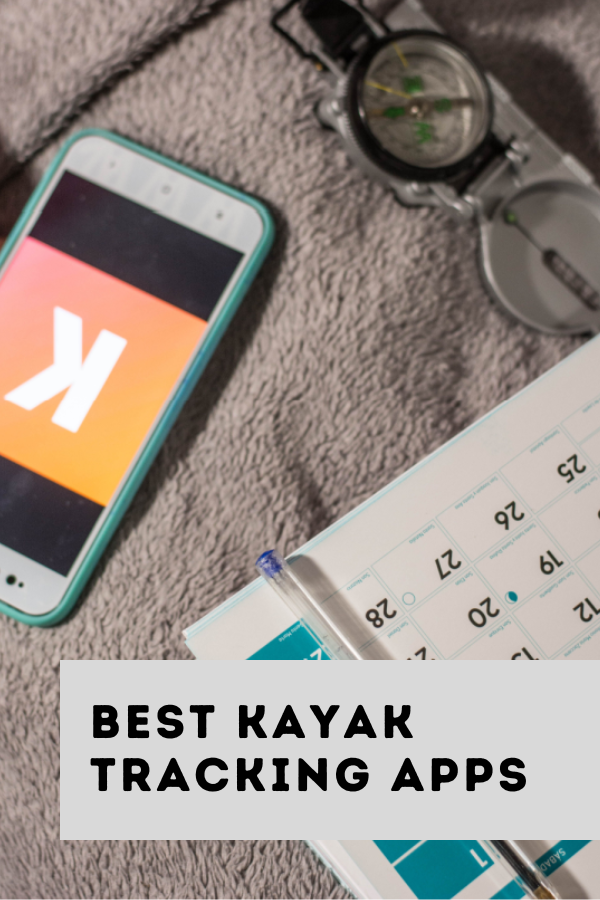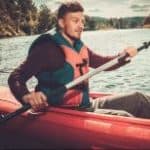 Author: Peter Salisbury
Pete is the Owner of KayakHelp.com. Born and raised in Cleveland, Ohio, he grew up kayaking, fishing, sailing, and partaking in outdoor adventures around the Great Lakes. When he's not out on the water, you can find him skiing in the mountains, reading his favorite books, and spending time with his family.