Northern Michigan offers some of the best places to kayak in the entire United States. While the Great Lakes offer plenty of territories to explore, they also require some safety considerations that we will cover in this complete guide to kayaking in Northern Michigan.
From destinations like Pictured Rocks National Lakeshore to the shores of Sleeping Bear Dunes, there are some beautiful places to explore in this part of the state. Checking the weather is a must up here, as the Great Lakes can go from calm and placid to surprisingly ocean-like overnight.
Fortunately, there are guide companies that will help you explore this area as safely as possible. The benefit of heading out with one of these companies is that you don't have to transport your kayak if you're visiting from several states, or countries, away.
In this guide, we'll cover the best times of year for kayaking in Northern Michigan, the best type of kayak for kayaking in Northern Michigan, several options for guide or kayak rental companies in Northern Michigan, and much more!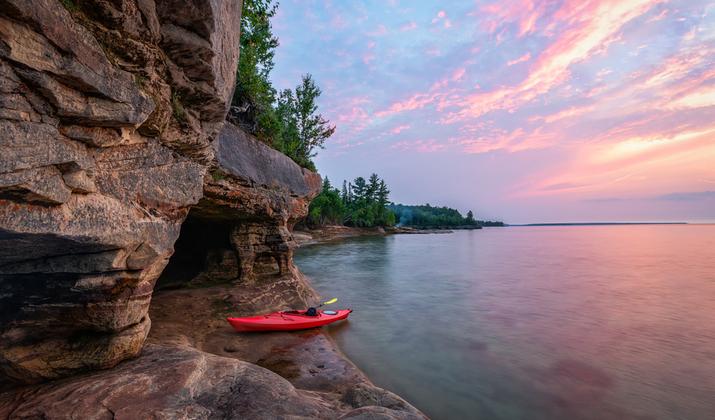 Photo by John McCormick via Shutterstock
What Constitutes 'Northern' Michigan?
Photo by iQoncept via Shutterstock
Using the image above as our guide, this article is going to focus on Michigan's Upper Peninsula. While there are great places to kayak in the lower part of Michigan, that would be too much to cover in a single piece.
The good news about Michigan is that both the lower part (the left-handed mitten) and the upper part (the UP), can be described using your hand. Place your left hand with your fingers facing up and the palm facing away and you can point to your destination in the lower part.
Turn your hand over and rotate it 90 degrees so that your palm is facing towards you and your fingers are facing to your right and you have a model for pointing out where you're heading in the Upper Peninsula.
This is how many Michiganders orient visitors to destinations that they think are worth exploring. So keep this in mind if you head up to Michigan and you meet someone who points out a cool kayaking spot that we might not include in this guide!
What Bodies of Water Are Good For Kayaking in Northern Michigan?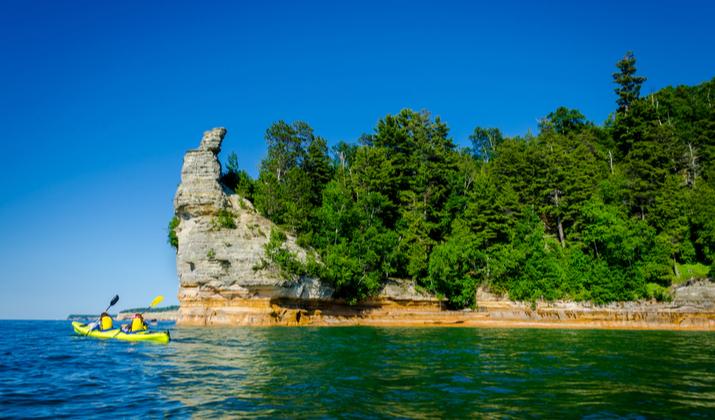 Photo by KYPhua via Shutterstock
The two main bodies of water that you can paddle on in Northern Michigan are Lake Superior and Lake Michigan. The Upper Peninsula's northern shore is also the southern edge of Lake Superior while its southern shore is the northern edge of Lake Michigan.
These two freshwater lakes are massive. Lake Superior covers a total area of roughly 31,700 square miles and Lake Michigan covers approximately 22,406 square miles.
For comparison's sake, Lake Michigan is about twice the size of the state of Pennsylvania, and Lake Superior is bigger than the combined areas of the states of Vermont, Massachusetts, Rhode Island, Connecticut, and New Hampshire.
In addition to these two Great Lakes, there are a number of rivers that are great for kayaking in Northern Michigan. Some of the best options include the Au Train River and the Ontonagon River, but you can learn more by reading our piece on the 15 best rivers to kayak in Michigan.
What Is The Best Time of Year For Kayaking in Northern Michigan?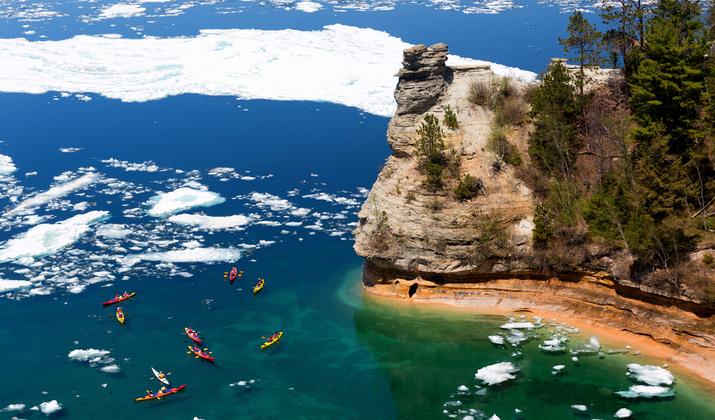 Photo by Craig Sterken via Shutterstock
As the photo above suggests, massive ice shelves form on the lake in the cold winter months in Northern Michigan. In spite of their vast size, large sections of Lake Michigan and Lake Superior freeze thick enough for ice skating, ice fishing, and even occasionally cars to drive out on the lake in the winter.
All that means is that you won't be able to do much paddling up here from late fall through mid-spring. Even in the late spring and early fall, combined air and water temperatures require proper cold weather kayaking gear and the risk of cold-related illnesses like hypothermia go up dramatically.
The summer months (roughly from mid-May through mid-September) are the best time to kayak in Northern Michigan. Still, occasional storms throughout the summer can require the same gear you would use if paddling up here in the late spring or early fall.
It's always better to be over-prepared than under-prepared, so study the weather patterns and consult local guide companies before heading out on your own. As a general rule, if guide companies aren't sending out their scheduled tours, you probably shouldn't be going out either.
What is the Weather For Kayaking in Northern Michigan?
Photo by Christophe Merceron via Shutterstock
In the previous section, we highlighted that the best (and really the only) time for safe kayaking in Northern Michigan is approximately from mid-May through mid-September.
Beyond that, you may be able to paddle earlier if the previous winter was mild or the fall is unseasonably warm, but we're going to focus on the weather trends for the summer to help you prepare for a safe and enjoyable kayaking trip in Northern Michigan.
For the month of May, the average highs top out around 60℉ and the average low is 40℉. Those averages raise to 69℉ and 49℉ for the month of June and 76℉ and 57℉ for July.
In August in Northern Michigan, the average high tops out at 75℉ and the average low is 57℉. Once September rolls around, you can expect the average high temperature to be around 69℉ and the low to be 51℉.
In case you are interested in hitting the shoulder season in Northern Michigan, the average high for the month of October is 56℉ and the low is 41℉. In November, the highs rarely top the mid-40s and the lows hover around freezing.
For the next four months, the high temperature rarely eclipses the mid-30s and the lows routinely stay in the low 20s (on good days). Once April comes around, the average high goes up to 47℉ but the low stays around 31℉.
In terms of precipitation, October and December are the wettest months of the year in Northern Michigan, on average. During the paddling season, May, June, and September are the months when precipitation is most likely.
What Can You Launch For Kayaking in Northern Michigan?
Photo by Dale Boettcher via Shutterstock
Some parts of the shoreline in Northern Michigan feature cliff faces up to 100 feet high (or more). So you'll have to be a little bit more strategic to find accessible launch locations if you want to paddle up here.
Paddling.com is one of the best resources we've found for identifying public kayak launches all over the US. Give that site a look to hone in on the specific area of Northern Michigan that you are planning to visit.
That being said, here are five epic places to launch your kayak for a scenic paddle in Northern Michigan:
Miner's Beach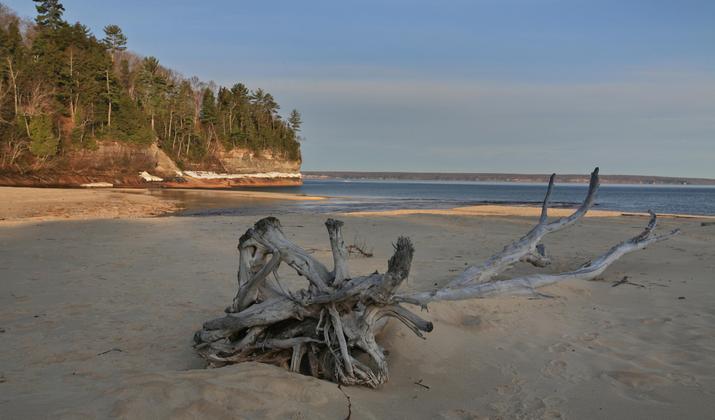 Photo by imageBROKER.com via Shutterstock
Miner's Beach is an excellent place to launch sea kayaks if you are planning to paddle one of the more remote stretches of Pictured Rocks National Lakeshore. There are really cool natural features to explore in both directions, but the haul from the parking lot down to the beach is a bit lengthy.
For this reason, it would be highly useful to have one of the best kayak carts for rough terrain– if you decide to launch here. You should also be aware that there are two parking areas in the vicinity of this launch location.
At the end of Miner's Beach Road, you will come to a T-shaped intersection with Miner Road. Heading to the left will take you to the actual beach parking lot, but heading to the right will take you to a hiker parking area.
The hiker parking area actually has a well-developed, wide path for transporting kayaks down to the water and is slightly closer to the water than the beach parking lot. Plus, it has a shorter set of stairs to lower your kayak down to actually get onto the beach.
While both locations do require a bit more effort to get your kayak to the water, the rewards are worth it. If you paddle to the right from Miner's Beach, you can check out several waterfalls (in the spring) on your way up towards Mosquito Beach and if you head to the left it's a quick paddle down to Miner's Castle Point.
Bay Furnace Park and Campground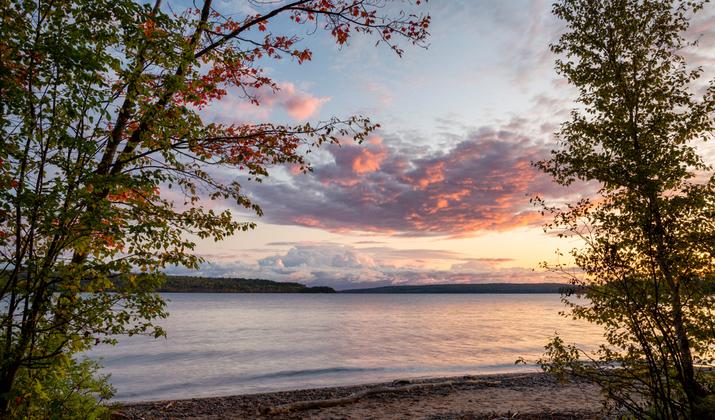 Photo by Danita Delimont via Shutterstock
Bay Furnace Park and Campground is on the shores of Lake Superior a little ways west of the town of Munising. It is a great place to set up your RV or pitch a tent to spend multiple days in the Upper Peninsula, and there's a nice beach for launching kayaks here as well.
While a kayak cart would be helpful to get you from the parking lot to the beach, it's not entirely necessary at this location. The soft grass makes it feasible to drag your kayak down to the water, and this is one of those spots with multi-colored, picturesque rocks in the water that you might have seen photographed up in Northern Michigan.
From this location, you can paddle along the shore and check out some of the homes and beaches between here and town. Or, if the wind is down when you visit, you can strike out across Bay Furnace to check out Grand Island.
The full circumference of the island is roughly 27 miles, but there are multiple paddle-in campsites if you wanted to spend a few days exploring its entire circumference and kayak camping along the way. Some of the popular campsites include Road's End, Murray Bay, and Flat Rock.
Whether you do it before you start your paddle or after you return, be sure to check out the historical furnace at this location. It stands nearly 30 feet tall and was a prominent part of the early history on the northern shores of Michigan's Upper Peninsula.
Brimley State Park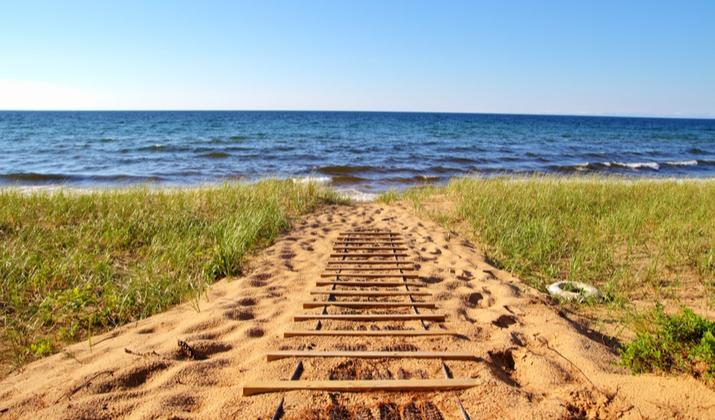 Photo by ehrlif via Shutterstock
Brimley State Park is one of the oldest state parks in the entire Upper Peninsula and it's a great place to launch your kayak to explore a different section of Lake Superior.
The park itself also offers great opportunities for hunting and fishing, and Brimley Beach even has a view of the International Bridge from the US into Canada.
There is a boat launch at the western end of Brimley Beach, which means you will be able to drive your vehicle and unload kayaks from your roof racks with a minimal carry (and vice versa when you're done paddling).
If you head left once you get on the water, you will paddle past the outlet of the Waiska River and into Waiska Bay. The bayfront is mostly developed with private homes and a couple of resort properties, but you can head across to Bay Mills Point if you're looking for a place to pull your kayaks up for lunch or a snack.
Heading to the right from the boat launch will take you towards Round Island Point and provide better views of the International Bridge in the distance.
To paddle about as close as you could get to the bridge would require a one-way distance of about 11 miles, but you should be careful about venturing too far across what becomes the St. Marys River as you get closer to the bridge.
The US-Canada border splits the river almost perfectly down the middle, which means the chances of getting stopped by border patrol here are a bit higher.
If you don't want to put yourself at risk, stick to the shoreline, which is a good idea due to the large tankers that routinely move up and down the river as well.
Still, it's not a bad idea to bring your passport if you are planning on paddling anywhere around this location. It's better to be able to safely identify yourself than to be stopped by border patrol without proper documentation.
Manistique Township Park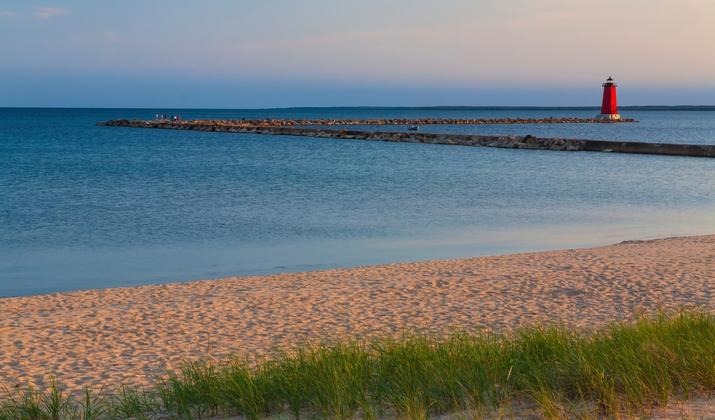 Photo by Christopher Aquino via Shutterstock
Located on the northern shore of Lake Michigan, Manistique is a small little town with a cute lighthouse and a perfect township park for launching your kayak. There's a parking lot right off the beach that provides an ideal spot for off-loading your kayak and getting it down to the water without the use of a cart.
From the park, you can head in either direction to explore the coastline, but most people like to head generally northwest to explore up the Manistique River. This is one of the longest flowing rivers in the Upper Peninsula.
As you head further away from town, you'll have a chance to see an undeveloped side of Northern Michigan that's far different from the massive cliffs that are common on the Lake Superior side.
Presque Isle, Middle Bay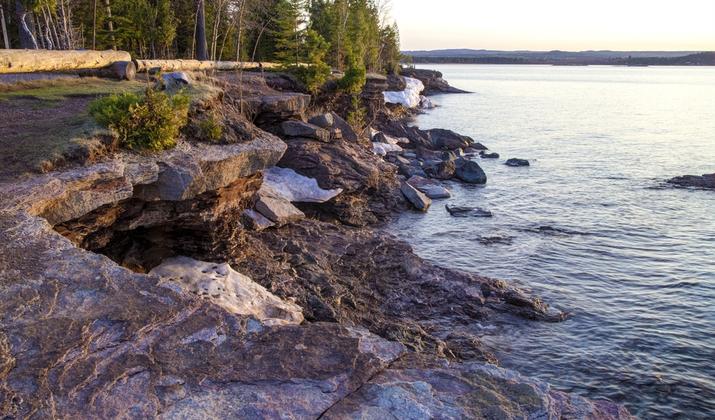 Photo by ehrlif via Shutterstock
Located just north of the town of Marquette, Michigan, Presque Isle Park is a popular spot for weekenders and vacationers alike. The Black Rocks at the northern end of the park are an ideal cliff-jumping location if you're into that sort of thing.
Even if you just want to watch the college kids send it from the safety of your sea kayak, it is worth paddling over here on your visit. To launch your kayak, however, you'll probably want to head over to the Presque Isle Marina.
From here, you can enjoy a roughly 1.5-mile paddle around to the northern edge of the park where the Black Rocks are located. Continuing around the point, across Middle Bay, and over to Middle Island Point before returning would turn this into a roughly seven-mile round trip paddle adventure.
Alternatively, you could head south from the marina and into Presque Isle Harbor. In the harbor, you can check out the Marquette Ore Dock and then paddle over to Clark Lambros' Beach Park to enjoy a nice picnic lunch before your return paddle.
What Type of Kayak is Best For Kayaking in Northern Michigan?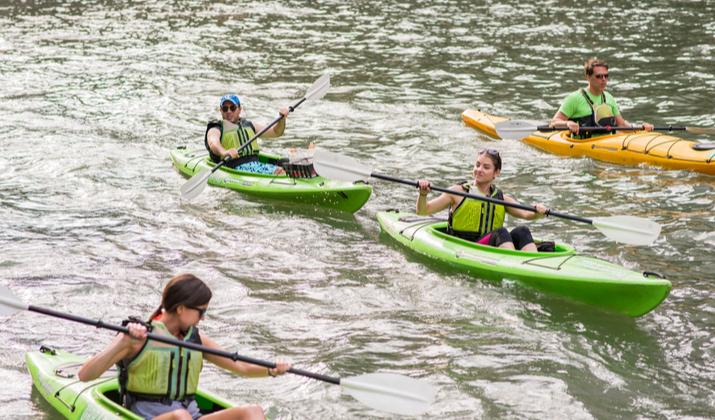 Photo by Page Light Studios via Shutterstock
The right type of kayak for paddling in Northern Michigan is somewhat going to depend on where you plan on paddling. Other factors like weather come into play, but most people that paddle up here use sit-inside touring kayaks.
If you are going to paddle on one of the Great Lakes, a sit-inside touring kayak is highly recommended. This is because it provides more compatibility with a kayak spray skirt and tends to be better when conditions get a little wavy.
For those of you who only plan on doing short paddles on days with near-perfect weather, you may get away with a regular sit-in kayak. If you are also planning on staying in a protected harbor or cove to fish, you'll probably be fine with one of the most stable fishing kayaks as well.
Are There Guide or Rental Companies For Kayaking in Northern Michigan?
If you aren't driving up to Michigan with your kayaks secured to your two-kayak roof rack, then you'll either need to rent them for a self-guided adventure or sign up for a tour with experienced guides. Here are a few options on both of those fronts: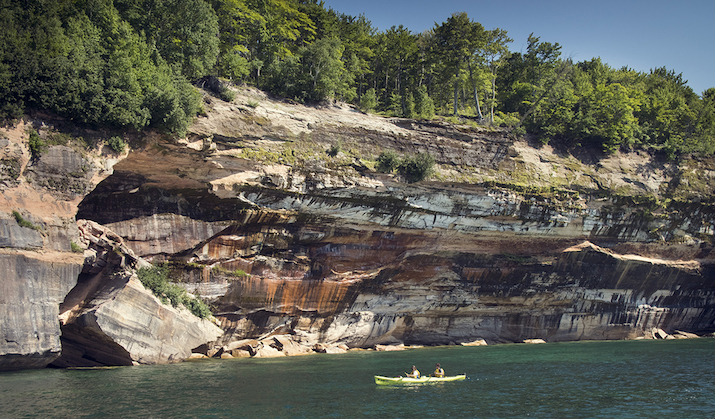 PC Paddling Michigan
Paddling Michigan is based in Munising and specializes in kayak tours to explore Pictured Rocks National Lakeshore. Their tours feature several different locations along this section of the Lake Superior shoreline.
You can explore beautiful natural features like Miner's Castle, Indian Head Rock, and Rainbow Cave, which is the largest cave in the entire Pictured Rocks shoreline. Some of their tours are also a great way to explore Grand Island if you're not comfortable embarking on a self-guided adventure over there.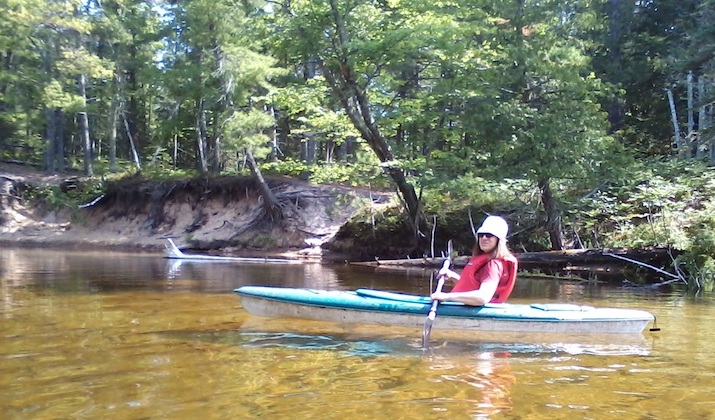 PC Marquette Recreational Tours
Marquette Recreational Tours offers a variety of adventures on Lake Superior and explores numerous inland rivers in the area. This is the best guide company for tours of Presque Isle Park, which are weather-dependent and available for experienced kayakers only.
Their other destinations include the Au Train River, Cataract Basin, the Chocolay River, and the Dead River Basin. Tour prices and availability vary depending on the season and the exact trip you're interested in, but there's no doubt that there's plenty to explore around Marquette.
3. Northland Outfitters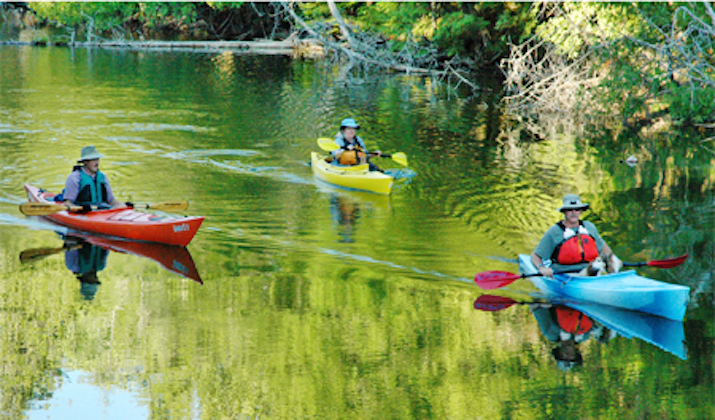 PC Northland Outfitters
Northland Outfitters is the best choice if you want to explore the Manistique River. They offer a 2.5-hour day trip that covers roughly 10 miles of the river and a separate one-hour trip that is a great choice if you are just introducing your kids to the wonderful sport of kayaking.
Other day trips include an all-day adventure on the Fox River or a four-hour tour of the Seney Wildlife Refuge. They also offer overnight trips on the Manistique and Fox Rivers, as well as the ability to create your own adventure depending on your experience, group size, and preferences.
Final Thoughts
Photo by Michael Deemer via Shutterstock
If you plan appropriately and go at the right time of year, Northern Michigan is a kayaker's paradise. The weather-beaten cliff faces hold plenty of surprises and if you are incredibly lucky like me, you might even wind up rescuing a puppy in Northern Michigan!
We hope you have enjoyed this complete guide to kayaking in Northern Michigan and feel ready to plan your next adventure up there soon.
As always, we wish you the happiest and healthiest of kayaking expeditions in your future.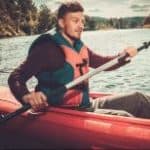 Author: Peter Salisbury
Pete is the Owner of KayakHelp.com. Born and raised in Cleveland, Ohio, he grew up kayaking, fishing, sailing, and partaking in outdoor adventures around the Great Lakes. When he's not out on the water, you can find him skiing in the mountains, reading his favorite books, and spending time with his family.