Are you looking to learn more about kayaking, paddling, canoeing, and other water sports?
Whether you're looking for camping guides, kayak gear recommendations, tips on improving your kayaking skills, news about upcoming kayak events, or updates about famous kayak athletes, there are plenty of great kayaking websites online.
In this comprehensive list, you'll find the 30 best kayaking magazines and blogs. Subscribe to a few of them, and they'll enrich you with a wealth of kayaking knowledge.
Best Kayaking Websites Online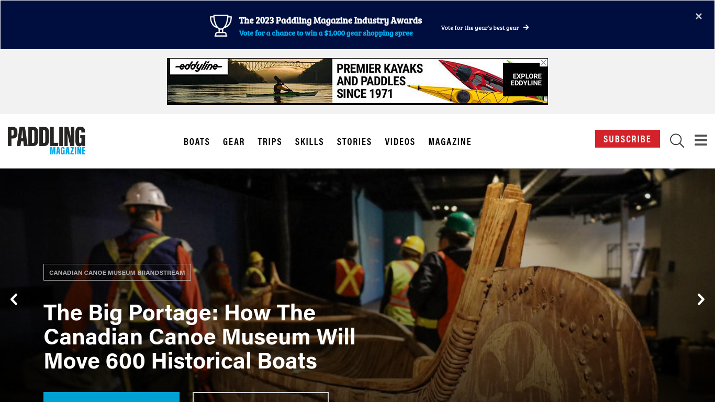 Paddling Magazine is one of the best publications for kayak, canoe, and SUP enthusiasts. It offers a lot of content on kayak culture, including purchasing guides, film recommendations, and news about noteworthy kayaking journeys and people.
You will also find trip recommendations to help you plan your next adventure.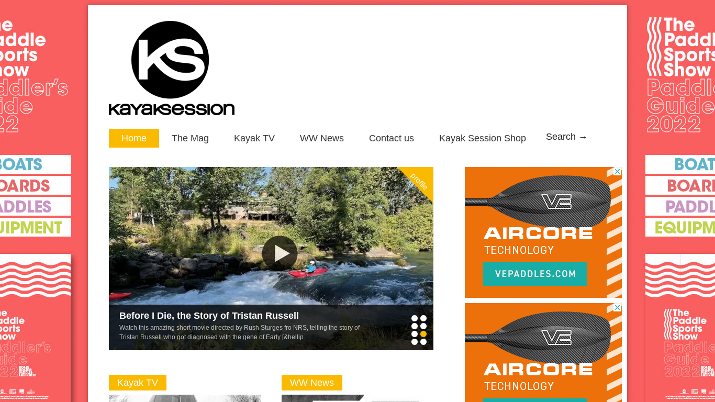 Kayak Session is a magazine focused on global whitewater kayaking news. The website's menu features a few sections, including:
The Magazine (find the current and back issues here)
Whitewater News (discover information about events, gear purchase guides, and more)
Kayak Session Shop (purchase issues and more)
There is also a section called Kayak TV, where you can find tons of video content on kayaking to keep you busy on days when you are stuck inside.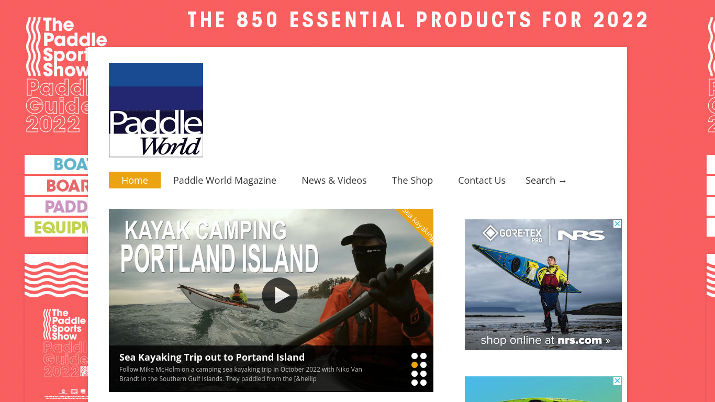 Paddle World Magazine is a website chock-full of information and news updates about kayaking, canoeing, fishing, sea kayaking, and more.
You can find current and back issues on the site, and there are also instructional videos on how to improve your kayaking skills.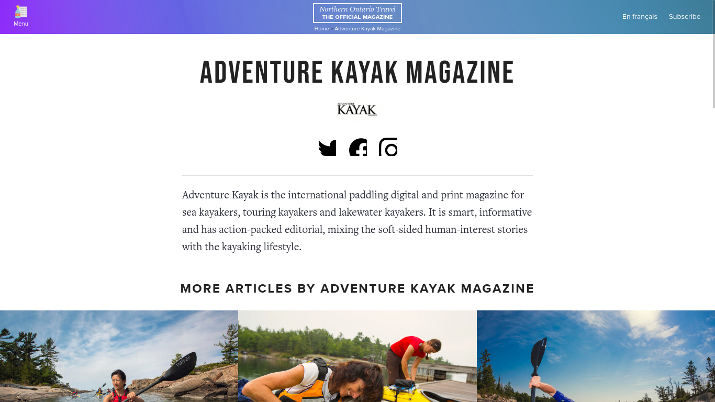 Adventure Kayak Magazine is an international magazine full of stories related to the kayak lifestyle. If you fancy a trip up north to Canada – which has awesome kayaking spots – this magazine will serve as an essential source of information.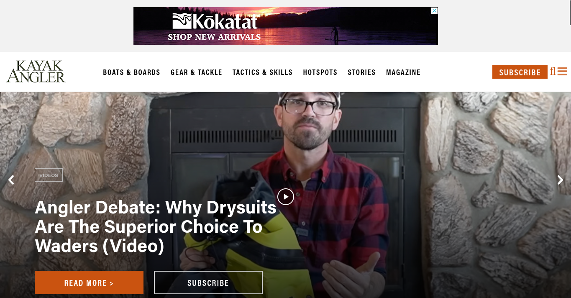 Kayak Angler is one of the best magazines for kayak fishing. It has tons of news and advice, including sections on:
Gear and tackle recommendations
Tactics and skills to improve your kayak fishing game
Boat reviews
There are also tons of stories related to kayaking.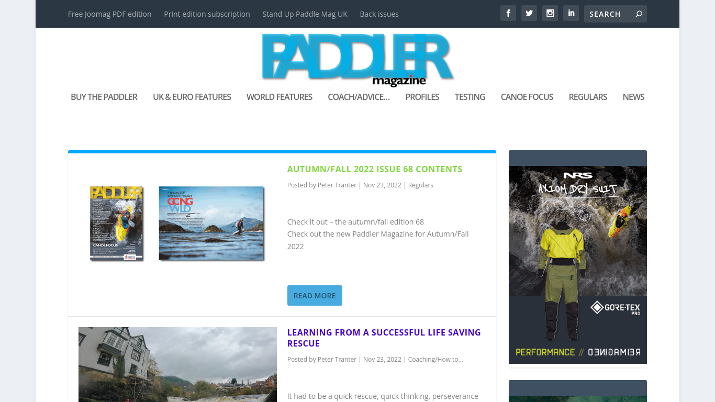 Paddler Magazine, not to be confused with Paddling Magazine, offers worldwide content and interesting stories.
While most of the content is international, it also has a section focused on news related to kayaking in the UK and Europe, and it also has a separate section with a focus on canoeing.
From interviews to discussions on how kayaking relates to mental health, there is plenty to read about on Paddler Magazine.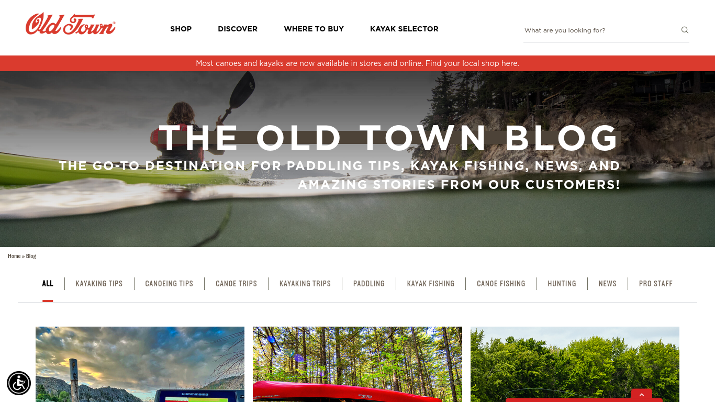 Old Town is a well-known and respected manufacturer of high-quality canoes and kayaks. Its website also features an informative blog with techniques, tips, safety advice, buying guides, and more.
Whether or not you own an Old Town kayak or are interested in buying one, bookmark this blog, as it has lots of information that is relevant to every kayaker.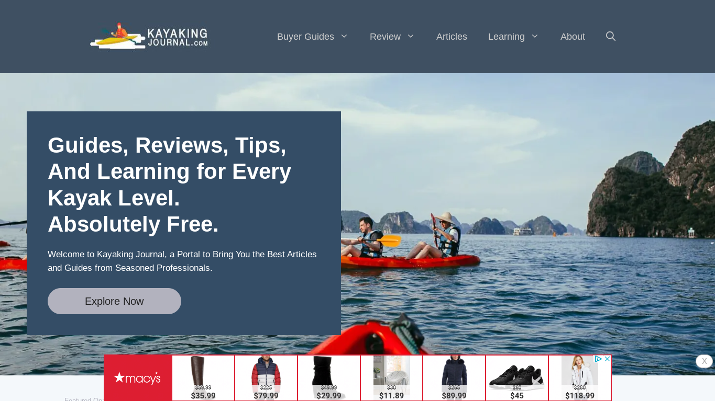 Kayaking Journal is a great resource with tips, advice, guides, and more. There are reviews and buying guides for different kayaking activities, such as inflatable kayaks, and different types of gear.
There is an entire section dedicated to teaching you skills, such as how to increase a kayak's weight capacity and the do's and dont's of storing a kayak in your apartment.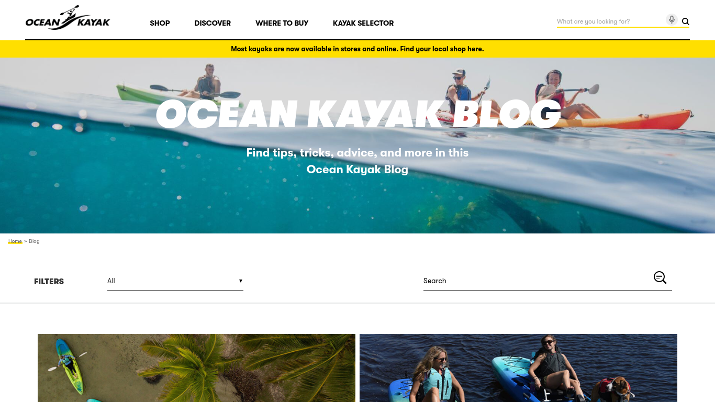 The Ocean Kayak Blog is another fascinating blog to consider bookmarking. Some of its most recent articles cover topics such as choosing between a paddle and a pedal kayak and the best spots in Florida for kayaking.
There are also buying guides and a useful Kayak Selector tool that can help you find the best kayak for your needs.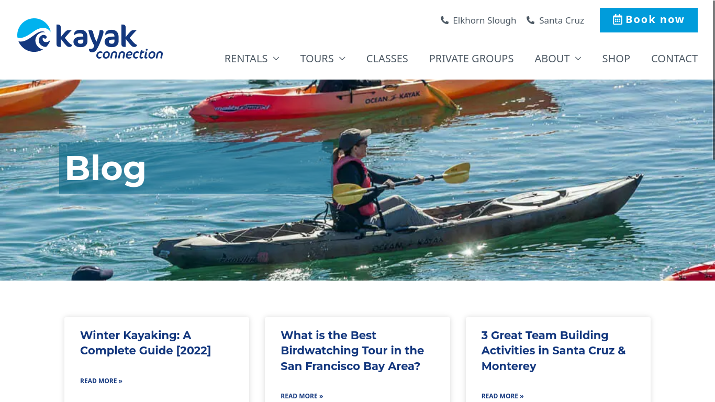 Kayak Connection is a California-based company that offers rentals and tours in Santa Cruz and Elkhorn Slough. Its blog has great recommendations and advice, as well as comprehensive guides that are particularly useful to kayakers in California.
For example, some of its recent guides cover:
Kayaking in the winter
Bioluminescence kayaking in the Bay Area
Stand up paddleboarding in Santa Cruz, California
Group kayaking in Santa Cruz
As you can see, these guides are very specific and offer detailed information about niche kayaking trips in specific places. If you live in or around Santa Cruz, or if you plan on visiting it for a kayaking trip, this website is an excellent resource.
Besides, if you need help planning your kayaking trip in Santa Cruz or Elkhorn Slough, you can check out their rentals and tours. They also offer classes, which are great for beginners who want to try out paddling.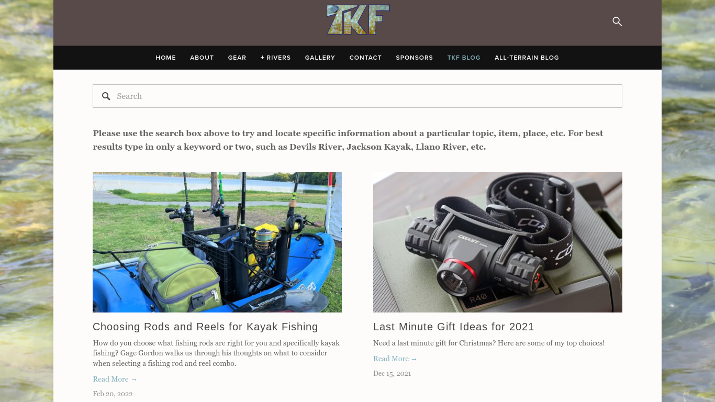 Texas Kayak Fisher is a great website if you want to learn more about different gear and accessories that can be useful on your kayaking trips. I particularly like how it focuses not only on unique kinds of paddles but also on accessories like flashlights and headlamps.
Kayak fishers in Texas, including Austin, will find this website particularly valuable, as it also features guides to some famous rivers in Texas that are perfect for kayaking.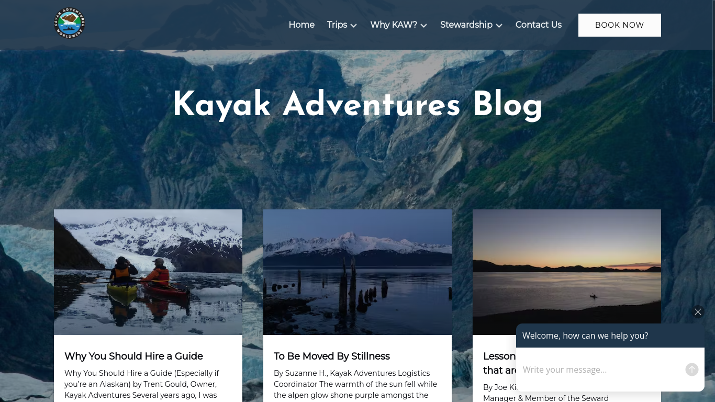 Kayak Adventures Worldwide is a company based in Seward, Alaska. It offers half, full, and multi-day tours for individuals, groups, and families.
Its blog is particularly enjoyable to read. The articles are well-written, and they include insights and insider tips from the expert guides at Kayak Adventures Worldwide.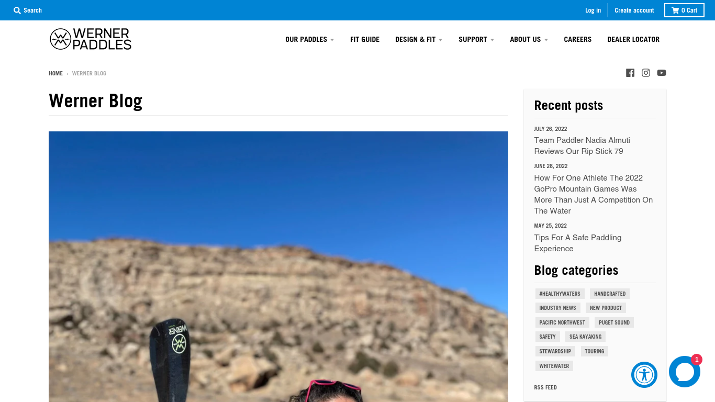 Werner Blog is a blog published by Werner Paddles, a company that produces paddles. Not surprisingly, the blog focuses on topics related to paddling, so it's a particularly good place to go if that's an interest of yours.
Whether you're trying to learn which paddle to buy or want to read some paddling tips to improve your safety or experience on the water, Werner Blog is fantastic.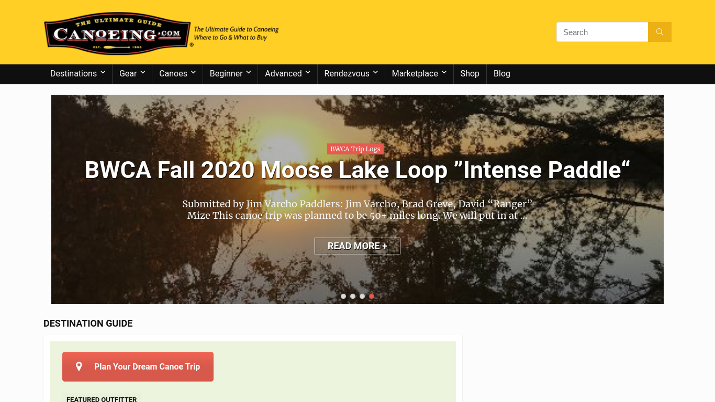 While kayaking and canoeing are not the same thing, they are closely related. Canoeing.com is an excellent blog for kayakers and canoers alike.
Its destination guides cover states like Minnesota, Wisconsin, and Michigan, while its gear guide features tips and videos on topics like how to repair a wooden canoe paddle.
There are canoeing and paddling guides for beginners and advanced canoers alike, so there is something for everyone to learn.
Under the Beginner section, you will find topics such as canoeing terminology and trip planning. Under the Advanced section, you'll discover topics such as the Far North Paddling Guide and featured classes and workshops.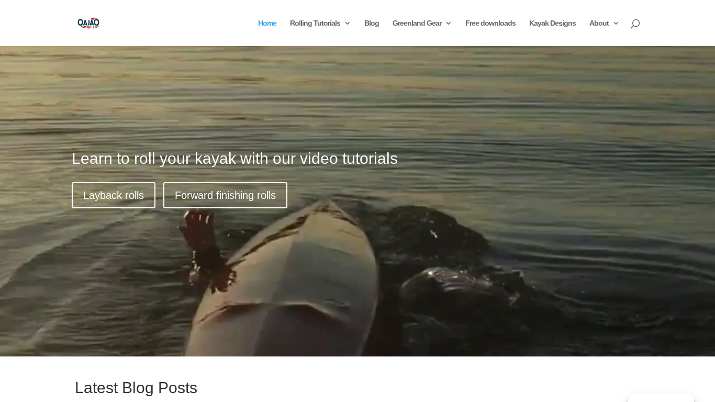 Qajaq Rolls is an excellent website if you want to learn how to perform different types of kayak rolls.
A kayak roll is when you upright a capsized kayak that has turned over in the water, and there are different types of techniques you can use to roll over a kayak.
While the basic kayak roll is an essential skill to know, there are plenty of advanced techniques that people perform for fun, even if they are not being capsized.
With video demonstrations, instructional sketches, and useful tips, you'll learn how to do rolls such as:
Layback rolls, including the butterfly, armpit, rock roll, and others
Forward finishing rolls, including the storm roll, rolling with your arms crossed, the back deck roll, and others
Hand rolls, including the elbow roll, clenched fist roll, and others
And more
Qajaq Rolls also has an exceptional blog covering a wide range of topics, such as how to avoid relying on your strength for rolling and the essential electronics you should take with you on a kayak camping trip.
All in all, Qajaq Rolls is one of the most comprehensive resources on kayak rolling, a truly niche area of kayaking.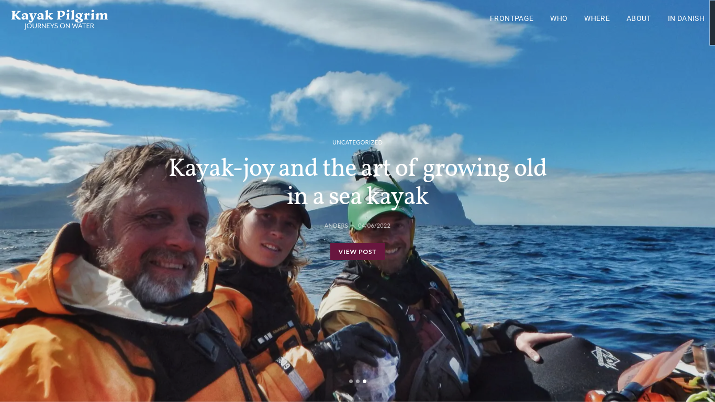 The author of Kayak Pilgrim is Anders Krag Brysting, an avid sea kayaker and yoga instructor based in Copenhagen. Born in 1958, Anders blogs about going on long kayak trips out to the ocean.
From personal insights to helpful tips, Anders has plenty to share, including what to do when you need to go to the bathroom while on your kayak!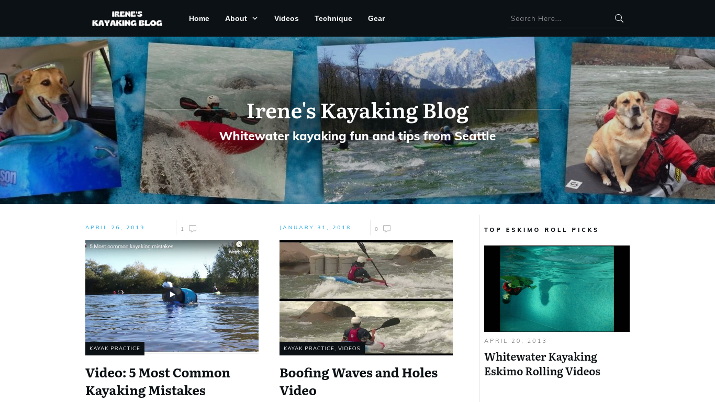 Irene is another experienced kayaker. Based in Seattle, she frequently goes on whitewater trips, and she shares her experiences and videos on her blog.
From common kayaking mistakes you should avoid to what you should put in your whitewater kayaking medical kit, there's a lot to learn from Irene's blog, especially if you are based in Seattle. However, the information there is useful to kayakers all across the country.
Go Sea Kayak Blog is run by Taran Tyla, a kayak guide based in Sardinia. The Mediterranean Sea is truly a great place to go kayaking.
You can catch up with his adventures on his blog, or you can check out and join one of the expeditions he runs out of Sardinia. On his website, you can also find past articles he has written on kayaking for magazines.
Brooklyn Kayak Company sells high-quality kayaks and kayak accessories. It also has a helpful blog with tips on choosing the best kayaking route, maintaining your kayak during the winter, and more!
The blog is updated a few times a month, so there is always new information to learn.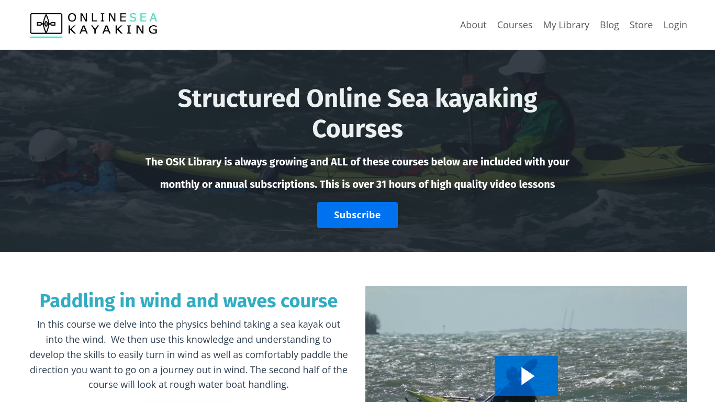 Online Sea Kayaking features online courses on improving your sea kayaking skills. The over 31 hours of instructional videos cover topics such as:
Forwards paddling
Paddling in wind and waves
Edging and turning
Rolling a kayak
Staying upright
Surfing a sea kayak
The courses are well organized into those above topics and more, and you'll get access to all of them by signing up for a monthly or yearly subscription. There are also short films and documentaries about kayaking for your viewing interest.
The Online Sea Kayaking library is also constantly updated, with new content being added regularly.
There is a blog with free videos and articles on topics such as emergency boat repair.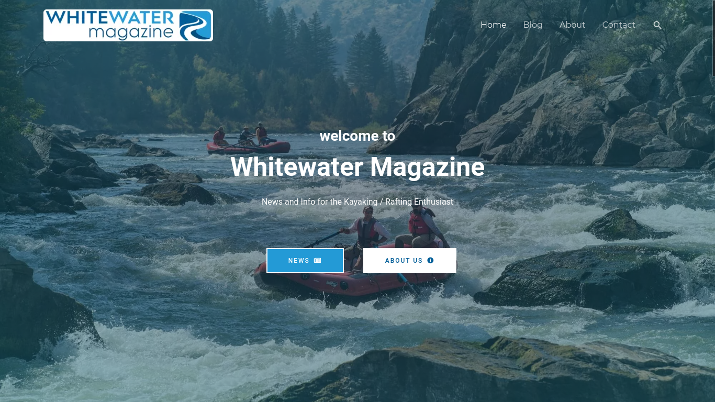 Whitewater Magazine is a website that offers tips and advice on whitewater kayaking and rafting. From teaching you the dangers of whitewater to tips on what to wear on the river, there is plenty of practical advice you can glean from this publication.
The articles and in-depth reports are written by experts and professional guides.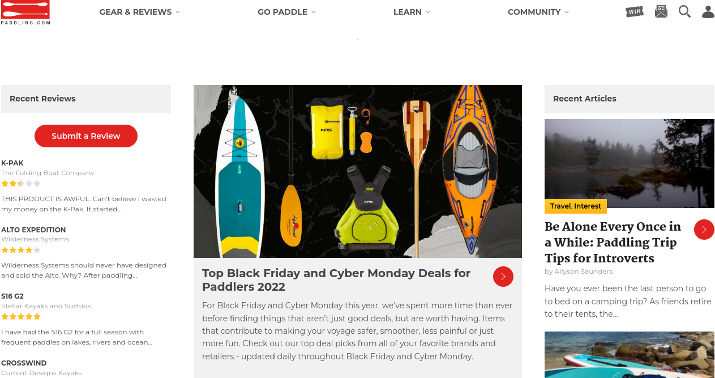 Paddling.com is a superb resource for paddling enthusiasts of all kinds, including kayakers. It has gear purchasing guides, helping you select the best life jackets, paddles, paddle boards, and more.
Under the Learn section, you'll find articles and tips on topics such as the different types of kayak paddles that exist, how to store and maintain your gear, how to plan a trip, first aid tips, kayaking exercises, and how to plan a kayak camping trip. You can learn which food and accessories to take on your camping trip, for example.
Paddling.com has a long list of the best spots to go kayaking around the country, including in the Northeast, Southeast, Southwest, Midwest, and West. It also has sections on the best spots to go kayaking in Canada and even internationally.
If you are interested in kayaking in a specific state, just find it on the list to start researching the best spots in that state.
You should also download the Go Paddling app. The Go Paddling app, by Paddling.com, features the best kayaking launch spots near you (you can also search for spots in a specific location).
If you want to find kayaking spots near you, you can open the map, find marked locations, and instantly get driving directions to them.
People constantly add new spots to the app, so the database is always being updated.
Paddling.com also has an active community and forum where you can discuss topics, ask questions, and connect with other kayakers.
There is also a Learn section with informational articles and videos about paddling and kayaking.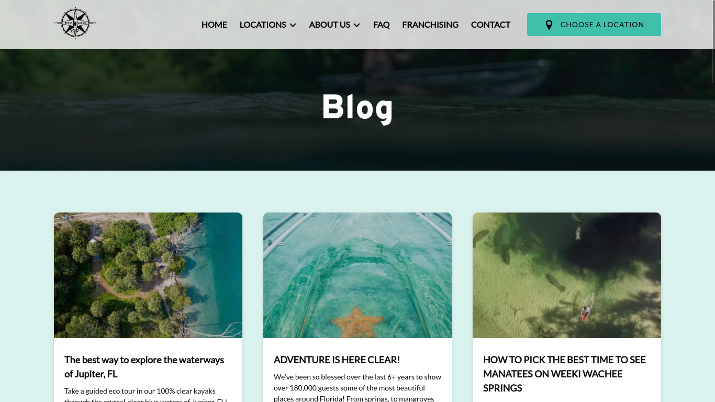 Get Up and Go Kayaking is a tour company in Central Florida focused exclusively on clear, transparent kayaks. It was actually the first such company in the United States.
Since it was founded in 2016, it has given more than 180,000 people the opportunity to explore the beautiful waters of Florida in a clear kayak. It now has locations in Central Florida, Florida's East Coast, the Florida Panhandle, South Florida, and Florida's West Coast.
Its blog has lots of information relevant to kayaking in Florida, such as the best things to do in the Florida Panhandle during the fall.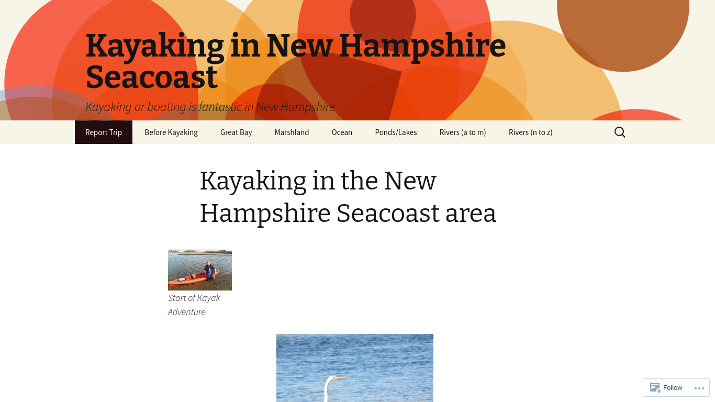 This blog focuses on kayaking opportunities in New Hampshire, as per its name. The blog focuses exclusively on the coastal area of New Hampshire, and it features trip reports and information about kayaking in different rivers, ponds, lakes, and other spots in that area.
You can also submit your own trip report on the site.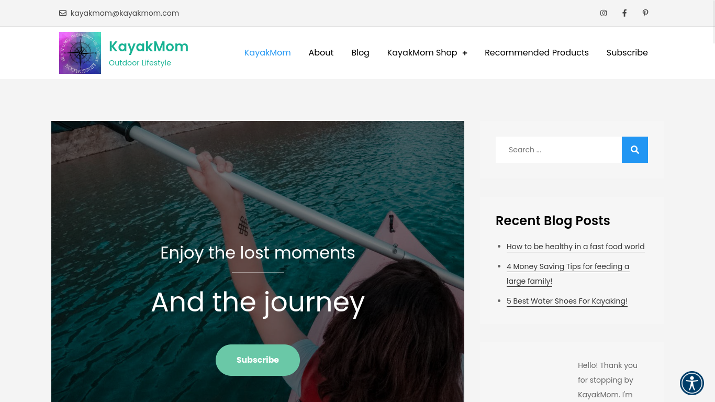 KayakMom is run by Robyn, a mom of five kids who lives in Arkansas and loves kayaking. She goes on adventures with her husband and kids, whom she calls her crew.
The blog documents her outdoor lifestyle and adventures, with a focus on her kayaking trips.
You'll find her website particularly interesting if you are a parent and love kayaking yourself. Not only does she give advice on topics such as the best water shoes for kayaking, but she also discusses concerns such as saving money when you have a large family.
Under the Latest Adventures section, you can find trip reports from her most recent expeditions. Live along with her by watching the videos she posts from her explorations.
She also maintains a list of her top recommended products.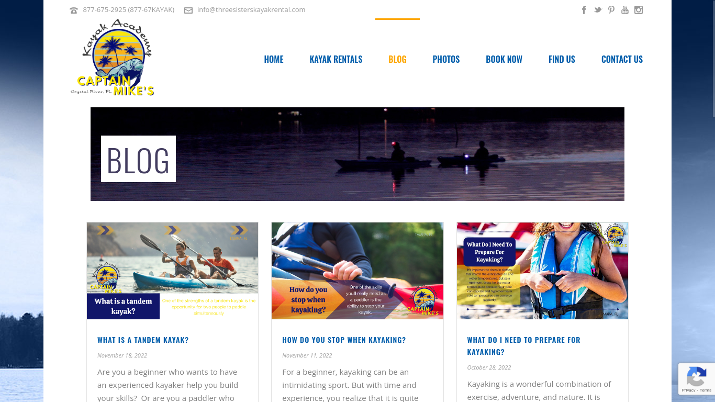 Captain Mike's Kayak Academy, or Three Sisters Kayak Rental, is located in Crystal River, Florida, near Three Sisters Springs. The company offers kayak rentals and scenic route tours, but there is also a helpful blog with lots of practical information.
From explaining basic stuff like what a tandem kayak is to discussing how to stop while kayaking, both beginners and intermediate kayakers will find this blog useful.
For people who rent kayaks often, the blog is also of interest, as it discusses topics such as the pros and cons of renting vs buying a kayak and how to make the most out of your rental kayak.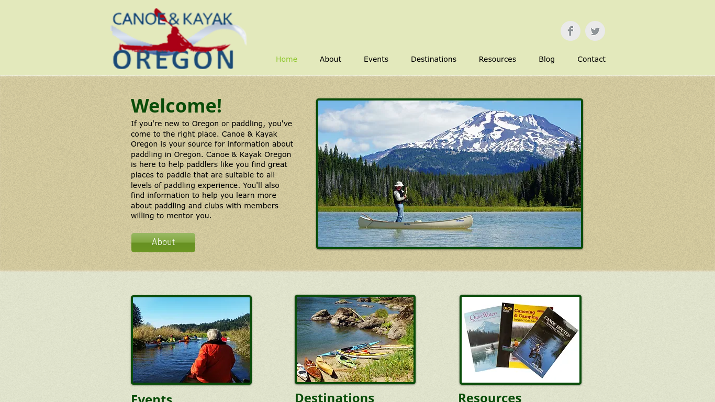 Canoe and Kayak Oregon is written by an experienced kayaker who has paddled all throughout Oregon since 1986. He created the blog to provide new paddlers with the knowledge they need to get started with kayaking properly and to find the best places in Oregon for kayaking.
In the Destinations section, you'll find the best creeks, rivers, lakes, and other spots for kayaking. Head to the Resources section to find paddling organizations, local paddling companies near you, and more.
There are also events held every year by Canoe and Kayak Oregon, which you can find in the Events section.
The blog has useful entries covering topics such as how to keep your dog safe while paddling and recent news updates that affect kayakers and canoers in Oregon.
If you live in Oregon, check out this site.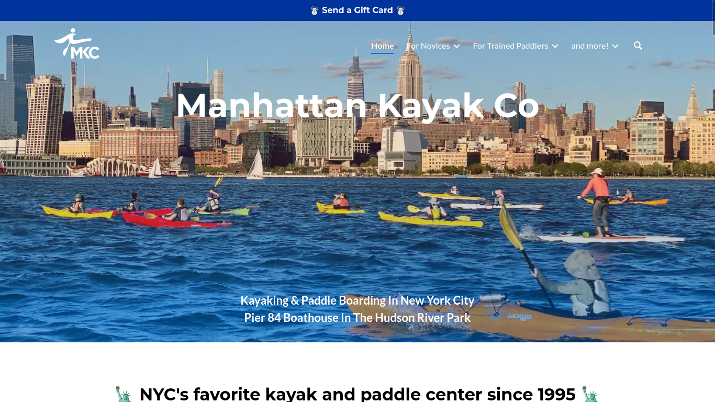 Manhattan Kayak is your go-to resource if you want to try kayaking in the waterways of New York City, with all the beautiful views that come with that. It provides day trips and lessons to kayakers of all levels, including individuals and groups.
Beginners can take a newbie kayaking lesson or an after-dark trip, while advanced paddlers can benefit from the speed training, rescue training, and other advanced training courses.
Its blog has some interesting information as well, although it doesn't have many entries.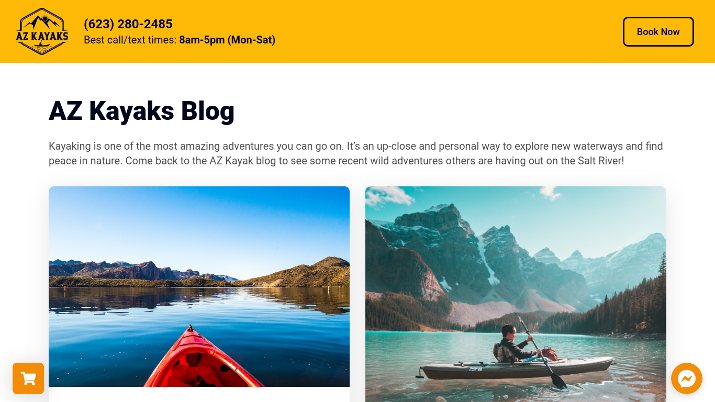 AZ Kayaks is based in Mesa, Arizona, offering kayak and equipment rentals to locals and visitors to the area. It has a fantastic blog, covering topics such as tracking how far you have gone while kayaking and whether it's safe to kayak alone.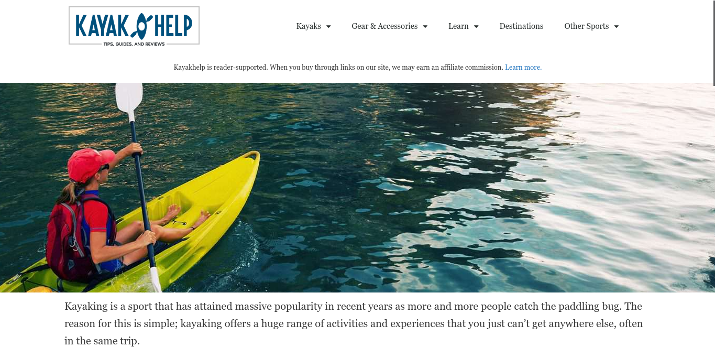 Of course, this list would not be complete without mentioning our own website, Kayak Help. We offer tips, guides, and advice for kayakers across the nation.
In the Learn section, you can find interesting information such as how many calories you can burn while kayaking and specific rescue techniques like the T-Rescue. You can also use the drop-down menu at the top of the screen to discover information about specific topics, such as kayak storage, rescue techniques, and knots.
In the Gear and Accessories section, you'll find buying guides, like our latest post on 15 most comfortable life jackets for kayaking.
One of the most popular sections of our blog is the Destinations section, where we cover, in-depth, where to go kayaking in different parts of the country. For example, we have a guide on where to go kayaking in Portland, Maine, as well as a guide on the top 10 spots to sea kayak with whales.
If you enjoy skiing and other adventure sports, check out our Other Sports section, where we discuss topics around Skiing, Snowboarding, Water Skiing and other similar sports.
We are constantly adding new blog posts, but feel free to check out our archives from past months, which you can find on the right-hand side of the screen.
You can also use the search bar to search for specific topics – with our large library of articles, there's a pretty good chance we have covered it already.
Wrapping It Up
So, there you have it: our awards for the best kayaking websites on the internet. I suggest bookmarking this page, as it contains direct links to those websites.
Another great place to learn kayaking tips and techniques is YouTube. If you want to learn a specific technique, simply enter it into the search bar, and you'll easily find instructional videos.
You can also discover kayaking channels on YouTube and subscribe to them.
If you liked this article, don't forget to share it with a friend!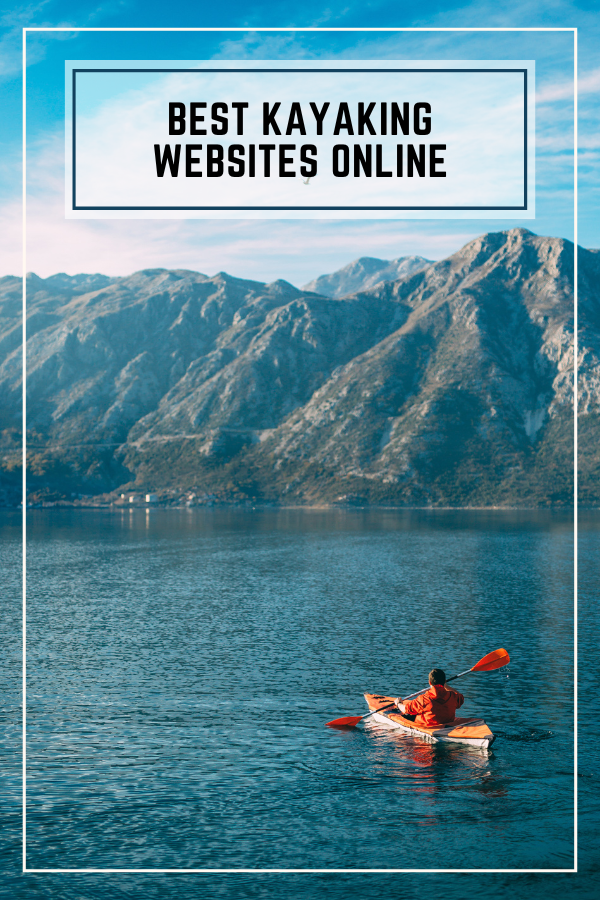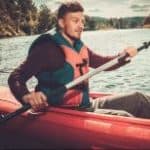 Author: Peter Salisbury
Pete is the Owner of KayakHelp.com. Born and raised in Cleveland, Ohio, he grew up kayaking, fishing, sailing, and partaking in outdoor adventures around the Great Lakes. When he's not out on the water, you can find him skiing in the mountains, reading his favorite books, and spending time with his family.