Central Texas has a lot more water than you might imagine if you've never visited. I know I was pleasantly surprised when I first moved here and I spent a lot of time on the ground to compile this complete guide to kayaking in Austin.
Fortunately, most of the kayaking here is suitable for beginners. So there won't be a steep learning curve if you are only visiting for the weekend or you have recently moved to Texas' capital city.
With excellent live music and an abundance of delicious eateries, make sure to get out and enjoy some kayaking during the day. That way, you'll feel better about earning that meal and partaking in Austin's nightlife scene later on.
Without further adieu, here's everything you need to know about kayaking in Austin.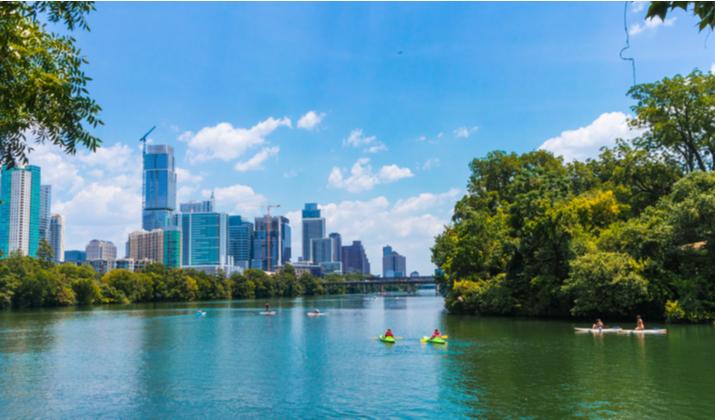 Photo by Rich Solis via Shutterstock
Where is Austin?
Photo by Alexander Lukatskiy via Shutterstock
Austin is the capital of Texas and it is located nearly in the very center of the state. In relation to Texas' other large metropolitan areas, it is roughly 3.5 hours south of Dallas, 3 hours northwest of Houston, and 1.5-2 hours northeast of San Antonio.
The major highway that runs north-south through Austin is I-35. If you're coming from destinations further east or west, you'll probably be looking to hit I-10 before jogging north to visit Austin.
Interesting Post: Kayaking In The Smoky Mountains
What Bodies of Water Are Good For Kayaking in Austin?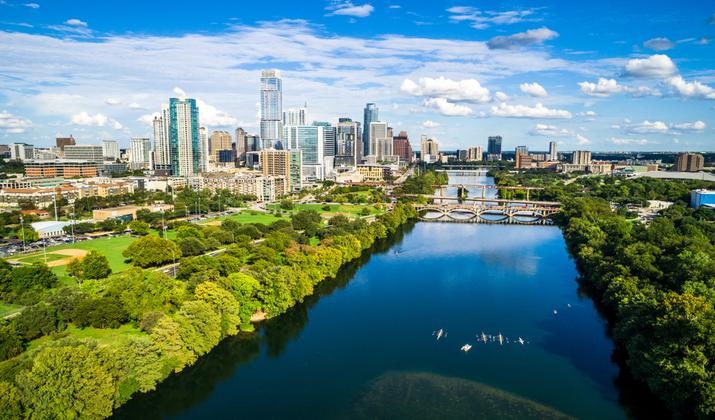 Photo by Roschetzky Photography via Shutterstock
When it comes to kayaking in Austin, there are actually three bodies of water that you might want to check out. So let's provide some brief information on each before we continue.
The (Texas) Colorado River Or Town Lake Or Lady Bird Lake
The river that runs right through the heart of the city is the primary location for kayaking in Austin. This river is known by several different names, such as the Colorado River (but Texas' version), and no it's not associated with the Colorado River that is responsible for the formation of the Grand Canyon.
Because the river is actually dammed to create a slow-moving, man-made attraction for visitors, many people actually refer to it as a lake. If you hear Lady Bird Lake or Town Lake, both of these names refer to the stretch of river that flows between the Tom Miller Dam and the Longhorn Dam.
The name Town Lake needs no explanation, but the Lady Bird Lake moniker comes from the rehabilitation work done along the lake's shoreline by Lady Bird Johnson, the former first lady, and wife of our 36th president, Lyndon B. Johnson.
Mrs. Johnson was largely responsible for the preservation of many trees and natural features along the lake's shoreline. She was also a proponent of the natural hike-and-bike trail that now runs along a significant portion of the lake in downtown Austin.
For the purposes of consistency, we'll stick to the name Lady Bird Lake when referring to the primary place where folks kayak in Austin. This stretch is popular for kayakers because motorized traffic (aside from the use of electric trolling motors) is prohibited here.
Lake Austin
Heading upriver, the section stretching from the Tom Miller Dam up to the Mansfield Dam is known as Lake Austin. This section is even wider at some points than Lady Bird Lake and it is also a suitable location for kayaking in Austin.
However, Lake Austin is more popular for recreational boating because motorized vessels are allowed here. So if you kayak here, the safest way to do so is to stick close to one of the shorelines so you aren't in the way of faster, motorized vessels.
One of the most iconic places to kayak on Lake Austin is near the 360 Bridge. This arched bridge is one of the most photographed pieces of architecture in the city and it also happens to be just upriver from the site of a local golf course that occasionally hosts PGA Tour events.
Lake Travis
After you head upriver from Lake Austin, you get into Lake Travis, which is an expansive reservoir that covers nearly 19,000 acres. The reservoir has many fingers to explore, but much of its shoreline has been developed privately.
So you'll have to find a public marina to launch your kayak to explore Lake Travis. It also tends to be a popular location for pontoon boats and party houseboat rentals, so keep this in mind if you're looking for a more family-friendly kayaking experience in Austin.
Because Lake Austin and Lake Travis technically start to get out of the city proper and into surrounding communities like Steiner Ranch, Lakeway, and Volente, we are going to focus the rest of this guide on info that will help you plan a kayaking trip on Lady Bird Lake.
What is the Best Time of Year For Kayaking in Austin?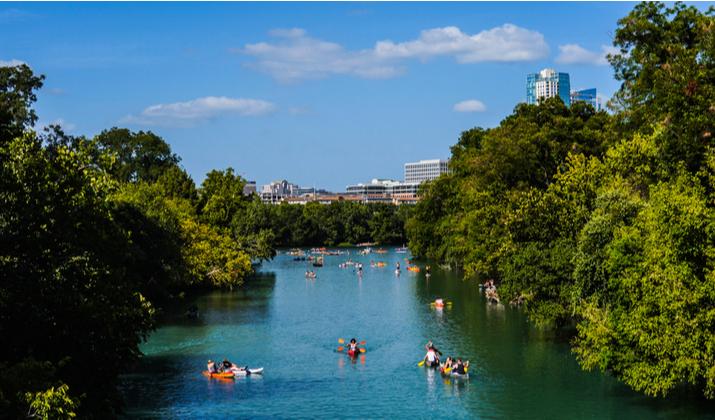 Photo by Christian Perry via Shutterstock
Kayaking really is possible year-round in Austin, but the conditions are at their best from roughly April through October. From November through March, you might think about adding some cold weather kayaking gear to your arsenal.
That being said, the winter months are a great time to get out on Lady Bird Lake if you are looking to avoid the crowds. The lake can get surprisingly packed from June through August, as these are the hot months when everyone that lives here is looking for any excuse to cool down.
During these warmer months, you will often find a mass of kayakers, paddleboarders, and even people in canoes with dogs congregating where Barton Creek runs into Lady Bird Lake. The cooler waters and shallow bottom here almost make it a party spot on hot summer days.
So if you want to check out that scene, launch from the Austin High Boat Launch and head downstream. If you're looking to avoid the crowds, head upstream for a slightly more peaceful paddle.
What is the Weather For Kayaking in Austin?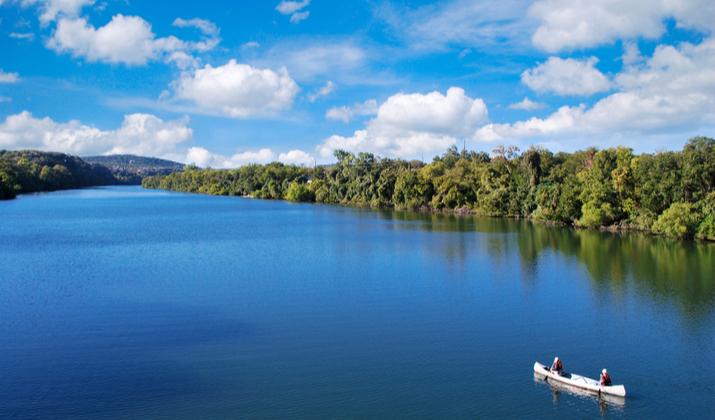 Photo by my leap year via Shutterstock
Central Texas has a very enjoyable year-round climate. While things do heat up into the triple digits in the late summer, heading out to the river is the perfect way to beat the heat and stay cool.
From December through February, central Texas sees the time of year with the highest likelihood of freezing temperatures. At the same time, daytime highs can sometimes get up into the high 70s or low 80s during the winter months.
From March through May, the average high temperatures range from 73 up to 86℉ and the average lows range from 51℉ in March up to 66℉ by May.
June really starts to see things heat up, but July and August would be considered the heart of Texas summer. Average high temperatures for this three-month period range from 92 to 96℉ and average lows range from 72 to 74℉.
Things stay warm in September, but start to cool down a bit when October comes around. September will still see average highs in the 90s and lows in the 70s, but once we get into the month of Halloween, averages for the rest of the fall range from 71 to 82℉ on the high end and between 50 and 60℉ on the low end.
May is usually the wettest month in Austin, while July and August are usually the driest. Anytime from April to September, however, Austin can experience monsoonal rains if the right system hits the area.
Where Can You Launch For Kayaking in Austin?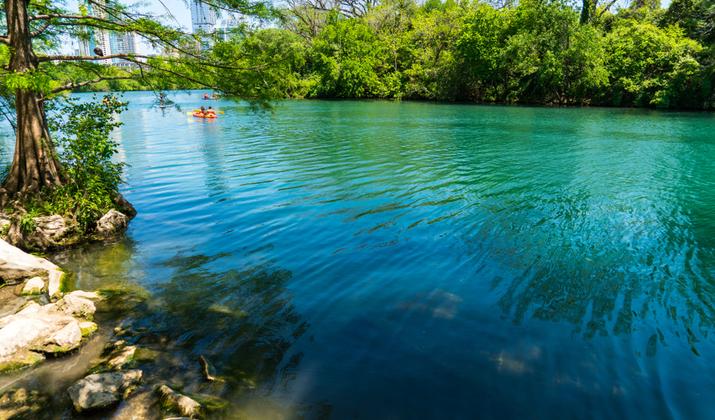 Photo by Roschetzky Photography via Shutterstock
There are a variety of places you can launch your kayak for paddling in Austin. Your choice will ultimately depend on what part of Lady Bird Lake you're trying to explore once you are out on the water.
Austin High Boat Launch
The Austin High Boat Launch is my go-to spot for launching a kayak or a paddleboard on Lady Bird Lake. It is centrally located so it gives you the option of heading up or down the river and still enjoying a long paddle either way.
This is also nice because you can plan your paddling adventure according to the wind. This is the closest launch for folks that want to explore up Barton Creek, but it's not unreasonable to head upriver and paddle all the way up to the northern end and back if you have 2-3 hours to enjoy your time out there.
Check out this location on Google Maps.
Under the Mopac Bridge
Heading up the river from the last boat launch, it's also possible to put your kayak in on the opposite side of the river under the Mopac Bridge. This bridge also has a pedestrian bridge underneath it and a large parking area, so you won't have to worry about navigating traffic.
The drawback of this launch location is that you'll have to drag or carry your kayak down a relatively steep embankment to get to the river's edge. On the opposite side of the river, the grade is a bit more gradual, and this is actually where you might find locals playing kayak polo if you come on the right day.
The problem with launching on the opposite side is that the parking area is several hundred yards away and across a roadway. So you'll definitely need one of the best kayak carts for rough terrain if you're going to make that happen.
Check out this location on Google Maps.
Auditorium Shores
Auditorium Shores is one of the largest green spaces along Lady Bird Lake in downtown Austin. It is the site of concerts, yoga classes, a dog park, a playground and exercise equipment, and much more.
At the park's eastern end, there is a parking lot within a close enough distance of the river to make launching your kayak here possible. The launch itself is actually located under the South 1st Street Bridge and right next to the location where the Lone Star Riverboat is moored.
Launching from here is a great way to explore the shoreline along Auditorium Shores, which is a great way to enjoy people and dog watching on your trip to Austin. It's also not far from the South Congress Bridge if you want to paddle out right before sunset to enjoy the nightly flights of Austin's urban bat colony (during the right season).
Check out this location on Google Maps.
Below Barton Springs Dam
If you're able to find parking in Zilker Park, this location is a feasible kayak launch if you are paddling a tandem kayak with a partner. It does require a relatively steep carry to get down to the shoreline, however.
Once you get down to the shoreline, the launch area itself is very user-friendly. That's because this is also the location of Zilker Park Boat Rentals, which means you can also rent here if you don't have your own recreational kayak.
Check out this location on Google Maps.
Red Bud Isle
Red Bud Isle is located just below Tom Miller Dam and it's a great place to launch if you're looking to avoid the more popular parts of Lady Bird Lake. The park itself is also an off-leash dog park and it's a great location for anyone that wants to launch a river fishing kayak on Lady Bird Lake.
Being close to the dam, you'll only have one real choice of which direction to paddle if you launch from here. The isle itself can be circumnavigated, and be sure to check the discharge times with the local river authority (the LCRA) to make sure you won't have to work too hard to get back if you paddle a long way down the river.
Check out this location on Google Maps.
Nash Hernandez Slipway
Heading all the way in the opposite direction, the Nash Hernandez Slipway is a great place to launch on the east side of Austin. It's an ideal launch location for exploring places like Fiesta Gardens or paddling around Snake Island in one of the widest parts of the river before it flows through the Longhorn Dam.
The slipway is a legit boat ramp, so you can park your vehicle and unload your kayak right at the water's edge. Just be mindful of leaving valuables in your vehicle, as you should do whenever parking in a public place.
Check out this location on Google Maps.
The John Zenor Picnic Pavilion
This is arguably the furthest downstream location where you can launch your kayak on Lady Bird Lake. It is located across the river from the previous slipway at the end of a long, man-made peninsula.
There is a well-maintained dirt walking path that extends from the main hike-and-bike trail out to the pavilion here, but you'll certainly need a kayak cart or trolley to launch here. The parking is all street parking and is located a few hundred yards away from the launch location.
Check out this location on Google Maps.
What Type of Kayak is Best for Kayaking in Austin?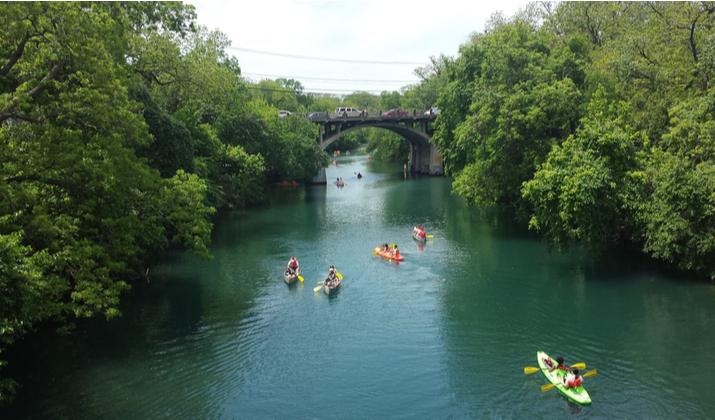 Photo by Skylar Dawn via Shutterstock
For the most part, you'll be just fine with a recreational sit-on-top kayak for paddling on Lady Bird Lake. That being said, you'll see plenty of other paddlers in solo canoes, on paddleboards, and even in touring kayaks.
Folding kayaks are also a popular choice for people visiting Austin from far-flung destinations. Essentially, the main kayak we wouldn't recommend using on Lady Bird Lake is one of the best whitewater kayaks.
Are There Guide or Rental Companies for Kayaking in Austin?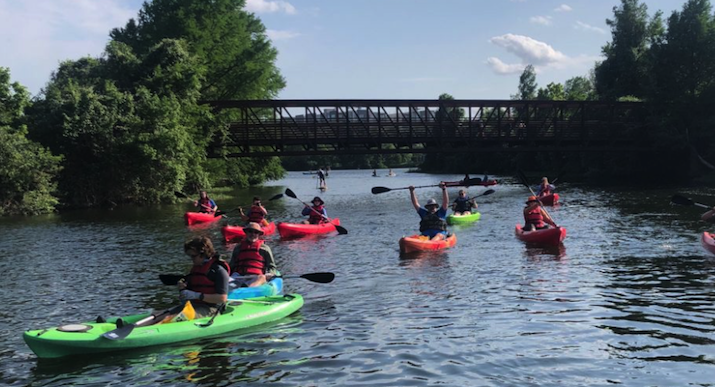 PC The Expedition School
The Expedition School is way more than just a guide service or a place to rent kayaks from. They offer exceptional guided tours and basic first aid and wilderness safety training that all outdoor adventurers can use.
If you want to look them up for the simple purpose of kayaking, however, you'll find them on the eastern side of the city near the Nash Hernandez Slipway. Currently, they only offer watercraft rentals on the weekend, but they also offer private kayak tours if you are visiting with a group and want to be led by some of the most knowledgeable guides in the city.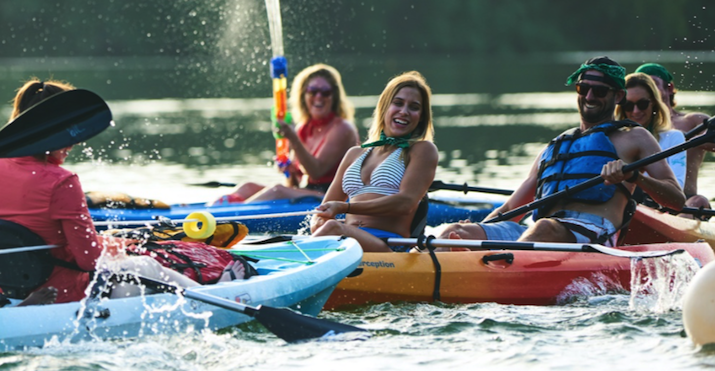 PC The Rowing Dock
The Rowing Dock is the furthest place upriver you can rent kayaks, canoes, and standup paddleboards. They also have pedal-driven kayaks for folks with upper-body injuries or if you just want to try out something new.
Their location is ideal for heading up the river and exploring Red Bud Isle and some of the less-developed sections of Lady Bird Lake. It's also ideal for folks coming from the west, as you don't have to navigate through the whole city to get there.

PC Texas Rowing Center
Texas Rowing Center is located on the northern shore of Lady Bird Lake between the Austin High Boat Launch and the Mopac Bridge. It is technically a training and education center for rowers of all ages, but they also offer kayak and paddleboard rentals.
It is the closest place to rent kayaks if you want to meander down the river and check out the party scene at the confluence of Barton Creek during the summer months and there's ample street parking nearby.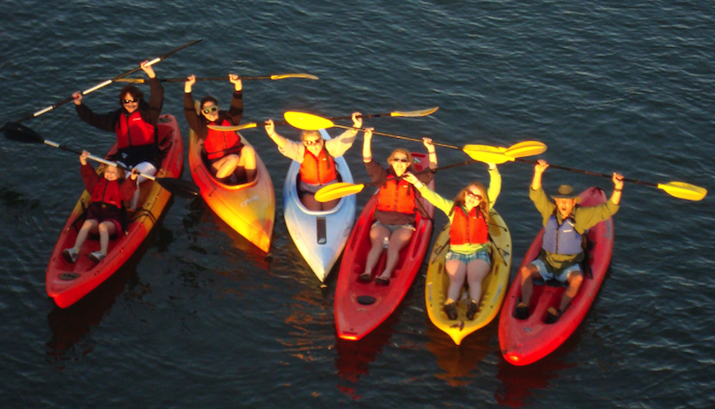 PC Live Love Paddle
Live Love Paddle is also located on the eastern side of the city, but their boathouse is on the opposite shore from The Expedition School. Currently, their rentals are available Monday, Thursday, Friday, Saturday, and Sunday and the on-site parking is free.
They also offer bat tours during the summer months and urban kayak tours based on the time of year and the weather.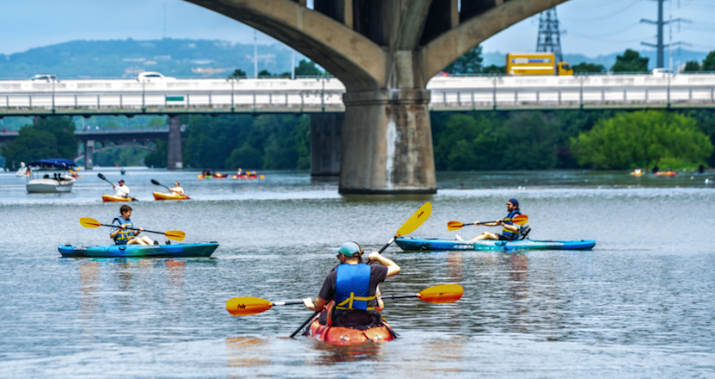 PC Austin Rowing Club
The Austin Rowing Club is located at the Waller Creek Boathouse in the heart of the city. Parking is extremely limited here, so this is a good place to get to by bike or on foot if you're staying at one of the many fine hotels in downtown Austin.
They rent kayaks and paddleboards at their location and they are open seven days a week. They also offer guided tours if you're interested.
What Else Is Unique About Kayaking in Austin?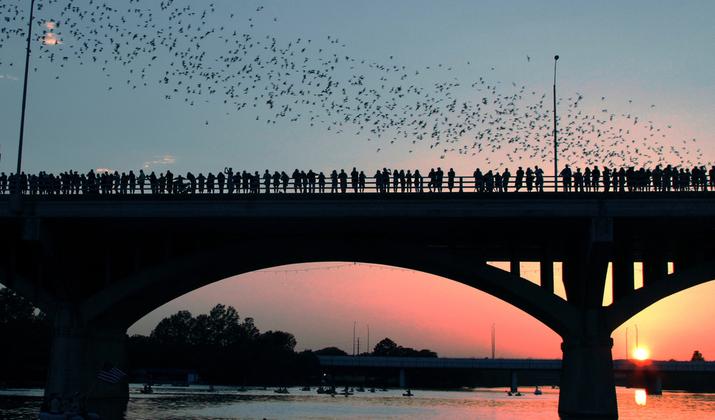 Photo by Kushal Bose via Shutterstock
One of the major attractions that bring people to Austin every year is the existence of one of the largest urban bat colonies in North America. These bats live underneath the South Congress Bridge.
Their nightly departure from the bridge is quite the spectacle from March through November. While they are in town, the best place to watch them leave the bridge each evening is from the seat of a kayak on Lady Bird Lake.
You can launch from the Nash Hernandez Slipway and paddle upstream to get to South Congress for the spectacle. Or, you can give yourself a shorter paddle by launching under the South 1st Bridge at the eastern end of Auditorium Shores.
Did you know that these bats can eat anywhere from 10,000 to 30,000 pounds of insects in a single night and that they are almost all female? Yup, those are some hungry ladies!
Final Thoughts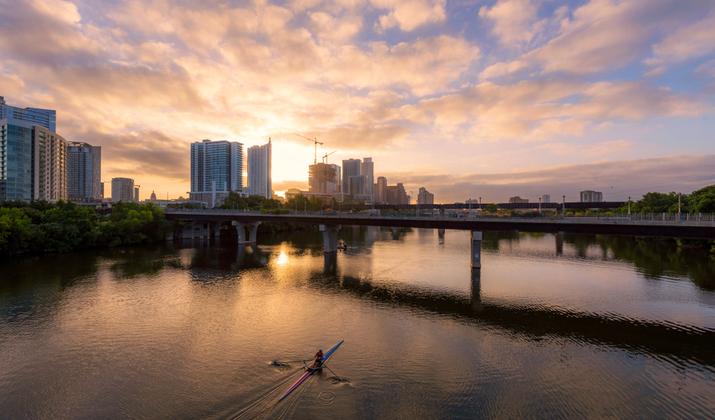 Photo by Kengji via Shutterstock
Especially if you are visiting Austin during the summer months, your trip will not be complete without getting out on the water and enjoying the skyline from your kayak.
With all the info in this complete guide to kayaking in Austin, you'll be able to plan ahead and enjoy yourself!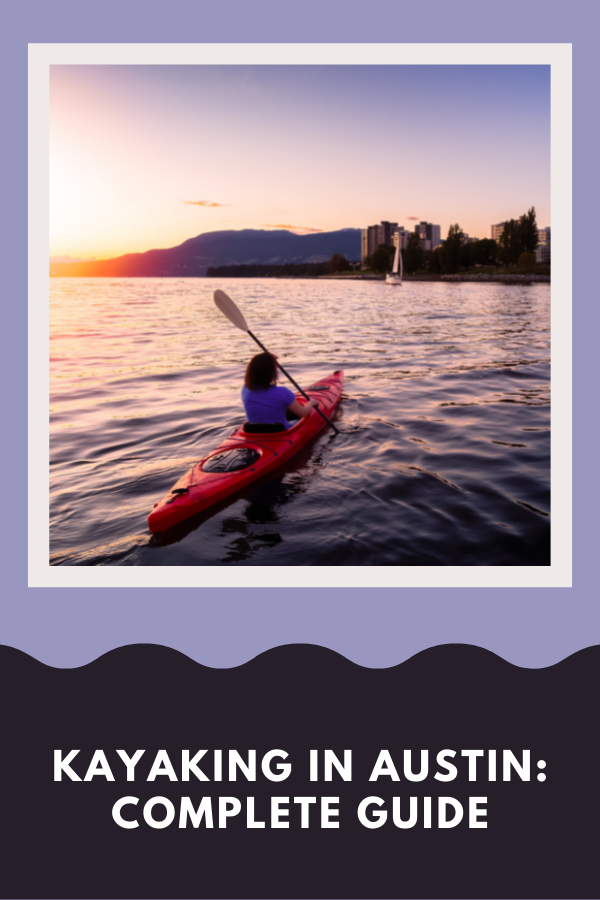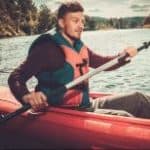 Author: Peter Salisbury
Pete is the Owner of KayakHelp.com. Born and raised in Cleveland, Ohio, he grew up kayaking, fishing, sailing, and partaking in outdoor adventures around the Great Lakes. When he's not out on the water, you can find him skiing in the mountains, reading his favorite books, and spending time with his family.