Heading up to the Pacific Northwest is one of the best, and only, places to kayak with orca whales in the United States. To help you plan your own trip up there, we have compiled the complete guide to kayaking with orcas in Seattle, Washington.
Seattle has some great inland kayaking destinations like Lake Union, but today we are going to focus on ocean kayaking where orca sightings are possible. That means you'll need one of the best sea kayaks if you are going to plan your own orca viewing kayak trip near Seattle.
If you don't have a ton of sea kayaking experience, your best bet is to find a guided tour to take you out to see orca whales. If you need to brush up on some skills, check out some safety tips and tricks for minimizing risk while sea kayaking.
From the Puget Sound to all the smaller inland bays up in the furthest northwestern corner of the United States, there are plenty of places to catch glimpses of a pod of orca whales. Let's look at some of the most important things to consider before kayaking near Seattle, Washington.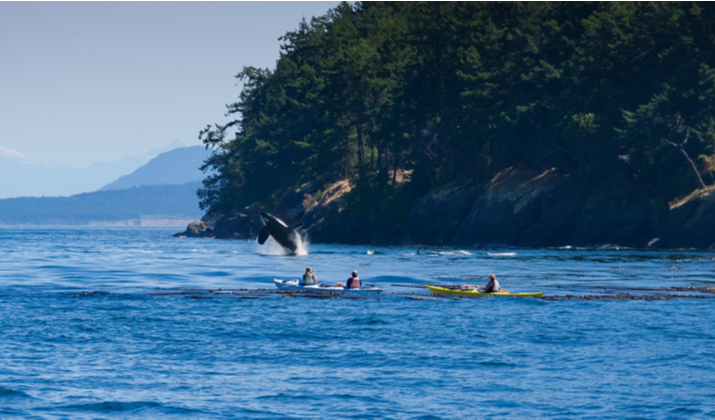 Photo by Unknown via Shutterstock
Why Go Kayaking with Orcas in Seattle, Washington?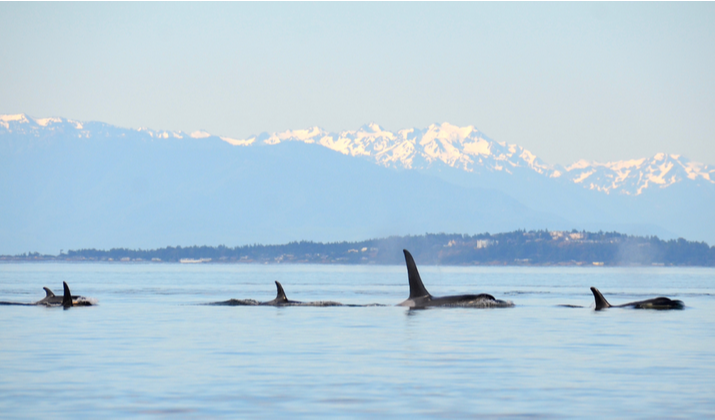 Photo by Monika Wieland Shields via Shutterstock
Um, they are orca whales, after all, so you don't have to be the biggest Free Willy fan in the world to understand why many kayakers have a trip to Seattle, Washington on their kayaking bucket list.
The Puget Sound alone is home to more than 70 pods of resident orcas that live in the area year-round. Transient pods are also drawn to the waters near Seattle for their temperate nature and abundance of fresh salmon.
Seeing a whale from a kayak is a special experience because you often get closer than you would on a boat tour. Still, local guidelines recommend giving whales 300-400 feet of space when you do encounter them.
In addition to checking seeing orcas in the wild off your bucket list, the scenery you can view from the waterways around Seattle is absolutely breathtaking. The mountains of Olympic National Park seem to defy the odds of how quickly they rise from sea level.
On clear days, you may even be able to see the top of Mount Olympus in the park or Mount Baker if you are looking inland. Plus, there are more than just orca whales in the waters up here.
You are likely to see harbor seals, porpoises, other whale species, and lots of sea birds depending on where you head. All in all, the nature and scenery up here make Seattle an incredibly attractive sea kayaking destination whether you are intent on seeing orcas or not.
When To Go Kayaking with Orcas in Seattle, Washington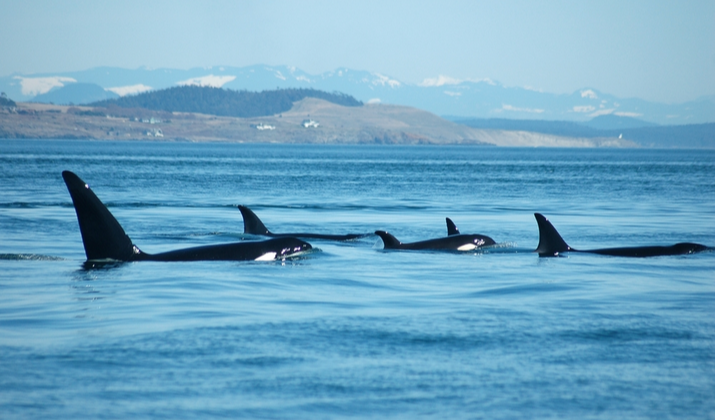 Photo by Monika Wieland Shields via Shutterstock
If you haven't heard about the wet climate in the Pacific Northwest, we are here to tell you about it. Seattle receives an annual rainfall accumulation of roughly 37 inches and it rains about 150 days out of every calendar year.
That means that the best weather for kayaking in Seattle happens from late spring through early fall–roughly May through September, give or take a few weeks on either end. Aside from that, there's also a season that orcas are most likely seen in.
Fortunately for those of us that don't want to put on a bunch of cold weather kayaking gear to see orcas, May through September also happens to be the best time of year to view orcas from your kayak near Seattle.
This is largely because the orca's most prominent food source–salmon–is most active during these months. So you'll be able to increase your odds of seeing orca whales without having to brave the cooler months of the year in the Pacific Northwest.
As an added bonus, these months also tend to be best for viewing other marine life in Puget Sound and its many adjacent bays. Humpback whales frequent the area during the summer before migrating to the warmer waters around the Hawaiian islands during the winter.
Fin whales, minke whales, sea lions, jellyfish, bald eagles, great blue heron, and cormorants are also abundant in this area during the summer months. Many of them also rely on the abundance of salmon and other fish species in the salty waters off the coast of Seattle.
Where To Launch for Kayaking with Orcas in Seattle
While we are going to talk more about guided kayaking tours to see orcas in the next section, this section is for those of you seeking more info about where to launch your own kayaks for an orca viewing kayak trip.
This is not a full collection of the numerous locations you could put a kayak in up in this expansive region, but it will give you a place to start when planning your Seattle kayaking trip.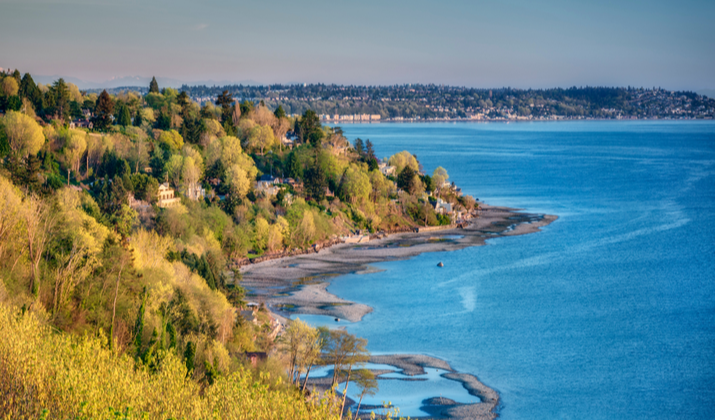 Photo by Ryan C Slimak via Shutterstock
A little to the north of downtown Seattle, you'll find Discovery Park and, inside the park, Discovery Park Beach is an excellent place to launch your sea kayak. You will be starting your paddle on the northern end of Elliott Bay, but it's hard to differentiate between the bay and Puget Sound.
Nearby, you can paddle past the West Point Lighthouse and around the corner towards the entrance of Salmon Bay and the Ballard Locks.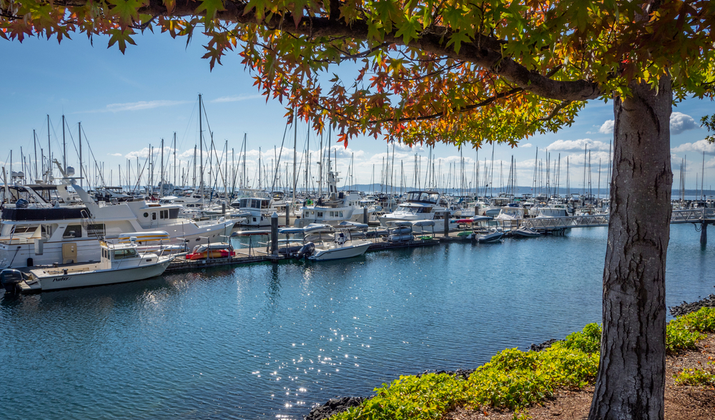 Photo by Danita Delimont via Shutterstock
Not too far from Discovery Park, the boat launch at the west end of 32nd Avenue is another great location to start your kayaking adventure near Seattle. It is just around the corner from the Elliot Bat Marina and the Smith Cove Cruise Terminal at Pier 91, so be aware of boat traffic when launching from this location.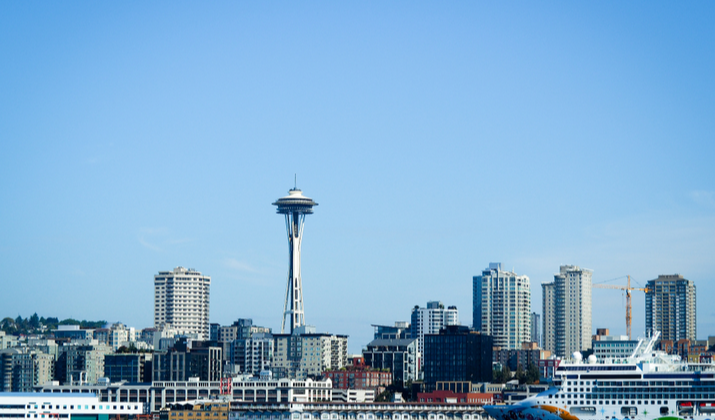 Photo by Kotae.Olaree via Shutterstock
Seacrest Park Cove 2 is right next to the West Seattle Water Taxi Pier and you will be able to launch with excellent views of the downtown skyline and the infamous Space Needle. Be careful of the water taxi, but you'll want to head north from here towards Hamilton Viewpoint Park and around the Duwamish Head to get better views of the Sound and the mountains in the distance.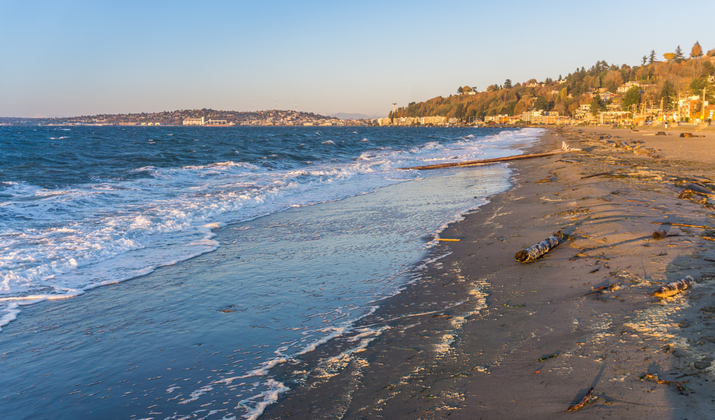 Photo by GeorgeColePhoto via Shutterstock
Alki Beach offers some of the city's best views of the sound with the mountains of Olympic National Park as a backdrop. You'll find lots of sunbathers and beach volleyball players here in the summer, and heading southwest once you launch will take you towards the Alki Point Lighthouse.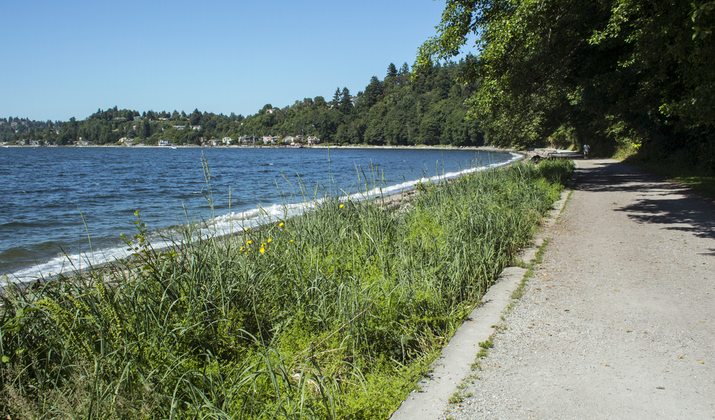 Photo by M.Bailey via Shutterstock
This small park is located not too far north of Lincoln Park and provides one of the most southern access points to Puget Sound within the Seattle city limits. Heading south is the popular choice if starting here because the coastline of Lincoln Park is less developed, but you will need to be aware of the comings and goings of the Fauntleroy Ferry once you get around the bend where the park's Colman Pool is located.
A Final Note On Kayak Launching Near Seattle
These launch locations are all on the Sound and they are within the city limits. If you are seeking more remote kayaking locations near Seattle, you may need to head out of the city limits to find what you're looking for.
Coincidentally, doing so could actually increase your odds of viewing orcas during your paddle. If you are open to expanding your options for launch locations, look into places like the San Juan Islands, Anacortes, Bellingham, Whidbey Island, Port Townsend, and others.
Best Guided Tours For Kayaking with Orcas in Seattle
Unless you are a native to the area or you have a ton of sea kayaking experience in a similar climate, your best bet is to find a guided tour for kayaking with orcas in Seattle. So here are nine guide companies that can make your orca dreams come true.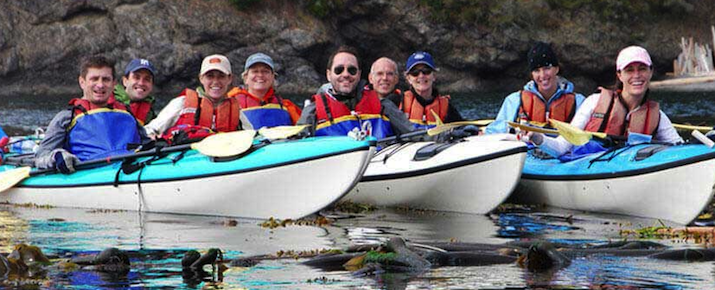 PC Sea Quest Expeditions
Sea Quest Expeditions offers some of the lowest prices for kayak tours in the Seattle area and they offer a variety of orca watching tours near Seattle and in the surrounding area. You will have options of kayaking the wilder western edge of the San Juan Islands or exploring Lime Kiln Whale Watch Park and the nearby lighthouse.
All of their tours are led by specially-trained educator guides and some even include expert biologists that can answer your most specific questions about orca whales, their habits, and their environment.
They offer half-day, full-day, and even multi-day kayak camping trips for whale watching or even to see bioluminescence in the nearby Nisqually River National Wildlife Refuge. Just make sure you know how to pack a sea kayak for camping before you sign up for a multi-day adventure with Sea Quest Expeditions.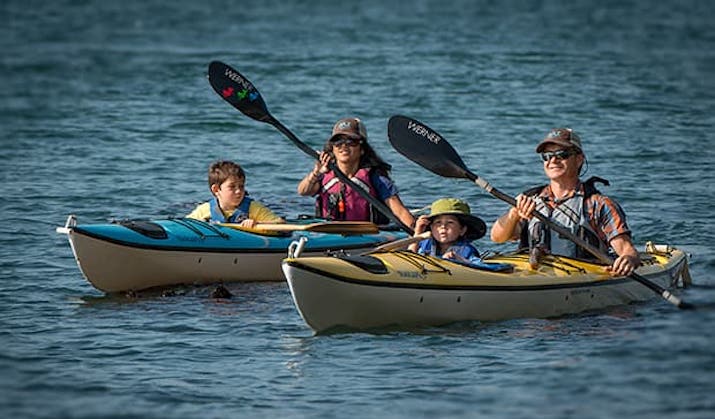 PC Anacortes Kayak Tours
Anacortes Kayak Tours is located a little ways north of the actual city of Seattle, but the trip is worthwhile if you're trying to kayak with orcas. Their tours focus on the San Juan Islands, where thousands of visitors flock each summer to spot orcas in their natural habitat.
They also offer three and five-hour tours closer to Anacortes, as well as a "quickie" tour that lasts just 1.5 hours if you don't have a ton of time. Their sunset bioluminescence tour is also a cool option if you have already seen orcas during your time up here.
If you really want to maximize your chance of seeing an orca pod, check out their multi-day kayak camping trips. They have two, three, four, and even five-day itineraries available to beautiful destinations including San Juan Island, Fidalgo Island, Cypress Island, and Sucia Island.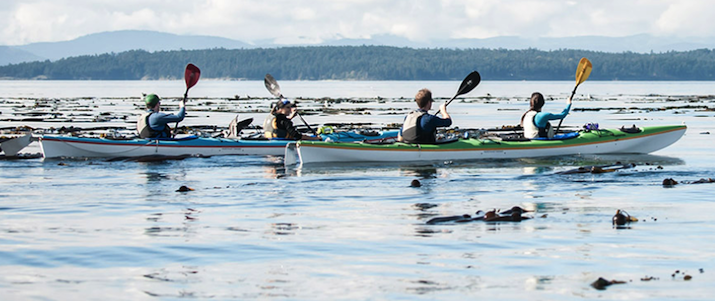 PC San Juan Island Outfitters
Another company that focuses on orca watching tours in the San Juan Islands, San Juan Island Outfitters believes that getting to the islands is the first exciting part of your adventure. Their reservation staff is on hand to answer your questions about whether arriving by ferry, private boat, seaplane, or another option is your best bet.
When it comes to the actual kayaking adventure, their sea kayaking tours are open to all ages and experience levels. Their three-hour and five-hour tours are their most popular selections, but they also provide custom kayak tours for larger groups, family-friendly tours for families with younger kids, and multi-day trips for intrepid travelers.
Roche Harbor is the primary location for their first orca-watching kayak tour, but they also offer a West Side Killer Whale Sanctuary Tour. They even have a package tour that picks you up in a seaplane in Seattle to bring you up for a quick kayak adventure in the San Juan Islands!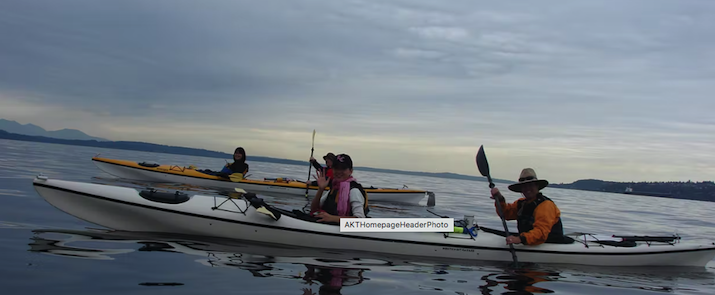 PC Kayak Alki
This guide company keeps things a little closer to the city if you want to experience kayaking in the Puget Sound without traveling a good way up north. Their orca whale watching tours are available every Saturday, but only throughout the month of June.
Still, their three-hour tours celebrate the region's most iconic marine species and teach both residents and visitors about the area's Southern Resident orcas. Each week, a different speaker from the Washington Environmental Council attends the tour.
Each tour meets at the Seacrest Boathouse at 10 in the morning and begins with a brief kayaking tutorial before staff helps you find a kayak that fits your needs. The route then takes you around Duwamish Head towards Alki Beach and you can enjoy exceptional views of the city, as well as the Cascades and Olympic Mountains, along the way.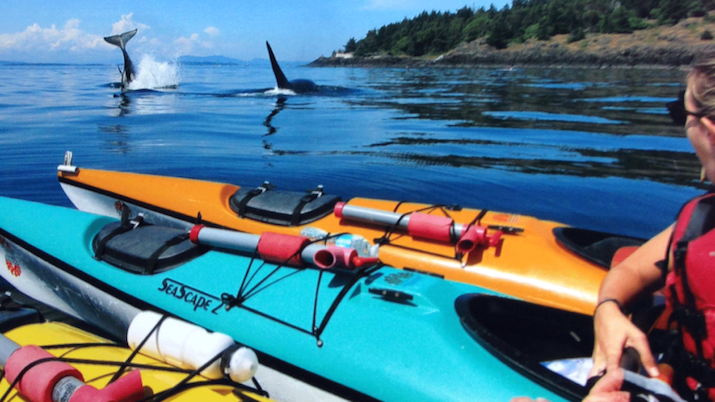 PC San Juan Kayak Expeditions
San Juan Kayak Expeditions focuses their whale watching kayak tours on the area around Lime Kiln which offers prime killer whale territory. They offer full-day and half-day tours in this area through the spring, summer, and fall.
Additionally, they offer extended two, three, four, and five-day kayaking expeditions for those seeking a remote kayak camping experience near Seattle. All of these tours spend 1.5 to 2 days traversing waterways where orca sightings are quite common.
The company has been guiding kayakers in this area since 1980 and their experienced guides consistently receive some of the best reviews around. All of their tours follow local Sound Watch and National Marine Fisheries Service (NMSF) guidelines dictating the respectful distance to provide passing orca pods when they are encountered.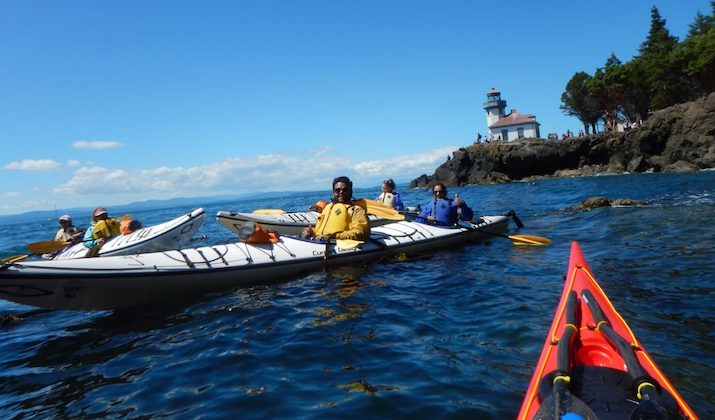 PC Discovery Sea Kayaks
Discovery Sea Kayaks is a small, privately-owned sea kayak touring, sales, and basic instruction outfit with a headquarters in the San Juan Islands. Their owners still actively guide and teach sea kayaking and they pride themselves on offering tours with a more personal touch than some of the bigger outfits out there.
They offer a variety of half-day, full-day, multi-day, and sunset kayaking tours in territory where orca sightings are always possible. Their knowledgeable guides can teach you about whales and their lifestyles whether you see them or not.
One of the coolest parts about this company is they keep their day trips to a maximum of six to eight guests. That means you and your group will get plenty of one-on-one instruction and attention from your experienced sea kayaking guide.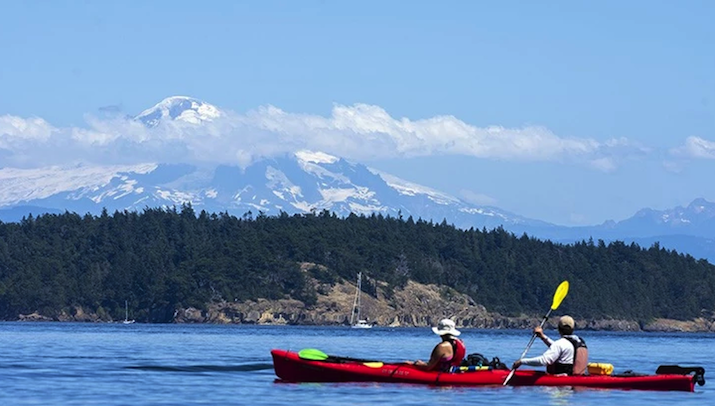 PC Outer Island Excursions
It might be worth noting that this is the first guide company we've come across that claims 'Whales Guaranteed' on their website. Based on Orcas Island, their kayaking tours include excursions around Point Doughty and Sucia Island, as well as exploring West Beach at sunset.
The Point Doughty tours are half-day tours and they run twice a day, one in the morning and another in the afternoon. These tours are best for beginner to advanced kayakers and suitable for kids ages eight and up.
The Sucia Island tour is a full-day adventure beginning around nine in the morning and lasting for about five hours. This is a more strenuous trip that's best for kayakers with moderate to advanced skills and kids ages 13 and up.
The sunset tour is also an option for beginner to advanced kayakers, but Outer Island also rents kayaks if you want to guide your own adventure. Rentals can be picked up at their office or delivered anywhere on Orcas Island.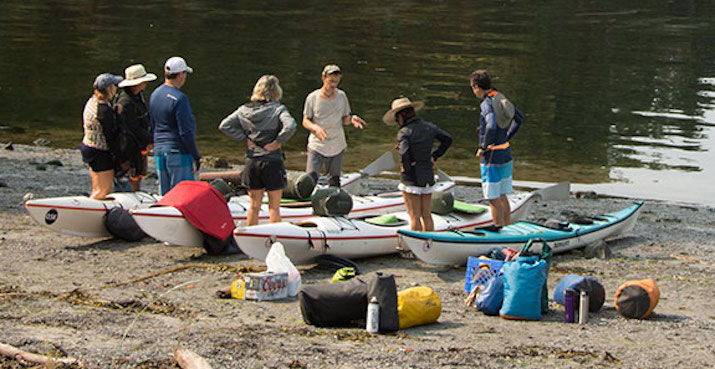 PC Outdoor Odysseys
Outdoor Odysseys also offers killer whale watching kayaking tours on the San Juan Islands, but their offerings focus on areas like the Haro Strait, Griffin Bay, and Stuart Island. Their most basic offerings start with half-day, full-day, and evening bioluminescence tours.
From there, you'll get to explore their two, three, and four-day kayak camping tours to Stuart Island, InterIsland, and exploring the San Juan Channel. It is their specialty tours, however, that might be the most enticing offerings from this kayak guiding company.
They offer many, but some examples include a kayaking and yoga tour, Northwest craft beer tasting and kayaking tour, wine tasting and kayaking tour, and women on the water kayaking tour. All of these are three-day offerings, in addition to interesting things like a FreeFlow writer's workshop and a natural history and marine biology course.
If you are planning a group adventure up to the San Juan Islands, they also offer customized tours to suit your precise needs. You can contact them directly to inquire about their custom and family-friendly tours.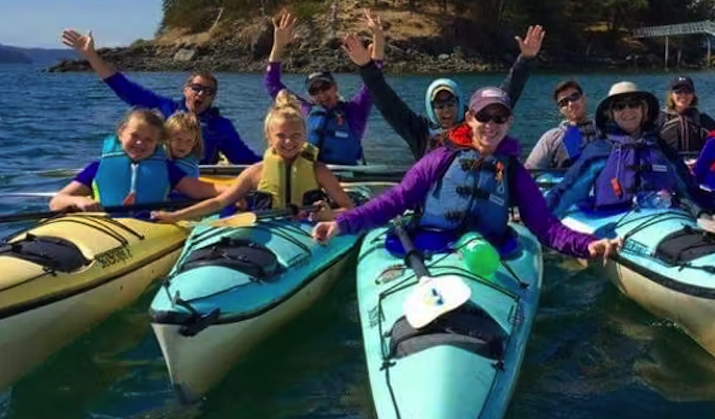 PC Shearwater Adventures Kayak Tours
Shearwater Adventures is also based on Orcas Island and their predominant kayak tours explore Deer Harbor, Doe Bay, and Rosario Resort. They have been offering guided kayaking tours, kayak instruction, and retail sales in this region since 1982.
All three of those main tours last about three hours. The Deer Harbor and Rosario Kayak tours are suitable for kids ages seven and up, but the Doe Bay kayak tour is a little more difficult and is advertised as suitable for kids ages 15 and up.
In addition to those three tours, they also offer three-hour sunset and full moon kayak tours for ages 13 and up, a two-hour bioluminescence tour for ages 15 and up, a six-hour paddle and picnic tour for ages 15 and up, and custom family and group tours designed to meet your specific needs.
All their tours utilize top-of-the-line kayaking equipment and their guide staff is extremely knowledgeable about the local flora and fauna, as well as history and cultural heritage. Bring your questions on this tour, as you're likely to get as much information as you sign up for!
Final Thoughts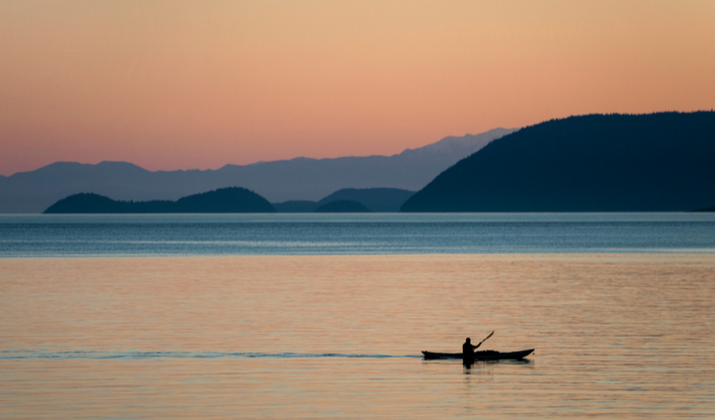 Photo by Edmund Lowe Photography via Shutterstock
Please keep in mind that there is a chance that you will NOT see orcas during your kayaking trip in Seattle, Washington. There is a ton of marine habitat for them to enjoy in this area and you will probably only explore a fraction of it during your trip.
That is why we highly recommend going with a guide company if you want to maximize your chances of an orca encounter. They spend full seasons up here looking for orcas and they are the best resource you can use to know when to expect them and where to go to give yourself the best chance of seeing them.
We hope you have enjoyed this complete guide to kayaking with orcas in Seattle, Washington and we wish you the safety of kayaking adventures in the months and years to come. Oh yeah, and here's hoping you do see orcas on your Seattle trip!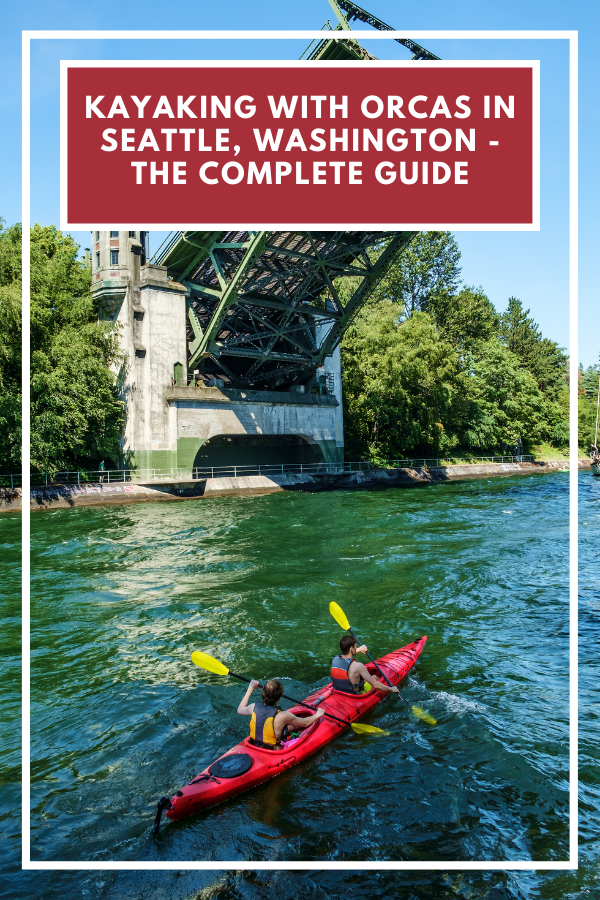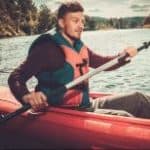 Author: Peter Salisbury
Pete is the Owner of KayakHelp.com. Born and raised in Cleveland, Ohio, he grew up kayaking, fishing, sailing, and partaking in outdoor adventures around the Great Lakes. When he's not out on the water, you can find him skiing in the mountains, reading his favorite books, and spending time with his family.