Summer is here in Canada, and many people are heading out in their kayaks to explore the waterways of Toronto.
Toronto has a bustling kayaking scene, and this guide will give you an inside look into all the possible kayaking trips you can take in Toronto.
Whether this is your first time kayaking in Toronto or you have done so before, I'm sure you will enjoy this article. This guide is made for tourists and residents alike.
When to Go Kayaking in Toronto?
Image Source : Shutterstock
The best time to go kayaking in Toronto (and Canada in general) is from late spring to early autumn. Anywhere between May and October is generally good for kayaking, with slight differences between the seasons.
The peak kayaking season in Toronto is during the summer months, which are July and August. That is when the water is the warmest. However, during the summer, the sun is stronger, and the temperature is hot.
That puts you at risk of dehydration, which is why I recommend drinking a lot of water and carrying a lot of water with you. If you drink a lot, you will have to pee more often, but worry not – we've covered how to do that in another guide.
You should also dress appropriately for the hot weather. In May to June, the weather is a bit less harsh, which is why many people prefer it. In some places, that's also when the water levels are the highest.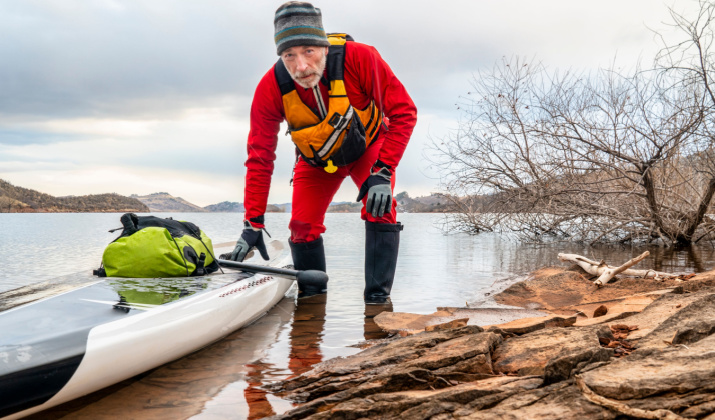 Image Source : Shutterstock
Autumn months can be cold and windy. If you venture out during the autumn, and it's chilly, make sure you wear a dry suit to avoid hypothermia.
Where to Go Kayaking in Toronto?
Image Source : Shutterstock
One of the reasons Toronto is so great for kayaking is that it has an extensive waterway system, including both natural and man-made waterways. Here are the best waterways in Toronto for kayaking.
Humber River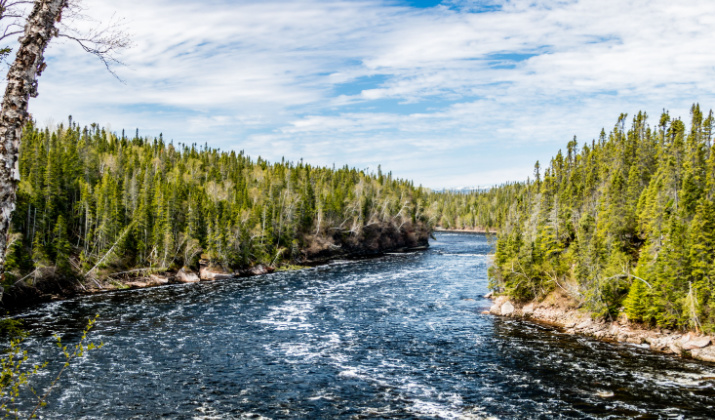 Image Source : Shutterstock
The Humber River is a tributary of Lake Ontario and part of the Great Lakes Basin. It is a Canadian Heritage River, and it's perfect for kayaking due to its generally calm and peaceful nature. The Humber River offers amazing scenery and is perfect for beginners who would like to kayak solo.
If you are entirely new to kayaking, you can get a guided tour from Toronto Adventures, located just a few minutes from the Old Mill train station. A variety of kayaks are available for rent as well – the guided tour is optional.
Don River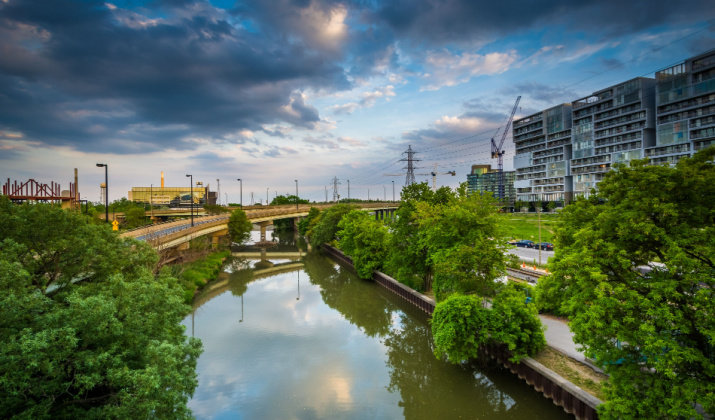 Image Source : Shutterstock
The Don River, to the east, is on the opposite side of the city compared to the Humber River. However, it's also great for kayaking and also flows into and connects with Lake Ontario.
The Toronto and Region Conservation Authority (TRCA) is responsible for the upkeep of this river. It has done a lot to make sure it is clean and suitable to kayak in.
However, water levels can sometimes be low, so it might be best to wait until it has rained, and the water levels are higher.
The Toronto Islands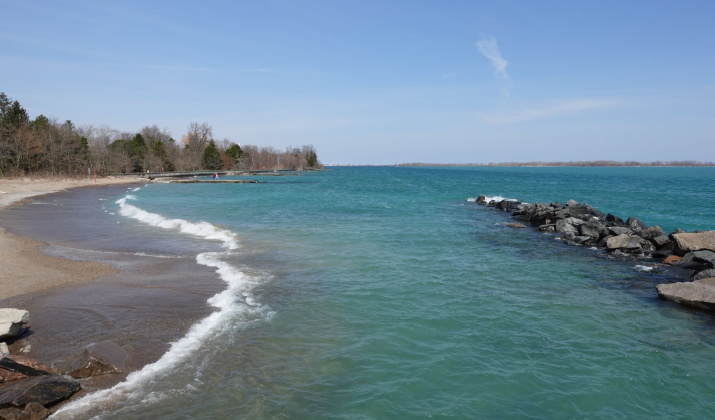 Image Source : Shutterstock
The Toronto Islands, which are 15 islands interconnected by bridges and pathways, are a short ferry ride away from downtown Toronto – around 15 minutes away. Ferries leave from Jack Layton Ferry Terminal.
Plenty of kayak rental spots are available, and people go there often for kayaking and canoeing activities. However, there is a lot more to do on the Toronto Islands. You can stroll down the boardwalk, get something to eat, visit the playgrounds, bicycle around, or head to the amusement park.
It's a full day trip, so leave in the morning, and you will have plenty of time for all your planned activities!
Lake Ontario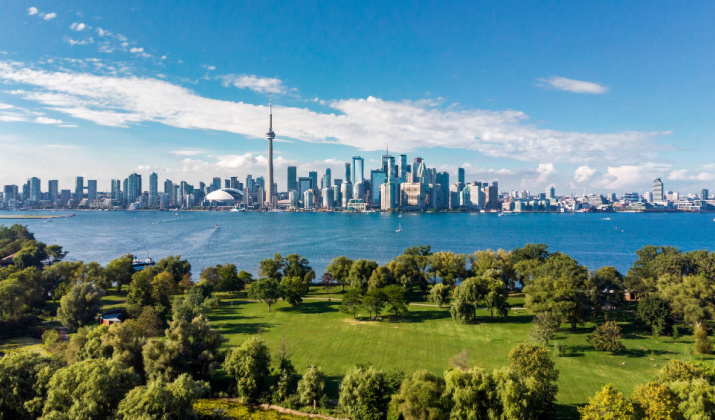 Image Source : Shutterstock
Of course, we can't talk about kayaking in Toronto without mentioning Lake Ontario. It is the 13th largest lake in the world. One of the five Great Lakes, it straddles the border of the USA and Canada (between the respective states of New York and Ontario).
Toronto is just one of the cities on the shores of Lake Ontario; others include Rochester, New York, and Mississauga, Canada. There's nothing like kayaking while enjoying a view of Toronto's beautiful skyline, although there are plenty of nature spots as well.
I recommend going at sunset, when you can see the sun setting over beautiful Toronto City – it's perfect for those Instagram pictures.
Rouge River
Image Source : Shutterstock
The Rouge River, which connects with Lake Ontario, is one of the rivers around Toronto. Rouge National Urban Park is where you'll want to head to launch your kayak.
According to Parks Canada, a recommended route is to kayak down Rouge River south from Glen Rouge Campground to Rouge Marsh. Rouge Marsh is the largest wetland in Toronto, and this hour-long route provides an opportunity to view some of the most beautiful wetlands around the city.
However, Parks Canada recommends against swimming at Rouge Beach, as there are currently no lifeguards on duty and the water has not been tested for safety. The city is planning to restore a full-time lifeguard system at the beach so visitors can swim safely, but some cleanup is still necessary before that can happen.
The Rouge River tends to stay flat and is easy to navigate, so it's a great choice if you have moderate or little experience.
Woodbine Beach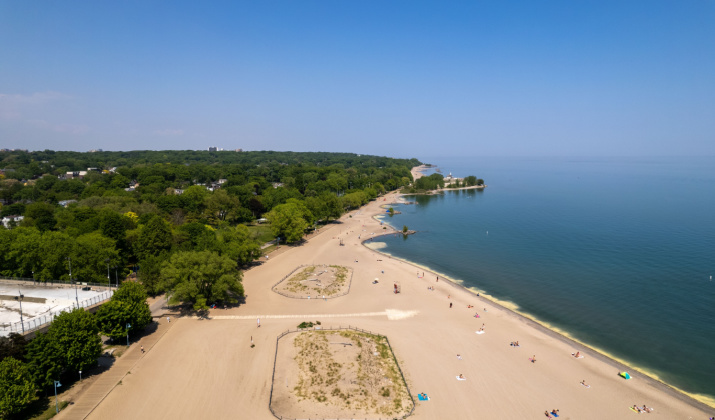 Image Source : Shutterstock
Woodbine Beach is one of the four beaches in The Beaches, Toronto, on Lake Ontario, and it is also the biggest. It has wide stretches of sand, and lots of people go there for picnics or sunbathing.
With new, renovated facilities, Woodbine Beach is perfect for kayakers. There is a bike trail, a modern bathroom, a beach shower, change rooms, water bottle filling stations, and more.
Cherry Beach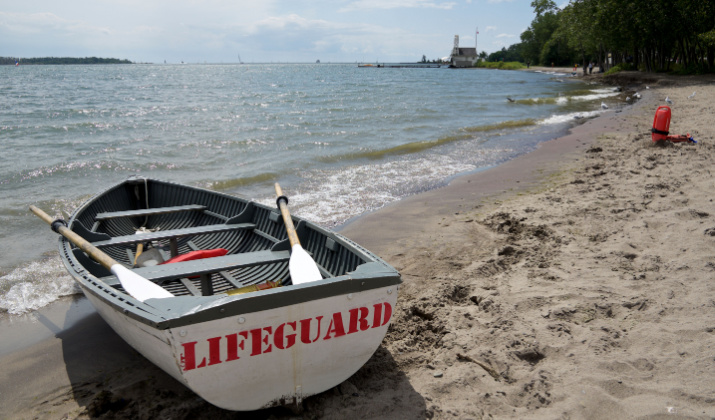 Image Source : Shutterstock
Another great spot for kayaking in Toronto is Cherry Beach, named so because it is located by Cherry Street. The beach itself and the facilities are not as good as Woodbine Beach, but the water is generally calm and warmer due to its location.
Therefore, if you feel that it is too cold in the other areas around Lake Ontario, you might try Cherry Beach instead.
Etobicoke Creek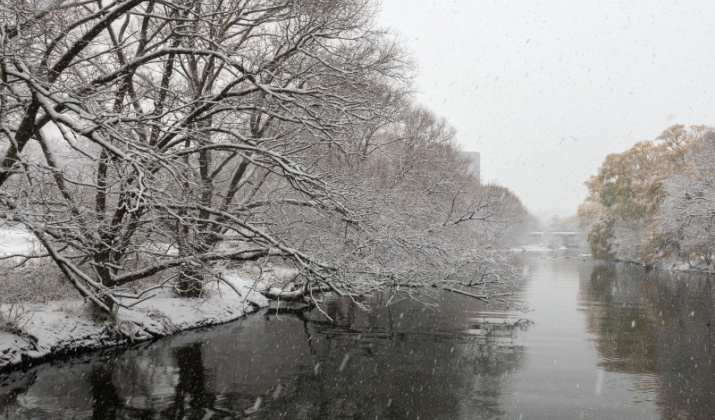 Image Source : Shutterstock
Etobicoke Creek, a tributary of Lake Ontario, is actually a river, albeit a small one. As one of the rivers in the Greater Toronto Area, it's a great spot for a weekend out.
However, I would recommend paddling the Etobicoke Creek after a rain, when it floods. Otherwise, the water levels can be low. Furthermore, I recommend it to kayakers who have decent kayaking experience only, as it can sometimes be a bit challenging.
If you have no experience in whitewater kayaking, you might want to try some of the other options first.
Scarborough Bluffs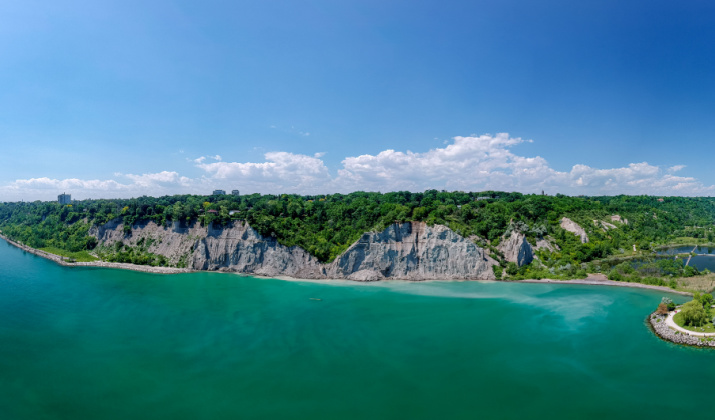 Image Source : Shutterstock
The Scarborough Bluffs, on the east side of Toronto, are a stunning sight. The escarpment, which stretches for around 15 kilometers, resulted from the accumulation of sedimentary deposits thousands of years ago.
There are 11 parks along The Bluffs, as they are commonly called, and it's also a perfect spot for kayaking if you want some breathtaking views. However, the difficulty level is moderate to high, so I would only recommend it to experienced kayakers.
One route option heading east from Balmy Beach to The Bluffs. You can stop at Bluffers Sand Beach to relax, eat lunch, and take in views of The Bluffs.
Budapest Park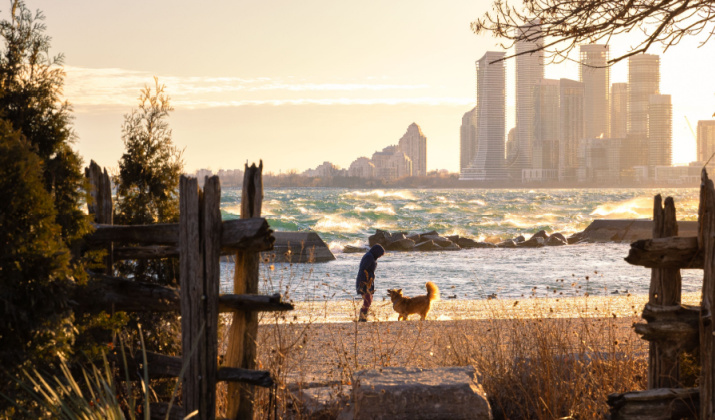 Image Source : Shutterstock
Budapest Park, the location of Budapest Beach, is an excellent place for paddling sports like kayaking. In addition to the beach, there is a wading pool, a playground for kids, and plenty of nice, sunny spots where you can have a picnic.
There are bicycles for hire as well. The park stretches for a few kilometers and is easily accessible from anywhere in Toronto.
Prince of Wales Park
Prince of Wales Park is a quiet park in the heart of the Etobicoke area of Toronto. It features an ice rink, but that's not the focus of this article.
The park has a launch area from which you can launch kayaks, paddleboards, and canoes. Other facilities at the park include a wading pool, tennis court, bike trail, and a water fountain for drinking.
The park is particularly scenic at sunrise.
Where to Rent a Kayak or Join a Guided Kayak Tour?

Image Source : Shutterstock
There are numerous paddling companies that offer kayak rentals and guided or self-guided kayak tours. These companies may also offer kayak lessons to beginners who don't know how to kayak, and they are located around the waterways of Toronto.
Here are some of the best kayak rental and tour companies in and around Toronto.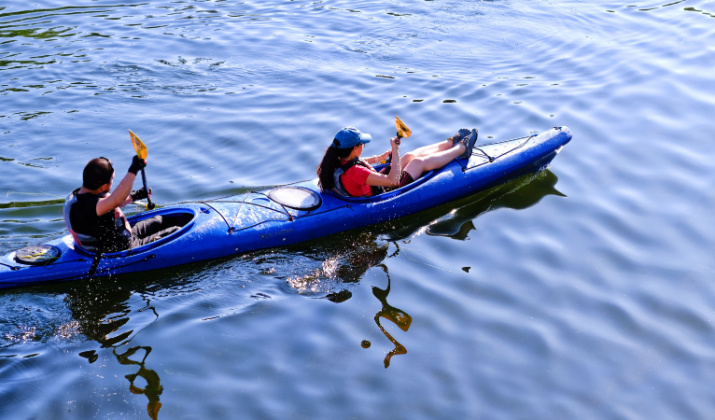 Image Source : Shutterstock
Toronto SUP and Kayak is open from the beginning of June until the end of September, which is the majority of the kayaking season in the city. Located at Cherry Beach, it provides a variety of kayaks for rent.
Toronto SUP and Kayak also offers kayak programs, lessons, and even storage. You can store your kayak at their secure facilities throughout the majority of the kayak season.
Near-water storage means you can head to Cherry Beach and kayak at any time, without having to transport your kayak back and forth each time. It's convenient, and the rates are affordable.
The company is licensed by the City of Toronto.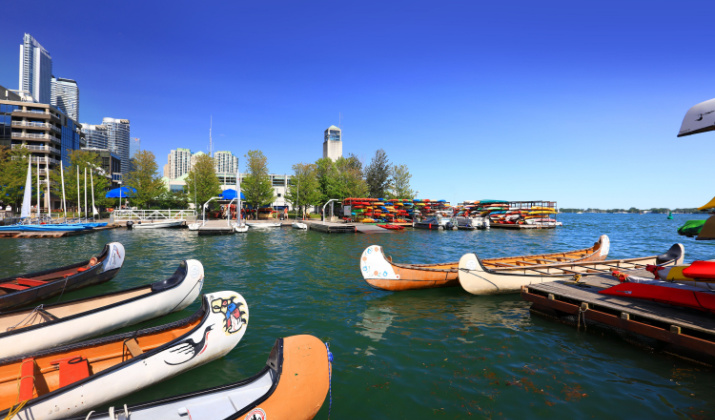 Image Source : Shutterstock
Harbourfront Canoe and Kayak Centre, or PaddleToronto.com, is located on Lake Ontario in Toronto. It has been in business for well over three decades, so it has been a trusted part of Toronto's kayak scene for a while.
The company offers kayak, canoe, and stand-up paddleboard lessons to beginners.
If you've always wanted to kayak but were too afraid to try it, Harbourfront Canoe and Kayak Centre's lessons will help you get that experience you were looking for.
Even if you aren't a beginner, you can benefit from Harbourfront Canoe and Kayak Centre's intermediate lessons. Lessons focus on improving specific skills, such as performance paddling, wet exits and kayak re-entries, and sea kayaking.
If a lesson isn't necessary, you can opt for a kayak rental instead, but the company will require you to demonstrate basic paddling skills before they will allow you to rent a solo kayak by yourself.
If you are a complete beginner but have a friend who has kayaked before, you can rent a tandem kayak. It's best to make your reservations online in advance, especially when the season gets busy.
One of the best things about Harbourfront Canoe and Kayak Centre is that it includes a shuttle to the islands. You will check in at their main location, after which, if you want to start paddling from the islands, you can head there in one of their shuttles.
If you rent from the company frequently, you can buy frequent paddler codes in bulk, which will allow you to get 50% off your rentals. Various kayaks are available, with rental prices starting at just $50 (before any discounts).
Harbourfront Canoe and Kayak Centre also offers a guided tour of three hours that takes you around the islands and the harbor. You can come alone – these tours are group tours, with 4–6 people per tour guide.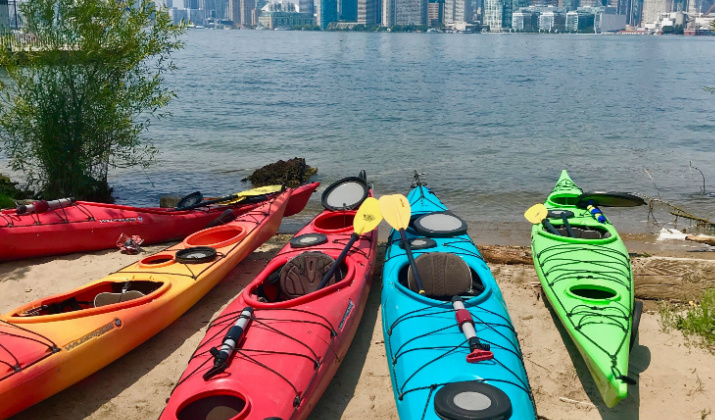 Image Source : Shutterstock
Toronto Beach Kayak offers rentals starting from just $35. Both single and double kayaks are available. The shop is located on Toronto's east beaches, near Waverley Road, at Kew Gardens Tennis Club at Key Beach Avenue.
If you will be renting often, you can buy a multi-pass, which will help you save money in the long run. Lessons are available for individuals and groups, and they include a short instruction before setting out and a guided tour afterward.
If you are renting for the first time and not taking a lesson, you must show you have basic paddling capabilities before setting out. There is a storage area where you can safely store your stuff while you are on the water.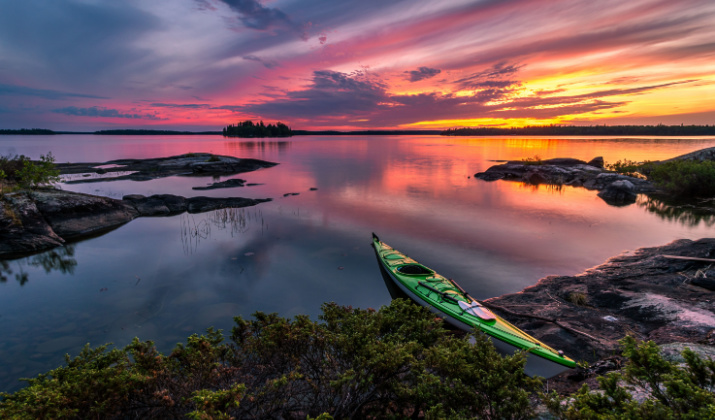 Image Source : Shutterstock
If you want something different, I'd recommend trying out Illuminated Escapes at TorontoKayaks.com. This company offers hybrid kayak-canoes that light up in the dark with LED lights and are Bluetooth enabled!
That is quite a unique experience. The company doesn't offer guided tours but does offer lessons, upon requests, to individuals who want to learn how to kayak.
If you want a once-in-a-lifetime kayak experience at night, Illuminated Escapes should be your go-to kayak rental provider. There's something incredibly calming about kayaking at night, and this is your chance to do so in a safe environment.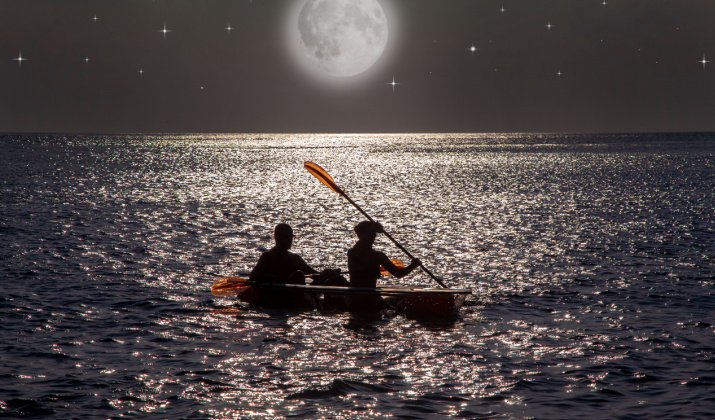 Image Source : Shutterstock
Another Toronto kayak rental company offering kayaks that light up is Lite and Glo Kayak Rentals. Kayaks are available for both daytime and nighttime rentals, with the nighttime rentals costing more.
The company also offers transparent kayak rentals for special photo shoots.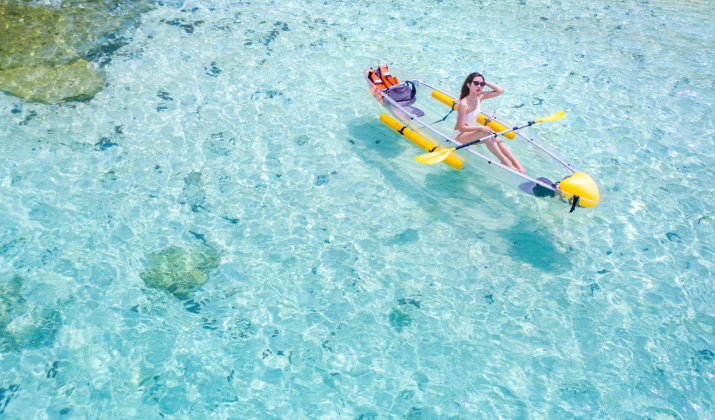 Image Source : Shutterstock
Paddle Pirates Toronto is a beachside delivery service for kayak rentals in Toronto. It is located near Woodbine Beach and Kew Beach.
Unlike many of the other kayak rental services operating in the Greater Toronto Area, Paddle Pirates is open 365 days a year, from sunrise to sunset.
You can book and pay for your reservation online. Paddle Pirates will provide you with a life jacket, and they even have life jackets for most dogs as well.
Paddle Pirates rents both sit-in and sit-on-top kayaks, as well as SUPs and even water bikes, which you sit on and pedal with your feet, kind of like a regular bicycle.
For something a bit different, consider renting a transparent kayak from Paddle Pirates. These transparent kayaks allow you to see the water underneath you while kayaking, which is a lot of fun and surprisingly calming.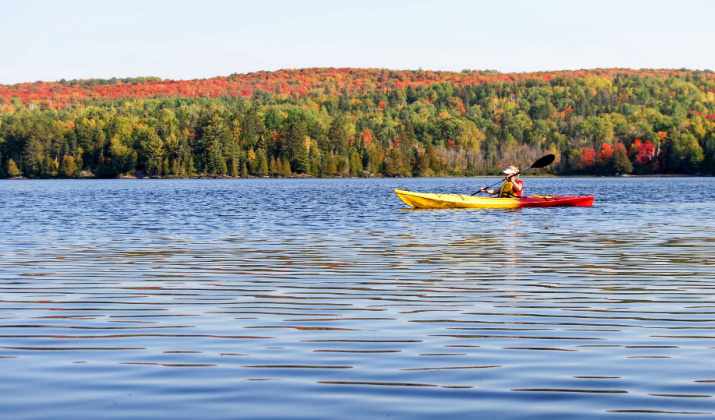 Image Source : Shutterstock
Toronto Island Boathouse is the perfect choice if you are looking to rent a kayak to explore the Toronto Islands. At just $19/hour for a single kayak, it is also incredibly affordable, although canoes and tandem kayaks cost more.
Finding the Toronto Island Boathouse shouldn't be difficult. Start by heading from the Centre Island ferry dock towards the beach, and you will see a blue building east of the garden promenade, along the lagoon.
Reservations are first come first serve, so the earlier you get there on a busy day, the more kayaks you will have to choose from. You will have to leave an ID there as a deposit.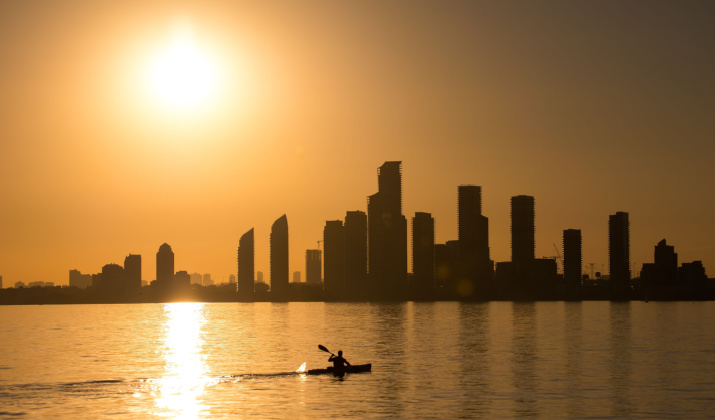 Image Source : Shutterstock
iPaddle Adventures is a great company to rent from if you are paddling at Woodbine Beach. It offers kayak rentals as well as group and private classes to people who are new to kayaking.
In addition, the company offers sunrise, sunset, and full moon paddles for those wanting something a bit different.
Not only that, but they can host birthday parties, bachelorette parties, and other group events. iPaddle Adventures can be reached via call or text at 416.553.4067.
You can use that number or the website to book your kayak, or you can simply show up – walk-ins are welcome, but while iPaddle Adventures has a lot of kayaks available, weekends can get busy, so prebooking is recommended.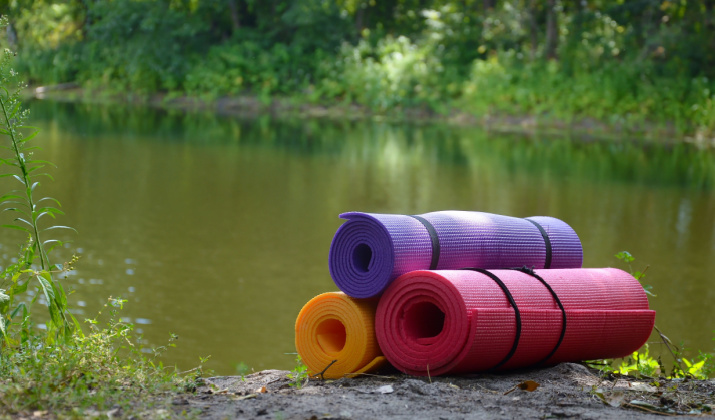 Image Source : Shutterstock
Oceah Oceah offers kayak and SUP rentals in Toronto. Renting from Oceah Oceah also gives you a chance to support the indigenous community of Canada, as the company was founded by three First Nations sisters who are avid SUP fans.
One thing that makes Oceah Oceah unique is that they offer kayak and SUP yoga tours and classes.
For example, the SUP yoga class involves doing yoga on SUPs on the water. It's like taking the calming effects of yoga and amplifying them.
Full moon social and meditation events are also available. There's nothing like meditating on the water under a full moon – it's a special experience that you are bound to remember. There are also various tours, suitable for people who aren't that into yoga or meditation.
For example, Toronto Island Paddle Tour, which takes you across 15 kilometers, starts from Budapest Park and takes you to various places around Toronto Island.
Among the other tours is the Humber River paddle tour and the Concert Series Night Paddle Tour, which takes you to Ontario Place, where you can hear concerts from the water. If you love music and you love kayaking, try it out!
Kayak rentals start at just $30 for your first hour and $10 per hour after, which allows you to save money if you are renting for a half day or a full day. Various kayaks are available, including sit on top and sit in kayaks.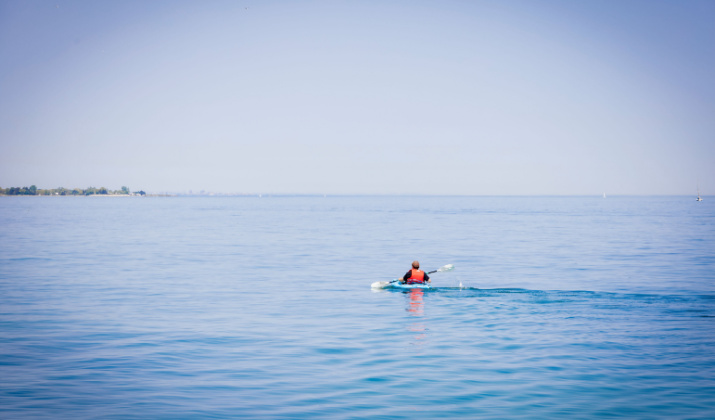 Image Source : Shutterstock
Sunnyside Paddling Club is located on Lake Ontario, near High Park in Toronto. Various kayaks are available for rent, including sit in kayaks, sit-on-top kayaks, tandem kayaks, and even SUPs.
Rentals are available by appointment only, which can be done in person or online. During the week, it is only open in the afternoon, but on weekends, it is open from morning.
If you'd like to get your kid into paddling, why not sign them up for the summer paddling camp offered by Sunnyside Paddling Club?
The summer camp, which is suitable for kids from age 7 to 17, won't just teach your child how to paddle a kayak and other vessels, such as a canoe or SUP.
Instead, it will prepare them for the sport aspect of kayaking. There are even optional racing-style competitions on weekends for kids in the program who want to develop the competitive aspect of the game.
With a coach to student ratio of 1:6, the camp provides kids with an opportunity to build endurance, speed, and skill on the water.
Conclusion
Toronto is an excellent place for kayaking. Whether you are in the city for a weekend or live there full time, you probably didn't know just how many places there are to kayak in Toronto. You can go to a new spot each weekend and never get tired!
Hopefully, this article provided you with all the information you need to rent a kayak and enjoy some paddling in Toronto.
If you enjoyed this article and found it helpful, share it with a friend! Also, check out our guide to the best inflatable kayaks you can buy in Canada.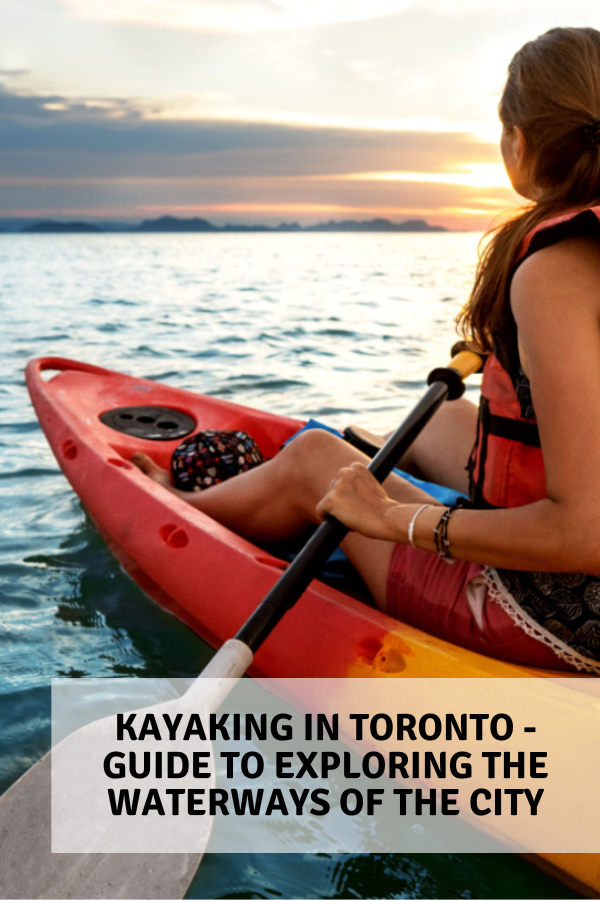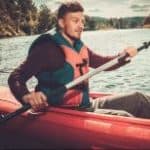 Author: Peter Salisbury
Pete is the Owner of KayakHelp.com. Born and raised in Cleveland, Ohio, he grew up kayaking, fishing, sailing, and partaking in outdoor adventures around the Great Lakes. When he's not out on the water, you can find him skiing in the mountains, reading his favorite books, and spending time with his family.