Whether you're coming up on a holiday, birthday, anniversary, or you just want to surprise your Dad because he's the greatest, you'll love this extensive collection of the 25 best kayak gifts for Dad.
Dad probably spends most of his time spoiling you and your siblings or taking care of clients at work. So it's time that we repay the favor and help him upgrade some of his essential kayaking gear.
From head to toe, this gear guide has tons of ideas to help you surprise your Dad with an awesome kayak gift. It doesn't matter the occasion, these gifts will be great for kayaking Dads year-round!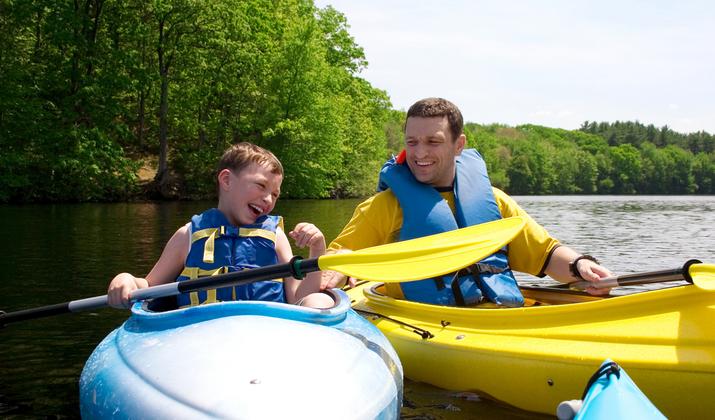 Photo by Olga Lyubkin via Shutterstock
Why Do Dads Love Kayaking?
Photo by Elizaveta Galitckaia via Shutterstock
Lots of people love kayaking but, for a few reasons, Dads seem to love it even more. If you want to get your Dad an awesome kayak gift this year, it may help to understand his motivation first.
It Helps Them Maintain That Rad-Dad Bod
I don't know about you, but the Dad bod is still a new phenomenon to me. It seems to be quite popular, but it doesn't maintain itself and kayaking is one of the best activities for Dads to keep those guns firing as they may be getting a little less active in other areas.
They Can Sit Down While Doing It
A lot of the Dads I know spend most of their long days on their feet. That's why it can be tough to convince them to go hiking or biking on their days off, but kayaking solves that problem with grace and ease.
They get to sit down while still exercising and enjoying some much-needed time in nature.
It Gets Them Out of the House
No matter how much they love spending time with their families, all Dads need a break every now and then. Kayaking is a great excuse to get outdoors and get some time alone or with buddies.
Compared to the plethora of other ways that Dad could be spending his free time, we think kayaking is a pretty darn good choice.
They Can Enjoy Their Favorite Beverage Along The Way
Even if Dad doesn't love kayaking as a hardcore exercise or for the rush of running extreme whitewater rapids, he might love it for the casual chance to relax outdoors. Plus, his kayak probably has plenty of room for his favorite beverage on board.
Thumbnail
Title
NRS Comm-3 Wetshoe-Black-015
Wilderness Systems Alpha Angler Carbon Kayak Fishing Paddle | Carbon Fiber Blade |Adjustable Carbon Fiber Shaft (240-260cm), Black
NRS Vapor Kayak Lifejacket (PFD)-Black-L/XL
Bonnlo Universal Kayak Carrier - Trolley for Carrying Kayaks, Canoes, Paddleboards, Float Mats, and Jon Boats - Inflation-Free Solid Tires Wheel 2 Ratchet Straps
Frelaxy Dry Bag 3-Pack/5-Pack, Ultralight Dry Sack, Outdoor Bags Keep Gear Dry for Hiking, Backpacking, Kayaking, Camping, Swimming, Boating
Thumbnail
Title
Wilderness Systems Alpha Angler Carbon Kayak Fishing Paddle | Carbon Fiber Blade |Adjustable Carbon Fiber Shaft (240-260cm), Black
Thumbnail
Title
NRS Vapor Kayak Lifejacket (PFD)-Black-L/XL
Thumbnail
Title
Bonnlo Universal Kayak Carrier - Trolley for Carrying Kayaks, Canoes, Paddleboards, Float Mats, and Jon Boats - Inflation-Free Solid Tires Wheel 2 Ratchet Straps
Best Kayak Gifts for Dad
Check Price on Amazon
There's nothing worse than getting cold feet on a kayaking trip. But
wet shoes
are insulating booties that trap water and then naturally use your body heat to warm them up to a more comfortable level.
They also provide insulation against wind, which makes them great for cold weather kayaking even if you stay completely dry. NRS is probably one of the best companies out there when it comes to paddle wet shoes, but Cressi and Neo Sport are also worth checking out.
Check Price on Amazon
Dad shouldn't have to deal with a lightweight, inefficient kayak paddle every time he hits the water. Instead, treat him to an upgraded paddle that's made completely out of carbon fiber material.
Carbon fiber kayak paddles are the lightest around and they're also super durable if your Dad is into whitewater kayaking. There are many great kayak brands out there that make carbon fiber paddles, but for our money, we'd recommend this one from Wilderness Systems.
Check Price on Amazon
PFDs are cool, and all rad Dads know that these days. Gone are the times when we felt silly or uncool if we wore a personal flotation device when we were paddling.
Now, it's all about being safe and smart and if your Dad hasn't upgraded his life vest in years, it's a great time to help him do just that. If he's an angler, check out some of the best kayak fishing PFDs, but if he's just a recreational paddler, we'd recommend this PFD from NRS.
Check Price on Amazon
Dad probably hates those times when he's so excited to explore a new waterway only to find that the launch area requires him to carry his kayak 300 yards just to get to the water's edge. That honestly ruins a lot of beautiful waterways for a lot of people.
That's why Dad needs a kayak cart that he can strap his kayak to and roll it down to his launch point. He'll also love the kayak cart when he can roll his kayak back to the truck once he's worn out from a full day on the water.
Check Price on Amazon
Even kayaks with watertight bulkhead compartments can leak sometimes. If your Dad likes to pack his kayak for camping or he just tends to bring a lot of stuff along on his day trips, he could probably use a few new dry bags.
SealLine and Sea to Summit are two of our favorite brands when it comes to making high-quality, durable dry bags that are built to last and actually keep the stuff inside sealed from the elements. Just take a second to read up on how to choose the right size dry bag for kayaking before buying your Dad this awesome kayak gift.
Check Price on Amazon
Nowadays there are so many brands out there that make soft waterproof cases for phones. We can't tell you how many of those cases are low quality and don't actually live up to their intended use.
That's why most seasoned kayakers and kayak guides we know keep their phones and wallets inside a hard waterproof case while they paddle. Pelican's line of micro cases is the best in the business when it comes to keeping your phone, keys, and other small valuables protected while you paddle.
Check Price on Amazon
Just like it's important to keep Dad's feet warm when he paddles, the same is true for his hands. After all, they are going to be doing most of the work to propel his kayak forward and they're more exposed than those feet that are tucked comfortably inside the cockpit.
Paddling gloves are not just for keeping your Dad's hands warm though. They'll also help him maintain a better grip on his kayak paddle and protect his hands from drying out and cracking on long paddle adventures.
Check Price on Amazon
Some Dads love to kayak because it is a time where they can enjoy some alone time and think while enjoying the beauty of nature. For the rest of the family, however, it can be stressful to know Dad is out there alone.
So get him an emergency communication device so that you can all feel a little better about his solo adventures. Some devices even allow short texts so you can keep in touch with Dad on his ambitious long-distance paddle adventures, but all will come in handy in case of an emergency.
Check Price on Amazon
If Dad likes paddling rain or shine and in hot and cold weather, his sit-in kayak needs a quality spray skirt to keep him warm and dry. This is essential for
cold weather kayaking
, but he'll likely use it throughout the year at select times.
To pick one out, you'll need to know the exact dimensions of the cockpit in Dad's kayak. If you don't want him to catch you measuring it, sneakily find out which model it is and then look up the dimensions online and then match the skirt to the rim of the cockpit.
Check Price on Amazon
Unlike a kayak spray skirt, a cockpit cover isn't used for when you're actually paddling your kayak. This kayak accessory is made for storing at home or transporting your kayak on a
kayak trailer
or
roof rack
.
It seals the cockpit from unwanted dust and debris and can also keep nosy critters out if Dad stores his kayak outside during the winter. It will also improve his gas mileage if Dad likes to do a lot of driving with his kayak on top of his vehicle.
Check Price on Amazon
Sure, Dad could build a
DIY kayak rack
, but does he really have the time for that? Plus, will it really help him save any money with the relatively affordable options for
kayak storage racks
out there these days?
The answers to both those questions are probably no, so a great kayak gift for Dad is a rack that makes storing his kayak easier and more efficient. Check out something like this rolling two-kayak rack from RAD Sportz.
Check Price on Amazon
If Dad's getting a little bit up there in age, the odds are pretty good that he has mentioned the hassle of loading his kayak on and off his roof rack. Heck, I know plenty of young kayakers that opt out of paddle adventures because they don't feel like going through the trouble of loading and unloading their kayak.
That's why Dad will love an easy load kayak roof rack that reduces how high he needs to lift his kayak and also supports the majority of his kayak's weight when he's ready to lift it all the way up onto the roof.
Check Price on Amazon
Every kayak angler could use a few more fresh or
saltwater rod and reel combinations
in their arsenal. If your Dad's kayak doesn't have any place to put them, though, he's likely not going to keep expanding that arsenal.
If your Dad keeps complaining that he's spending too much time on the water rigging and re-rigging his fishing rod, get him one or two new fishing rod holders to encourage him to bring a few more rigged setups along on his fishing trips.
Check Price on Amazon
There's nothing worse than thinking about Dad being up a creek without his kayak paddle. While every good kayaker knows that it's worth it to keep a backup paddle on hand, you can save Dad the trouble by getting him a paddle leash.
This is one of those gift items that you're never quite sure you need until you do. Rest assured, however, that Dad will be glad he has it if he unexpectedly capsizes in windy or wavy conditions.
Check Price on Amazon
Getting back into a
touring kayak
after capsizing can be tough even for the youngest and most sprightly of kayakers. That's why all serious kayakers keep a
paddle float
in their arsenal for rescue and re-entry purposes.
The paddle float inflates and then is placed over one of the blades on your kayak paddle. Then, it essentially works as an outrigger to help keep Dad's kayak stable as he climbs (or at least attempts to climb) back in.
Check Price on Amazon
Check Price on Amazon
Here is another kayak accessory that is a perfect gift for Dads with touring or
crossover kayaks
. It should always be kept where Dad can reach it all times because he'll never quite know when he needs to bail water out of his kayak's cockpit.
Because a bilge pump will stop being effective for that last little bit of water remaining inside Dad's kayak cockpit, go the extra mile and pair this gift with an extra-absorbent sponge so he can really get his kayak cockpit dry when he needs to.
Check Price on Amazon
Has Dad been complaining that he just can't seem to stay comfortable sitting in his kayak? If so, that's a definite sign that it might be time for him to upgrade his kayak seat, but why not take the chance to do it for him.
Give Dad a boost (literally!) with a more padded and comfortable kayak seat. We specifically love this design from Surf to Summit, but there are plenty of other kayak seats out there for you to choose from.
Check Price on Amazon
If your Dad is anything like mine, he somehow only gets sunburnt on the top of his head. Even if your Dad isn't some kind of physiological phenomenon, he'll appreciate your sensibilities if you get him a new full-brimmed kayak hat to keep the sun off his head, face, and neck.
We are, of course, proponents of wearing sunscreen when you kayak, but wearing a hat will reduce the amount you need to use and the number of times you need to re-apply while you're out on the water.
Check Price on Amazon
A quality Buff is truly the outdoorsman's multi-purpose apparel item. It can be used to keep your neck warm, brought up to keep the sun off your neck and ears, or even dipped into the lake to help cool you down on hot summer days.
Buffs only used to be available in just a few colors, but now there is an almost endless number of designs and color combinations out there. So take your time to find a design that truly fits your Dad and his awesome personality.
Check Price on Amazon
If Dad is still kayaking in cotton t-shirts or long sleeves, it's really time for an upgrade in the clothing department. We know Dads can be tough to do clothes shopping for, but there are some really stylish kayaking shirts out there to consider.
One of my personal favorites is this performance hoodie from Bassdash. Also, be sure to check out Magellan Outdoors and their line of performance fishing apparel.
Check Price on Amazon
If Dad likes to enjoy sunrise or sunset paddles, he should have a kayak light to signal his presence to other boaters. Whether he's just enjoying the scenery or he's staying out late fishing, a kayak light is a great gift for Dad.
These lights attach right to the bow or stern of your kayak and eliminate the need to wear a headlamp or do something silly like attaching a bunch of glow sticks to all the handles on your kayak.
Check Price on Amazon
All experienced kayakers and kayak guides keep a knife somewhere readily accessible at all times while they are paddling. If your Dad paddles one of the
best whitewater kayaks
, this is an especially important kayak gift for him.
These knives attach right to the outside of your Dad's PFD so that it's always ready when he needs it. It will help him cut away any sort of line he or his kayak gets snagged on and can even help him cut away fishing line from downed branches if he's picking up some trash on his paddles.
Check Price on Amazon
This compass will attach to your Dad's kayak anywhere he wants to put it. It'll help Dad keep track of his cardinal directions even if his modern technology fails and you'll never know how many lost souls he'll save when he uses his compass to help them get re-oriented.
It also features an adjustable hood that protects the compass when you're not using it and prevents glare when you are.
Check Price on Amazon
This is one kayak gift for Dad that can give all throughout the year for a variety of outdoor activities. Dad can use it for directions when kayaking, hiking, biking, and so much more.
Plus, some of these watches have a built-in fitness tracker that will allow Dad to track how far, how fast, and how long he paddles. That way, he can brag to all his buddies about that 5.6 mph top speed on his latest morning paddle!
25. A Bucket List Paddle Trip!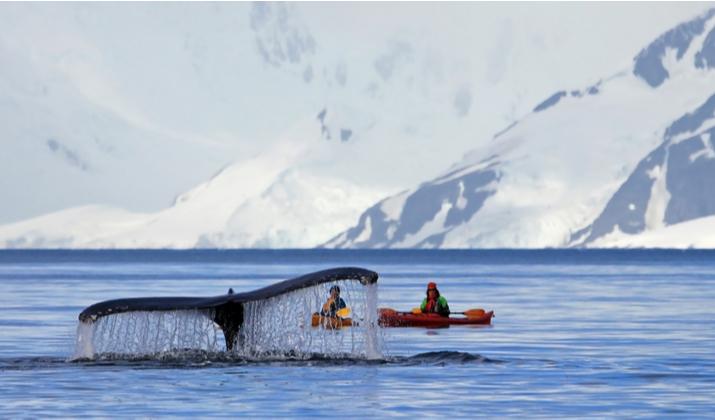 Photo by reisegraf.ch via Shutterstock
Finally, there's arguably nothing cooler than buying your Dad a paddle trip if he already has all the gear and expertise he needs to enjoy it. Better yet, buy a trip for the whole family so everyone can share in the love of paddling.
Where is that one spot that Dad has always mentioned he would love to paddle? Or maybe there are a few spots. Check out companies like 57Hours, which offer all sorts of guided adventures all over the world!
Final Thoughts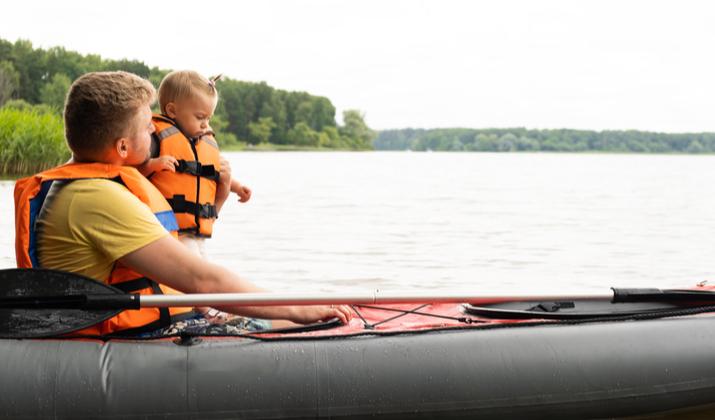 Photo by Olga Smolina SL via Shutterstock
Feed Dad's passion for kayaking with one (or more) of these kayak gifts this season. He'll never forget it and he'll likely think about you every time he heads out on the water from here on out.
It's never a bad time to be in the giving spirit. So whether you're shopping for the upcoming holiday season or just at another random point in the year, we hope you've enjoyed this gear guide to the best kayak gifts for Dad!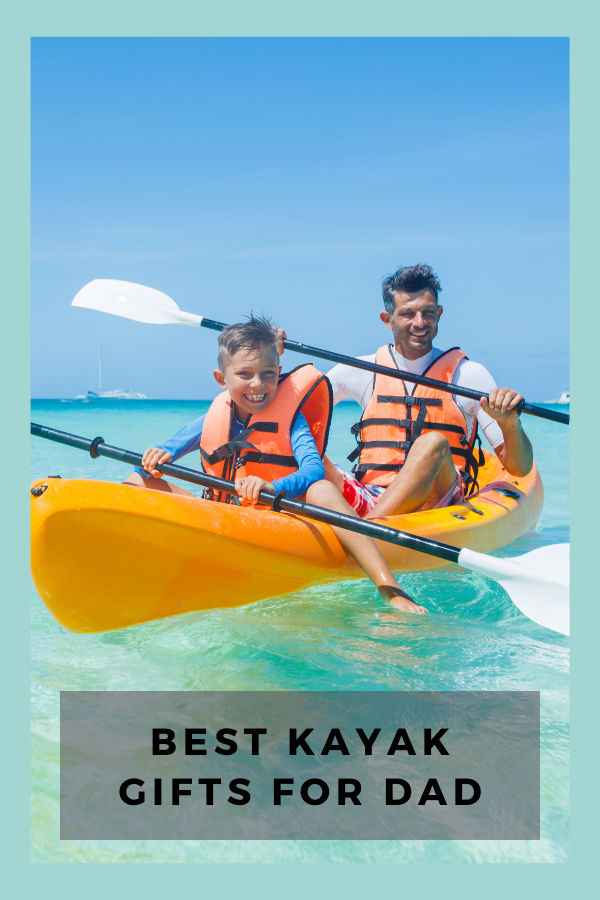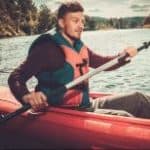 Author: Peter Salisbury
Pete is the Owner of KayakHelp.com. Born and raised in Cleveland, Ohio, he grew up kayaking, fishing, sailing, and partaking in outdoor adventures around the Great Lakes. When he's not out on the water, you can find him skiing in the mountains, reading his favorite books, and spending time with his family.