Hilton Head Island is a very popular beach community in South Carolina with lots of options for avid kayakers. In this complete guide to kayaking in Hilton Head, we'll cover places to launch, the best places to paddle, and much more.
Sometimes known as 'America's Favorite Island', Hilton Head boasts 12 miles of pristine beaches for your relaxing getaway. When you want to be a little more active, however, there are opportunities for inshore and offshore ocean kayaking.
Hilton Head also happens to be a popular location for kayak fishing. The inland marshes provide a protected environment for paddlers of all skill levels and plenty of places for aspiring anglers to try their luck.
If you are planning an upcoming visit to Hilton Head Island, this complete guide will cover everything you need to know to plan the kayaking part of your trip!
Photo by Sart24 via Shutterstock
Kayaking in Hilton Head Overview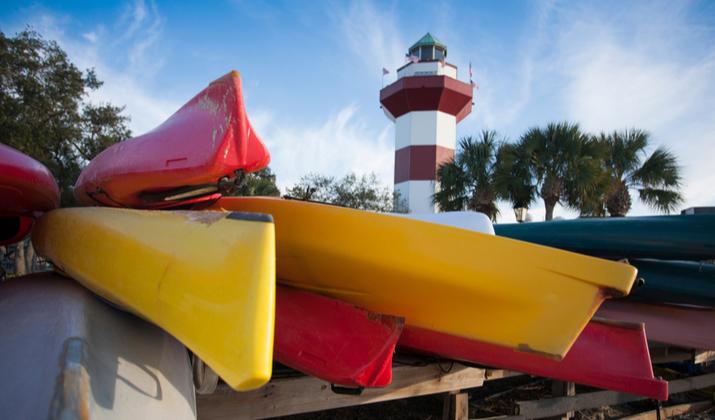 Photo by Todd Kuhns via Shutterstock
Because Hilton Head is an island, that means there are places to kayak all around it. However, some of those places will come with waves while others provide calmer, protected waters that are great for beginners and families.
There are roughly 40,000 permanent residents that call Hilton Head home, but the influx of visitors can make things busy here at specific times of the year. If you're looking for a peaceful getaway, try to schedule your visit when it is not a major American holiday.
The island itself covers a little less than 70 square miles, but there are plenty of nearby wildlife refuges and inland waterways to explore as well. Boat traffic is common around the island, so be sure to consult with local management agencies to know any right-of-way rules or regulations for where kayakers can and can't go.
The cool thing about Hilton Head Island is that you could even paddle all the way around it if you had the time and stamina. The total distance if you stayed as close to the shoreline as possible would be a little over 31 miles, but there are plenty of places to spend the night if you were going to pack your sea kayak for an overnight camping trip.
Weather for Kayaking in Hilton Head
Photo by Chris Allan via Shutterstock
The great thing about Hilton Head is that you really can kayak here year-round. The temperatures do get cooler during the winter months, of course, but it's nothing that the right cold weather kayaking gear can't handle.
In fact, the coldest month of the year is January, with the average high temperature topping out at 60℉ and the average low dipping to 40℉. On the opposite end of the spectrum, July and August are the hottest months with the average high in the upper 80s and the average low in the mid 70s.
Hilton Head also receives an average of 48 inches of rain annually, which is slightly higher than the US average of 38 inches per year. However, snowfall is as close to non-existent as you can get in Hilton Head and the island enjoys more than 215 sunny days every year.
There is a hurricane season to be aware of along coastal South Carolina. The official Atlantic hurricane season runs from June 1st through November 30th, but the peak months for hurricane activity are August and September.
In general, October, April, and May are considered to be the most comfortable months for outdoor recreation in Hilton Head. During these "shoulder season" months, temperatures remain comfortable but humidity levels drop lower than they can be during the heart of the summer.
Because this is also a coastal destination, kayakers need to be aware of tides and ocean currents before setting out on a paddle. Learn more about how tides impact kayakers and be sure to look up local tide charts to help in planning your Hilton Head kayak adventure.
Places to Launch a Kayak in Hilton Head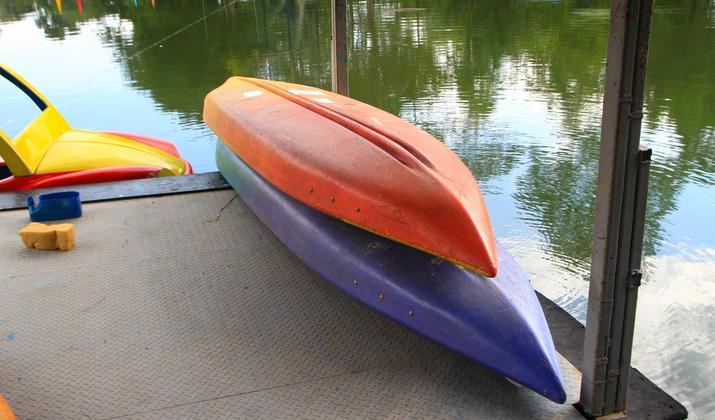 Photo by Angkana6395 via Shutterstock
Knowing when to plan a kayaking adventure in Hilton Head is a great start because you don't want to get rained out by an incoming hurricane. Beyond that, however, you'll need to continue with figuring out where you can launch your kayak around Hilton Head Island.
The Rowing and Sailing Center is a great place to bring your kayak, rent one, or meet up for a guided tour. With a fishing pier, picnic pavilion, playground, and charcoal grill, it's also the perfect place to spend a full day while you're in Hilton Head.
The C.C. Haigh, Jr. Boat Landing (also known as the Pinckney Island Boat Launch) lies at the southern end of the Pinckney Island National Wildlife Refuge. From there, you can explore either Skull or Mackay Creeks very easily or go for a circumnavigation of Buzzard Island.
Shearwater Dock is located in a private neighborhood that is built along the northwest side of Old House Creek. The tides may impact your ability to paddle up the creek, but heading downstream will eventually dump you out into the larger confluence of the May River and Skull and Mackay Creeks.
The Marshland Landing Public Boat Ramp is located at the upper end of the Broad Creek estuary. It's a great location to start a paddle in one of the least-developed parts of the island and it has the added benefit of being right next to the Old Oyster Factory Restaurant if you are feeling hungry at the end of your trip.
The Cross Island Boat Landing is located on the south side of Broad Creek where the Cross Island Parkway crosses over. It's a great starting location for exploring up or down Broad Creek, but you'll need to be aware of the ferry traffic that runs regularly between the Broad Creek Marina and the Freeport Marina.
The Palmetto Dunes Boat Ramp is located just off Queens Folly Road. From the boat ramp, it is pretty easy to make a loop paddle on the inland waterway that passes by Arthur Hills Golf Course and several of the most luxurious beach hotels on the island, including Disney's Beach House.
Ocean Cove is a small inland cove that is located less than one-quarter of a mile from the center of Hilton Head's long stretch of sandy beach. It is a great launch location for exploring some of the inland waterways that wind through the residential areas in this part of the island.
Keep in mind that new launch locations may become available on a regular basis. Some of the kayak rental and guide companies we'll discuss later may also allow you to launch your own kayak from their premises for free or for a small fee.
No matter where you're heading for your kayaking trip, the Go Paddling app is a great resource for finding free places to launch your kayak or inflatable paddleboard.
Best Places to Kayak near Hilton Head
Now, some of those launch locations will lead you right into the best places to kayak near Hilton Head. This section, however, is dedicated to telling you a little more about those locations and why they are so popular.
Broad Creek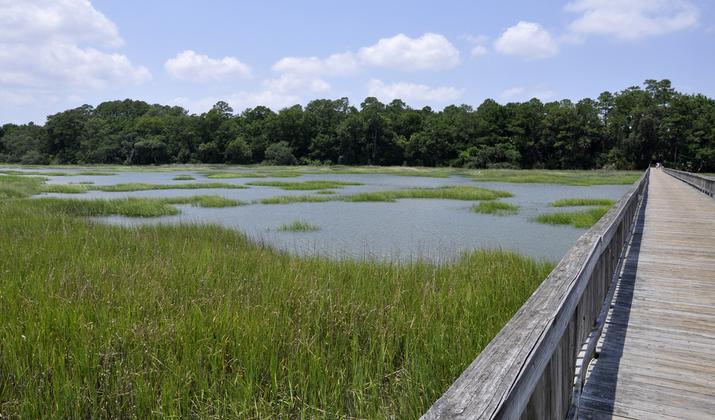 Photo by Cynthia Farmer via Shutterstock
It is the biggest creek on the island, extending roughly seven miles inland from Calibogue Sound and offering excellent marshland habitats for herons, cranes, and other large and small migratory birds along the way.
The best time to paddle Broad Creek is at high tide because you'll have access to places that you can't paddle at low tide. You can also see dolphins occasionally swimming in Broad Creek and the southern end where the creek meets the sound is their most common hangout.
Because of its larger size, motorized boat traffic is quite common on Broad Creek, especially at high tide. So be aware of their presence and make your presence known with a kayak flag or a bright-colored life vest.
Calibogue Sound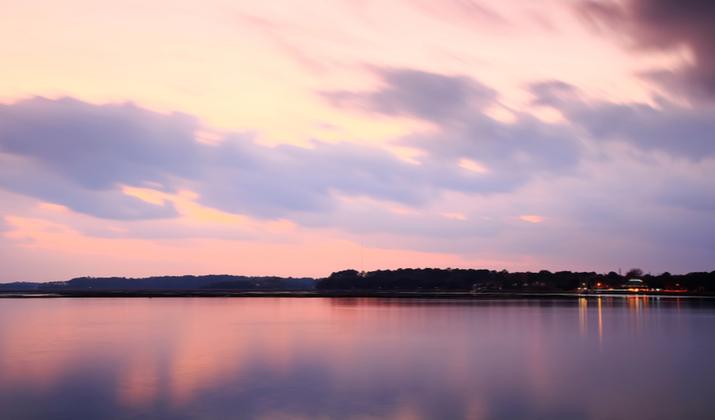 Photo by Phil Doherty via Shutterstock
The Calibogue Sound is the ocean channel that runs between the island and the inland marshes. Several creeks branch off in both directions along the length of the sound, and this is by far the best place near Hilton Head to see dolphins while you're kayaking.
The sound is part of their migration path to their annual breeding grounds and you can often see them feeding on fish as they make their journey. Some other common marine life in the sound includes manatees, horseshoe crabs, and jellyfish.
The sound's larger size makes it more susceptible to wind and waves than the smaller creeks around Hilton Head. So you'll want to stay closer to the shoreline to avoid saltwater fishing boats and paddle in the smoothest waters possible.
The Lagoons at Palmetto Dunes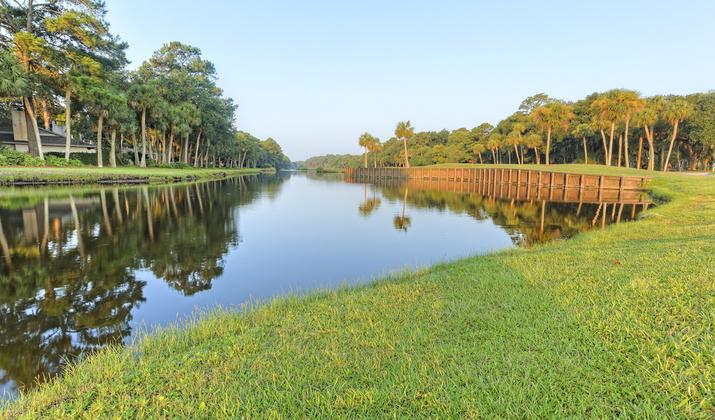 Photo by Peter Lakomy via Shutterstock
The lagoons and protected channels at Palmetto Dunes offer some of the most beginner-friendly paddling on the island. They also happen to be great for checking out waterfront homes, resorts, and golf courses while dreaming about your own South Carolina retreat.
The complete lagoon system offers 11 miles of paddling and you are likely to encounter minimal boat traffic like you'd find on the island's larger waterways. Because it is so well protected this is also very popular for folks with river fishing kayaks.
If your kayak can't quite handle the ocean waters in the other parts of the island, the lagoon channels are still home to plenty of native fish. Just know there could be some other large reptiles hanging around here too!
Skull Creek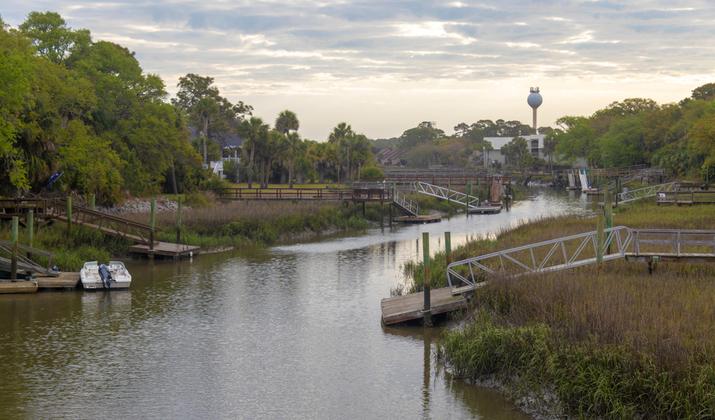 Photo by Jen Wolf via Shutterstock
Skull Creek is one of the more northern paddling areas on the island and it eventually empties out into the Port Royal Sound. It is another great location to see dolphins and a wide variety of other marine life.
From here, you can easily paddle over towards the Pinckney Island National Wildlife Refuge, which is a protected area for marine species and migratory birds. So this is a fine destination for kayaking birdwatchers as well.
Navigating the waters of Skull Creek does, however, require some more skill and experience than some of the more beginner-friendly destinations on the island. So make sure you do your homework and prepare to spend multiple hours on the water if you choose to explore this spot.
May River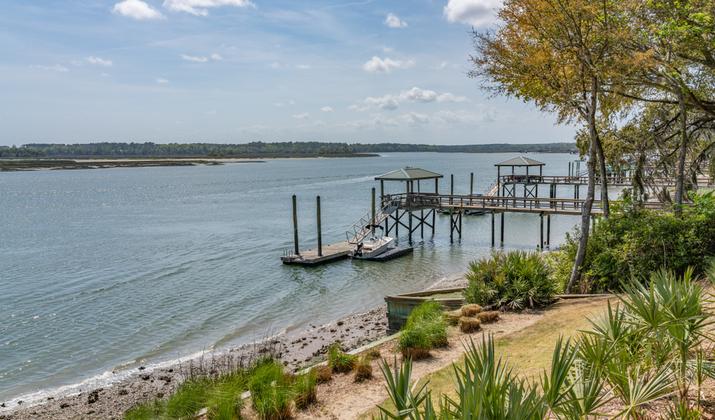 Photo by Rosemarie Mosteller via Shutterstock
The May River actually empties into the Calibogue Sound after flowing near the town of Bluffton, so this spot is a worthy choice once you've already done a little exploring around Hilton Head and you want to expand your horizons.
There are several secluded sandbars along the river that are great for a private lunch and there's no shortage of marine wildlife to see here either. As the river extends towards the sound, it widens and is surrounded on both banks by an undeveloped marine estuary.
Daufuskie Island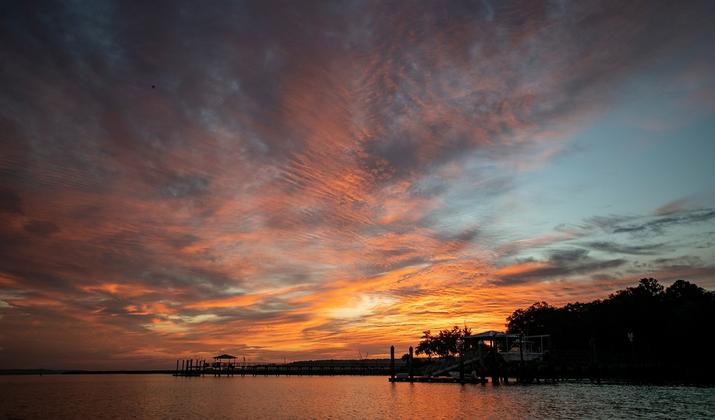 Photo by Kimberly Petts via Shutterstock
The trip across the Calibogue Sound to check out Daufuskie Island is one of the top choices for experienced paddlers visiting Hilton Head. It requires more skill and stamina than all the rest, and you'll also need to be well-versed in planning your trip around the tides.
Strong tides in the sound will make your return journey nearly impossible if you don't prepare well for this one. Plus, you will need to be aware of ski boats and other motorized traffic when you're crossing the sound.
The good news is that there's also a ferry service from Broad Creek Marina over to Freeport Marina on the island. So if you don't feel up to making the journey in a kayak, you can still go see what all the Dau-fuss-kie is about!
Jarvis Creek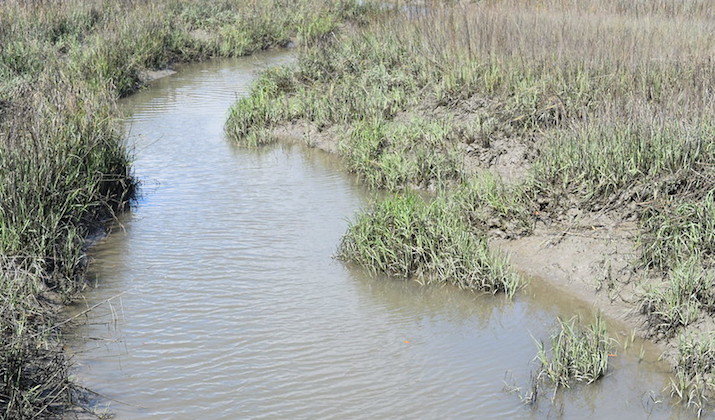 Photo by P. Wayne Nalbandian via Flickr
Jarvis Creek is one of the easiest paddle locations at the top end of the island. The creek eventually dead ends at the Honey Horn Plantation, which is a 68-acre historic property that showcases the island's cultural heritage and natural history.
Because this spot doesn't have the kind of boat traffic you'll find on Broad Creek or in the sound, it's a great choice for beginners and families with kids. For the best wildlife viewing, head onto the creek at low tide.
The waters get so low at low tide that you can even get out of your kayak and walk around. So even if the kids don't embrace your love of kayaking right away, they can be captivated by searching for shells and other marine life along the banks, including alligators.
Conversely, high tide is the best time for those that plan on staying in their kayak for the duration of their trip. If you plan things right, you can even float with the tide as you look for wildlife in the surrounding marshes.
What's The Best Type of Kayak for Kayaking in Hilton Head?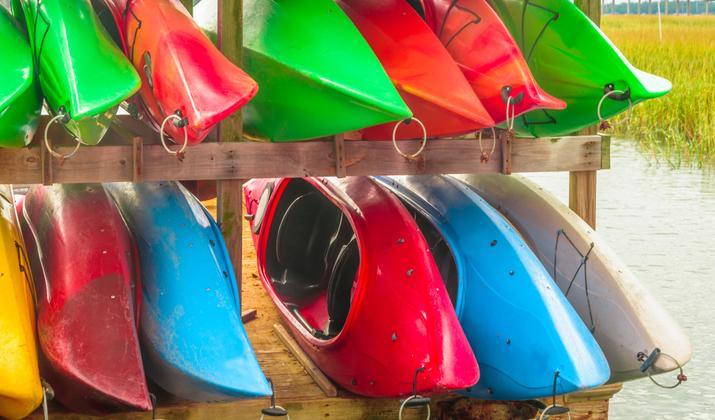 Photo by Phyllis Peterson via Shutterstock
Now, if you are planning on renting a kayak while you are in Hilton Head, you will be able to rely on the rental company to suggest the right type of kayak for the trip you have in mind. For all the rest of you, you'll need to be sure that the kayak you bring is well-suited for the waters around the island.
For starters, you won't find any swift-moving water around the island unless a severe weather event seriously changes things. So you can leave your whitewater kayaks or inflatable whitewater kayaks at home.
Now that we have that key point out of the way, there really aren't too many other types of kayaks that we could exclude. Even those of you with surf kayaks can find some waves to shred on the ocean side of the island if you visit at the right time of the year.
Most rental companies here will either offer you sit-on-top or sit-inside recreational kayaks. They might not have the speed or efficiency of some of the best touring kayaks, but they are designed to offer the most stability for the widest variety of paddlers.
We can't even leave out inflatable kayaks, although you'll need to be aware of sharp marine objects that could derail your paddle plans. Oh, and don't neglect to bring your ocean fishing kayak either, as the waters around the island contain bass, redfish, trout, tarpon, and much more.
Best Guided Kayaking Tours in Hilton Head
If you are visiting Hilton Head on a vacation, you might not be able to bring your own kayak along with you. So here are a few guided kayaking adventures in Hilton Head to explore during your visit: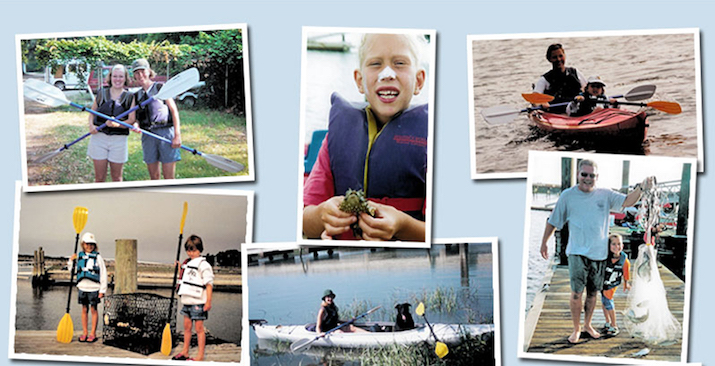 PC Kayak Hilton Head
Kayak Hilton Head is the best outfitter on the island for those that want to experience a guided tour of Broad Creek. Their tours are two hours in length and they are some of the most reasonably priced on the island.
As their website says, "There aren't many two-hour activities on Hilton Head that a family of four can do for only about $100!"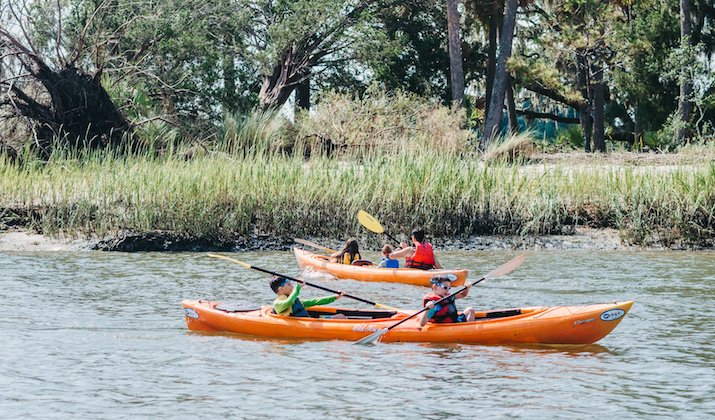 PC Outside Hilton Head
Outside Hilton Head should be your go-to outfitter if you're looking to take a guided tour of the Calibogue Sound or the May River. They offer guided nature tours, full moon kayak tours, and even an outback tour that starts with a cruise to their private island and then a kayak tour from there.
PC One HHI
One HHI offers two different 1.5-hour kayak tours that are great for all skill levels. They are based right on Broad Creek, which is one of the best paddling spots on the island for wildlife viewing, and one of their tours even offers coffee, tea, or hot chocolate at your leisure.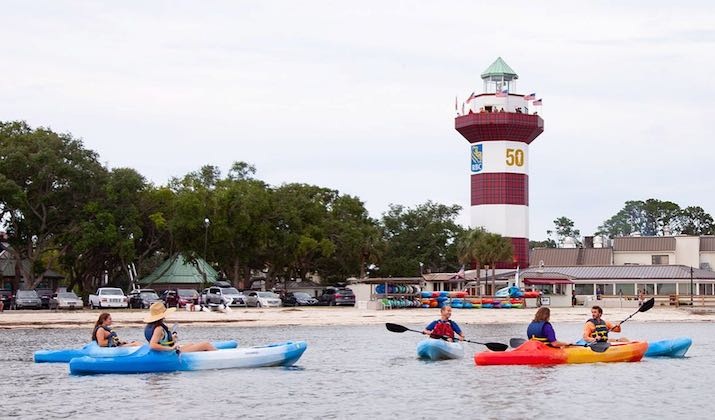 PC H2O Sports
H2O Sports also runs tours in Calibogue Sound, but this company is also known for its tour guides knowing all there is to know about the island and its wildlife. Their 1.5 hour tours embark into the sound at high tide and they offer both single and tandem kayaks.
They also have a link to a live webcam to help you monitor the weather for your guided or self-guided kayak adventure!
Honorable Mentions
Where to Rent Kayaks in Hilton Head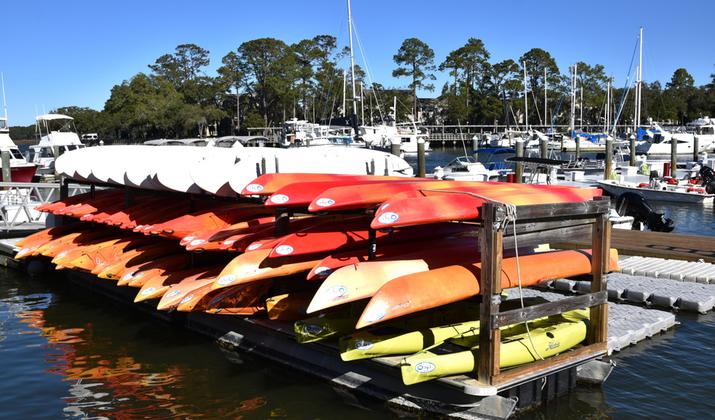 Photo by Thomas Trompeter via Shutterstock
If you don't want to go on a guided kayaking trip while you're in Hilton Head, you can also rent kayaks and get out for your own adventure. Here is a quick list of some great places to rent kayaks in Hilton Head:
Final Thoughts
Photo by BrittanyMale via Shutterstock
From seasonal birdwatching to looking out for marine mammals, there are plenty of reasons to go kayaking in Hilton Head.
We hope this complete guide has given you plenty of direction and useful resources to plan your next kayaking trip to coastal Carolina!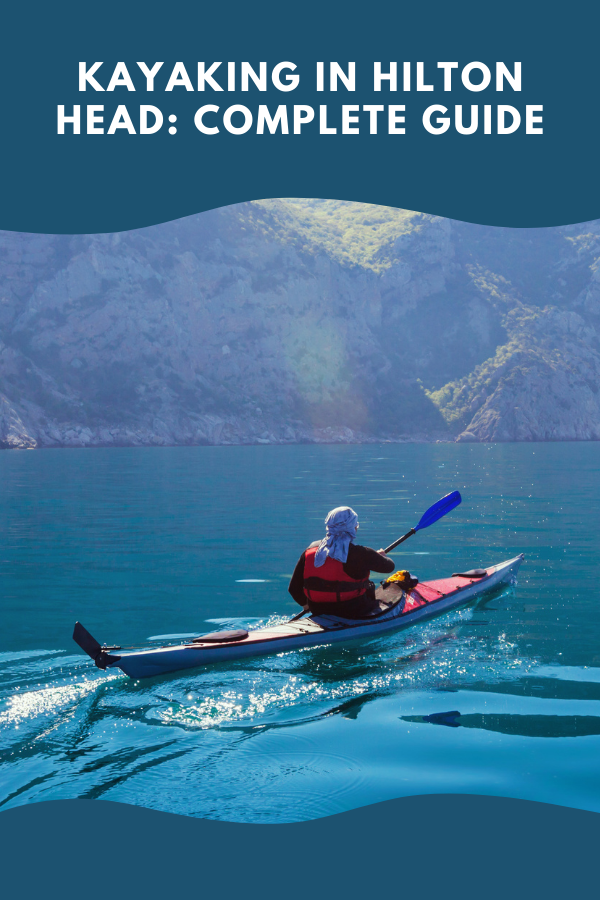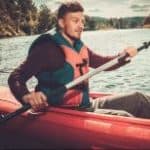 Author: Peter Salisbury
Pete is the Owner of KayakHelp.com. Born and raised in Cleveland, Ohio, he grew up kayaking, fishing, sailing, and partaking in outdoor adventures around the Great Lakes. When he's not out on the water, you can find him skiing in the mountains, reading his favorite books, and spending time with his family.