As you know, there is a wide variety of options out there from the best kayak brands and some not-so-good models from the worst kayak brands. Today, we are going to highlight the Seak Swift Kayak in this ultimate buying guide.
The Seak Swift kayak falls firmly in the category of a recreational kayak and is a relatively cheap kayak compared to some of your other options in the recreational space. It is best suited to paddling on calm lakes and ponds, slow-moving rivers, or protected coastal bays.
Although it doesn't have any fishing-specific features, the Seak Swift can be equipped for a beginning angler. That being said, Seak offers several other kayak models that would be a better option if you're looking for one of the best fishing kayaks on the market today.
Let's dive further into the Seak Swift, its specifications and features, and some reviews to highlight user experiences!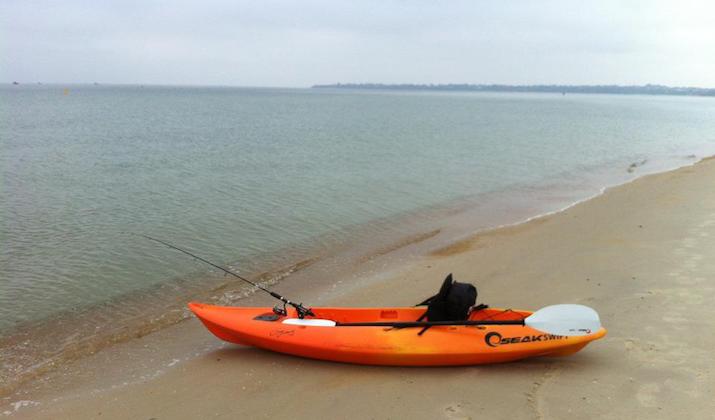 Photo by Beckers via Victorian Yak Anglers
What is a Seak Swift Kayak?

PC Anaconda Stores
The Seak Swift kayak is a sit-on-top kayak made for recreational paddling. It is a decent choice for beginners and intermediate paddlers just getting comfortable with the basics of how to paddle alone.
It is a highly affordable kayak if you are just starting out in this awesome sport. It is more commonly found in places like Australia and New Zealand, but there are select retailers that offer this kayak model in the United States, United Kingdom, and other parts of the world as well.
Here are the basic specifications for the Seak Swift kayak:
Length: 9'10.11" (300 centimeters)
Width: 31.5 inches (80 centimeters)
Depth: 12.6 inches (32 centimeters)
Weight: 46.3 pounds (21 kilograms)
Weight Capacity: 242.5 pounds (110 kilograms)
This kayak is constructed from low-density polyethylene (LDPE), which is soft, flexible, and lightweight. It is known for its toughness, corrosion resistance, and low-temperature flexibility.
Ultimate Buyer Guide for Seak Swift Kayak

PC Anaconda Stores
The Seak Swift is a fairly basic kayak, as you can probably tell from the photos we have included. That said, you probably want to know a little more about the basic features it does offer, which is totally reasonable!
Cockpit
As we mentioned, the Seak Swift is a sit-on-top kayak, which means it offers an open cockpit design that makes it easy to get in and out of. If you have tight hips or other physical ailments that make it difficult for you to bend or squat, check out these tips for easier entry and exit from a kayak.
One downside of the Seak Swift's cockpit is that it doesn't come with a kayak seat that offers either a low-back or high-back support. It does have places to secure an aftermarket seat in place though, so you shouldn't have too much trouble finding a seat that will fit with this kayak.
The cockpit does boast multiple footrests so that it can accommodate paddlers of varying heights and help you maintain a healthy paddling posture. There is also a small water bottle holder in the center of the cockpit with bungee rigging to keep your hydration solution secure while you're paddling.
Additionally, there's a D-ring just to the rear of that water bottle holder that allows you to clip in a variety of kayaking accessories. Finally, scupper holes throughout the cockpit allow any water that splashes over the gunwales, or falls from the sky, to drain naturally instead of accumulating and weighing you down.
Storage
There are two main areas on the Seak Swift kayak that you can use for gear storage. There is an open storage area at the stern that is covered with a zig-zagging bungee cord to keep your gear secure if you capsize.
At the bow, there is a round storage hatch with a sealed hatch cover that is designed to provide watertight storage for gear that you don't want to get wet while you're kayaking. From our experience, however, you are best to choose the right size dry bag to fit inside that front storage hatch to guarantee your stuff stays dry until you need it.
Carry Handles
The carry handles on the Seak Swift kayak are molded right into the plastic that makes up the entire body of the kayak. There are handles at the bow and stern, as well as at the center of the kayak on both of the gunwales.
At less than 50 pounds, you may be able to carry the Seak Swift kayak from these central handles by yourself. However, if you have your other kayaking equipment to consider, you might still want to put it on one of the best kayak carts for rough terrain and roll it down to the water's edge.
Molded handles tend to be more durable than toggle-style kayak handles, so you should have less concern over the handles breaking over the kayak's lifetime. There are some downsides to this handle design, however.
Toggle-style handles are screwed into the body of the kayak, which makes them easy to remove and replace if they are compromised. With molded carry handles, a break often means an extensive epoxy repair job or, at the very least, a healthy patch with one of the best glues for kayak outfitting before your kayak is fit for the water again.
Hull Design
This is one area that many users have noticed the Seak Swift comes up a little bit short. The hull doesn't include any sort of molded keel, which makes it hard to keep straight and requires a lot of corrective paddling.
Some people have somewhat alleviated this issue by installing an aftermarket rudder or skeg, but the Seak Swift doesn't come with any of the holes you will need to make mounting such an accessory quick and easy.
In other words, you will have to drill holes to string rudder lines through the kayak and that is going to be a lot more work than it is worth. If you are not going a long distance, the Seak Swift should perform just fine.
For those that need something that won't drive them nuts over longer distances, however, we would steer clear of this one. You'll want to look into the best sea kayaks or the best touring kayaks to find a model that provides long-distance efficiency.
Seak Swift Kayak Reviews
PC Australia Listed
It's reasonable to be curious about how this kayak actually suited folks once they got it on the water. So here are some direct quotes from users that have bought and paddled a Seak Swift kayak, courtesy of the Victorian Yak Anglers Forum:
"Great Kayak Fun in light surf and fishing hard body lures and plastics in estuaries
Use a small sea anchor with a float to stabilize the drift when fishing.
Light enough for easy lifting onto a car's roof. Stylish with plenty of attaching points."
– Eric
"The kayak was good value for money. I agree with the other review that there is an issue with keeping it in a straight line as soon as you get a bit of speed it wants to veer off course."
– Mark Reynolds
Seak Swift Kayak Alternatives
Seak also offers several other kayak models that are worthy of consideration if the Swift doesn't quite captivate your attention. Check out these Seak Swift kayak alternatives before you finalize your buying decision:

PC Anaconda Stores
Available Technical Specifications
Length: 8'9.12" (267 centimeters)
Width: 31.5 inches (80 centimeters)
Depth: 11.42 inches (29 centimeters)
Weight: 44.1 pounds (20 kilograms)
Weight Capacity: 264.5 pounds (120 kilograms)
The Seak Rapid Angler is a good starter kayak if you are interested in kayak fishing. It is a compact and lightweight kayak compared to some of the most stable fishing kayaks on the market these days, which makes it ideal for smaller paddlers.
It is designed to handle lake fishing, river fishing, and even angling in protected saltwater environments. There are four flush-mounted fishing rod holders on board and an additional swivel rod holder mounted in the center of the cockpit.
There are two sealed storage hatches for watertight storage located at the bow of the kayak and in the center of the cockpit, respectively. Plus, you will be able to store things like a kayak cooler or tackle crate in the stern storage area and keep it secure with the included bungee rigging.
Multiple footrests help you find a comfortable position for a full day of fishing and carry handles at the bow and stern make this kayak easy to carry with a partner.
PC Anaconda Stores
Available Technical Specifications
Length: 12'9.5" (390 centimeters)
Weight: 88.2 pounds (40 kilograms)
Weight Capacity: 352.7 pounds (160 kilograms)
The Seak Mako Kayak is designed for expedition-style fishing trips and it is by far the longest kayak on this list. At nearly 13 feet, there is plenty of room to pack this kayak for a multi-day camping and fishing trip.
At the bow, you will be able to take advantage of a large sealed storage compartment for all of your water-sensitive gear. Working our way back, there is also a center console at the front of the cockpit for storing smaller gear and there is even a water bottle holder on top of that console.
The center console also includes a swivel-mounted rod holder for hands-free trolling while you're on the move. The cockpit boasts adjustable foot pedals on either side that can be moved to accommodate your height and desired foot position.
Underneath the seat in this kayak, there is another small, round storage hatch for keeping snacks and other gear protected from the elements. Speaking of that seat, it is one of the more comfortable designs that Seak offers.
It is a raised, aluminum-framed seat with mesh material stretched between the aluminum framing. This provides a higher vantage point when you are fishing and the mesh breathes well to keep you cool on hot fishing days.
There are scupper holes throughout this kayak so that it self-drains and the stern area is dedicated to open storage. There is even enough room back there for a trolling motor battery if you want to equip your kayak with a little extra power.
Finally, this kayak is equipped with a drop-down rudder at the stern that will aid in tracking and help to keep your kayak stable in adverse conditions. The rudder is controlled by a hand-operated lever next to the kayak seat.

PC Anaconda Stores
Available Technical Specifications
Length: 10' (305 centimeters)
Width: 29.9 inches (76 centimeters)
Weight: 52.9 pounds (24 kilograms)
As you can see, the camouflaged exterior of the Seak Hybrid kayak makes it a great choice for your stealth paddling needs. Whether you're into hunting from a kayak platform or you just feel more incognito when you are kayak fishing, the hybrid model has you covered.
It is a sit-in kayak, which makes it a little different from the other Seak models we have discussed so far. It offers a more confined cockpit that helps to keep you more protected from splashing water and wind.
It is also compatible with one of the best kayak spray skirts if you plan on doing any cold-weather kayaking. A spray skirt is a great addition to seal the cockpit from the elements and trap your body's natural heat inside.
At the bow of this kayak, there is a small section of bungee rigging that will allow you to secure a kayak deck bag and expand your storage capacity. Behind that bungee rigging, you will find a swivel rod holder mounted to the deck for your fishing needs.
In the cockpit, you will enjoy adjustable footpegs to help you maintain proper paddling posture and an adjustable padded seat that provides all-day comfort. There's even a small tray in the cockpit for keeping snacks from sliding away when you are rocking in the waves.
At the stern, this kayak boasts an indented open storage compartment, which is actually a rarity amongst sit-inside kayaks. Bungee rigging helps you keep any items you store in this rear area secure, but the open design allows you to fit larger items like a kayak cooler bag that might not necessarily fit in the enclosed storage of a typical sit-in kayak.
Final Thoughts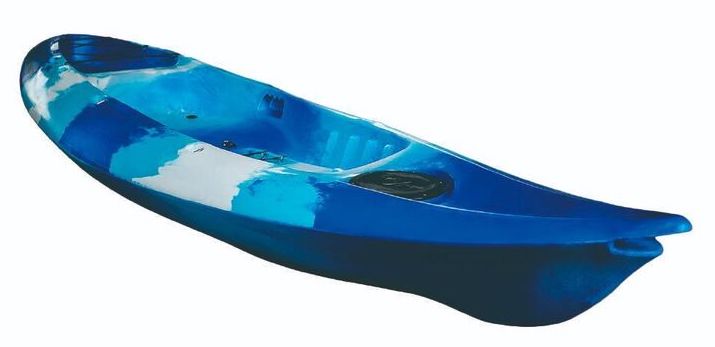 PC Anaconda Stores
To wrap things up, our conclusion on the Seak Swift is that it is a nice option for beginners or for folks that only paddle a few times each year.
If you have a lakefront vacation home, it may also be a great kayak to store there so that you don't have to transport a heavier kayak back and forth every time you go on vacation.
If you are a more serious kayaker looking to go longer distances or progress your skills, however, we recommend looking for something with a more defined hull and some additional features for comfort and better performance.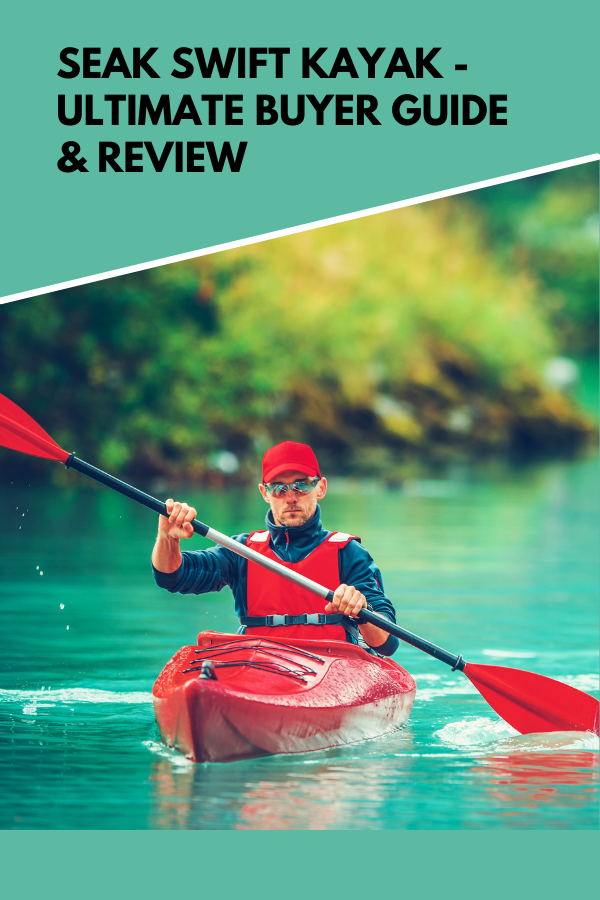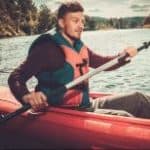 Author: Peter Salisbury
Pete is the Owner of KayakHelp.com. Born and raised in Cleveland, Ohio, he grew up kayaking, fishing, sailing, and partaking in outdoor adventures around the Great Lakes. When he's not out on the water, you can find him skiing in the mountains, reading his favorite books, and spending time with his family.